* All match up predictor graphs are a product of ESPN
Oklahoma vs Florida Atlantic
Saturday, September 1 | 11:00 a.m. (CT) | FOX
Oklahoma Athlon Preseason Rank: 10
Florida Atlantic Athlon Preseason Rank: 29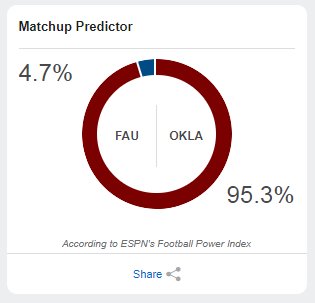 Previously on: Lane Kiffin's comeback story; the once embarrassing FAU Owls completely ran through the respectable C-USA with an 8-0 conference and 11-3 overall 2017 record. Now entering season 2, Lane is determined to continue his success as the Owls are occasionally picked as the potential 2018 G5 unofficial champions. It won't be a walk in the park however as he has replaced OC Kendal Briles with 21-year-old coaching rookie, Charlie Weis Jr. The team on the other hand looks just as dangerous as they did last year.
After a remarkable first year as head coach of Oklahoma, Lincoln Riley still has a lot to prove. Although the Sooners are returning plenty of talent from their 2017 playoff team, they will be missing one key factor this year; Baker Mayfield. Kyler Murray has been mentioned as a suitable replacement but that is a lot of talent to replace. After what Lane was able to accomplish with what he was given at FAU, it's clear he knows what he is doing. Although Lincoln had great success, it's obvious he was given an amazing team and it will be interesting to see what he is able to do from here on out. This will be a huge opportunity for Lane to prove that he is actually as good as he currently appears.
Iowa vs Northern Illinois
Saturday, September 1 | 2:30 p.m. | BigTen Network
Iowa Athlon Preseason Rank: 35
Northern Illinois Athlon Preseason Rank: 74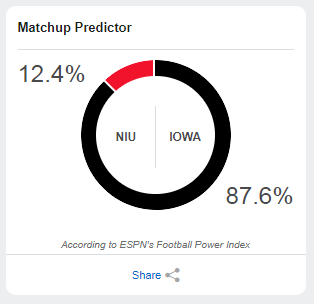 Returning their sophomore quarterback, Marcus Childers, the Huskies appear to have a promising 2018 season a head of them. Their real strength however is on the defensive side of the ball. With their returning All-American defensive end Sutton Smith, who accounted for 14 sacks last year, Northern Illinois led the MAC by holding opponents to only 22 points per game in 2017.
This may cause some turbulence for Iowa as they look to replace some key players on offense. Although Iowa is returning a promising quarterback and two great tight ends, their major loss of all three linebackers could cause potential problems for their defense. After ranking him as the most over-paid head coach in college football, Kirk Ferentz needs to prove he is still able to win in the Big Ten but this game could be a huge early victory for the promising Huskies on their 2018 crusade of the MAC.
Kansas vs Nicholls State
Saturday, September 1 | 6:00 p.m. | ESPN 3
Kansas Athlon Preseason Rank: 116
Nicholls Athlon FCS Preseason Rank: 15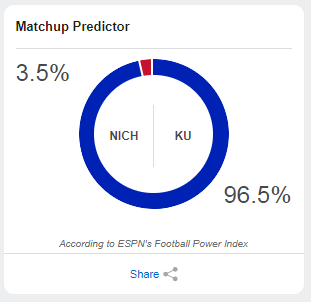 It's hard to imagine Kansas every receiving a 96.5% chance to win a football game, even against an FCS opponent. In 2017, the 1-11 Jayhawks offense threw 17 interceptions to 14 pick-sixes and remarkably low 224 total points scored. The defense didn't perform much better either by giving up 43.4 points a game and suffering two complete blowout losses. David Beaty is undoubtedly looking for his 4th win in 4 seasons as head coach of the Jayhawks but the team honestly doesn't appear to be in a much better situation entering 2018.
Nicholls however, looks to improve on their 8-4 2017 season with what appears to be a very complete and competitive offense with returners in key positions. Although it would be a great opportunity for Beaty to cling to his fading job as head coach for Kansas, it wouldn't come as a surprise to many if the Jayhawks took a week 1 loss to a competitive FCS team.
South Dakota vs Kansas State
Saturday, September 1 | 6:00 p.m. | ESPN 3
Kansas State Athlon Preseason Rank: 41
South Dakota Athlon FCS Preseason Rank: UR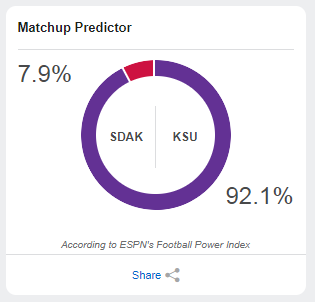 Coming off a successful 8-5 season last year with a dominate week 1 win over FCS powerhouse Central Arkansas, Kansas State hopes to continue that momentum going into 2018. That may be more difficult than intended however with two new play-callers on both sides of the ball and a new starting quarterback. The Wildcats also have concerns with their lack-of-returning defense but will likely look towards their outstanding offensive line to make up the difference.
In 2017, South Dakota earned impressive wins over No. 10 North Dakota, No. 13 Western Illinois, No. 3 Youngstown, FBS Bowling Green and a first-round win in the FBS playoffs. The Coyotes are returning 7 starters on the offense as well as 9 on the defense and will lean heavily on senior running back Michael Fredrick, who averaged 4.9 yards per carry in 2017. Although I truly enjoy these Midwest week 1 FBS/FCS matchups, Kansas State will likely beat South Dakota. That being said, USD will surely use this opportunity as an attempt to get a huge victory over a competitive FBS team to start the season.
South Dakota State vs Iowa State
Saturday, September 1 | 7:00 p.m.
Iowa State Athlon Preseason Rank: 36
SDSU Athlon FCS Preseason Rank: 4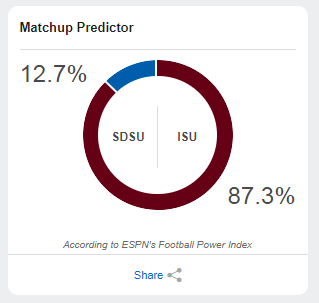 In case you don't keep up with FCS football, South Dakota State is coming off a great 2017 season. The Jackrabbits climbed to No. 3 in the FCS and appeared in their first national semifinals before falling to No. 1 James Madison. SDSU is returning plenty of talent from their competitive 2017 team in key positions as well as South Dakota State alumni Adam Vinatieri's nephew, Chase Vinatieri, who happens to be one of the best placekickers in the nation.
Unfortunately for the Jackrabbits however, Iowa State finally appears to be competitive again. Defeating Oklahoma and TCU, the two teams to play in the conference championship, the Cyclones amassed an impressive 8-5 record in the tough Big 12 conference in 2017. They also managed to barely defeat the dangerous Memphis Tigers in the Liberty Bowl. Iowa State is returning their starting quarterback Kyle Kempt who was granted his 6th year of eligibility. Regardless of how competitive Iowa State has become, SDSU will surely make this game the most exciting thing to watch in the Midwest September 1st.