One of the most alluring aspects of sports are the narratives surrounding individual superstars and no league embodies that more than the NBA. The narratives surround players like Lebron, KD, Westbrook and Curry keep us clicking articles and hate-listening to talk radio. These narratives change and adapt from year to year, creating new underdog heroes like Kemba Walker putting the Hornets on his back to a continuing saga of Lebron James chasing the ghost of the greatest of all time, these are the narratives that keep us engaged in the sport, and no narrative is as heated and debated as Russel Westbrook's.
He stays 
I remember when KD left OKC, the prevailing belief was that Westbrook was going to leave the year after. Never will you see the life sucked out of a fan base faster than when Durant decided to go to Golden state, fans were frantically searching for any potential trade they could make before Westbrook hit free agency. The entire city went through the five stages of grief before accepting they were bound to the draft lottery. But one man lifted the entire city onto his shoulders and dragged them kicking and screaming back into relevancy.  Russel Westbrook signed with OKC, long term the year before his deal was up. 
Mr. Triple Double
Westbrook is a competitor who doesn't blink in the face of the greatest challenges the league can throw at him. Where other players would accept that their chances in OKC had faded and looked for greener pastures with a trade or wait until free agency to join a new super team. He would go on to carry OKC as far as he could and his decision to stay payed off. He became Mr. Triple Double for the following two years won an MVP and got a superstar teammate to make the Thunder a legit contender for a championship this year.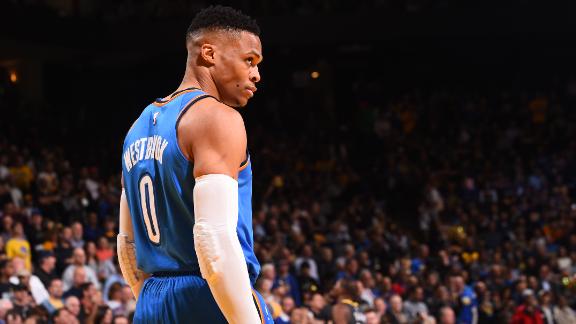 Westbrook's tenacity and passion push him further than most other NBA superstars. He embodies what it means to wear your heart on your sleeve. His competitive nature has led to a lot of criticism. They say he pads his stats, that superstars like KD can't play with him, or that he's selfish. All of this was proven wrong when Paul George resigned last summer. Everyone thought OKC was about to become irrelevant, losing PG and being stuck with Melo. But because of the quality of Russel Westbrook PG13 decided to stay. And they managed to dump Melo, a pull up brick machine. OKC got better in the off season, they are a top 10 defensive team without their best defender, whose been out since last year.
The Hardest Road
Of course, we can't talk about OKC as a competitor without bringing up Westbrook's personal beef with the GSW, the team Durant ditched him for. Nothing would be more validating for the Westbrook and OKC than taking down the GSW and Durant on their way to a championship. It would be a Hollywood ending for Westbrook's narrative. Losing a conference championship after being up 3-1 against Golden state. Losing your superstar teammate to the same team that beat you.  Averaging a triple double. winning MVP. Getting a new Superstar to join and stay with you in OKC. One championship in OKC for Russ would set Westbrook in stone as an NBA legend. Russel Westbrook's narrative isn't about chasing a legacy its about creating his own taking truly the hardest road.