Contenders. There's no other word for it. The 2018 Cleveland Browns are legit playoff contenders. With Hue Jackson at the helm, this team is ready to roll and has looked very strong throughout this pre-season. For the Brownies, 2017 was a complete wash. After finishing as one of the worst teams in NFL history, the 2018 Browns are a totally different team. It finally seems like this 2018 team is poised and they know that they have one of the most underrated and highly talented teams in all of the National Football League.
That's what I said back in August. While things look a lot different, the Brownies officially have over 5.5 wins and are now 6-7-1 and have the slightest shot at making the playoffs this year. I am "revamping" this article because I called the Browns having a good season but… a lot of things have changed.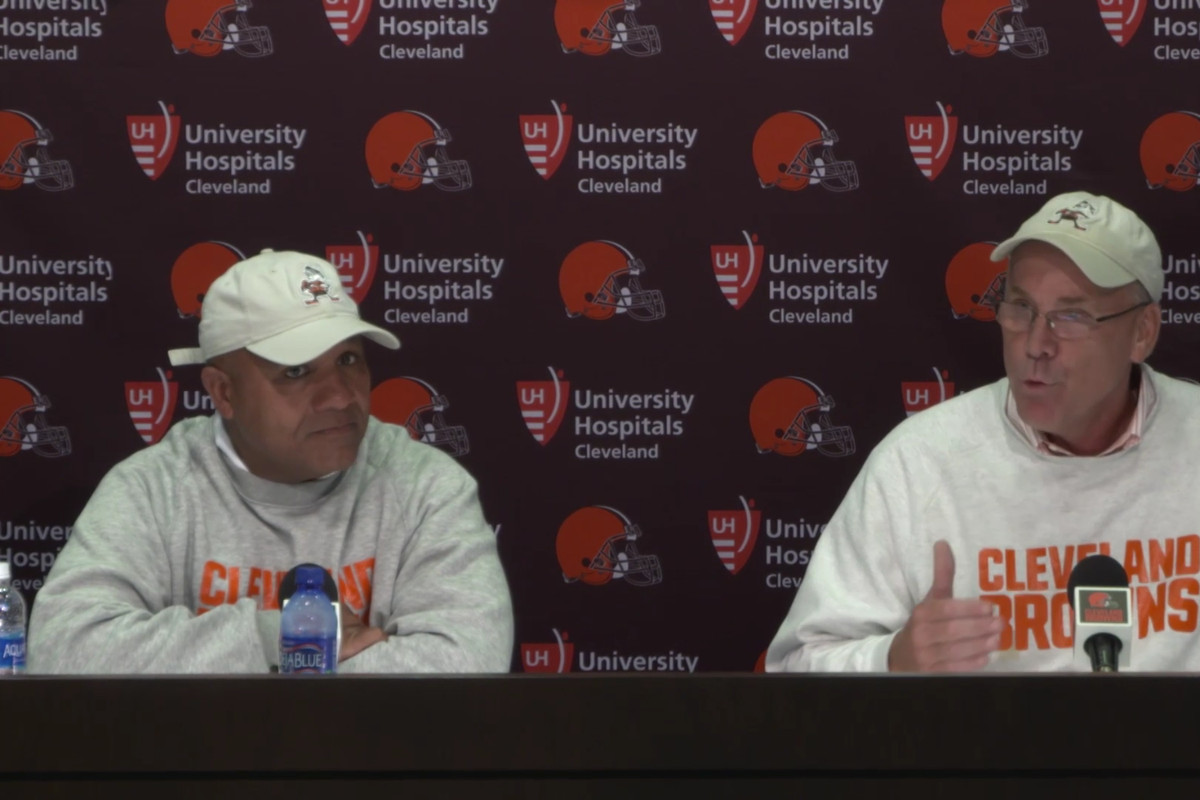 Coaching & Management
An underlying theme in the Browns losing records in the last 2 years has been Head Coach, Hue Jackson. Jackson has been with the team for 2 seasons and has a combined 1-31 record in each of the last two seasons. However, Jackson has never really been able to build his own team. This year, with key additions to the offensive and defensive side of the ball, Jackson has no excuse to not make an immediate improvement. If you watch Hard Knocks on HBO, Coach Jackson is a very like-able coach. Jackson wants his players to feel comfortable around him and he has certainly created a very strong relationship between himself and his players, as well as his coaching staff.

While Hue Jackson deserves a lot of credit for the incredible comeback season that this Browns team is about to have, General Manager John Dorsey has his fingerprints all over the structuring of some of the most underrated players in the NFL on his team. Dorsey is one of the NFL's most covenant owners and really has his team's best interest at hand. Like Jackson, Dorsey is a very likeable GM, being heavily involved in everyday team operations and player involvement. Dorsey is such a likeable GM that QB Baker Mayfield made a pretty funny impersonation video of him:
That's what I said back in August. Obviously, we know that Hue Jackson was fired, he may go down as one of the worst coaches in NFL history but I think they've now found their guy in Gregg Williams. Williams now is 4-2 as the Cleveland head coach and has officially won more games in 6 total games than Hue Jackson did in 2 and a half season. What a joke.
Quarterbacks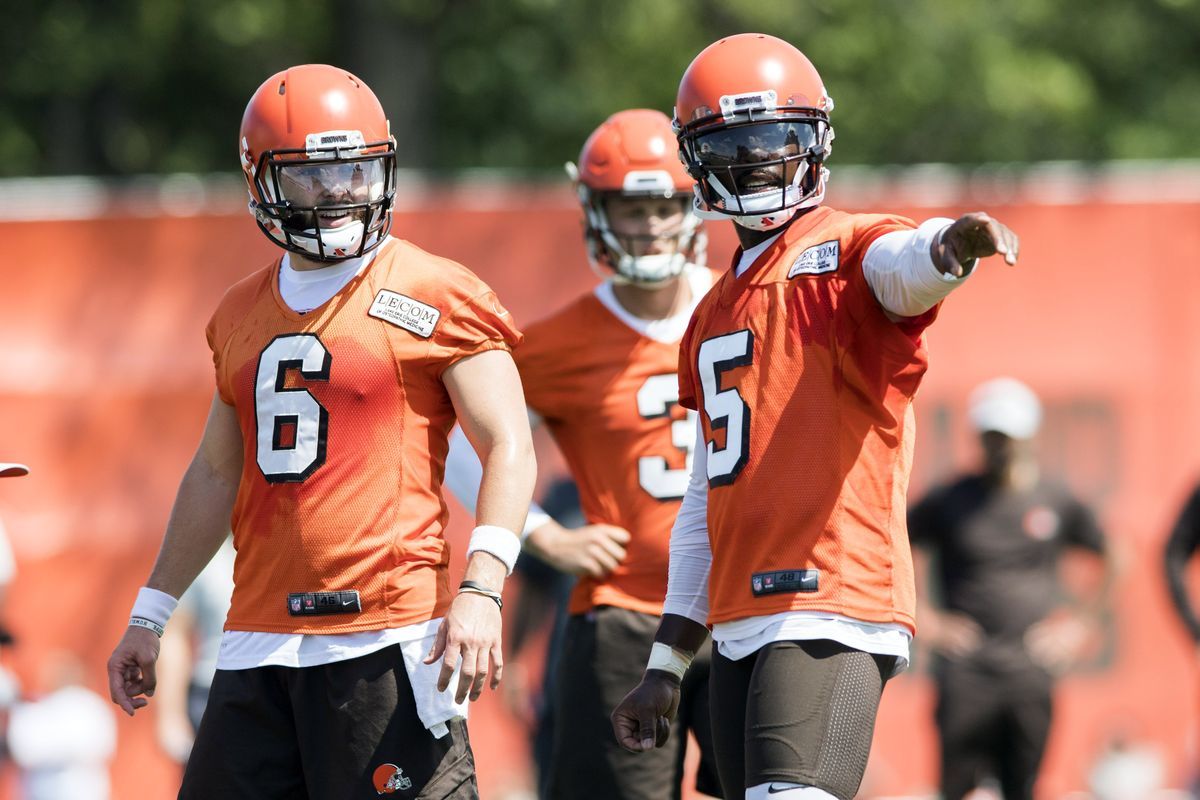 The quarterback "orange men" look a lot different for the Brownies than they ever have. I finally think that the infamous Browns quarterback curse is no more. With a veteran presence of Tyrod Taylor (pronounced "Ti-Rodd") and a certain up and coming star in first round draft pick Baker Mayfield, this team will be led by a strong quarterback core. While Mayfield will not start week one, look for his contributions on the sideline and his ability to make Tyrod a better quarterback due to competition.

While Baker has had an incredible preseason so far, Taylor has had an even better one. Taylor poses a huge threat to opposing defenses with his veteran presence, the ability to lead an offense and the knowledge of the NFL game. Not that Baker doesn't do these things, I'm the biggest Baker fan of them all but it just doesn't make sense for Mayfield to start early on. Let the kid learn the game, slowly roll into a starting quarterback and learn from a very strong, veteran quarterback. If you remember, Tyrod lead an abysmal Buffalo Bills team to the playoffs last year and then was promptly traded.
That's what I said back in August. Since Tyrodd got hurt early in the season, Baker stepped in and the city of Cleveland has never looked back. Baker is absolutely going off and I think it has to deal with new coaching in Gregg Williams. Baker now looks in total control of the offense and will only continue to grow. I think we've found ourselves a superstar.
Offensive Side of the Ball
Looking at the offensive side of things, Dorsey has put together a plethora of offensive firepower by adding former Dolphins Wide Receiver Jarvis Landry (Bless'm) via trade, who is certainly a huge target, some may say even better than his old college roommate Odell Beckham Jr. Watch the video below. Some say it shows why the Browns were awful last year because their lack of discipline but I think it shows the competitive drive that this team has. This passion is why the Browns will overcome many obstacles this season.
Rookie WR Antonio Callaway is making a huge impact in the preseason and is one of the reasons why former star WR Corey Coleman was traded just last week to the Bills. These two receivers add to the already passing threats in just reinstated WR Josh Gordon (stay off the weeeeeeeeed) and the most underrated Tight End in all of football, David Njoku. Not to mention fan loved backup Devon Cajuste. There has been quite the murmur around Cleveland that the Browns and former Cowboys star receiver Dez Bryant are close to a contract.
That's what I said back in August. Since then, Josh Gordon was traded to New England where he has been very good and the Browns are probably kicking themselves for trading him. The Browns also cut fan beloved tight end Devon Cajuste at the end of Hard Knocks. They also did not sign Dez Bryant so I look like a complete idiot with this part. The only bright side is that wide reciever Antonio Callaway and Tight End David Njoku have absolutely gone off this season and is one of the reasons Baker Mayfield looks so good.
Can you imagine this receiving core? Tyrod was given no help in Buffalo, with great passing targets Taylor will make some magic happen within the first couple of weeks and so will Baker when he gets his shot. With the addition of stud RB Carlos Hyde in free agency and second round draft pick RB Nick Chubb from Georgia, the running game will be at the forefront for offensive coordinator Todd Haley this year.
That's what I said back in August. Tyrod had no shot in Cleveland and his NFL career is most likely done. Corlos Hyde did not belong in Cleveland and was traded to Jacksonville so I also look stupid. However, Nick Chubb has dominated with the help of a very good  Browns offensive line and the future is definitely bright with both Rookies Baker & Chubb.
For the Browns to be successful and actually make the playoffs, the running game has to be there for Cleveland. Kicker Zane Gonzalez looks strong in the preseason as well. A possible great fantasy pickup if available. The only concern for the Browns will be filling the void of retired OL Joe Thomas. However, Offensive Line coach Bob Wiley has got this O Line looking incredibly strong this preseason so look for them to make an immediate impact on this offense. Wiley is also #1 on most liked football coaches in America because of this Hard Knocks video that aired last night:
Yep, that's what I said back in August. Now I just look like a complete idiot because Zane Gonzalez may have gone down as one of the worst kickers in Cleveland history, missing crucial game winning and game tying field goals at the beginning of the season. However, the O-Line coach, Bob Wylie has done an amazing job and that O-Line is something else.
Defensive Side of the Ball
On the defensive side of things, the Browns will have one of the most dominant defenses in the entire NFL. Finishing just 13th in total defense last year, the Browns have made some improvements. With DE Myles Garret and Emanuel Ogbah, the Browns will have one of the strongest pass rushes in all of football. With Linebackers Christian Kirksey, Linemen Larry Ogunjobi, and back end help in Denzel Ward, Jabrill Peppers and Damorious Randall, this Browns defense will be scary good.
Once again, that's what I said back in August. Surprisingly, I was right about all of these things and their defense, while not AMAZING, is showing signs of greatness.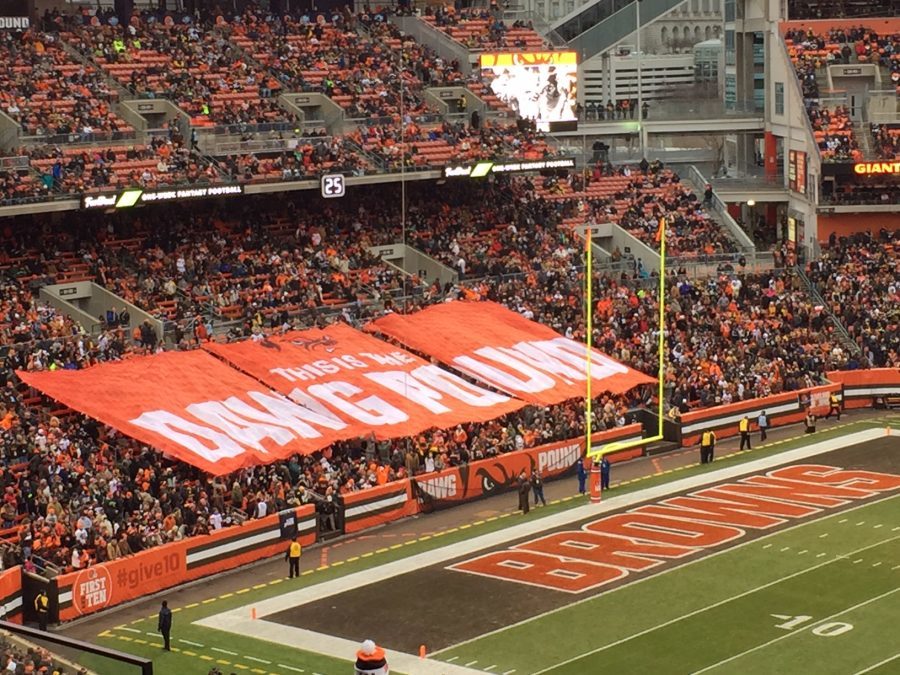 Playoff Picture?
I know it's hard for you to fathom the Browns being a good football team but this team has something special. Vegas isn't in on them yet, either. The over/under for the wins in 2018 is at 5.5 right now. I would 100% take that bet any day of the week. If you have the chance, take it. While the Browns are not an overall 10 win team yet, their roster allows them to be at least a .500 team in the upcoming year. Sure, the Browns have nothing to lose this year but sometimes that can work positively for a team.

I think that the new quarterback position, the key additions to offense and the already dominant defense will win more football games than people are giving them credit for. If this offense stays healthy and plays the way we all know they can, I think the Cleveland Browns will sneak into the playoff picture with a final record of 8-8 or 9-7, under the last wild card team in the AFC. Browns fans, this is your year. Get ready because it'll be a fun ride. Who needs LeBron, anyway?
Lastly, that's what I said back in August. Despite how many things I was wrong about… I was right about the overarching theme. THE BROWNS ARE GOOD! THE BROWNS HAD OVER 5.5 WINS! THE BROWNS ARE PLAYOFF CONTENDERS, kinda! AND THE BROWNS may MAKE THE PLAYOFFS! It's a long shot but I was right and that's simply a fact!
Thanks for reading and don't forget to follow me on Instagram and Twitter– @jcmoore19 and my new Belly Up Twitter – @JordanBellyUp