SmackDown Live come to us tonight from the Legacy Arena in Birmingham, Alabama!
Becky Lynch & Asuka
Lynch & Asuka kicked off SmackDown Live tonight by having a face off in the ring, leading to the Iconics to come out and end up getting challenged by Becky. Lynch and Peyton Royce had a decent match that went on a little too long for my liking.
Immediately following their bout, Asuka challenged Billy Kay and disposed of her in less than a minute.
I like this game of one-upsmanship going on between the Man and the champion. These are two elite stars in this business and it will be interesting to see how their match at the Royal Rumble plays out.
Mandy Rose & Jimmy Uso
For the past couple of weeks, Mandy Rose & Naomi have had their differences and lately, Mandy has been eyeing Naomi's husband, Jimmy Uso. This didn't seem like it would go anywhere but Mandy gave Jimmy her hotel room key and Jimmy wasn't sure if he'd go along or not.
Jimmy ended up going to Mandy's hotel room later in the night. Mandy set up paparazzi to take pictures of the together in the room, essentially trying to ruin his marriage. Turns out, Jimmy actually brought Naomi with him and her and Mandy brawled in the room. Mandy ended up on top and got away from Naomi in the end.
This story was told throughout the show but i'm not sure where it goes from here. It'll be interesting to see what WWE can do with this story now.
Samoa Joe dominates
Joe was scheduled to have a match against Mustafa Ali tonight but the bout never went ahead. Joe attacked Ali before the bell and completely laid him out. After the attack, he cut a fantastic promo on how he is going to win the Royal Rumble. On the SmackDown Live side of things, Joe is one of the odds on favorites to win the match and he made a statement tonight.
I'm hoping these two can continue their rivalry together. I see some good bouts on SmackDown Live in the coming weeks between the pair.
Andrade vs Rey Mysterio
First things first, WWE changed him name to just Andrade and I don't know how I feel about it just yet. This match was amazing. Both men switched up the pace several times and put together some really innovative spots that we don't normally see in WWE. I advise everyone go watch that match from start to finish; one of the best matches of the month for sure!
Andrade picked up the victory after Rey hit the 619, Zelina Vega distracted the ref, giving Andrade a chance to blindside Rey and hitting his hammer lock DDT to pick up the win. This is huge for Andrade and hopefully WWE can continue his push.
Bestie Birthday Bash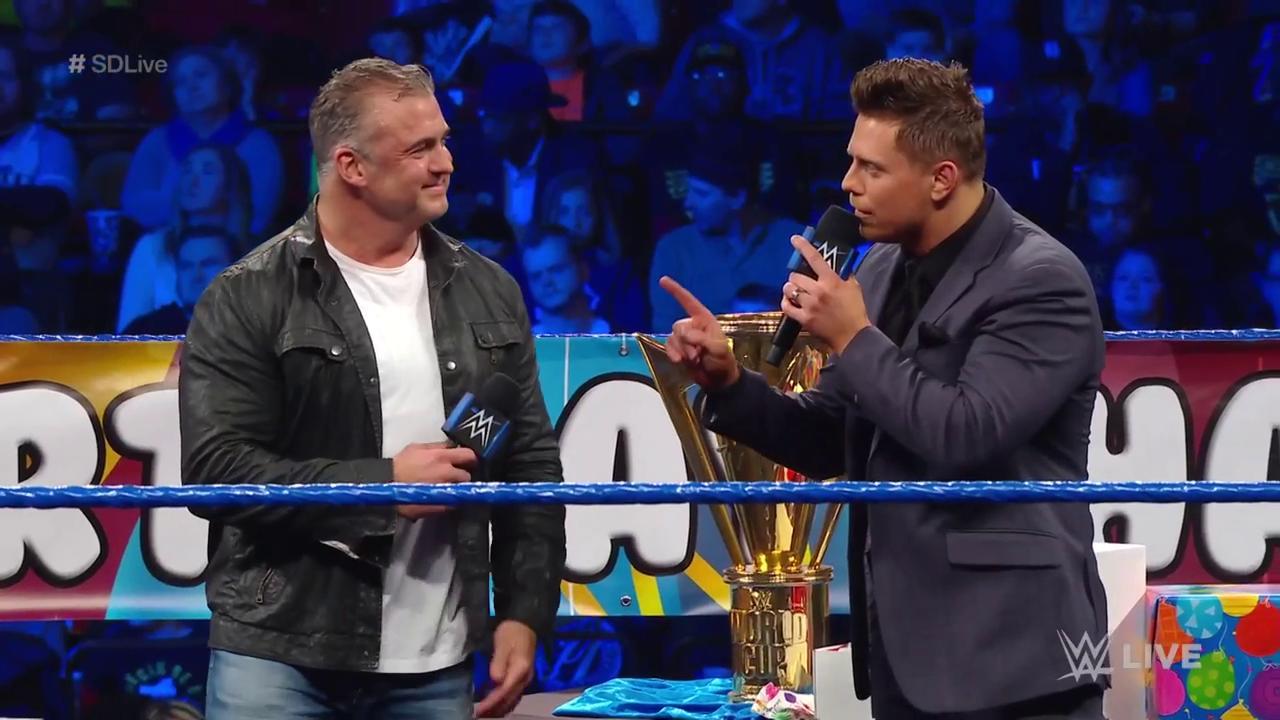 It's Shane McMahon's birthday today and the Miz wants to celebrate with his tag team partner! The ring is set up with cake (never good), presents and decorations. The Miz gave him Jordan 33's and prepared him a lovely package as well. Miz says they will be SmackDown tag team champions and led the entire arena in a happy birthday song. This led to The Bar coming out, running down Shane & the Miz. Shane says his one birthday wish if for the Miz to defeat Sheamus in a match.
This bout was the night's main event. Miz was wrestling in a suit tonight because he wasn't ready to compete. Sheamus took control early before Miz caught some steam. Cesaro interfered which brought Shane to the apron, throwing Cesaro off the apron and through a table with cake on it. Miz rolled up Sheamus and the Miz pinned one half of the SmackDown tag champions. This match was only around five minutes.
After the match, Shane put Sheamus into the corner and with the other cake, Miz set it up on top of Sheamus. Shane went to the top rope and hit his signature coast to coast on Sheamus and the Miz & Shane McMahon stand tall to end the show.
This was a fantastic episode of SmackDown Live! We got an amazing match, interesting stories and we are moving along smoothly towards the Royal Rumble. Overall a great couple of shows in Raw and SmackDown this week for WWE and we can only hope that things continue on this path going forward!