Even though free agency is never actually over, the big rush of big names has slowed down and now it is time to focus on what is really important: the future! Now when I say the future, I am of course talking about the 2019 NFL Draft! Personally I think it is always draft season, but now is the time of year when everyone is focused on it. There are so many mock drafts all over the place, but this one over at the Korner Booth is the one you will remember… for now. So without further ado, here is the KornerBooth Mock Draft 1.0.
Marc: Kyler Murray, QB – Oklahoma
As much as I am a fan of Josh Rosen, he was my QB1 last year, he just seems to be on his way out of Arizona. Kingsbury coming in and Murray being a guy "he would select #1 overall" if he had the chance appears to be a match made in heaven.
Jared: Kyler Murray, QB – Oklahoma
Kingsbury recruited him, and what better way to rebuild than having a mobile passer behind a bad offensive line?
Marc: Quinnen Williams, IDL – Alabama
With the Dee Ford trade, I don't think Bosa would make much sense here even though I think he is best available. I could see the 49ers easily trading this pick back for a WR (Metcalf) , CB (Williams), or S (Gardner-Johnson), but for mock draft purposes, Quinnen Williams will have to do.
Jared: Nick Bosa, EDGE – Ohio State
He is the best player in the draft, and will create the perfect combo after the Dee Ford trade to give the Niners an explosive pass rush.
Marc: Nick Bosa, EDGE – Ohio State
If this off-season wasn't already going well enough, Bosa falls to a Jets team that missed on Barr, but got Le'Veon Bell instead. Bosa along with Mosley, Adams, and other nice pieces will make this a team to watch next season.
Jared: Jawaan Taylor, OT – Florida
After a great off-season for the Jets, what better way to get Sam Darnold help than to get him help on the O-Line and get the top tackle in the draft.

Marc: Rashan Gary, EDGE – Michigan
I realize this will not be a very popular pick, but for some reason I just see it happening. Even though Josh Allen is still on the board, I feel that Gruden/Mayock are going to go with the #1 recruit out of high school instead of a 1 1/2 year stud. This pick could very well be traded back to grab this same player a few picks back.
Jared: Josh Allen, EDGE – Kentucky
The Raiders struggled getting after the QB last year. Considering Allen is a premiere pass rusher, this pick should help replace the hole Khalil Mack left.

Marc: Devin White, LB – LSU
White is the Roquan Smith of this years draft, even though I think Smith is the better prospect. This pick was tough between White and Allen, but with Kwon Alexander leaving I could see Arians wanting to fill that hole and get his leader on defense.
Jared: Devin White, LB – LSU
The Buc's lose Kwon Alexander and they now can get back a similar player in Devin White, an extremely athletic linebacker.

Marc: Josh Allen, EDGE – Kentucky
Finally! Josh Allen is a solid talent that easily could get drafted before this but just happened to fall to the Giants. This Giants team is a mess with a ton of confusion. It only makes sense that they still choose to not draft a QB since Gettleman thinks Eli Manning is doing just fine.
Jared: Dwayne Haskins, QB – Ohio State
This is assuming the Giants aren't complete idiots and actually draft Eli's replacement to start to turn this franchise around with a solid young pocket passer; arguably better than Kyler Murray depending on team.

Marc: Jawaan Taylor, OT – Florida
Part of me wanted to draft a QB here, but the 4 year deal with Foles makes me think this isn't the year they go in that direction. Foles is best when protected,  which is why I think Taylor makes the most sense here.
Jared: Rashan Gary, EDGE – Michigan
Jags need to re-up their front four, what a better way to start than to grab Gary.

Marc: T.J. Hockenson, TE – Iowa
Matt Patricia is doing everything it takes to carry over the "Patriot" way by getting Amendola, Flowers, and now they get their version of "Gronk." Could see them drafting an EDGE guy here if not Hockenson, but this just seems like a good fit even if it's early for a Tight End.
Jared: Montez Sweat, EDGE – Mississippi State
The Lions can create a great combo between this explosive athlete and Trey Flowers to really shore up those front four on defense. Sweat's combine performance really helped him secure being picked this high.

Marc: Ed Oliver, IDL – Houston
This man went from being a Heisman finalist/top 3 pick before the season, to falling in the draft. Ed Oliver is a freak of nature that just happens to be 6'2″. He plays all over the D-Line which will make him versatile. If he plays more interior which is to be expected, I think he is a good size and a great replacement for a veteran like Kyle Williams who will be surely missed.
Jared: Quinnen Williams, IDL – Alabama
The Bills lose Kyle Williams so they replace him with another Williams, who falls a bit in the draft because teams have much more pressing needs than DT in the top eight.

Marc: Jeffery Simmons, IDL – Mississippi State
As much as the Broncos need to address their franchise QB issue, Elway likes larger QB's with arm talent. He went and got that with Flacco who he seems to be pretty high on from what he has said to the media. Could see Haskins going here, but I think the Broncos wait until the 2nd or 3rd round and grab a guy like Daniel Jones out of Duke.
Jared: Ed Oliver, IDL – Houston
Big fella to put between Miller and Chubb to shore up their front seven. They most likely will hold off on a QB to see what they get out of Joe Flacco.

Marc: Dwayne Haskins, QB – Ohio State
This might be a surprise to most considering the Giants & Broncos pick before the Bengals, but I think this makes sense with a new young Head Coach in Zach Taylor. Dalton's time is running out and I could see him being traded or only being around for one more year in Cincy.
Jared: Andre Dillard, OT – Washington State
The Bengals add someone to block for Andy Dalton to see if the new Head Coach makes a difference.

Marc: Jonah Williams, OL – Alabama
The Packers always pick completely different from what I think they are going to do so that's why I'm going OL. Jonah Williams played OT for Bama, but from what I have seen/heard he can play inside at guard as well. Rodgers is becoming more and more fragile and could use a talented OL like Williams to lengthen his career.
Jared: Noah Fant, TE – Iowa
Green Bay tries to rebuild for one more run with Rodgers. Adding a young TE will possibly spark the offense.

Marc: Montez Sweat, EDGE – Mississippi State
Guys like Sweat scare me. Not because of how big he is, but because of how much his draft stock rose because of his 40 time. As much as a 4.41 40 time is extremely impressive, that sometimes distracts GM's from looking at the film. Good thing for Sweat is that he is also pretty good on tape. I just think him going even thirteen to Miami is a little early.
Jared: Drew Lock, QB – Missouri
The Phin's finally move on from Ryan Tannehill and having this young guy sit behind Fitz-magic for a year could be a good thing for a very talented QB with a lot of arm strength and maybe can be the start of a new era in Miami.

Marc: Brian Burns, EDGE – Florida State
Coach Quinn and the Falcons need a lot of help on defense even with guys returning from injury. Burns helps them get pressure off the edge that they struggled with last year.
Jared: Brian Burns, EDGE – Florida State
Falcons need to get after the QB and Vic Beasley needs some help, Burns should fit the bill.

Marc: D.K. Metcalf, WR – Ole Miss
We haven't seen a freak of nature in the draft like Metcalf since Jadeveon Clowney. The insane part is that Clowney plays DE, and Metcalf plays WR. Although he didn't perform well in the utility drills at the Combine, I think his physical dominance and Washington's need at WR will be the reason why he gets drafted here.
Jared: D.K. Metcalf, WR – Ole Miss
This monster wide receiver will only fall if Buffalo passes, but in this case Metcalf is a monster and will at least do some damage with QB in Keenum who loves to chuck the ball deep. His 4.3 speed will come in handy as well.

Marc: Andre Dillard, OT – Washington State
Cam Newton will break for good unless he gets some help on the O-Line. This team is kind of a mystery based off who they let walk in free agency along with how good of a start they had last season. I think helping out the line whether its Dillard or someone else, is a must.
Jared: Chauncey Gardner-Johnson, S – Florida
The Panthers need help on defense. Pairing this Gator stand out next to Eric Reid should at least solve one of many problems on their defense

Marc: Drew Lock, QB – Missouri
I don't think the Giants are the biggest fans of Haskins which is why they didn't miss the chance to grab Allen at 7. At 17 though, they did not want to miss a chance at another potential star in this years draft in Lock. He is no guaranteed successor of Manning, but he is a good possibility and if it doesn't work out they can draft another one in 2020 or 2021, but with all of the pressure on Gettleman it almost feels like he is forced to draft a QB with one of his two 1st Round picks.
Jared: Jonah Williams, OL – Alabama
Now that the Giants have their QB, they can get him some protection as the Giants, in theory, realize they have to rebuild.

Marc: Garret Bradbury, IOL – North Carolina State
The Vikings do not really have that many missing pieces as an overall team. They put all of their money and trust in Cousins and it didn't work for year one. One way to help make sure the Cousins experiment works in year two is to help out the O-Line.
Jared: Garret Bradbury, IOL – North Carolina State
Vikings are stuck with Cousins for a while but at least grabbing an interior linemen will keep him off his back more to reduce his interceptions.

Marc: Cody Ford, IOL – Oklahoma
I wouldn't call this a stacked O-Line class this year, but there are many that could sneak their way in the 1st round simply because of need. Cody Ford is a big interior lineman that is very balanced and can move for his size. Mariota could use someone like that or Tannehill will be playing due to Mariota getting hurt once again.
Jared: Cody Ford, IOL – Oklahoma
The Titans can run the ball and hopefully adding an interior guy like Ford will give them a more balanced offense. They are going to need help so they can hopefully compete with the Colts and Texans in a very solid division.
Marc: Devin Bush Jr., LB – Michigan
This team is clearly a mess right now and you might think they go try and get some new offensive weapons to replace Bell & AB, well I think you are wrong. Without Ryan Shazier the past few years and most likely for good, the Steelers defense has been sub par. If they pass on a guy like Devin Bush Jr., I will be shocked.
Jared: N'keal Harry, WR – Arizona State
Steelers get them self a replacement for AB. Harry being 6'2 225 is a little bigger and will provide a large target for Big Ben down field.

Marc: Chauncey Gardner-Johnson, S – Florida
The final piece of the "Legion of Boom" is now gone and Gardner-Johnson is a solid replacement even though not many can replace a guy like Earl Thomas. Seattle could go in many different directions here, but taking care of the Safety position has to be high up on their board other than O-Line.
Jared: Nasir Adderley, S – Delaware
Thomas… gone…. Chancellor… gone. The Seahawks need a replacement. Hopefully Adderley fills some of the gap on a team that is going back to a run the ball and play defense style.

Marc: N'Keal Harry, WR – Arizona State
I hope that Ravens fans are very happy with this pick. Harry is a very talented, big WR, which is exactly what this team needs considering two of their top receivers are now gone. Jackson, Ingram, and Harry could be dangerous if used in the correct way.
Jared: Devin Bush Jr., LB – Michigan
When you lose half of your line-backing core in free agency, grabbing a solid backer like Bush to replace C.J. Mosley is a start.

Marc: Nasir Adderley, S – Delaware
Honey Badger is gone and Adderley is a quality young prospect. I understand he got banged up at his pro-day, but I still think the Texans take him to fill a need at Safety.
Jared: Byron Murphy, CB – Washington
The Texans replace Kareem Jackson really quick in a corner with solid ball skills and can probably start week 1.

Marc: Greedy Williams, CB – LSU
A few months ago people had Williams in the Top 10 range, I think that would be a little greedy if you ask me (smirk emoji). Williams could easily get closer to the top as the draft approaches, but for now I feel like this is where he falls, and to a Raiders team that could really use him.
Jared: Greedy Williams, CB – LSU
Raiders continue to load up the defense with their picks by grabbing a solid corner prospect here.

Marc: Joshua Jacobs, RB – Alabama
Personally, I do not actually see the Eagles grabbing a running back in the first round, but after hearing Jared talk about it for the past 3 weeks, I am starting to think it could happen. So if it doesn't happen, we can put this one on him. This also depends on what happens with Ajayi.
Jared: Joshua Jacobs, RB – Alabama
The Eagles need consistency at the running back position and with Ajayi most likely leaving in free agency, Jacobs gives the Eagles an every down back that can be explosive, either by catching the ball or running between the tackles.
Marc: Christian Wilkins, IDL – Clemson
This guy just seems to fit the culture the Colts are trying to create in Indy. Could have been an even higher pick last year but chose to return to Clemson to win a Championship. Ballard gets his kind of guy in Wilkins.
Jared: Christian Wilkins, IDL – Clemson
The Colts had a solid season and adding a talent like Wilkins will help their front four. Could also see them go edge here as well if the right player is available.

Marc: Noah Fant, TE – Iowa
Why not add another weapon on this offense that went from, as the kids say these days,  0-100 real quick. Iowa has two of the top TE's in this draft and the Raiders snag Fant, a similar replacement to Jared Cook heading to the New Orleans.
Jared: T.J. Hockenson, TE – Iowa
The Raiders get a big, physical, traditional tight end here giving Carr a large target to replace Cook.
Marc: Dalton Risner, OT – Kansas State
This is a solid all around team and I believe their defense is fine, and will get better with experience. The O-Line could use some help with the not so elusive Old Man Rivers back there running the show.
Jared: Dexter Lawrence, IDL – Clemson
Chargers need a lot of help on the interior to stop the run to help out their two talented pass rushers. Lawrence should fit in fine.

Marc: DeAndre Baker, CB – Georgia
This defense is just not good. Tyrann Mathieu should help, but they need help on the outside. If they don't go CB here, I could see them trying to grab an EDGE rusher with the departures of Houston and Ford. Don't be surprised to they trade up again like the Mahomes draft to get a guy like Allen/Sweat/Burns if they fall.
Jared: Clelin Ferrell, EDGE – Clemson
The Chiefs snag Ferrell here and start to replace the pieces they lost in free agency, starting with the pass rush.

Marc: Hakeem Butler, WR – Iowa State
Rodgers needs some help at the receiver position and I think a big talented WR like Butler is what he wants/needs. Then again, he might want a smaller/speedier receiver to replace a guy like Randall Cobb which is the direction Jared goes with his pick.
Jared: Marquise Brown, WR – Oklahoma
Packers get Rodgers a burner to go opposite Adams, which should give the packers a little more punch. Solid/younger replacement for one of Rodgers favorite targets, Randall Cobb.

Marc: Byron Murphy, CB – Washington
If Matthews doesn't sign here I would have had them take Ferrell, but since it did happen I think they go with another Corner to try to solidify their defensive backs. Peters/Talib/Murphy sounds pretty lethal if you ask me.
Jared: DeAndre Baker, CB – Georgia
Rams help Peters & Talib with another guy who is fine with being on a one man island. Doesn't hurt that he is the reigning Jim Thorpe award winner.

Marc: Clelin Ferrell, EDGE – Clemson
This is why everyone hates the Patriots. How does such a talent like Ferrell falls to Belichick and the Patriots. Ferrell will be next Flowers, Jones, Collins and end up moving on from or be traded by the Patriots after 3-4 years.
Jared: A.J. Brown, WR – Ole Miss
Patriots need receivers and brown is a solid route runner who does not mind contact Tom Brady won't mind that.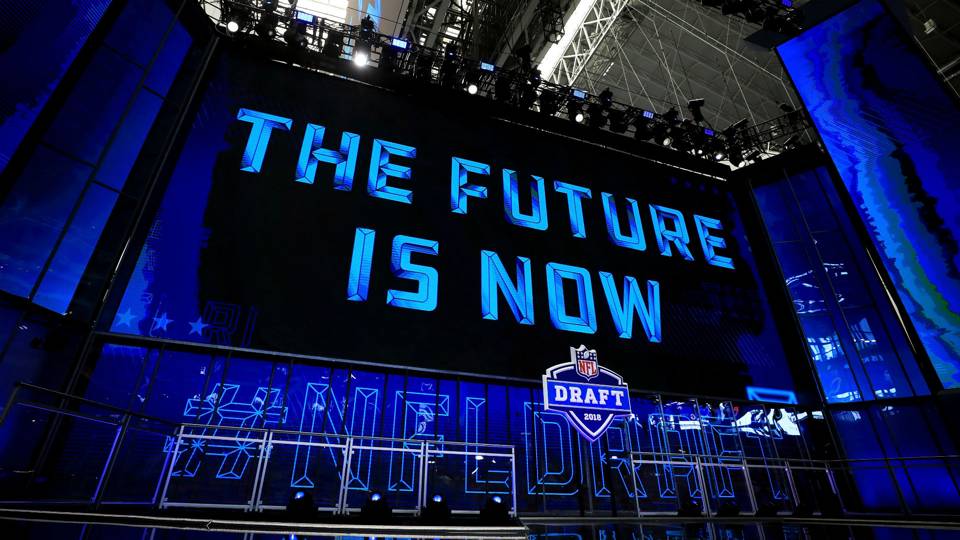 So if you disagree with our picks, well that is just simply on you. This is one of *3* mock drafts that will come out before the draft that just so happens to be 1 month away. If you have questions or comments about the picks we made reach out to us on twitter @BellyUpReilly, @BellyUpJared, or @KornerBoothPod.
We will be discussing our picks and all things draft on the Korner Booth Podcast as we come closer and closer to the draft on April 27th
Happy Mock Draft Szn!