Monday Night Raw comes to us tonight live inside the TD Garden Arena in Boston, MA!
Beat the Clock Challenge
Ronda Rousey, Becky Lynch, and Charlotte Flair will all separately face different members of the Riott Squad to kick off Raw. Every woman mentioned was at ringside.
Ronda Rousey vs. Sarah Logan were up first. Rousey defeated Logan via arm bar in 1:25.
Charlotte vs. Ruby Riott was next up. Riott got offense in early and there were a few god counters. Charlotte locked in the Figure-8 leg lock but didn't get the victory in time.
Becky Lynch vs. Liv Morgan is last. Flair attacked Lynch before the bell and Morgan took advantage early. Lynch rallies back with a victory roll and pins Morgan with around ten seconds to spare.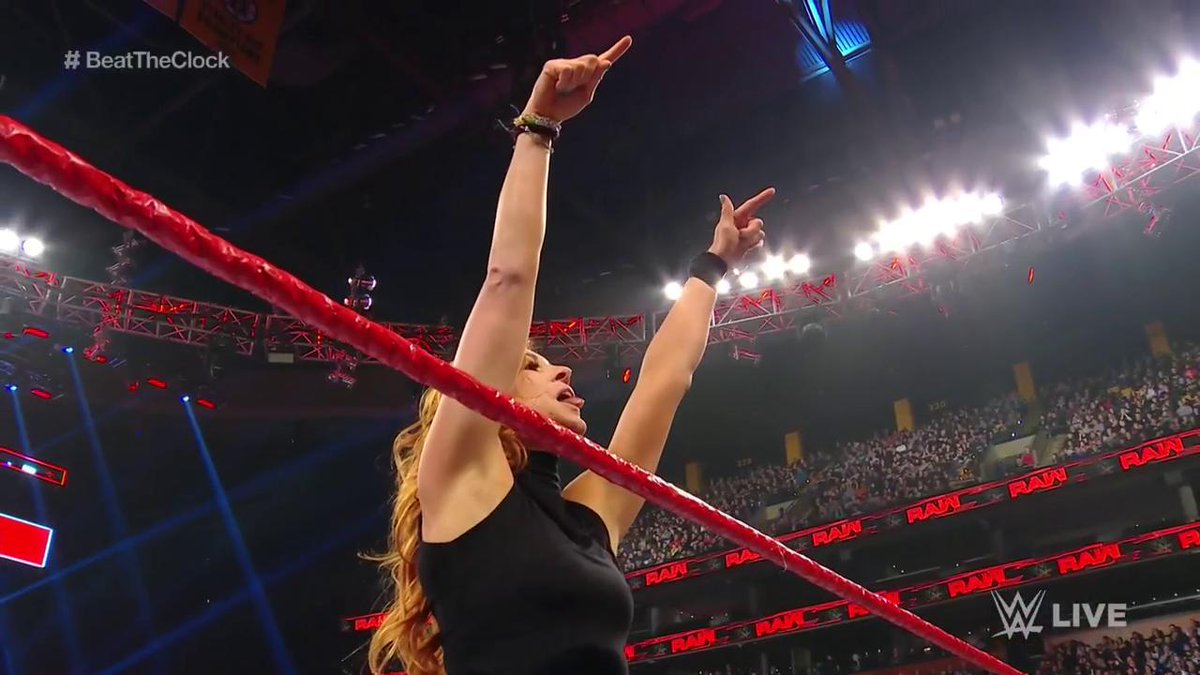 This was a unique way to see which woman (in Becky's case, Man) could get the upper hand on the other before Wrestlemania.
This is the most hyped main event of Wrestlemania in a long time and we need a go home angle that will have fans buzzing going into next Sunday.
With that being said, Rousey, Lynch & Flair will team up next week to face the Riott Squad in a 6-woman tag match.
Drew McIntyre & Roman Reigns
Drew McIntyre was in the ring to tell Roman Reigns a week is long enough. He wants an answer to his challenge at Wrestlemania.
McIntyre already defeated Seth Rollins, took out Dean Ambrose, and now it's Roman's time. He said that Reigns has put his family through enough already and he knows he doesn't want to put them through more.
Reigns music hit and he was ready to answer McIntyre's challenge. He got in the ring and accepts the challenge.
He told Drew to never run his mouth about his wife and kids again and attacked Drew. The two brawled in and out of the ring but McIntyre hit Reigns with a low blow. McIntyre hit Reigns with a claymore kick.
This match could end up being one of the best on the whole 'Mania card. These two are going to be main event players for WWE for the next few years and of course, it's going to be great to see Roman Reigns back in singles competition since his return.
Drew wrestled Dean Ambrose later in the night's main event in a last man standing match. McIntyre ended up putting Ambrose through a table and was able to beat the count.
Once he was on his feet, Drew hit the claymore kick and Ambrose was out for the count. The show ended with Drew McIntyre standing tall.
A Moment of Bliss
Alexa Bliss was in the ring for her weekly segment. Her guests this week, Braun Strowman as well as SNL's Weekend Update hosts Michael Che & Colin Jost.
Bliss replayed Braun's encounter with Jost 3 weeks ago as well as him smashing the car Jost gave to Braun 2 weeks ago.
Colin Jost & Michael Che are live via satellite at the SNL set. Jost made fun of Braun the whole time.
Jost wants Braun to pay him back for the car, plus interest. But Braun had other ideas. He wants Colin Jost to enter the Andre the Giant Battle Royal. Che accepts the challenge for Braun but Colin wants Che in as well.
Braun asks Bliss to make it official and she does. Both Che & Jost will be in the Andre the Giant Battle Royal at Wrestlemania.
Interesting to say the least.
Seth Rollins & Paul Heyman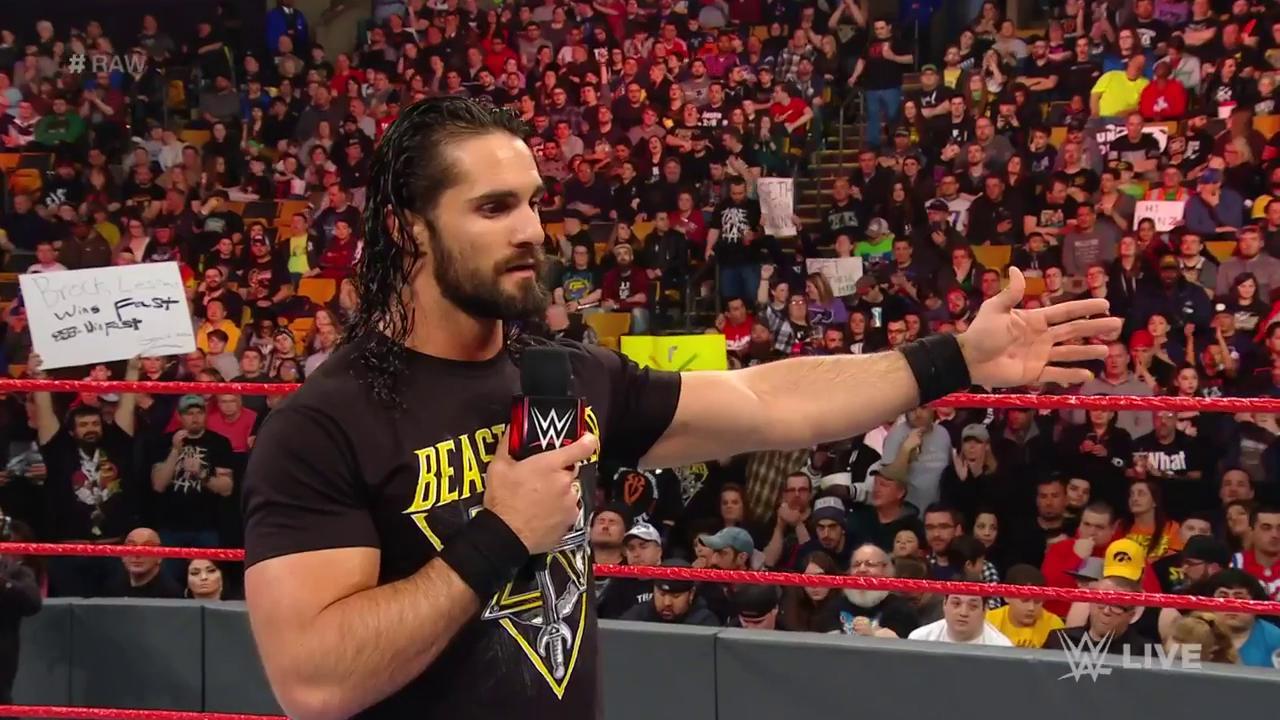 Seth Rollins hit the ring and cuts right to the chase. He and Brock Lesnar are as different as possible but they both have one goal, the Universal title. Seth wants to carry the weight and inspire people.
He lists off former world champions who inspired him, and Brock Lesnar is not on that list. Rollins said this is the biggest match of his career.
He didn't realize how important this match was to the fans. Everyone wants Rollins to beat Lesnar at 'Mania and that means a lot to him. Rollins has to beat Lesnar and he can't let him bully the pro wrestling industry anymore and he needs the fans support.
Paul Heyman cut Rollins off. Heyman thanks Rollins for letting him know this is now a handicap match. Brock Lesnar vs. Seth Rollins & the WWE Universe. He said he likes the odds for Lesnar.
Heyman called Rollins pathetic for crying to the fans the way he did. He wants Rollins to take it personally when him and the whole WWE Universe lose at 'Mania.
Rollins chased Heyman up the ramp and tells him that we (WWE Universe) will march into Wrestlemania and burn it down.
Great promo segment! This match will be fantastic and I think it's Seth's time to be the man once again.
Kurt Angle vs. Samoa Joe
Kurt Angle's farewell tour continues, and at this point, WWE seems to be letting Angle do whatever he wants.
Angle & Joe put on classic matches in the late 2000's in TNA and it's great to see them square off in a WWE ring, something that I, as well as many others thought would never happen.
Joe cuts an intense promo before the match. He dominated Angle early but Angle fought back. The two had a good match and Kurt Angle won with a roll up while in the coquina clutch.
A great win for Angle, I don't even mind he pinned Joe clean. Angle wrestles AJ Styles tomorrow night on SmackDown Live as he continues his farewell tour!
Triple H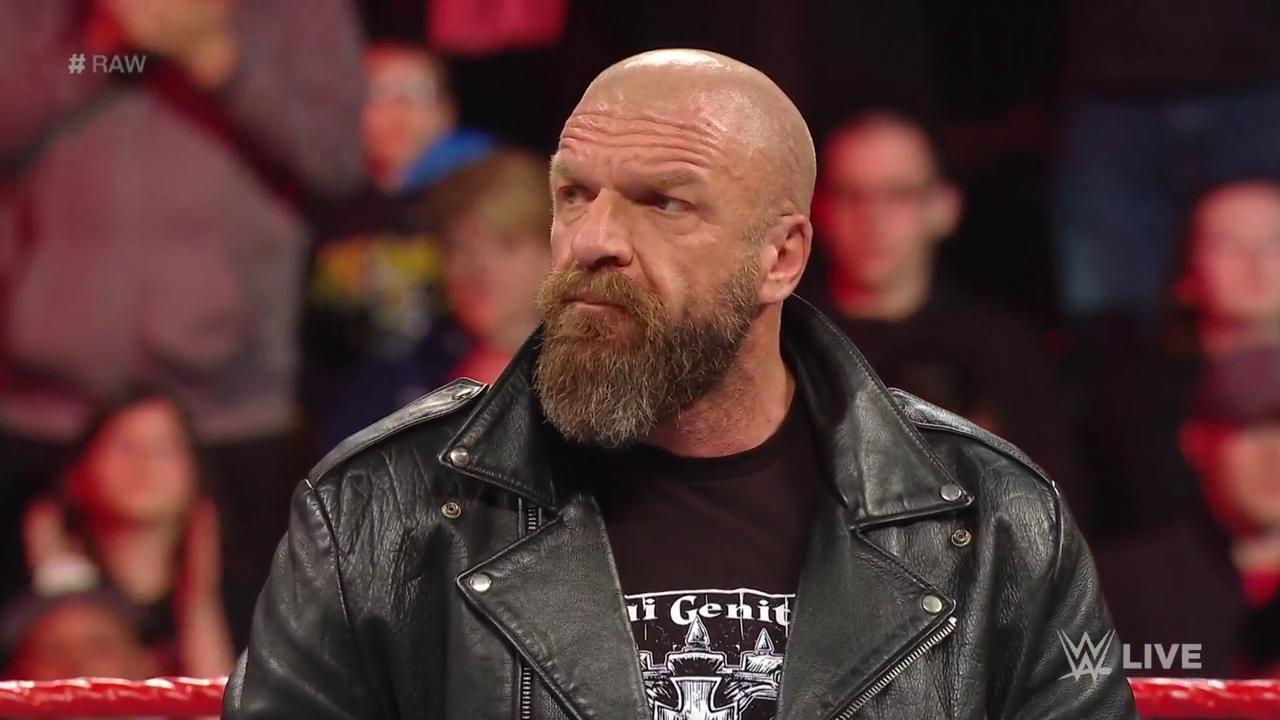 Triple H said he had received a letter from Batista's lawyer. The letter states that Batista will not compete at Wrestlemania unless Triple h agrees to another stipulation.
The stipulation will give Batista what he wants. He wants Triple H to put his career on the line at 'Mania. Triple H doesn't care about him and the only thing he's obsessed with is kicking Batista's ass. If he can't beat Batista, he has no business being in the ring. He accepts the stipulation.
Huge swerve in the story here and now things are interesting! There's now way Triple H would lose.
Right?
Overall, this was a solid episode of Raw. It definitely feels like it's 2 weeks away from Wresltemania. Everything has more or less taken shape and the card for the show of shows seems to be almost set in stone.
Here's to a great episode of SmackDown Live tomorrow night!