We are a little bit over a week into the season I know, but I wanted to try and start up a weekly update on my takes on the team, and their place in the league today.
Seattle Series
Opening Day the Red Sox came out to a promising start putting up a couple of runs early, but the Mariners just decided they had to put up more. They put a steady flow of runs on us throughout and took the first one 12-4.
Game 2 the Sox played catch up the entire game, and put up just enough in the 9th to get their first W of the season, narrowly squeaking by with a 1 run lead.
Game 3 a similar script, but that game went the other way. One run shy, but showing a promising few out of the bullpen.
The final game of the series featured nothing too great. They stacked up 10 runs early and we attempted to play catch up. The bottom half of the order had little to no production. It was a tough way to close out a series, but something to use as a building block
Seattle won series 3-1.
Sox Takeaways- Wake up, get the bats going early. Avoid playing catch up.
Oakland Series
Series number two we traveled down the west coast to Oakland for another four-game series. Price's first start back after a World Series victory, was pretty good, but we couldn't seem to put a cork in the runs flowing in. Price recorded 9ks through 6 innings letting up 4 earned runs, but our production wasn't there. It's tough to win when you don't score runs.
Game 2 was another promising game. Sale made his second appearance of the season. Allowing only one run, a solo blast in the first, Sale held the A's to 3 hits through 6 innings, but that's all they needed.
Game 3 Nasty Nate was on the bump. The Sox poured on the runs Late in the game with what felt like a miracle of a hit by Mookie. Off of third base and into left to score two, and later lead to a 3rd run. This captured the Sox second victory and gave them a whole new outlook on the slow start.
Game 4, a tough loss again for the Sox. Erod was on the hill and let up 8 hits, 6 Earned runs and only captured 2 K's. There was not a whole lot of production for the Sox, so again not too much you can do if you do not score more runs than the other team.
A's won series 3-1.
Sox Takeaways- Ramon Laureano has an absolute cannon of an arm, and it is no wise to try to run on him.
Arizona Series
The final series of the road trip in AZ started off horribly. Ricky Porcello just got absolutely rocked early and often, giving up 10 hits, with 7 earned runs through 4.2. He did get 5 K's but they proved to be useless. Johnson out of the pen as a mid reliever looked no better. Giving up 6 hits, and another 7 earned runs through just 1.1. It got so bad that Nunez went in to pitch in the 8th. He had one of the most promising pitching appearances of the game only allowing one hit, that got taken deep during the batting practice, exactly 60 MPH, that he was throwing. The Sox attempted to rally late but they only made the score a little less embarrassing by totaling 8 runs in the first L of the series.
Game 2 was another fairly promising start for Price. 7 hit, 4 Ks with 4 earned. The Sox battled all game, but could not pull a lead entering the bottom of the 9th. The Dbacks walked it off, against Colten Brewer, and bringing up another question of who the closer is.
Game 3
Working essentially entirely out of the pen, starting Hector Velazquez, a normal middle reliever, and working our way through the pen. All pitchers came through and showed their stuff, only allowing a total of 3 hits. The Sox tallied 5 hits, but none more important than Mitchy Moreland's 7th inning solo shot. One run was all the Sox needed, with Brasier, closing it out in the 9th.
Arizona won series 2-1
Sox Takeaways- Stop the bleeding early. Figure out the closer. Score more runs than the other team. We won the final game, hopefully it will give good leverage.
What to expect?
Obviously 3-8 heading into the home opener is not the ideal. It's definitely no easy feat going on an 11 game road trip to start a season, especially as the defending World Champions. Should we be worried as Sox fans? My honest answer is, no. How can you blame them, I mean whether they still thought the games were fake, or they were giving the rest of the league a little head start, I expect to see an instant turn around in the season when they return to the East Coast. The whole team needs to get a couple of Sam Adams and Fenway Franks in their bellies, then they will be firing on all cylinders.
I fully expect that fully rested Mookie, AKA. Simba, will lead the charge for the Sox as they go on a tear for the rest of April. They've got what it takes, they have had a little practice round out on the west coast. When they get those Shiny new rings tomorrow I cannot wait to see the fire that it ignites underneath them.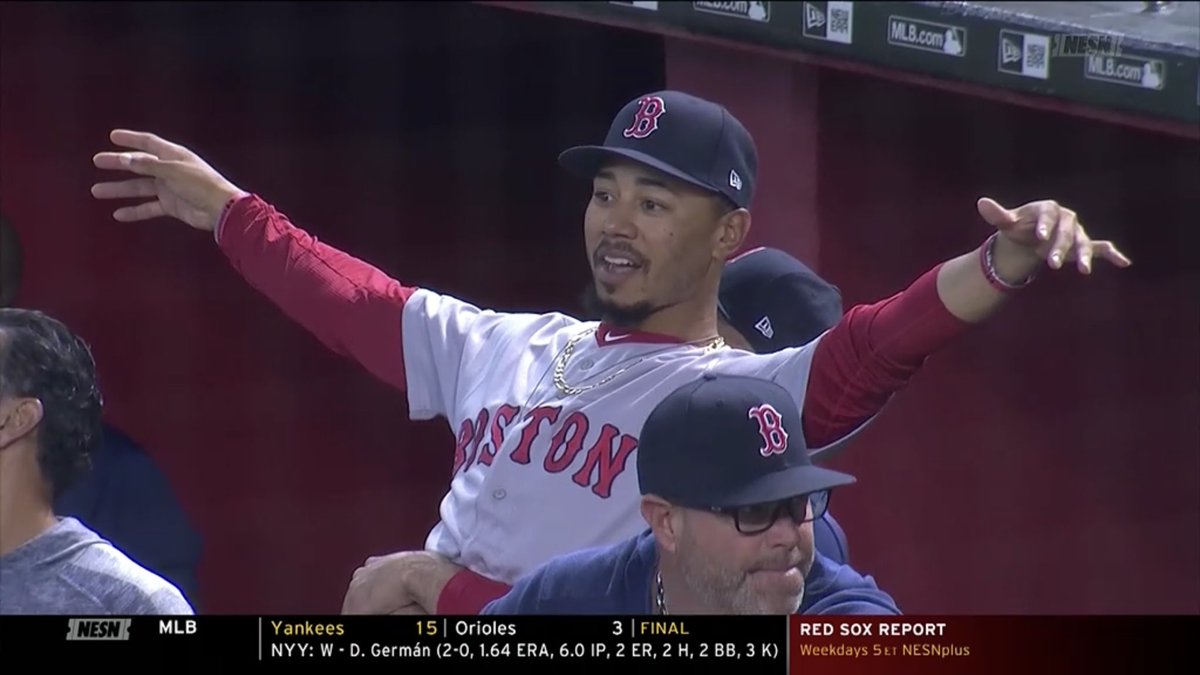 We are ready for excellence, and I don't think they are going to show us any less than exactly that.
Until next week, let's get after it!
Go Sox!
-Dan O