Monday Night Raw comes to us live inside of Rupp Arena in Lexington, Kentucky!
Alexa Bliss to Announce Raw MITB Competitors
Tonight, a special edition of A Moment of Bliss will feature Bliss announcing the competitors for both the men's and women's MITB matches.
There have been several reports on who will be announced tonight and many deserve the opportunity. However, one man that will not be in MITB that many people have speculated is Rey Mysterio.
Mysterio will be in Detroit for the Motor City Comic Con on the day of the PPV. Unless his booking is canceled, he will not be in the match as many have speculated. While Mysterio is unavailable, others like the newly reinvented Robert Roode or Cesaro who was recently separated from his tag team partner, Sheamus will be looking to get an opportunity to win MITB.
On the women's side, there's no doubt that Bliss is going to put herself in the match. After being out of action for months, she returned to action on Raw and looks to pick up right where she left off.
Other than Bliss, Naomi, Natalya, and Ruby Riot seem to be the favorites on the woman's side. To be fair, with injuries and other personal situations for certain superstars, these four look to be the core of the Raw woman's division going forward.
The Man and The Lady Continue Their Rivalry
With what seems to be the hottest rivalry in the company right now, Lacey Evans will look to get the better of Becky Lynch once again tonight.
Lynch cannot seem to catch a break on Raw when she's in the ring with Evans. For the past few weeks, Lynch can't stop Evans' Woman's Right.
With another war with Charlotte Flair in the near future, is Lynch underestimating Evans? Becky 2 Belts has her work cut out for her over the next few weeks and months.
Samoa Joe Defending His US Title?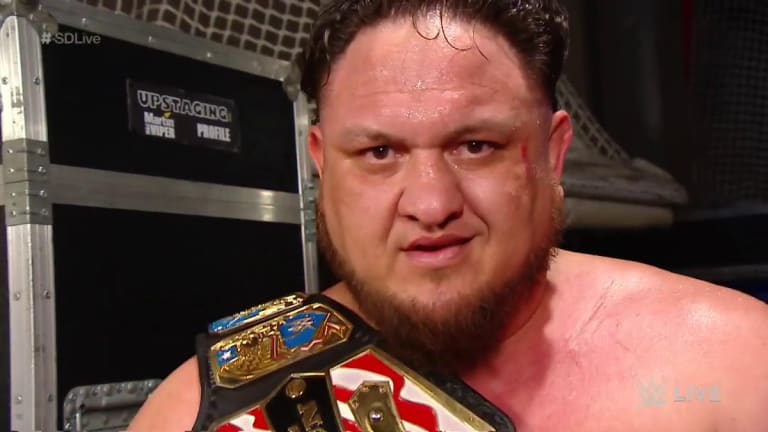 The United States champion, Samoa Joe, who recently moved from SD Live to Raw, needs to make a big impact on Monday nights.
WWE is teasing a possible defense tonight, stating "Will anyone dare to challenge The Samoan Submission Machine for his United States Title?"
US Open challenges in WWE have been the norm since John Cena's memorable reign. It wouldn't be too out of the ordinary as Joe wants to be a fighting champion.
Someone like Cedric Alexander, Ricochet or even Cesaro would be a great fit in this slot tonight.
The Firefly Fun House
Last week, Bray Wyatt debut his new persona. He is not alone however, he was Abby the Witch and Mercy the Buzzard with him as well.
He's over the top with joy and all things fun. It's perfect and WWE knows it.
WWE needs continue this with a different vignette every week until they're ready to debut him in front of a crowd. Whether that be sooner or later, Bray needs to be in the ring.
The only thing that could make people not invest in this story is if WWE plays the same vignette week after week like they're known for doing.
AJ Styles and Seth Rollins Look Towards MITB
Last week, AJ Styles became the #1 contender to Seth Rollins' Universal championship. Directly after the Superstar Shake Up, WWE is going for the new main event match possibilities already. They could have saved Rollins vs. Styles for the main event of WrestleMania 36 but instead, it's hot-shotted for MITB instead.
We still need to get there first and tonight looks to do just that. As Styles and Rollins are both faced, it only makes sense for them to team up and some point before their match and tonight is that night.
WWE is promoting that Styles, Rollins, & Braun Strowman will compete in tonight's main event against Drew McIntyre, Bobby Lashley, & Baron Corbin.
Monday Night Raw has picked up since WrestleMania ended and hopefully, that'll continue tonight! Here's to a great week of wrestling!