One week after the Superstar Shake up, Monday Night Raw comes to us live tonight inside the Wells Fargo Arena in Des Moines, Iowa!
Triple H Announces Two Triple Threat Matches Tonight
The Game kicked off Raw tonight along with the Universal Champion, Seth Rollins. The two shook hands before they took to the mic. Rollins is in his home state and the crowd loved him. They joked about how Rollins defeated Lesnar at 'Mania but now, it's time to get serious.
Now that Rollins is champion, he's got a target on his back. He's going to have to defend his championship in a few weeks at Money in the Bank (MITB). They asked, "what's next?".
Two triple threat matches will take place tonight. The winners will face off in tonight's main event. The winner of that will face Rollins at MITB for the Universal Championship.
Samoa Joe, Rey Mysterio, Drew McIntyre, Miz, Baron Corbin, and AJ Styles (in that order) came out to stake their claim for the Universal Championship. It's Mysterio vs. Joe vs. Styles up next.
Not the strongest opening segment of all time. It seemed to just be there to let everyone get a word in before their actions do the talking for the rest of the night.
Mysterio vs. Joe vs. Styles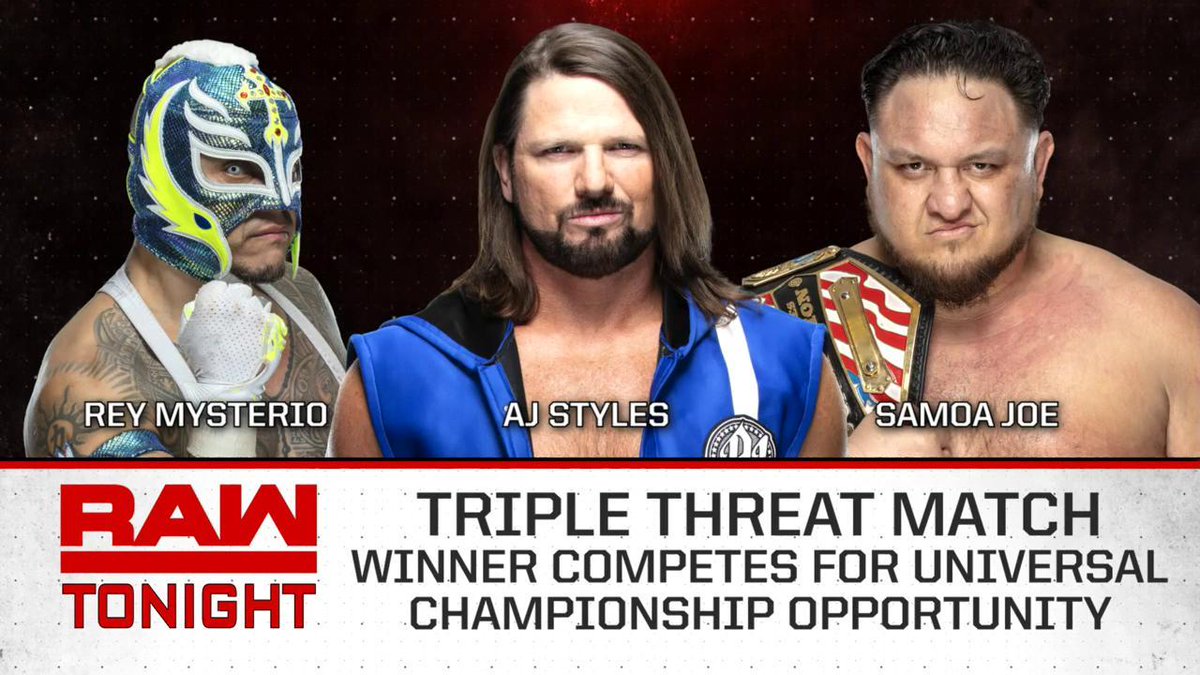 The first of two triple threat matches happened directly after the opening segment. Despite having two commercial breaks, these three put on a great match. Every man looked great and took each others moves well.
The finish came when AJ Styles hit the Styles Clash on Mysterio on top of Samoa Joe. Styles pinned the US Champion for the win.
AJ Styles advances to Raw's main event and will face the winner of the other triple threat match.
Styles always seemed to be the favorite in this match and it's awesome that he can show out on WWE's flagship show now. After a few years on the blue brand, Styles is on his way to conquering Raw already.
Miz vs. Corbin vs. McIntyre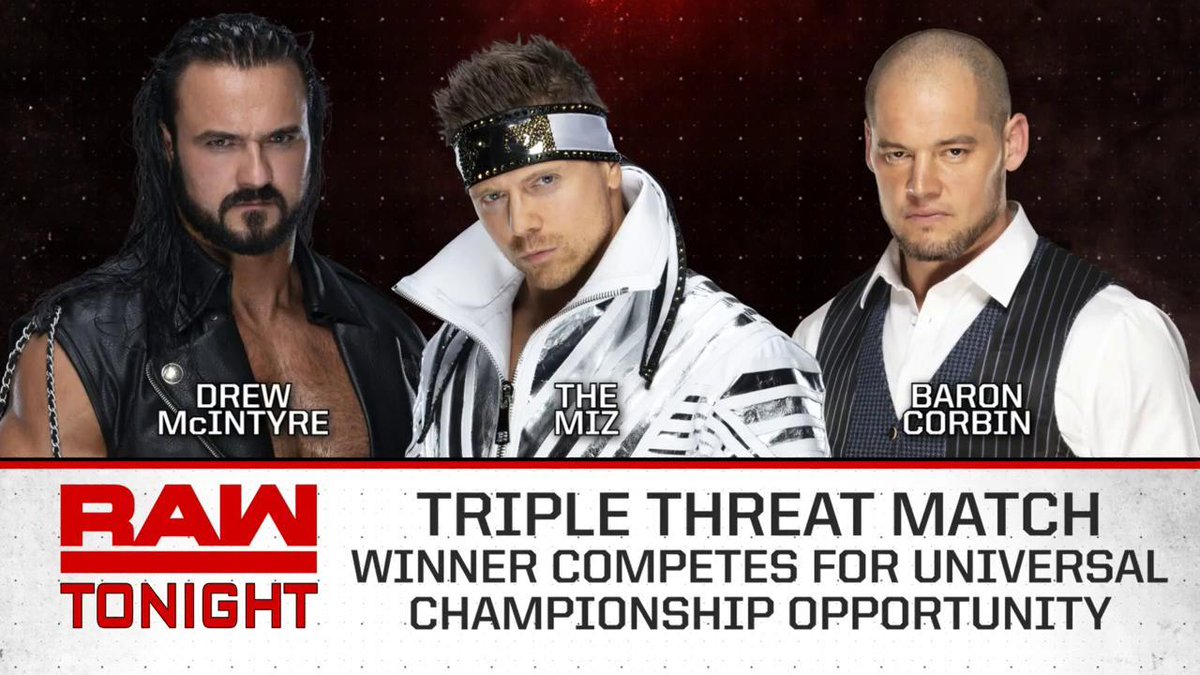 The second of the triple threat matches took place at the top of the second hour of Raw. The three superstars went at it down the stretch and put on a really good match.
Eventually, McIntyre hit the Claymore Kick on Miz. Corbin knocked McIntyre out of the ring before he was able to cover Miz. Corbin stole the pin and will go on to Raw's main event against AJ Styles.
I didn't expect much out of this contest compared to the first triple threat but they held up. This was a good segment and I think the right person won the match.
Sami Zayn vs. The Fans
Zayn cut another great heel promo. He referred to the WWE as a prison. He also went to his Instagram to show how happy he was while he was gone for nearly 10 months.
When he was preparing for his return, he felt like a dark cloud was hanging over him. He couldn't figure it out until he realized it was the fans. He wants the fans to be held responsible for the way they treat him; he'd rather be anywhere else than Des Moines.
Zayn suggests they all take a trip and go to hell.
Sami Zayn was amazing here. He made the crowd hate him again and these great promos need to keep happening every week. Sami vs. the fans is a hot story and WWE needs to run with it.
Becky Lynch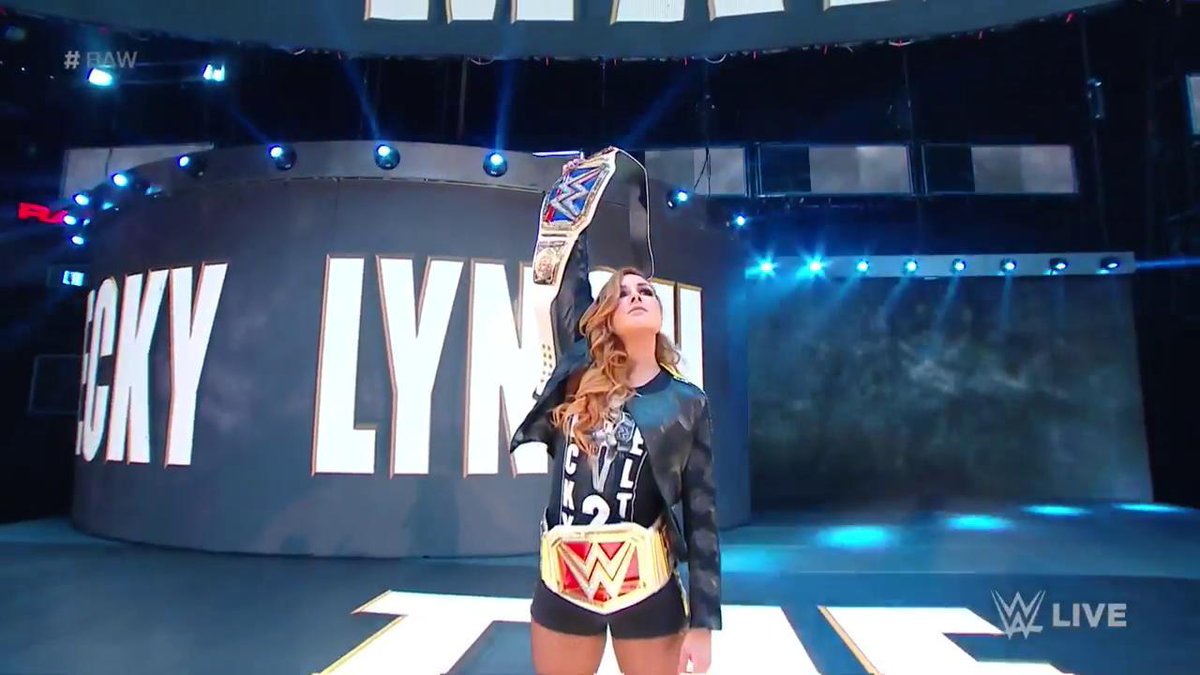 The Man took on Alicia Fox tonight in singles competition. Before that, she wanted to let Lacey Evans know how she feels. She's made a career out of slapping around bleach blonde woman who continue to get opportunities from management. A new person with an old approach.
Lacey Evans came out and wanted to educate Lynch on how to be a lady and she'll do it at MITB.
Becky came back by saying that she's new here and essentially doesn't know her place yet.
Alicia Fox came out for her match. This match went way longer than it needed to be. It went through a commercial break and Fox got a lot of offense on the champ champ. At this point, Lynch needs to squash competitors like Fox in two minutes. Lynch picked up the win via dis-arm-her.
Lacey Evans hit the Woman's Right as soon as Fox tapped out. She hit her a second time and The Lady stood over The Man once again.
The match was bad but the angle after made up for it. Evans should continue to get the better of Lynch every week until MITB.
Robert Roode
At long last, Robert (Bobby) Roode is here. For those unaware, Roode used this name back in the early 2000's, most famously wrestling in TNA.
Robert Roode, obviously visually inspired by the late, great Rick Rude. Roode is sporting a new mustache and is now 100% heel.
Roode went one on one with Ricochet tonight. Both men have recently separated from their partners and have something to prove on Raw. Roode defeated Ricochet clean with the Glorious DDT after a decent match.
Hopefully this is the start of something big for Roode on Raw. We need to see the Roode of old now and I think we are going to see it very soon.
The Firefly Fun House
I don't know anymore. Bray Wyatt was in a house with the creepy doll and dinosaur from the vignettes. They are his friends and he's going to never go back to the Bray of old.
He took a chainsaw to a cardboard cut out of himself. He laughed as he told us he'd be back to see us next week.
This was amazing. I need all of this in my veins.
Baron Corbin vs. AJ Styles
The winner takes on Seth Rollins for the Universal Championship at MITB.
The pair were given a little over 10 minutes to work and they managed to put together a solid Raw main event. The finish came when Styles hit Corbin with the Phenomenal Forearm.
Seth Rollins hit the ring and wanted to shake Styles' hand. The show ended with them shaking hands, a sign of respect to end WWE's flagship show.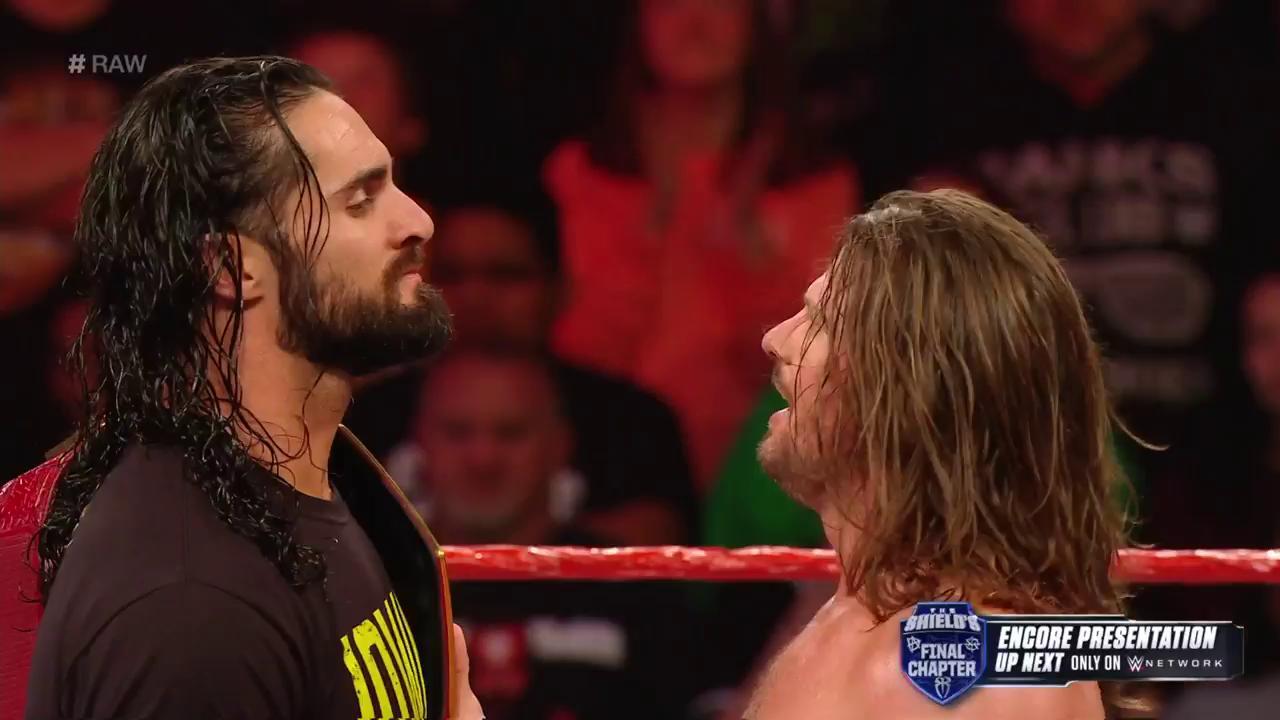 Overall, this was a solid episode of Raw. The chase to be #1 contender for the Universal title was the story of the night, taking almost half of the show. Several characters are getting a fresh starts/reboots and new story lines are flowing nicely.
Here's to a great week of wrestling!