For the fourth time in five nights, WWE is inside the Barclay's Center in Brooklyn, NY!
Kofi's Celebration
The New Day kicked off SmackDown Live with a celebration for Kofi's WWE championship win this past Sunday at WrestleMania. Big E and Xavier Woods give him praise and called him an A+ player (with extra credit).
Last night, Kofi was so close to being a double champ, just like Becky Lynch. Despite not having both titles, they are here to celebrate Kofi's 'Mania accomplishment.
The three of them got together to change the culture of the WWE and that's exactly what they did. Kofi said that this wasn't supposed to happen but here they are.
The Bar come out and said that last night, if they didn't come help Kofi, Seth Rollins would be double champ right now. Cesaro challenged the New Day to a 6-man tag team match later in the night.
The Bar & Drew McIntyre vs. The New Day will be our main event of the evening.
This was a solid segment. The Bar made a good point and McIntyre is an interesting pick. Is the brand split still a thing?
The Brand Split
Tonight, Drew McIntyre, Sami Zayn, Lacey Evans and Braun Strowman all showed up on SmackDown Live. Last night, the Bar was on Raw. Aleister Black & Ricochet have been working Monday and Tuesday nights for a month at this point.
Is the Superstar Shake Up a week early? Keep the brands separate! Why keep the brand split going if you're going to have guys showing up on every show?
WWE Woman's Tag Team Championship Match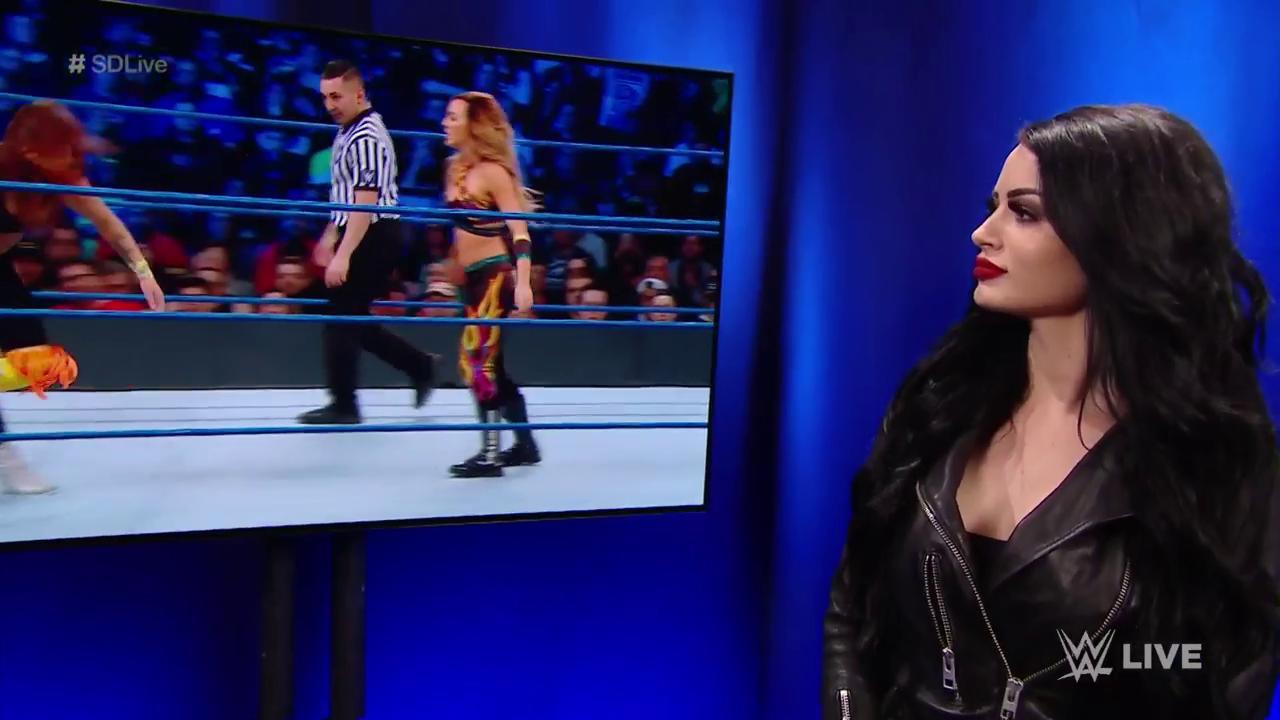 The Iiconics are out to celebrate their title win on Sunday. They say they don't just talk, they can walk as well. The Iiconics are fighting champions.
They bring out The Brooklyn Belles, two indie wrestlers with a tag team record of 45-0 apparently. The Iiconics dispose of the two quickly and retain their titles.
They cut back to Paige who said next week, she'll bring a tag team of her own to challenge the Iiconics.
Interesting to say the least. I guess we'll have to tune in next week to find out what's next!
Shane McMahon: The Best in the World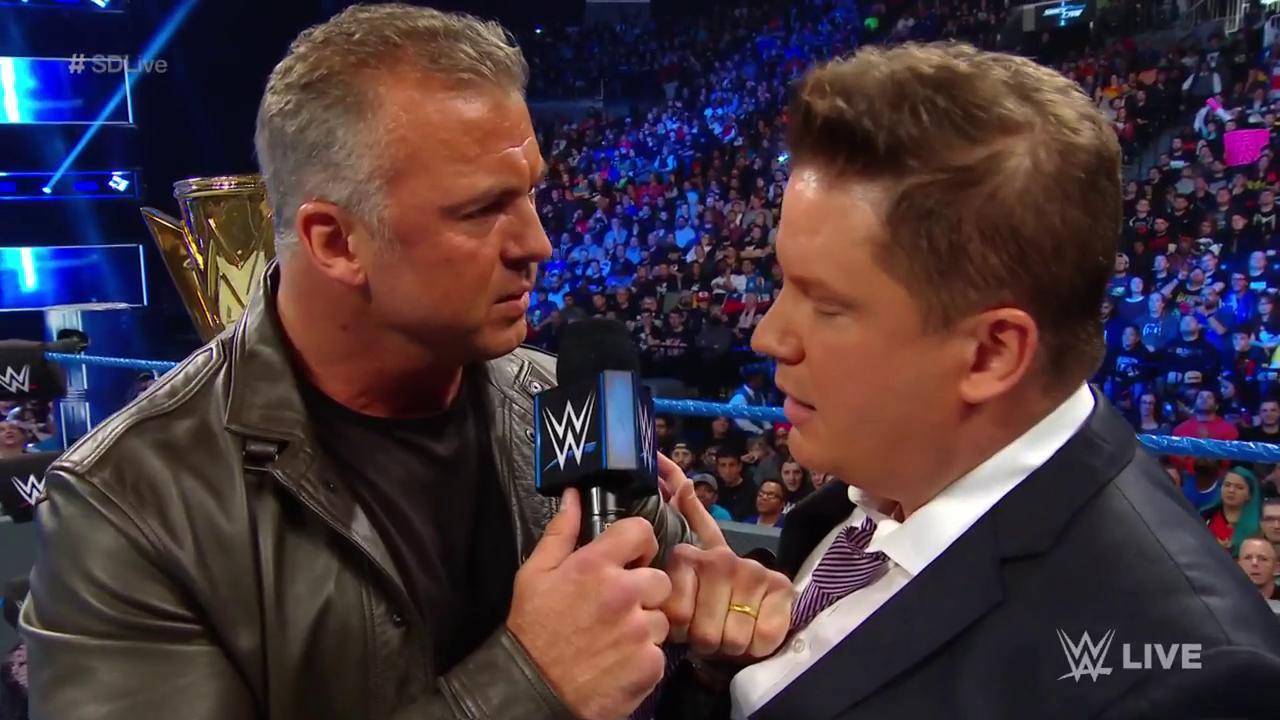 After controversially defeating the Miz on Sunday, Shane kicked off the seconds hour of SmackDown Live tonight.
Shane wants to reflect on 'Mania. He lists off the big moments of the show but the reason why 'Mania was as big as it was, was because of himself. Also, Miz isn't there tonight because he's tending to his father.
Miz's father gave Shane a black eye so he got what he deserved. The Miz did everything he could but Shane is still the best in the world.
He brought Greg Hamilton to the ring. Hamilton said he's been getting threatened because of Shane. McMahon said that he's the one that he should be afraid of.
Shane took Hamilton up the ramp, forcing him to call Shane the best in the world the whole time. Eventually, he satisfied him enough to let him go.
Shane was fantastic in this segment. Greg Hamilton played his role so well. I cannot wait until Hamilton clocks Shane in the mouth for all of this. Good stuff.
SmackDown Live Tag Team Titles
The Hardy Boyz challenged the Usos for the SmackDown tag team championships tonight.
This was a solid match with good spots and sequences throughout. The finish came when Matt hit the twist of fate into a swanton bomb from Jeff. The Hardy's are now 8-time tag team champions in WWE!
The Impractical Jokers were ringside and their reaction was priceless.
The Hardy Boyz were about to be interviewed after their win but Lars Sullivan came out and laid them both out.
Both teams looked great tonight. Lars looked great too. He got the heat he needs and his main roster debut week has gone perfectly for him. Kurt Angle and then the Hardy's on back to back nights; not bad at all.
Becky Lynch
The champ champ is on SmackDown Live! WWE played a replay of what went down at WrestleMania.
What a week she said. She did exactly what she said she was going to. In doing so, she became Becky 2 Belts. However, she has a problem with Lacey Evans.
Last night reminded her that she now has two targets on her shoulders. Despite the brand split next weeks, regardless, she's going to be pulling double duty until someone can take her titles from her. Becky won't let that happen.
Lacey Evans came out and decked Lynch with the Woman's Right. Lynch sold the punch really well and staggered as she got up. Evans stood tall over The Man.
I love what they're doing with Lacey Evans. The Man vs. The Lady. I was a fan of Evans in NXT and she's looking at home on the main roster after this week. This is a great first feud for Lynch after 'Mania and gives Evans a bigger spotlight than she's ever had before!
The New Day vs. The Bar & Drew McIntyre
This was the night's main event.
It was a short match but there was a lot of action. Kofi and Sheamus had a good finishing sequence as Kofi won via trouble in paradise. The New Day celebrated with Kofi's children in the ring as SmackDown Live ended.
This was a good main event. They packed 15 minutes of action into 8. I wouldn't have minded this going on for the last 30 minutes of the show. Everyone looked great and WWE get's to send WrestleMania week off with what we all wanted, Kofi celebrating with the WWE Championship.
Overall, this was a good show. We got a title change, surprising appearances and several good segments. I can't complain.
I watched 30+ hours of live wrestling all throughout WrestleMania weekend and WWE found a way to keep me interested in SmackDown Live the whole show.
Props to WWE for another amazing WrestleMania and to everything else that happened before and after the show of shows. Wrestling has grown so much in the past few years and it showed this past week!
Stay tuned for the Superstar Shake Up next week!