A year ago, I was able to meet with Jeff Gordon as a part of the Jeff Gordon VIP Experience. It was the day after it was announced that Gordon was going to be inducted into the NASCAR Hall Of Fame as a part of the class of 2019.
As a part of the experience, I was able to ask Gordon a question. That question was, "Who was your favorite driver you raced against in your career?"
Gordon's answer was Mark Martin. He believed Mark Martin was the cleanest racer he ever raced against and would still give 110% on the race track. Many fans and drivers know Mark Martin as one of the cleanest drivers and it made sense for Gordon to enjoy racing against him
Close Battles Throughout the 90's
During Gordon's first 3 championship runs (1995, 1997, 1998), Martin was right up there in the championship fight. Martin finished 4th in 1995, 3rd in 1997, and 2nd in 1998. Both drivers went toe to toe every week and in 1998 they accounted for 20 wins combined which was more than half of the season. Gordon was the face of Hendrick Motorsports and Martin was the face of Roush Fenway Racing. This rivalry didn't have the attention it deserved because of clean it was and it was overshadowed by the rivalry between Gordon and Dale Earnhardt.
Rivalry Fades from 2000-2008
In 2000, both drivers really faded with Martin finishing 8th in the points and Gordon following suit in 9th. Then in 2001, Gordon captured his 4th championship while Martin struggled to a 12th place finish in the standings. These two would battle hard in 2002 with Martin coming up short by 38 points to champion Tony Stewart and Gordon finishing 4th in the points. This was the 4th time Mark Martin finished 2nd in the point standings.
2003 saw Martin have his worst year with Roush. He finished 17th in the standings with no wins and an average finish of 20th. All this occured while young teammate Matt Kenseth won the championship. Gordon accumulated 3 wins and a respectable 4th in the standings. In 2004, we saw one of last times these guys would both compete against each other throughout the season for the title with Gordon getting 3rd in the championship standings and Martin getting 4th.
2005 and 2006 were disappointing years for both drivers and the mojo these guys had was gone. Gordon missed the chase in 2005 and was disappointing in 2006. Martin was in the championship hunt in 2005 and 2006 but incidents would keep him from winning the title. After the 2006 season Martin announced his retirement, but then ran part time in 01 in 2007 where he almost won the Daytona 500.
Then in 2008 he would run part time in 8 car for DEI. Gordon thrived in 2007 by winning 6 races and having a record 31 top 10s during the season, but fell short to teammate Jimmie Johnson. In 2008 Gordon struggled and would go winless for the first time since 1993.
Gordon and Martin Become Teammates
2009 would see two of NASCAR's greatest drivers become teammates. Hendrick Motorsports gave Martin one more chance to compete for his maiden championship. In 2009, Hendrick Motorsports as a whole thrived. They finished the season with a 1-2-3 finish in the standings with Jimmie Johnson in 1st, Martin in 2nd, and Gordon in 3rd. Martin won his final 5 races that year and Gordon won his first race at Texas.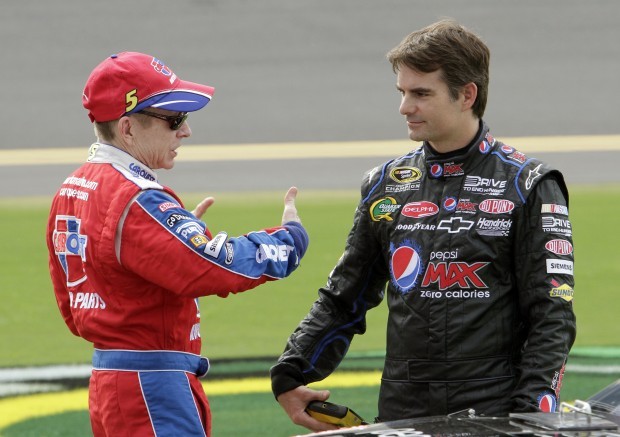 Martin would stay with Hendrick through the 2011 season. His performance did fall off in the 2 years after 2009, but Martin brought a lot of experience and knowledge to Hendrick and really made a super team at Hendrick in 2009.
Conclusion
Martin would be in and out of the 11 car, 14 car, and 55 car to end his career. Gordon would go on to win 8 more races from 2012-2015 and compete for championships in 2014 and 2015. Both guys had remarkable careers and are both now in the NASCAR Hall Of Fame. They were two of the most respected guys on the race track and if it weren't for Dale Earnhardt, this could've been a greater rivalry in the 90's.