Monday Night Raw comes to us live tonight from inside the Sprint Center, in Kansas City, MO! With All Elite Wrestling making a huge statement Saturday night, WWE has to pull a rabbit out of the hat this week.
R Truth & The 24/7 Title
Last week, WWE Hall of Famer, Mick Foley unveiled the new WWE 24/7 championship. The belt can be defended and won anytime, anywhere as long as a referee is present.
Titus O'Neal was the inaugural champion, losing it moments later to Robert Roode. Roode lost it later in the night to R Truth, who remains champion heading into tonight's show.
During the week, Truth made videos on social media hyping up the 24/7 title, including an 'Old Town Road' remix.
Truth has made this entertaining and there's no telling what he can do this week. Expect him to lose the title at some point tonight, however. Everyone is vying for the 24/7 title, so Truth has to watch his back all week long.
If he doesn't lose the title tonight on Monday Night Raw, it will be tomorrow on SmackDown Live. So far so good with the new WWE 24/7 title.
What's the Future of the United States Championship?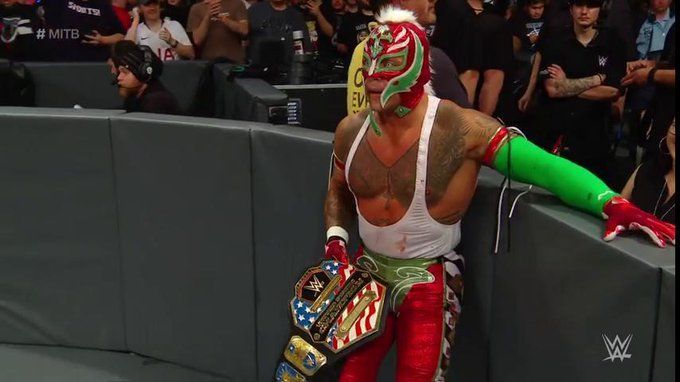 At Money in the Bank eight days ago, Rey Mysterio controversially won the United States title over Samoa Joe. Joe's shoulders were up but the ref counted the pin anyway.
Samoa Joe asked Mysterio to be the man he wants his son, Dominick to be. To give him his title back, no questions asked. The two could square off for the title tonight, or in Saudi Arabia in two weeks. Either way, this rivalry has gotten stale.
The 24/7 title is more relevant right now than the United States title has been in years. It's gotten to the point to where if the U.S. title wasn't even on the show, no one would notice. It happened with Shinsuke Nakamura last year. Nakamura held the belt for months, and was only on TV less than a handful of times.
Joe vs Mysterio needs to happen again, so this rivalry can end. Both men need something else to do and so does the United States title.
What's Next For The Man?
Becky Lynch defeated Lacey Evans at Money in the Bank to retain her Raw Woman's championship and last week on SmackDown Live in a multi-woman tag team match. Despite these losses, Evans said that she will be "the future Raw Woman's champion".
This makes it obvious that tonight on Monday Night Raw, these two will continue their feud. They've had some great segments on Raw already in the past month or two, so why not keep it going?
Evans has been a great first feud for Lynch coming out of 'Mania but ultimately, Lynch will leave this feud still champion.
With Becky 2 Belts no more, The Man can regain focus solely on the Raw woman's division and end up having a long reign with the belt.
Brock Lesnar to Make a Huge Announcement
The Beast in the Bank, Brock Lesnar will decide tonight, which world champion he will cash in against. The Universal champion, Seth Rollins, and the WWE champion, Kofi Kingston are his options. Either man have good odds to be chosen.
The most obvious answer would be to choose Rollins. Rollins defeated Lesnar at 'Mania for the Universal title. It makes sense for Lesnar to want to regain the Universal title and take a huge payday in Saudi Arabia.
Lesnar's other option is Kofi. SmackDown Live is moving to FOX this fall and it is rumored that they want a more 'sports oriented' show from WWE. The WWE title is a SmackDown exclusive title and Lesnar, a former UFC heavyweight champion is exactly what FOX wants.
This also would bring Lesnar to SmackDown, where Roman Reigns is. WWE wants to book Reigns vs Lesnar for the WWE title in the main event of WrestleMania next year, and this is the easiest way to do that.
Regardless of Lesnar's decision, it's not a matter of if, it's a matter of when he'll be champion. For years, fans have complained about Lesnar only showing up 10-15 times a year, whether he has the world title or not.
You would think that at this point, WWE would have changed their mindset on Lesnar. Fan don't want to see him win the world title, let alone see him at all. With AEW sparking more buzz in one show than WWE has in 10 plus years, WWE has to change something.
Fans don't want to see this again and if they don't want to watch it, they don't have to anymore. This fall, once AEW has weekly TV, all you have to do is change the channel over to TNT.
WWE said that they'll give us what we want, and they have, for the most part. Look at Becky Lynch and Kofi Kingston from the past few months. We wanted them to be champions and now they are.
The fans didn't ask for this, though.