WWE Monday Night Raw comes to us live inside the U.S. Bank Arena in Cincinnati, Ohio! Here I give my predictions on what WWE has already announced on their Raw preview already.
Roman Reigns
Despite the fact that WWE has publicly announced that Reigns will not be appearing on tonight's show, Reigns said he'll be there to kick off the show. Because of the fact that WWE said he won't be there, he's going to be there.
Roman Reigns was recently sent to SmackDown Live and began a rivalry with Shane McMahon and Elias. Reigns feud with the McMahon's has been the centerpiece of the blue brand since the Superstar Shakeup, but why is he coming to Raw?
Each McMahon/Authority figure in the company has the ability to go to either brand. Shane McMahon recently was on Raw and SmackDown Live in the same week so it is a little puzzling.
Everything WWE does tonight with this angle could have been done on SmackDown Live. It hurts the integrity of the brand split and doesn't make much sense.
Regardless, expect Vince McMahon to get involved in this somehow. He could easily take another superman punch or even a spear. This should be a hot way to start off the show.
Revival & Usos Continued
Last week, WWE humiliated the Revival, as usual. They were caught shaving each other back by the Usos and were pinned by Hawkins & Ryder. Hawkins & Ryder might be tag team champs, but they aren't on the level of the Revival.
The Usos look to humiliate the pair once more this week, and it's probably going to happen.
It's All About Money
Braun Strowman, Ricochet, Drew McIntyre, and Baron Corbin. These four men are the competitors on the Raw side in the Money in the Bank (MITB) match in a couple of weeks.
Expect these four to either be put in a tag team match or a fatal four-way match tonight. The tag match happened for the SmackDown Live competitors already. It seems inevitable that the same will happen on the red side of things.
The same seems to be the case for the women as well.
Mysterio vs. Joe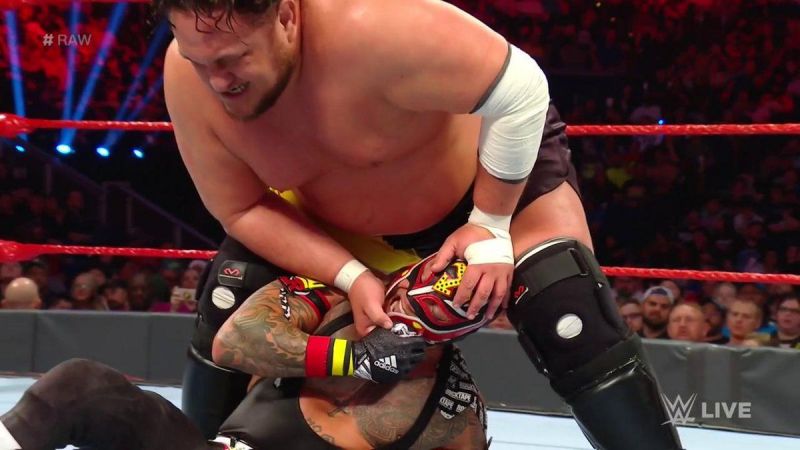 Last week, Rey Mysterio picked up a win over current United States champion, Samoa Joe. The unwritten golden rule in wrestling is that, if you pin the champ, you get a title match.
Whether this match happens at MITB or tonight, expect these two to kill it in the ring. Two great wrestlers and an interesting story.
A Lady in a Man's World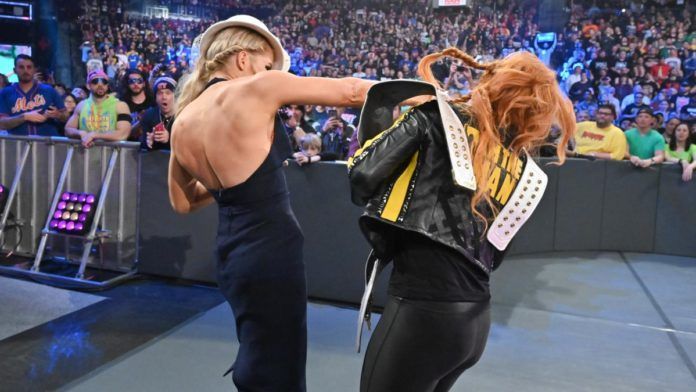 Lacey Evans has gotten the better of Becky Lynch ever since the superstar shakeup.
With Charlotte causing problems for The Man over on SmackDown Live, how much longer can Lynch keep up pulling double duty every week?
Lynch has succumbed to the Woman's Right every week so far and expect it to happen again tonight. Evans is on fire and one of the hottest acts in the company. It'll be interesting to see what they'll do tonight.
A Clash of Styles
AJ Styles picked up huge momentum after last week's contract signing with Universal champion, Seth Rollins.
Styles was cockier last week than we've seen in a while. He attacked Rollins and hit a Phenomenal Forearm on him through a table to end last weeks show.
Is Styles slowly turning heel or will we see it go down tonight? It'll be interesting to see because fans would love to see a classic, respectful match. Tradition is, however, babyface vs. heel and it looks like that's what we'll get here.
Overall, this looks to be a solid show. Reigns always kicks a show off hot and WWE is putting together some solid storylines heading into MITB.