Tonight's edition of SmackDown Live comes to us from inside the KFC Yum! Center in Louisville, Kentucky!
The Wild Card Rule SmackDown Live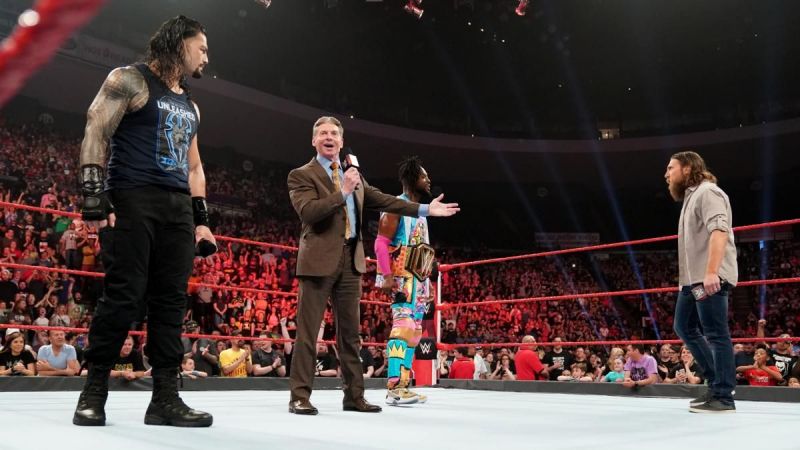 Last night, Vince McMahon implemented the new 'wild card rule'. This allowed Roman Reigns, Daniel Bryan, Kofi Kingston, and Lars Sullivan to come to Raw for one night.
The rule wasn't explained too well last night and hopefully tonight it will be a little more clear as to what and were WWE is going with this.
Four Raw superstars are expected to make the jump over to SmackDown Live for tonight only. Regardless of who comes tonight, this shouldn't be a regular thing.
The brand split and superstar shake-up, that happened less than a month ago, means almost nothing at this point. This seems to be a way to let stars come to both brands once SmackDown Live moves over to FOX in October. Nevertheless, the brand split may soon to come to an end in the near future.
Ali vs. Andrade
A matchup between two men who will compete in the MITB match in a couple of weeks. These two can bring it in the ring and can easily have the match of the night.
Expect this to be a good match but end with RKO's. Randy Orton, who is also in the MITB match, will come, as usual, from out of nowhere to give him all the momentum he needs heading into the ladder match at Money in the Bank.
Shane McMahon To Crown New SmackDown Live Tag Team Champions
Just two days after WrestleMania 35, the Hardy Boyz won the SmackDown Live tag team championships over the Usos. Directly after the match, Lars Sullivan made his debut and injured Jeff Hardy. Hardy relinquished the titles and had surgery this past week. He'll be out of action for 6-9 months.
In the meantime, WWE needs to crown new champs and that's exactly what Shane-O-Mac will give us tonight.
Many teams have been rumored to be given the belts tonight but the obvious answer is for McMahon to give himself and Elias the belts.
KO Responds to Kofi Kingston
Kevin Owens has tried to take everything from Kofi the past few weeks. With Big E out of action, KO joined the New Day only to turn his back on them and take Xavier Woods out of action. With Kofi by himself now, KO looks to take the only thing Kofi has left, the WWE championship.
Kofi won't let that happen so easily, though. Last week, he beat down KO to give him a taste of his own medicine. After defeating Daniel Bryan last night to retain his championship, Kofi is fully focused on defeating KO at Money in the Bank.