Monday Night Raw comes to us live tonight from inside the Angel of the Winds Arena in Everett, Washington!
Shane McMahon & Drew McIntyre vs. Roman Reigns
How do I even begin to explain how bad of an idea this is. Roman Reigns defeated McIntyre last night at Stomping Grounds. Michael Cole was hyping up on commentary that this rivalry was over, that Reigns finally got McMahon off his back. Later on in the night, McMahon said that he and McIntyre will face Reigns in a handicap match tonight.
The fans said it best last night, "this is awful". Shane McMahon is the top heel in WWE right now. That's a joke. There are certain superstars that the fans boo and that's because of their effective heel work, they're doing their job. Other superstars like Shane have 'go away heat'. That means that everyone is sick of this sh*t from WWE and Shane needs to go away for a long time.
This rivalry has gone on way too long at this point and should've ended with a clean victory for Roman in Saudi Arabia. All this feud does by extending it is hurting those involved. The Revival, Drew McIntyre, Roman Reigns, and Shane McMahon are all being effected by this. Drew and Roman should both be in the main event of both shows but instead, they're stuck in the mid card with the boss's son.
After this all blows off, Shane McMahon doesn't need to be on WWE TV for years. That's how bad I feel he's hurt the product.
AJ Styles vs Ricochet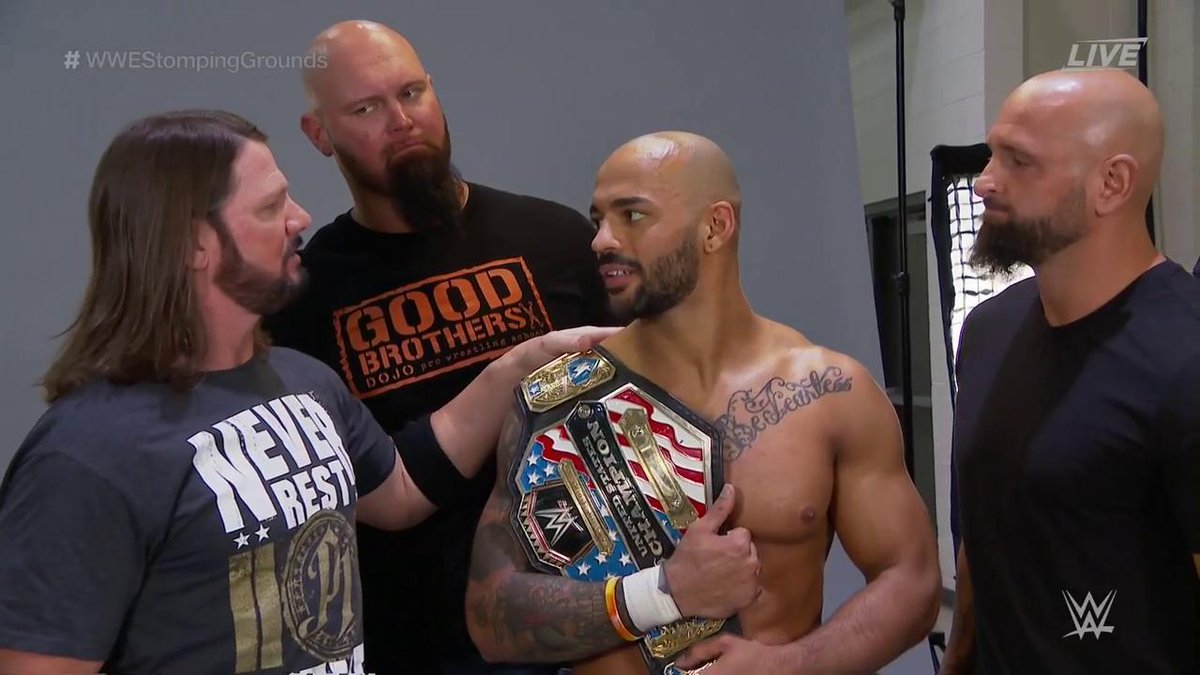 Last night, Ricochet defeated Samoa Joe for the United States championship in a really good match. As I have stated in my previous preview of Monday Night Raw, this is the first step to U.S title relevancy again.
Ricochet is a guy who the fans love to see and watch wrestle. Him winning the belt makes it feel more relevant already than it has in a long time.
After his match last night, AJ Styles, along with Gallows & Anderson told Ricochet that they'd see him at Monday Night Raw tomorrow. There is a match already announced, whether it's for the title or not, these two should tear the house down.
Having someone that's already a huge name involved with the U.S title is a big deal and hopefully these two can have a proper feud in the coming weeks and months. I wouldn't be upset if this went all the way up to SummerSlam.
Potential Inter Gender Match at Extreme Rules?
Last night, Lacey Evans was chosen as the special guest referee for the Universal title match between Seth Rollins & Baron Corbin. Obviously Becky Lynch, Seth's girlfriend (if you didn't know) defeated her earlier the night and did everything in her power to help Corbin win. Lynch came out for the save, helping Rollins retain his title. This looks to set up the first major inter gender match on WWE main roster TV, and it could possibly headline Extreme Rules next month.
Inter Gender Matches in Pro Wrestling
Inter gender pro wrestling is a concept that WWE hasn't fully grasped in 2019. Sure, they had mixed match challenge and Nia Jax even took an RKO in the Royal Rumble this year. It's something that many other wrestling companies do very well. Some inter gender matches have gone down in infamy in the last decade.
The biggest that comes to mind is the Young Bucks vs. Candice LeRae and Joey Ryan in Guerrilla Warfare from PWG in 2014. Take a minute and think about the success these four are having right now. Candice was a bloody mess and that match was awesome. It's what inter gender wrestling should be.
Due to WWE's sponsors and such, that type of match is impossible in WWE today. Men can't hit the women, fake or not. If one woman tags out, the other has to leave. That really waters down the match. Lynch is supposed to be the Man and if she won't step up face to face with Corbin, it hurts her character.
I'm not saying that men should hit women of course, but this is WWE! It's a show! Make her look like The Man and the fans would believe it. When Ronda Rousey attacked Triple H at WrestleMania last year, the crowd went nuts and the same needs to happen here. People want to see Corbin get what's coming to him and who better to give him that than Becky Lynch?
If you'd like to read more on the potential inter gender match, click here.
Overall
This could be a really good, or really bad episode of Monday Night Raw, I don't think there's any in between on it this week. WWE has set themselves up nicely, excluding the Shane McMahon stuff, with story lines and all they need to do is let their guys go out there and get the job done.