Last week I wrote about the College Football Playoff's unjust treatment of independents. Now, I am not the kind of person who just likes to point out a problem. I'm an action guy, who likes solving issues. Sometime's it gets me in trouble, because some people just want me to listen, but I like finding a solution. Without further ado, here is a proposed college football realignment to solve this issue.
Notre Dame Fighting Irish
The Fighting Irish are an outlier here. They do not have to join a conference, unlike the other five. Notre Dame has made a BCS championship game (then promptly got spanked by the Tide), and a CFP game (promptly getting spanked by the Clemson Tigers). Notre Dame has the history and recent success necessary to remain independent.
However, they still could to make their lives easier. They made the College Football Playoff after going 12-0. If they joined a conference, then they could lose a game (or even two) and still make it. But which conference? Outside of football and hockey, the Fighting Irish compete in the ACC. This is not as appealing to Notre Dame football. By joining the ACC, they would have to go through Clemson, the U (who are about to turn a corner), as well as Syracuse who can keep up with teams like Clemson. There is one conference that, while on paper seems harder, could actually be a better choice.
In a college football realignment, Notre Dame should look to join their hockey team in the Big Ten. Yes, the Big Ten has better teams across the board. However, there currently is a power vacuum. With Ohio State dealing with their issues, Penn State not having a starting QB (yet), the only real competition is Michigan. While all of this could change by the time a realignment could take place, the Big Ten is the most enticing option for Notre Dame.
Who Leaves?
While the Big Ten has good teams, a few are not that good. The Fighting Illini are one of them. In this college football realignment, the Illini are going to the MAC. They have not won the Big Ten in 18 years and haven't had a winning season in eight. Even with that winning season, the Illini have not had a conference record above .500 since 2007. By bringing Notre Dame in, and kicking Illinois out, the Big Ten will become more competitive. This will bring in higher viewership, and more money to the teams.
Army and UMass Amherst
This a little discount double check for you. Army and UMass should both go to the American Athletic Conference. Yes, this college football realignment is about joining a conference to make the College Football Playoff. However, some schools are not good enough to join a Power Five Conference yet. Army is one of those teams, and should join Navy in the American. This will bring the rivalry to new levels, but also give it more meaning as both teams will be trying to win the AAC. So why does UMass get the nod?
The Mark Whipple era in Amherst was a disappointment. Going 16-44 during his time there is atrocious. The hiring of former Florida State OC/QBs coach, Walt Bell, could provide a spark to the Minuteman offense. In addition to this, by focusing on the same teams for most of their games, this will provide UMass the tools to be a much improved program.
Who leaves in this realignment?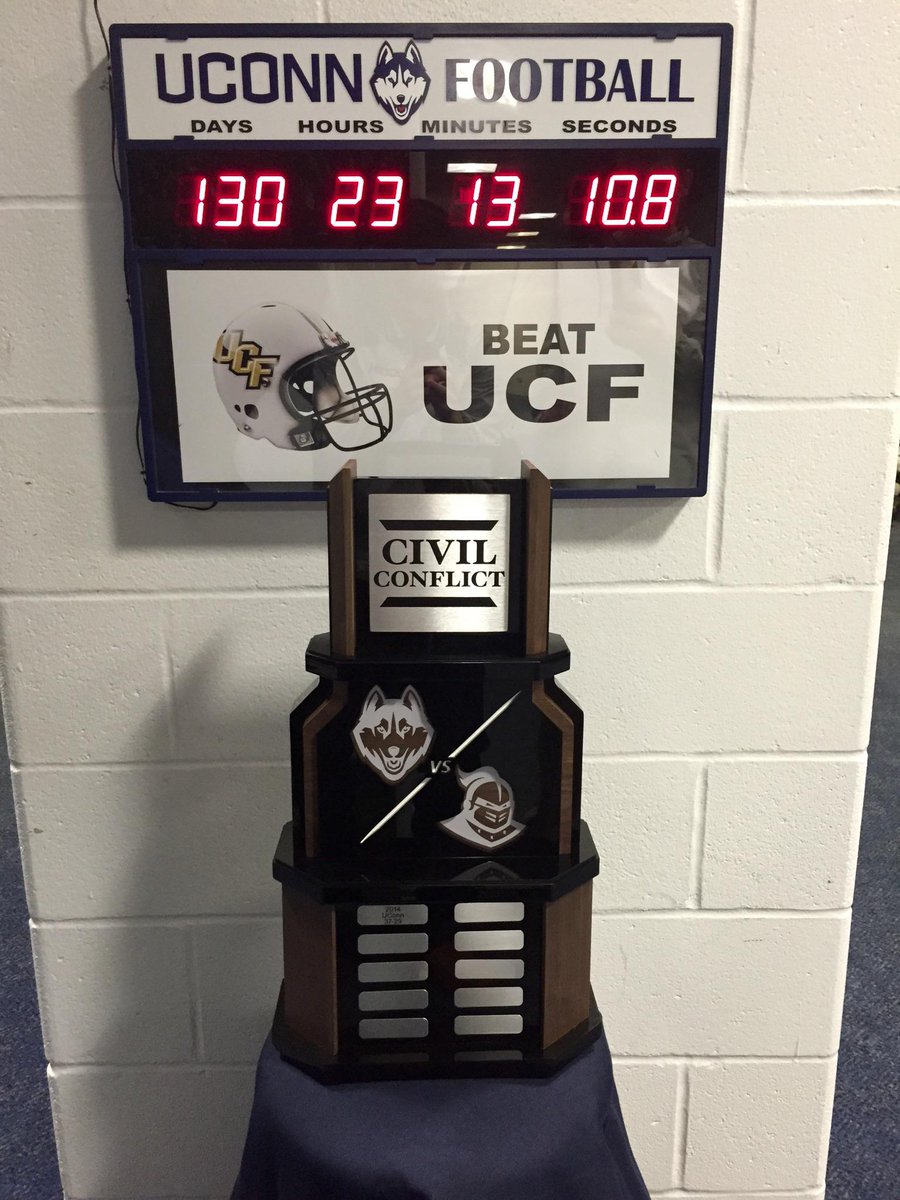 The AAC is in a weird place right now. UConn is leaving to return to the Big East, who does not offer football. At the same time, the AAC is not letting UConn stay solely for football. So that's one team out, what about the other? It's rare to see a recent National Champion leave their conference, but that is just what UCF is going to do. They feel wronged by the CFP committee, and will join the ACC to prove it. Why the ACC? As I said before, it is still a relatively weak conference outside of a few schools, and the SEC is too tough top to bottom. By going through the ACC, they could have a chance to play for the conference championship.
BYU Cougars
After eleven years in the Mountain West Conference, BYU left to become an independent after the 2010 season. Over this time, the Cougars have gone 63-41. While this is not a great record, it can be attributed to subpar seasons the past two years, going 4-9 in 2017 and 7-6 in 2018. Even with these two down years, BYU still could be competitive in a Power Five Conference. The Cougars also have an extensive history, even winning a Natty in 1984. In addition to this national championship, BYU won the Mountain West four times, and even have a Heisman winner (Ty Detmer) to their name. Bringing this history and winning tradition to the Big 12 could provide a boost to BYU's status, giving them an easier path to the CFP in the future.
Who Leaves?
For the first (and only time) in this list, no one leaves. Contrary to what the name would indicate, the Big 12 Conference only has ten teams. To rectify this issue, North Texas will be joining BYU in the Big 12. Now, there are a lot of reasons why the Mean Green shouldn't be part of the Big 12. Their stadium only holds about 31,000 people, their winning percentage sits just above .500, and they have a 2-8 record in bowl games. Under Seth Littrell, however, this could be changing. After going 1-11 during the last season under Dan McCarney, Seth Littrell has accumulated a 23-17 record in three seasons. The past two seasons the Mean Green have gone 9-5, then 9-4. With success comes money and if the Mean Green keep winning, they could easily expand their stadium to surpass Wake Forest (31,500 people) to no longer be the smallest Power Five stadium.
New Mexico State and Liberty
While writing this, I had a spreadsheet going with records, bowl records, national championships, and other variables while reaching my conclusions. I had New Mexico State going to C-USA to replace North Texas, and Liberty to the Sun Belt to replace Appalachian State, who went to the ACC. While I had reasons for each of these and could defend them, I do not see it happening in the coming years.
Why New Mexico State Won't Join C-USA
Simply put, the Aggies are bad. While they did go 7-6 in 2017 and won the Arizona Bowl against Utah State, they followed that up with a 3-9 season. In addition to this, the Arizona Bowl was their first bowl appearance since 1960 as members of the now defunct Border Intercollegiate Athletic Association. Furthermore, their overall record is 422-617-30, and they have not finished above .600 since 1967. Unless the Aggies show great improvement over the coming years, no conference will have them.
Why Liberty Won't Join the Sun Belt
Liberty is still new the FBS, making the jump from FCS in 2018, and will be bowl eligible in 2019. During their first season in the FBS, Liberty went 6-6, which that is a great jumping off point for them. However, with a lack of quality wins, it is still hard to tell if this is the start of something great in Lynchburg or if the program has reached its zenith. One indicator of hope is the hiring of Hugh Freeze. While he struggled at Ole Miss, Freeze still has experience in a strong conference, even going 10-3 during the 2015 season. However, only time will tell if Liberty is meant to be in the FBS.
All accumulated records were found on Sports Reference.
Since you're done reading this, why not go follow @BellyUpCFB for some polls, discussion, and all things college football!