SmackDown comes to us live tonight from inside the Citizens Business Bank Arena in Ontario, California!
Dolph Ziggler vs. Xavier Woods
This Sunday, Dolph Ziggler goes one on one with the WWE champion, Kofi Kingston in a steel cage at Stomping Grounds. Before we get there, however, Ziggler must do battle with another member of the New Day, Xavier Woods.
It's nice to see someone like Woods get a singles match of this caliber on WWE TV. He's always been solid and going up against one of the best in the business definitely helps. With the spotlight shining over Kofi for 2019, Woods getting a chance to show what he's capable of is great for WWE, SmackDown Live, and the New Day as a whole.
The New Day are bound to be ringside, along with Dolph's friends of late, Kevin Owens & Sami Zayn. Either way, this should be a solid WWE TV main event. After Sunday though, this rivalry should be dropped. Ziggler is great in his role but after being defeated twice, you logically shouldn't get another shot, but this is the WWE.
Bayley & Alexa Bliss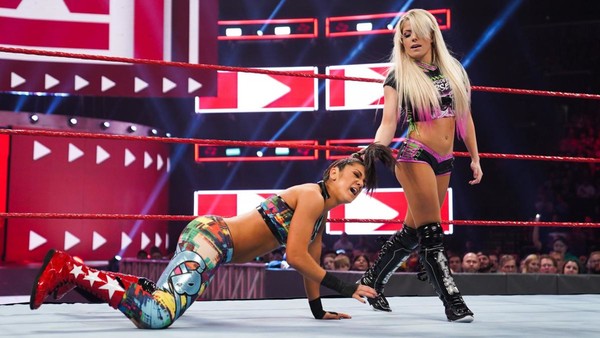 The pair are gearing up for their SmackDown Woman's championship match this Sunday, but before they get there, we will have one last edition of 'A Moment of Bliss'.
Last night on Raw, Bayley cost Bliss a chance to win the Woman's tag team championships with Nikki Cross. Tensions have been flying for weeks now and it looks to come to a head tonight. Whether the pair get physical tonight or not, it won't affect the story in any way and we can look forward to their bout this Sunday.
This is my sleeper for match of the night on Sunday. These two can go!
Will Bryan & Rowan Accept Heavy Machinery's Challenge?
Coming off their win over the Yolo County tag team champions, Heavy Machinery challenged the SmackDown tag team champions to a match at Stomping Grounds.
Heavy Machinery is over right now and WWE needs to capitalize on it. Stomping Grounds hasn't had the ticket sales WWE has expected and putting this match on the card will only help. Heavy Machinery should go over here too. A loss won't hurt Daniel Bryan here, no loss will.
R Truth
The man himself, the reigning, defending, undisputed, 7/11 European champion, R Truth will be on SmackDown once again, running from absolutely everyone. It seems as though everything Truth touches turns to gold.
Last night on Raw, Truth barely escaped the wrath of the superstars that were chasing him. He continues to be the most consistent, entertaining character on Raw and SmackDown. Sure, Bray Wyatt has the best segments as of late but his new segments are always on Raw exclusively, they run re-runs on SmackDown. Truth can save this show and he will.