As a Houston Rockets fan, it still really hasn't set in that Russell Westbrook is going to be wearing red and black this upcoming season.
I mean, what an acquisition! The Rockets originally came off as one of the biggest losers of free agency. The only player they had been linked to was Jimmy Butler, who quickly ended up in Miami. The Rockets had only re-signed Austin Rivers, Gerald Green and Daniel House. It seemed as though the same exact team was going to return to the Toyota Center for the upcoming season.
But now, everything changes for this teams' expectations. Yes, all they have done is upgrade at the point guard position, but what an upgrade it is. Frankly, Russell Westbrook is likely the best scoring guard of all-time. Add in Harden and you have one of the best backcourts ever.
There are going to be countless games where we will witness these elite scorers piggyback off of each other en route to victory. This Houston Rockets team will shatter scoring records with these two.
It seemed as though the Rockets time was possibly coming and going. There was trade talk circulating about pretty much every player on the team except for Harden, obviously. The Rockets have played second fiddle to the Warriors throughout their dynasty. Other teams, however, stepped aside and decided to let Golden State have their fun while it lasted. It seems that teams like Brooklyn and the Clippers are now being rewarded for biding their time and dealing with a couple years of mediocrity, as they knew what their long-term goals were.
This flips everything on its head, well, at least for myself and other Rockets fans.
The Rockets should be feared now. The "one piece away" and "oh so close" tag-lines for the last couple of years have burdened them for years. Although they had to lose Chris Paul, someone who provides leadership and experience in a league that is filled with new blood at an all-time high level, the acquisition of Russell Westbrook is the size of multiple "pieces".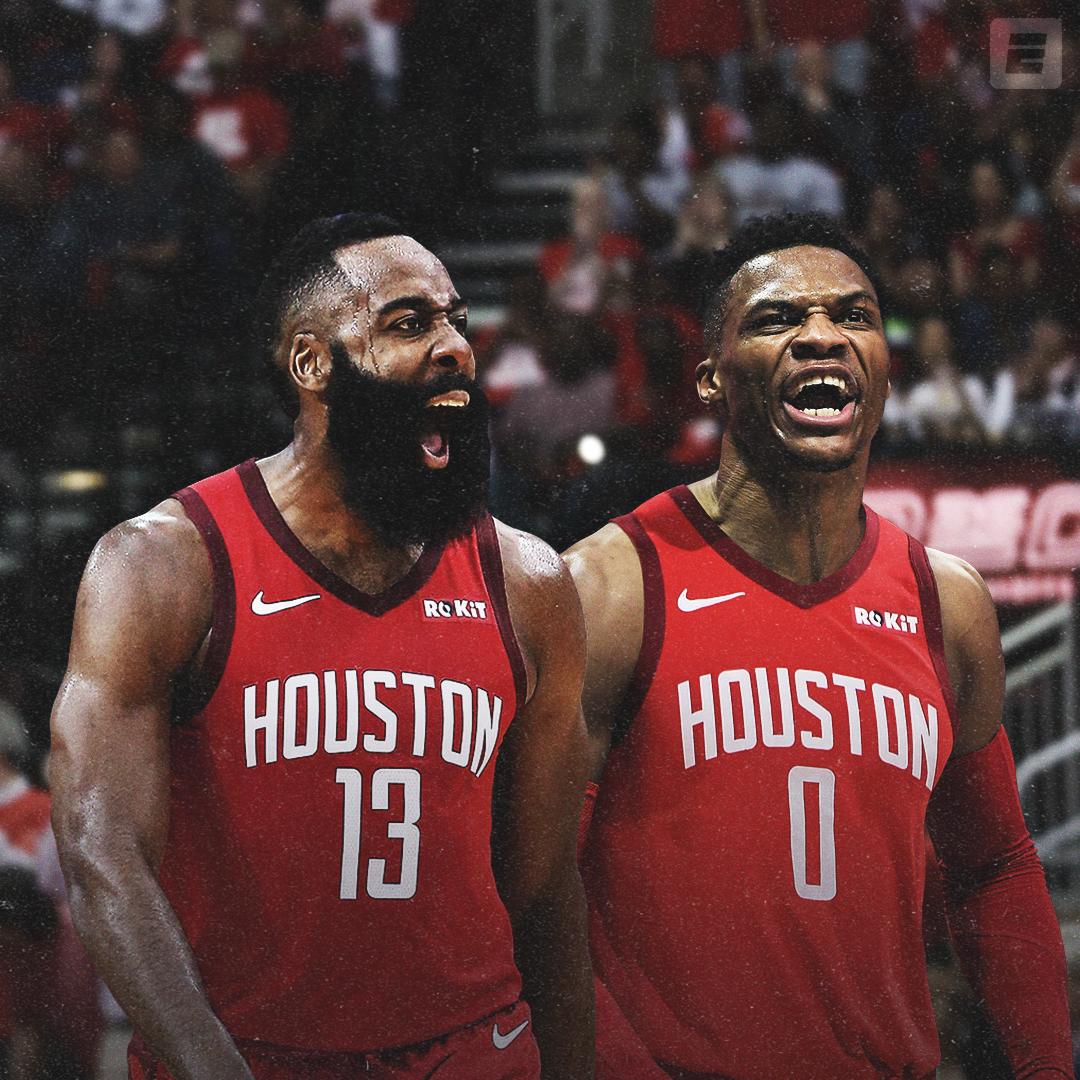 Let's be real: Not a single team is going to be able to out score this team!
Russ and Harden are two of the best scorers of this generation. They both can also score from anywhere on the court at will and can take over a game single-handedly. That is going to come in handy for Houston, as when Harden goes off of the court, now Russ is going to be there to handle a heavy load. This will avoid those devastating scoring droughts that the bench happen to lull into on occasion.
Now you have those two, and the exact same team as last year! D'antoni remains at the helm, so you know the trey-ball is gonna be shot at an all-time high.
Eric Gordon will be a contender for the sixth man of the year, as he also shows those glimpses of being able to lead a team. When he gets hot, teams are in trouble.
PJ Tucker is back to play more hard defense and hit corner three's, Clint Capela will continue to blossom into a star big man once he figures out how he wants to score the ball.
Daniel House will likely start for the squad this season. He finds himself with a great opportunity to continue playing great basketball and contribute to the core of role players the squad has built. Gerald Green returns as a spark plug to the squad when they aren't at their best, and Austin Rivers will continue to throw in quality minutes. Chris Clemons has a bright future and it will be interesting to see where he ends up on the squad. It could take a while to see him play for the big team. Tyson Chandler also signed to replace the leadership role left by Nene.
And…they also signed Anthony Bennett…for some reason.
All in all, watch out for the Rockets. Don't get lost in the sauce of all of the new contenders. It's as simple as an already great squad just got even better. RUN AS ONE.