It is very clear that the division that struggles the most in the regular season ends up being the strongest come January. A team going into the playoffs does not want to face a 7-9, dare I say 6-10 (if even possible), team that will boast a home-field advantage in the Wild Card round. You can love it or you can hate it, it is happening regardless. The team out of the NFC East has nothing to lose in the postseason other than another game. Say what you want and make your jokes calling it the "NFC Least," because come playoffs, one of these teams will be there with absolutely nothing to lose.
2010 NFC West
Seattle Seahawks
A prime example of a team not to be reckoned with, in terms of having a shitty regular season, is the Seattle Seahawks back in 2010. This was another "terrible" team in a putrid division with the winner capturing home-field advantage while having 7-9 record. This Seattle team took the opportunity and used it to their advantage by shocking the world. The triumphant Saints and "Who Dat" nation came marching into Seattle with an 11-5 record and got embarrassed. The 2009 defending Super Bowl champs lost to a 7-9 team in the first round of the playoffs. Not to mention Marshawn Lynch patented the coveted "Beast Mode" that has turned into a legendary moment of the game. With all this being said, do any of the teams in the NFC East this year compare to the feisty Seahawks of 2010?
NFC East
Dallas Cowboys
There were many fans, experts, analysts, and bookmakers that had this year being the Cowboys year. Zeke ended his hold out, they paid their O-Line and had top-notch defensive talent. This was supposed to be the year that Jerry Jones and his little minions got "America's Team" back to the promise land. There is only one issue with that…. Jason Garrett. A man who speaks less on the sidelines of an NFL game than Bill Belichick does during his press conferences. Garrett is Jerry's little puppet, and really doesn't do much except clap and smack asses of special teams' players after a punt. For the number of times they show Garrett on the sidelines during primetime games (every Cowboys game) he for sure as hell doesn't talk much…
This man has been a burden to the Cowboys for 10 years…. 10! ONE WHOLE DECADE! Jason Garrett could be considered the Sam Bradford of coaching for Pete's sake! He has just stolen money from Jerry Jones all these years. The fact that he has lasted as long as he has is BLASPHEME (Stephen A. Smith voice). He has won a single playoff game, only because of a terrible missed pass interference called that still somehow wouldn't get overturned with the new PI challenge rule. He has a quarterback in Dak Prescott who, one game, looks like a $40 million a year player and a below-average non-franchise leading QB the next.
The team is loaded with talent on both sides of the ball if you really sit back and think about it. Which is why teams should not sleep on the Cowboys if they win this division. If they cannot find a way to win a playoff game or two, we may be watching the last days of Jason Garret as head sheriff of America's Team. With that being said, if this team somehow figures it out, I don't think a team will be looking forward to going into Jerry World to face a Cowboys team with nothing to lose as I said before, other than another game
Washington Redskins
The Washington R-Words actually had a chance at making the playoffs. If they would have somehow won out, and the Cowboys & Eagles lost… they were in. The Redskins were "in the hunt," as crazy as that may sound. It is a real shame that they ended up losing this past weekend to the Packers (only by 5), but the fact that a team as bad as the Redskins with a record of 3-9 going into Week 14 had a chance… is really the problem here. Yes, they are done, and Dwayne Haskins can take all the selfies with the fans that he wants, but it is still extremely embarrassing that this team was even in the mix with how bad they are.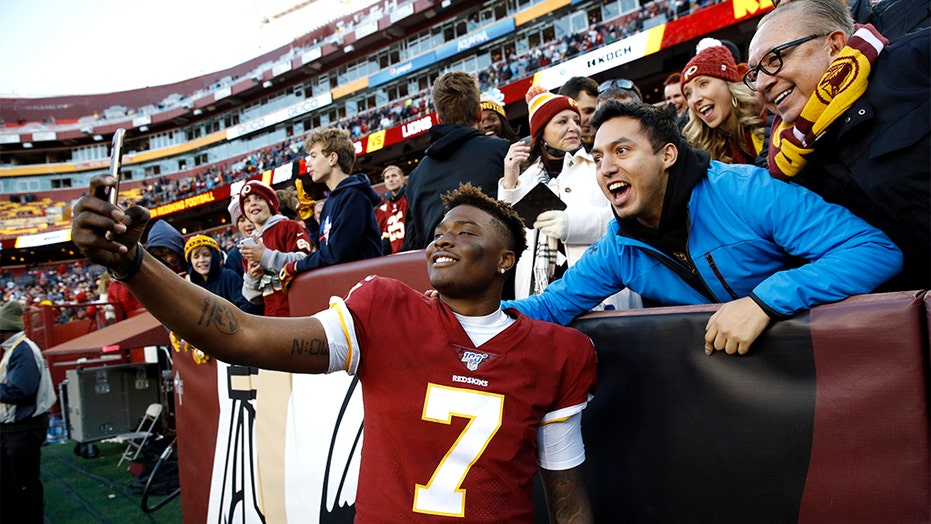 Philadelphia Eagles
THE EAGLES ARE BACK!
Maybe…
Not sure how a team bounces back from a terrible loss to the Dolphins other than a painfully stressful win in overtime against the Eli Manning Giants. This team had so much "promise" heading into the 2019 season. What could go wrong with a healthy Wentz, top O-Line, and secondary with another year of experience? The simple answer to that is the Lions, Falcons, and Dolphins… that is what went wrong. The Eagles have been a joke and somehow are still very much in the hunt. It is safe to say Carson Wentz has looked, as Colin Cowherd has said, "broken."
BUT! How can you not love what you saw out of Wentz in the second half of that Giants game?!? This man had 1.5 healthy wide receivers with one of them being a QB converted WR off of the practice squad. Not only that, but his next best options were three TE's along with a beat-up O-Line in last night's game. Yes, I understand it was the Giants, but something about that comeback when all seemed lost has me feeling slightly more hopeful. Now, if this team ends up winning out and taking the NFC East (possibly league) by storm, I will be all in and very much ready to be disappointed as a die-hard Eagles fan come Wild Card Weekend.
Who can forget back in August this team "on paper" was bound to make a run to the Super Bowl. So why give up now other than the fact that they still lost to Fitzmagic and the Dolphins. If all things shake out favorably, the Eagles could face the Vikings, and we already know how that team fairs in Philly come playoff time. Not to mention we've seen Kirk Cousins in any game that does not start at 1 p.m. EST. All I am saying is, watch out for this terrible team if they somehow lose fewer games than the rest of the NFC East.
Who will win the NFC East?
At the end of the day, I am not sure who will win this powerhouse of a division. I know that no wild card team will want to go on the road to face one of either the Eagles or the Cowboys. Personally, I think the rest of the League is just lucky the Giants put Eli Manning on the bench up until now, because who knows what he could have made out of this NFC East season. All that matters is one of these teams will be in the playoffs, and when that happens, they will have home-field and a chance to win a football game.
If you disagree that the NFC East is the best division in football and don't appreciate sarcasm, please be sure to comment or reach out to me on twitter @BellyUpReilly. I would really enjoy explaining to you why you are wrong.