LeBron James is AP's male athlete of the decade. No big shocker there. But there's something about James that has always rubbed me the wrong way.
LeBron James is a drama king.
Yeah, I said it.
Now, before all you LeBron stans lose your minds, please take a moment to note that I didn't say that was necessarily a bad thing. I mean, really, you can't deny that James has a certain flair for the dramatic. The chalk toss before games alone is enough to establish that fact.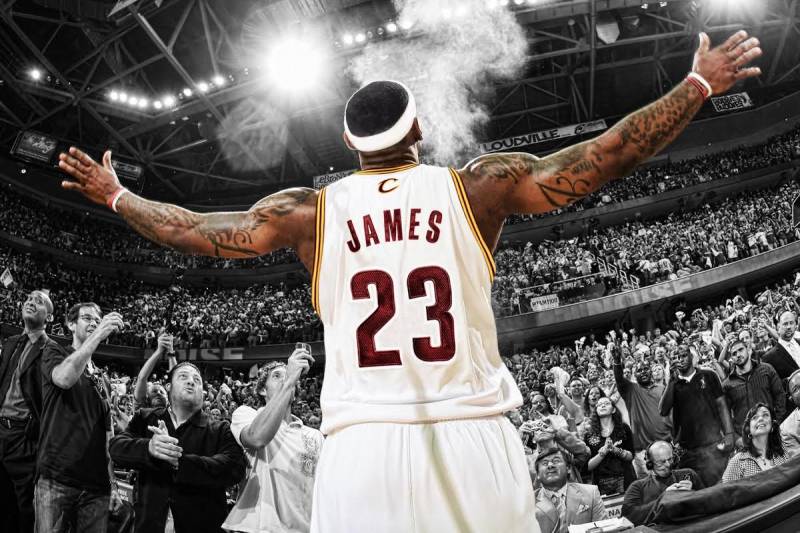 Some people have a quiet confidence, which is more my style. Others, like James, are much more in your face about it. And why wouldn't he be? He's been in the spotlight since he was still a high school kid.
The fact that LeBron James was a basketball phenom was obvious from an incredibly young age and the expectations were astronomically high. I mean, check out the intro in the video below of James' first nationally televised game on ESPN when he was still in high-school.
First of all, we're talking about a high school baller who warranted attention from ESPN. That is a BIG freaking deal. But to be compared to all-time NBA greats like Wilt Chamberlain, Kareem Abdul-Jabbar, Magic Johnson, Larry Bird, Kobe Bryant, and, of course, number 23 himself, Michael Jordan? And before you've even graduated high-school? That's insanity! But wouldn't you know it? James more than lived up to the hype scoring 31 points in that game.
And so, the path was laid out. It wouldn't be a direct route per se. But it would be full of drama and theatrics. A yellow-brick road that would eventually lead to James' very own Oz. Only instead of an emerald city, it would be one of gold, amethyst, and glitz; Los Angeles.
Drafted First Overall by His 'Hometown' Team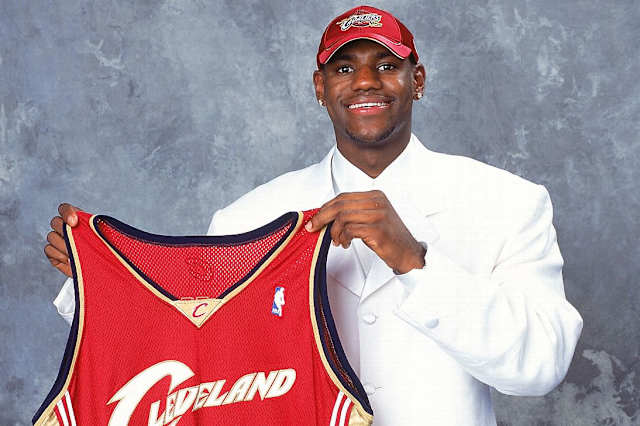 Do you know how many first overall draft picks have been drafted by their home town team? Neither did I so I did some digging. Since 1980, there have been two. Derrick Rose in Chicago and LeBron James in Cleveland. Yes, I know James is from Akron, Ohio. It's a 43-minute drive from Cleveland according to Google Maps. Let's not split hairs, kay?
The hype surrounding James was already massive. He was arguably the most anticipated person to ever enter the NBA draft. And then to be drafted by the team he grew up closest to? A team that had never made an NBA finals appearance. Come on! A Hollywood scriptwriter couldn't have better conceived a plot.
LeBron James: The Decision
By the time James was through his rookie contract and subsequent extension, he had already had a huge impact on the Cleveland Cavaliers. The 2003-04 season was Cleveland's sixth consecutive that fell short of a playoff berth. Just three years later in the 2006-07 season, the Cavs were in the NBA finals.
Now comes the moment. The moment we all should have known that James was destined to land in Los Angeles. The Decision. LeBron James saw an opportunity to turn something that was a fairly mundane part of the NBA into a spectacle. A full interview with Larry King leading up to his announcement. The live broadcast on ESPN. The entire NBA community was waiting with bated breath and James knew it. I mean, the verbiage alone!
This fall I'm going to take my talents to South Beach and join the Miami Heat.
In one fell swoop, James became a villain to Cleveland and the face of the player empowerment movement in the NBA. He changed, forever the preferred recipe for building a winning team. Three stars were the new formula for success. Drama, drama, drama.
Back to Cleveland
In another blockbuster move, James rebranded himself from Cleveland's biggest disappointment to their prodigal son when he returned for the 2015-16 season. It might not have been a huge surprise that the Akron Hammer would want to go and win at home. But think about if we were talking about a movie plot instead of an athlete's career. Could you imagine a better redemption story? I think not.
The Cavaliers were pretty bad the previous season finishing only 33-49. I remember musing on Cleveland's chances with LeBron back. I was sure he would get things done in Cleveland. That's what Bron does. But I distinctly recall saying to myself and others, "It's not going to be this season though. And it probably won't be the next." I didn't think the Cavs would get anywhere near the NBA Finals that first year James was back.
The Cavs got off to a 13 and 9 start to the season before dropping 11 of their next 17. I was feeling pretty good about my prediction. But in the back half of the schedule, LeBron did what LeBron does. He put that team on his back. They finished by winning 34 of the remaining 43 games of the season and took the Cavs all the way to the NBA Finals. It was only a year later that he brought the Larry O'Brien to Cleveland for the first time in franchise history.
I mean, come on! The beloved son leaves an angry bitter city in his wake. Competes and wins the ultimate prize for another fanbase. Then returns and carries a sub .500 team to the NBA Finals his first season back. And wins the whole damn thing the following season!? Tell me that's not the ultimate hero-turns-villain-turns-hero redemption story.
The Lakers Were Always LeBron James' End Game
When you look at the story, the man, the legend that is LeBron James, can you honestly imagine a better NBA home for him than the Lakers? Am I saying that was his conscious plan all along? It could have been. I don't know. Maybe it wasn't. What I am saying is it's hard to imagine a more fitting eventuality.
We've established James' penchant for putting on a show, both in the way he plays the game and in the way he plays the game. And not he's playing for a team that enjoyed an era called Showtime. When the Lakers drafted Magic Johnson in 1979, the Showtime Lakers were born. Along with Kareem Abdul-Jabbar and James Worthy, the Lakers team dominated the NBA winning five championships in nine years.
And let's not forget all of the who's who of every entertainment industry that Lakers' games attract. If you do a Google image search for "celebrities lakers games" it's clear that just being seen at a Lakers' game is a thing. It's entertainment news. (Yes, I said entertainment news because I refuse to categorize this as real, legitimate, I actually care about it, news.) Actors, singers, athletes, people famous for no apparent reason… they all want to see and be seen sitting courtside at a Lakers' game. And this has been going on since the '90s.
The Lakers' close ties to Hollywood make it the perfect place for LeBron James to spend the twilight years of his NBA career. He was made for the kind of spotlight that only Hollywood can provide. Sure, he plans to stick around until he can share the court with his son, Bronny. Surely you didn't think the fact that his contract in LA will finish the same year Bron Jr. graduates highschool was a coincidence?
Of course, it isn't! Think about the optics for a second.
Legendary all-time great basketball player takes the court with his son in an NBA first.
It's just another chapter in the Hollywood-couldn't-have-written-it-better LeBron James story. I mean, When you look at LeBron's entire career in context, it's so obvious that he was always destined to be a Los Angeles Laker. I can't believe we didn't see it coming.
Follow me on Twitter @auxiliarythings for NBA musings and live tweets during NBA games and check out pieces by the entire Belly Up Hoops team.