Hey there, Belly Up peeps! I'm stepping away from my wrestling world for a second to write about pure stupidity solely from a football perspective! As a part of my podcast, "The Queens' Takeover," we bestow titles to wrestlers. Today, I'm giving out a special title/award to the biggest idiot in the National Football League! The recipient of the latest Belly Up Sports Dunce Award: Bill O'Brien!
How Did He Earn This Honor?
Oh, let me count the ways!
As the Head Coach of the Houston Texans, O'Brien has earned an infamous reputation for horrible play calling, mismanagement of timeouts and not effectively leading the team further into the season. Division titles are great, but the Texans have never been out of the second round of the playoffs! Don't even get me started with last year's Divisional Round game against the Chiefs! Ugh!
Starting last year, O'Brien added General Manager duties to his list of responsibilities, but that hasn't gone smoothly either!
It's Getting Worse!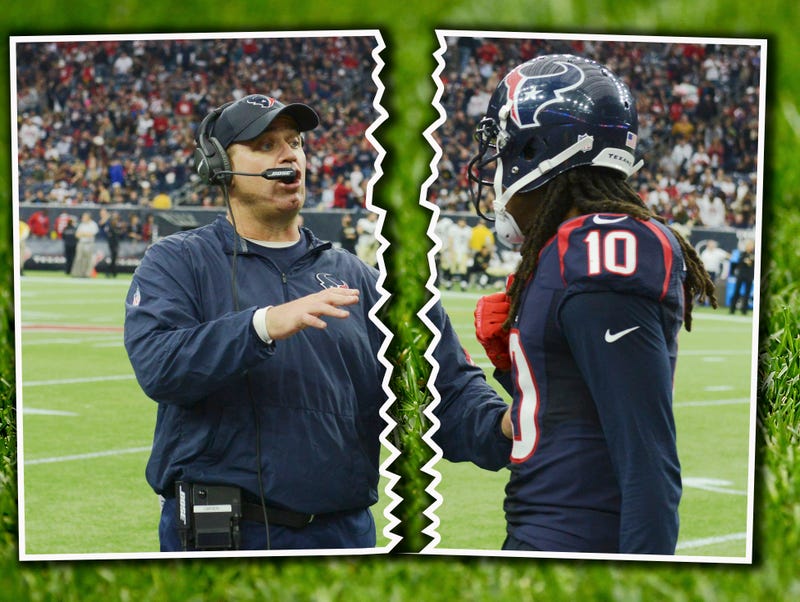 You would think that after how last season ended, O'Brien would have wanted to start the new football year on the right foot!
WRONG AGAIN!!
To start the 2020 football year, Head Coach and now General Manager Bill O'Brien traded DeAndre Hopkins – The Texans' NUMBER ONE RECEIVER!!
WHO DOES THAT??
The goal for any NFL team is to win a Super Bowl! How does trading your star receiver help you win a Super Bowl or even get there? To make matters worse, the player that the Texans received in return is not even in the same stratosphere as Hopkins! Watson will now have to depend on Will Fuller as his number one option, but Fuller himself has had multiple injuries during his young career.
If that wasn't bad enough, reports circulated Wednesday morning that O'Brien compared a conversation with Hopkins to one he had with Aaron Hernandez. I don't care what the situation is! You don't compare anything between a convicted killer and a well-respected NFL player/member of the community!
I now make a plea to Cal McNair as a Houstonian and a lifelong sports fan! Houston has not had the best reputation lately in the world of sports! This matter with O'Brien only portrays a toxic environment within the Texans organization. It's time to let Bill O'Brien go once and for all!
I will only retract this if the Texans win the Super Bowl this year with Bill O'Brien! Anything outside of that, I stand by my opinion!
Vent session over!
Be sure to follow me on Twitter at @TXSportsQueen and follow us at @BellyUpSports to see what we're up to next!
Until next time, Belly Up fans!