I can't lie to myself and I certainly won't lie to you, the reader. The Seattle Dragons are not very good and there isn't any other way to say it. They had an uphill battle yesterday, no doubt. But, it was pretty much a must-win game that had OUR Dragons with the lead throughout much of the game. Everything was breaking their way. Turnovers were falling from the sky and they still couldn't capitalize. Then, when we were down, the Universe or God, whichever you follow, kicked us all in the balls with the completely botched kneel down that should have given the Dragons one more shot.
Seattle is now 1-4 with half of the season left to play. If they win out, they could, potentially, get into the playoffs. But, only four teams make and well, it doesn't look good. I apologize, already, for the sour tone of this blog. Watching the collapse that was the Seattle Dragons yesterday has made feel like a 1000 War Heads. I'll try and save my rage till the end of the blog. Here's what I saw.
BJ Daniels, Neo, the one, the guy who was supposed to be the savior for the team had an extremely pedestrian game. He went 14/22 for a whopping 114 yards. Even on the ground, Daniels only had 30 yards on 10 attempts. Adding two rushing TDs was nice but if you can't threaten anyone with the pass then what are we doing here? I'll tell what we're doing here; we're missing open receivers.
Hell of a job of escaping pressure but the end of this play ends with Daniels missing a wide-open receiver crossing from the left side. That happened a few times yesterday. It seemed like every time Daniels escaped the rush, he missed a receiver down the field. You can't leave plays on the field against teams especially teams as good as Houston.
There was a much better energy with the offense despite missing plays. Daniels ability to run at times left receivers very open. BJ just needs to connect on more of those plays. Then he can be thought of with the likes of PJ Walker.
Speaking of Walker, that guy is going to be playing in that other professional league. There's already loose talk that the other professional team from Seattle was in attendance scouting Walker. I can see why. Walker probably had his worst game in the XFL and he still threw for 351 yards and three scores.
Trey Williams had some nifty runs.
Followed up by cutting a promo
I really wish coach Zorn would feed all the backs more. I wish this because it appears that they can't throw well. The backs only got 22 carries. That's not enough for a team that was winning most of the game. I'm not saying to put the ball in the freezer, but controlling the clock should be what this outfit is doing.
Austin Proehl had a very Austin Proehl type game. He only had 56 yards but when you only throw for 114, that's going to happen. Proehl is reliable and wouldn't be surprised if he gets picked up by an team from the other professional league. Hmmm, I wonder what team seems to always have guys that have Proehl's dimensions and characteristics?
Speaking of guys that you can confuse for Austin Proehl, how about the announcers comparing Nick Holley to Julian Edelman. They listed a few reasons why they're similar. Strangely, there was one detail that you could say makes Holley and Edelman alike that they conveniently glossed over. Probably just slipped Steve Levy and Greg McElroy mind. Here's Holley putting the okie doke on a Dragon defender. It was like the juke was just slow enough that the defender didn't know how to handle it.
Jacquies Smith nearly had a turkey on this play. All he needed was to score it. i'm sure he'll take ahat trick on one play.
Overall, I thought the Dragon's defense played PJ Walker well. They kept him bottled up and didn't let him run all over them. The actual running backs for Houston, however, gashed the Dragon's defense often. It seemed like they were getting 6 yards a carry. In reality, they were getting around five yards a carry.
There isn't a universe that exists where anyone on Houston knows who Bill White Shoes Johnson is.
Am i the only who feels that the Dragons never convert 2pt conversions? I know they've done it a couple of times, but I feel like they never convert. Troubling
Another week, another Dragon's game where their QB doesn't have over 50 yards passing at halftime. Damn, that sucks to write. It's kind of impressive if you think about it. I suggest not thinking about it.
The secondary was ballhawking all game and it was awesome to watch.
Which naturally leads to…
I'm guessing the Seattle defense were big fans of the Delocated.
I hated every part of Jim Zorn electing to punt on that 4th down instead of going for it. You saw that Daniels wanted to go for it. The ball was around the Dragon's 45. I understand that conventional wisdom says to punt it, and also realize that Seattle had the lead. I don't care. PJ Walker and Cam Phillips are on the other side and no lead is safe with them and that offense. You have a better chance of getting a yard then stopping the Roughneck offense. It's as simple as that.
Jeremy Martin makes one of the more athletic INTs you'll ever see and the offense, promptly goes three and out. Great job.
I love the fact that gambling is intertwined in what the XFL does. How cool is it that we have Steve Levy talking about that he some lines out there where the Dragons were getting 13.5? The answer is that it's very cool.
I can't be the only thinking when Jacoby Brissett was on the screen that he can easily slide into any team in the XFL and nobody would notice right?
Oh yeah, Cam Phillips is another guy that you will see will be on a team from the other American professional football league. He's really good. Not much else really to say about him.
Okay, lets get into the last play of the game. What a pile shit that was.
I've never been a referee before but it doesn't take any type of scientist to see that Walker kneed the ball with two seconds left. So, Wes Booker, you dumbass, don't insult the intelligence of the people when you say there isn't anything that can be done to unfuck this. Steve Levy is right, one play can make all the difference in the world. Instead we get this dumbass, Wes Booker, with the ultimate deer in the headlights moment. He knows he screwed up big time. But, he could have told the refs to come out and run one more play.
Does the Dragons convert it and then get the three-point-conversion? The odds say no, but I've enough crazy stuff in sports to tell me it was worth doing. This massacre led to Wes Booker immediately getting ousted and led to the XFL admitting that they are in fact dipshits.
Here's what I think of the XFL's apology;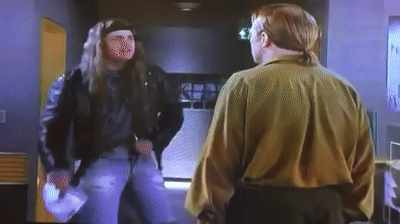 Vinny Mac, I love you, but you got some idiots running things. This is was like the first incarnation of the XFL. This is the kind of nonsense that would occur. I thought we were passed this, but obviously, a lot still needs to be done.
This is one of the symptoms of having cameras and microphones everywhere. If Booker is in the NFL, he probably doesn't get fired. But because he literally had no clue what to say other than changing this would take a lot of work that I don't feel like doing, he gets "reassigned."
It's going to be hard to move on from this disaster that potentially cost the Dragons a game, but the show goes on. The Dragons are 1-4. Half the season is over meaning there's a whole half left. It's not impossible for the Dragons to go on a run and win out. It's just not very likely. Next week, the Dragons travel to LA which will be the most important game in team history. The playoffs, essentially, start now for OUR Dragons. Lets hope they see it that way.
Jim Zorn isn't on the hot seat by any means, but he needs to pick up his game. I say it every week that they need to get Keenan Reynolds more involved because he's so dang special. At the very least, figure out what you want to be on offense. Running team or throwing team. I suppose they would tell me that they are both. Well, here's the thing; you're not good at either so maybe focus on one. Like I said earlier, the playoffs are right now. TCB next week and give us hope. Hope may be a dangerous thing, but let us live dangerously for a little bit.