Today is the day ladies and gents! The day we have all been waiting for… no like seriously, what else is there to look forward to? This NFL Draft is going to be full of entertainment as soon as Joe Burrow puts on his Bengals hat after the first pick. After that it should be some smooth sailing for a couple picks, but with what former GM, Michael Lombardi has been throwing around on twitter, anything can happen.
What I have here for you on this glorious day is my final NFL Mock Draft. This draft contains everything I think will happen today. I do not deal with the whole trades scenarios, but I will highlight at the bottom of a pick if I predict a trade will happen. Also, you will see my "Grade A" picks. Those are the picks I would make if I was the GMs of all 32 teams. Now it is time for me to shut up, and for you to check out my picks. I hope you hate them.
(P.S. I even included round two)
Joe Burrow, QB – LSU
The only, and I mean only draft pick in the draft I am confident in.
"Geaux Bengals"
Grade A: Joe Burrow
Chase Young, EDGE – Ohio State
Alright fine… I am pretty confident in this pick too.
BUT.
Let us not forget old Daniel Snyder and how well he does running the Redskins.
Grade A: Chase Young
Jeffery Okudah, CB – Ohio State
This is where things start to get tricky. Okudah fills a hole in the defense that the Lions really need to take care of, but part of me thinks they will trade back and get more pieces rather than just Okudah here at three.
Grade A: Jeffery Okudah
Jedrick Wills, OT – Alabama
Danny Dimes is the guy in New York. Wills is one of the best at protecting players like said Danny Dimes. Coach Joey Judge has ties with Bama too, which also helps this pick make sense.
Grade A: Isaiah Simmons
Tua Tagovaiola, QB – Alabama
I simply do not believe that there will be any other team that Tua plays for next year other than the Dolphins. Shock the world, I dare you.
Grade A: Tua Tagovaiola or Justin Hebert
Justin Herbert, QB – Oregon
Herbert needs to go to a team that has good players around him. The Chargers have just that and can even let Herbert sit half or an entire season behind Tyrod Taylor to get him ready.
Grade A: Justin Herbert
Isaiah Simmons, LB – Clemson
Wherever Simmons ends up is a great pick by that team. Kuechly has just retired, and the Panthers have struck gold by finding a guy like Simmons as his replacement.
Grade A: Isaiah Simmons Tristan Wirfs, OT – Iowa
The Cardinals need to protect Kyler Murray at all costs. He has all the weapons he needs now after the Hopkins trade, which is why they take this large human here at eight.
*possible trade back spot with the bucs*
Grade A: Tristan Wirfs
Derrick Brown, IDL – Auburn
Jaguars are known for big, powerful, relentless talent on their D-Line. This is just another one of those guys. Cannot go wrong here with Brown.
Grade A: Derrick Brown
Andrew Thomas, OT – Georgia
Baker is who they need to turn this franchise around. Thomas has sky rocketed on draft boards which makes the browns take him this early in the draft to help protect Baker.
Grade A: Mehki Becton
Mehki Becton, OT – Louisville
There is not much that needs to be said about Becton other than HOLY SHIT THIS MAN IS HUGE. So what he smoked a little weed, times are tough (insert shoulder shrug here).
Grade A: Jerry Jeudy
Jerry Jeudy, WR – Alabama
Gruden and Mayock are not gonna pass on a player similar to Amari Cooper again. Jeudy is even a better prospect than Cooper when he came out in my opinion. This should start the run of WRs in this draft.
Grade A: Ceedee Lamb
Ceedee Lamb, WR – Oklahoma
Do I think the 49ers take Ceedee Lamb here at 13?
No.
Do I think Ceedee Lamb gets selected by another team at 13?
Yes.
I expect the Eagles to jump up here and take Lamb at 13.
Grade A: Henry Ruggs III
Josh Jones, OT – Houston
This pick seems like a little bit of a reach. Jones is a good tackle, but there is a lot more talent that could be taken on the board. Only thing that matters to the Bucs right now is Tom Brady. Jones might be able to help that.
Grade A: D'Andre Swift
Henry Ruggs III, WR – Alabama
Ruggs is really fast.
Grade A: Henry Ruggs III
C.J. Henderson, CB – Florida
The Falcons need a lot of help on defense. Dan Quinn needs to decide if he wants to go D-Line or Secondary.
Grade A: K'Lavon Chaisson
K'Lavon Chaisson, EDGE – LSU
How bout dem Cowboys?
Grade A: Grant Delpit
Xavier McKinney, S -Alabama
The Dolphins would be silly to let another Alabama saftey slip through their figners. Can't miss oppourtunity here for the fins at eighteen.
Grade A: Xavier McKinney
Javon Kinlaw, IDL – South Carolina
Kinlaw might be one of my favorite players in the draft. He is just a massive human being that has always played with a chip on his shoulder. I expect big things from him and this defensive line in Vegas next year.
Grade A: Javon Kinlaw
Grant Delpit, S – LSU
The Jags organization is a freaking mess. They got guys left and right trying to get out of there. Delpit is a safe pick here for me that should help get that defense back to its roots.
Grade A: C.J. Henderson
Denzel Mims, WR – Baylor
Mims has flown up the charts as we have come closer to draft day. I think he is special, but not exactly what the Eagles are looking for. Either way, I have him going here at 21.
*possible trade with the 49ers*
Grade A: Justin Jefferson
Justin Jefferson, WR – LSU
Diggs out —> Jefferson in
Grade A: Tee Higgins
Yetur Gross-Matos, EDGE – Penn State
Gross-Matos is a very driven player that is respected by his coaches. Belichick loves guys that also show respect and Matos will do just that.
Grade A: Jordan Love

Patrick Queen, LB – LSU
Drew Brees has led the offense for years. It is time the Saints find their leader on defense.
Grade A: Patrick Queen
Jeff Gladney, CB – TCU
The Vikings are "glad" to see Gladney here at 25. This is the second player they have selected that also wore purple in college.
Coincidence?
Grade A: Kristian Fulton (he wore purple too)
Austin Jackson, OT – USC
Another reach of a pick here, but the Dolphins need help at tackle which Jackson should provide them.
Grade A: Austin Jackson
A.J. Epenesa, EDGE – Iowa
Pete Carrols guy in my opinion was Yetur Gross-Matos. He was taken a few picks ahead. It just so happens his second guy is Epenesa.
Grade A: Yetur Gross-Matos.
Kenneth Murray, LB – Oklahoma
I have come around on Murray. I have heard from many that I was wrong about Murrays will to play and that it is there. If that is the case, this guy should do very well at the next level considering he is another freak of nature.
Grade A: Kenneth Murray
Neville Gallimore, IDL – Oklahoma
Coach Vrabel has lost both of the edge guys he was looking for at this point. Gallimore is not the pick they wanted, but the pick they still need even at twenty-nine.
Grade A: A.J. Epenesa
Jalen Reagor, WR – TCU
Rodgers liked players like Randall Cobb and Jordy Nelson. Reagor is that guy for them in this draft. Do not be surprised to see a QB taken here as well.
Grade A: K.J. Hamler
A.J. Terrell, CB – Clemson
The 49ers do not need much right now, but if they need anything, it would be help at the corner position.
Grade A: Cesas Ruiz
Jaylon Johnson, CB – Utah
Let's be hoenst… the Chiefs secondary can always use help.
Grade A: Cyde Edwards-Helaire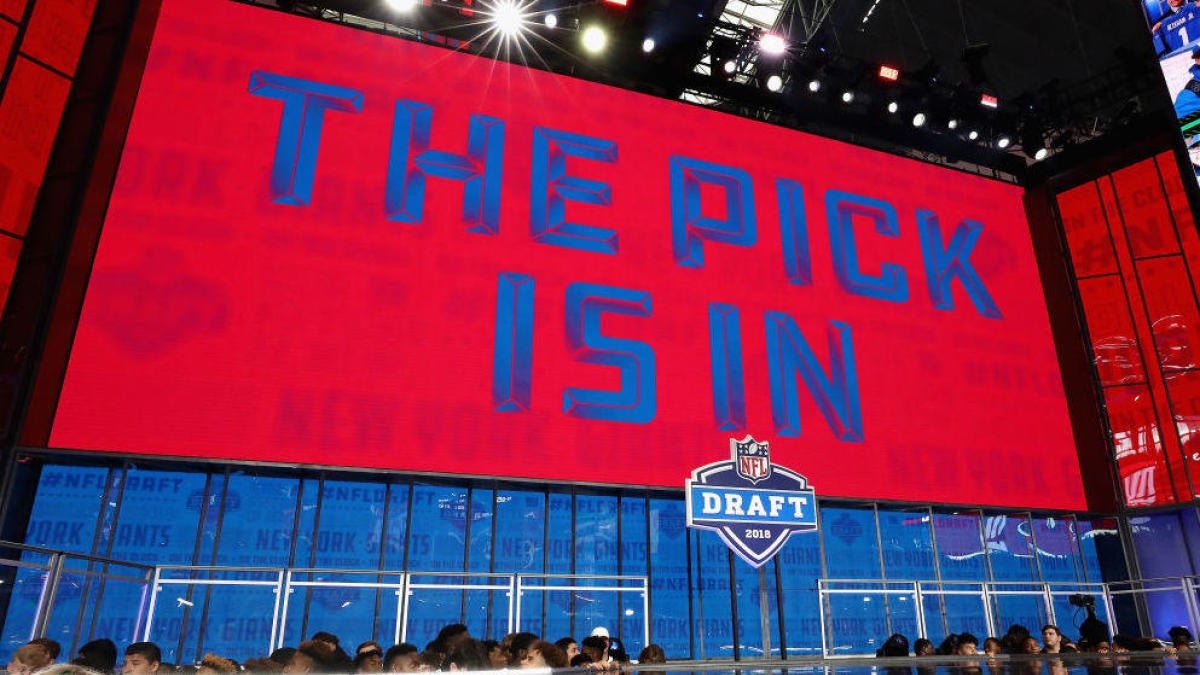 Round Two
33. Cincinnati Bengals: Cesar Ruiz, IOL – Michigan
34. Indianapolis Colts: Jordan Love, QB – Utah State
35. Detroit Lions: Zack Baun, EDGE – Wisconsin
36. New York Giants: Antoine Winfield Jr., S – Minnesota
37. LA Chargers: Kristian Fulton, CB – LSU
38. Carolina Panthers: Noah Igbinoghene, CB – Auburn
39. Miami Dolphins: J.K. Dobbins, RB – Ohio State
40. Houston Texans: IDL, TCU
41. Cleveland Browns: Jeremy Chinn, S – Southern Illinois
42. Jacksonville Jaguars: Jonathan Taylor, RB – Wisconsin
43. Chicago Bears: Ezra Cleveland, OT – Boise State
44. Indianapolis Colts: Bradon Aiyuk, WR – Arizona State
45. Tampa Bay Buccaneers: D'Andre Swift
46. Denver Broncos: Isaiah Wilson, OT – Goergia
47. Atlanta Falcons: Terrell Lewis, EDGE – Alabama
48. New York Jets: Laviska Shenault Jr., WR – Colorado
49. Pittsburgh Steelers: Marlon Davidson, IDL – Auburn
50. Chicago Bears: Trevon Diggs, CB – Alabama
51. Dallas Cowboys: Jonah Jackson, IOL – Ohio State
52. LA Rams: Jordyn Brooks, LB – Texas Tech
53. Philadelphia Eagles: Damon Arnette, CB – Ohio State
54. Buffalo Bills: Joshua Uche, EDGE – Michigan
55. Baltimore Ravens: Tee Higgins, WR – Clemson
56. Miami Dolphins: K.J. Hamler, WR – Penn State
57. LA Rams: Cam Akers, RB – Florida State
58. Minnesota Vikings: Lloyd Cushenberry III, IOL – LSU
59. Seattle Seahawks: Chase Claypool, WR – Notre Dame
60. Baltimore Ravnes: Clyde Edwards-Helaire, RB – LSU
61. Tennessee Titans: Julian Okwara, EDGE – Notre Dam
62. Green Bay Packers: Justin Madubuike, IDL – Texas A&M
63. Kansas City Chiefs: Cameron Dantzler, CB – Mississippi State
64. Seattle Seahawks: Lucas Niang, OT – TCU

It has been a fun and wild ride once again this draft season. Thank you all who enjoyed it with me. If you want to tell me how great of a mock draft this is, you can reach me via @BellyUpReilly or comment below.
LETS HAVE A DAY.