Cam Newton is a former MVP. He has posted career highs of 4,051 yards and 35 touchdowns passing, and 754 yards and 14 touchdowns rushing. As he enters his 10th season as a pro, he finds himself without a team, and up to this point in free agency, he has yet to be signed. Where will he end up? And what will his role be? Here are six teams that make the most sense to me for Cam to sign with.
Baltimore Ravens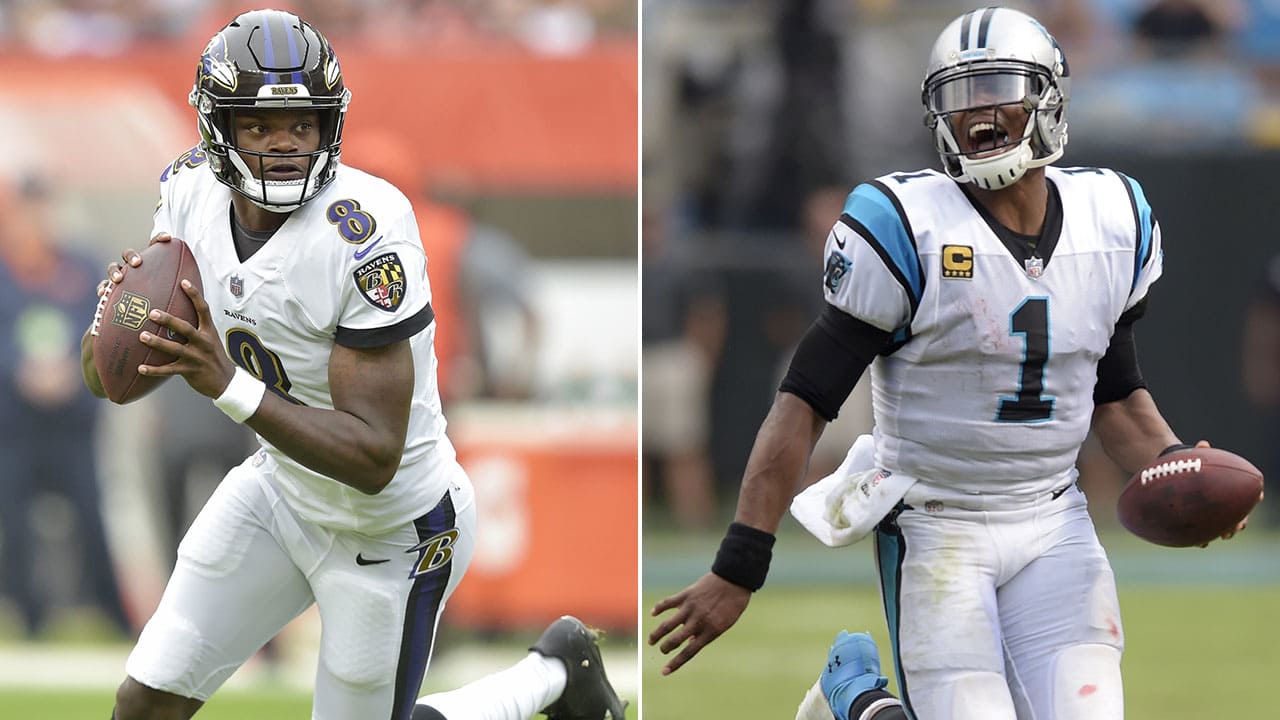 Cam's ability to both run and throw would fit in seamlessly with Baltimore's offense. He could instantly slot in as the backup behind Lamar Jackson, or he could be used in packages to keep defenses on their toes. This would add another dimension to a run game that was already the best in history and added rookie J.K. Dobbins. The Ravens would need to make sure his contract was incentive-laden, but having a 31-year-old Most Valuable Player as their backup quarterback would afford the Ravens a luxury no other team has. The price point could be the big hang-up because I believe the Ravens would sign him today at the right price.
Denver Broncos
Drew Lock seems like the franchise quarterback the Broncos have been looking for, but what if he isn't? Is Elway ready to risk it all after just five games? I don't know if that is such a good idea, and the depth behind Lock is lacking, to be polite. Cam would instantly push Lock to perform, and if he ends up crumbling under pressure, Cam takes over. This would be a dream scenario for Newton, with the weapons Denver currently has to work with. If he performed well in Lock's stead, Cam could lead the Broncos into the future. Like with every team Cam potentially signs with, the contract would have to be incentive-laden.
New England Patriots
Last year, if you asked Patriots fans if they would rather have Cam Newton or the unproven Jarrett Stidham, I believe they would have universally said Cam. So what has changed? Why hasn't Bill Belichick jumped all over Cam? It must have something to do with money. Cam could easily win the starting job here. While the weapons aren't special, this seems the most surefire way for him to win a starting gig the fastest. He could inherit an excellent defense, and with his dual-threat abilities, he would give the Patriots and Belichick a weapon they have never had in New England. It would also give Belichick the best chance to prove he can win without a certain someone. Make this happen!
Pittsburgh Steelers
2019 was a terrible year in Pittsburgh, and most of that was due to the fact that Ben Roethlisberger only suited up for two games. A combination of Mason Rudolph and Devlin Hodges attempted to steer the ship in Ben's absence, but without much success. Cam Newton is an enormous upgrade over both of them. He could slot directly in behind Ben in 2020. Roethlisberger can't have too long before he hangs up his cleats. Cam could be waiting in the wings for 2021, and he would inherit a team that has had consistent success behind Roethlisberger. He could also be weaponized in Pittsburgh, although the only innovation Mike Tomlin has shown has been to be straight-up trippin'. Cam could come in with Ben, and learn the offense for a year before taking over full-time as Pittsburgh's starting quarterback in the post-Roethlisberger era.
San Francisco 49ers
Jimmy Garoppolo is coming off a 27 touchdown, 13 interception, 3,978 yard 2019 in which he was honestly not bad. Is not bad what San Francisco needs as they take advantage of their title window, though? Cam would add another element to an already dynamic run-game, and the talent surrounding him would be the best of his career. San Francisco is built to win now. Cam could instantly give the offense the jolt it needs to get over the hump of losing in last year's Super Bowl.
At worst, he could push Jimmy G during the preseason and get the best out of him. This seems like a win-win signing, as it would improve the quarterback play. However, the 49ers are already battling with cap issues, and signing Cam would be difficult fiscally. Still, making this work would absolutely push the 49ers to another level offensively. If Garoppolo starts, Cam could be weaponized, ala Taysom Hill in New Orleans. Kyle Shanahan is supposed to be an offensive genius, he could figure out how to best use Cam to optimize both him and Jimmy G.
Washington Redskins
This just makes way too much sense. Ron Rivera is in Washington. Dwayne Haskins is far from a sure thing. Cam could slot in as a starter day one. This gives Haskins more time to adjust to the league. Or, they could let the quarterbacks compete for the job. Cam has so much familiarity with Rivera that the fact Washington has not signed him yet (and did sign former Panthers QB Kyle Allen) makes me think Cam is too expensive, or Rivera isn't ready to tie his job to Cam again.
If they did sign him, I believe Cam would start right away, and I think we can all agree the Redskins have to do something to remain relevant. This does just that. A one-year prove-it deal would make sense for both sides, allowing Cam to show the league he still has it. It would also give the Redskins some media attention they wouldn't otherwise receive. I find it highly unlikely this happens considering Rivera has yet to push for it publicly, but it does make a lot of sense.
Cam Newton will be playing football in 2020. These six teams provide destinations that make sense for both the team, and for Cam.
Enjoy this article? Follow me on Twitter to get updates on when new content is released @realryanhicks. Think another team makes more sense? Drop a comment, and let's talk about it. Also check out what else Belly Up Sports is cooking up, and follow @BellyUpSports for all our excellent content. Thanks for reading.