It's a fine Sunday afternoon here in Northeast PA. If you're looking to golf, today should be a decent day for that unlike yesterday when I tried to go and got absolutely bodied by rain. Getting home, I began to just have random thoughts spiral throughout my brain. This happens a lot and lately many of them have been about random players and occurrences created by the Miami Dolphins. I blame Sly Fox Alex's Lemon Wheat Ale for the inspiration, but I digress. The thought I had was one I've had for 17 years and that is how in the hell did the 2003 Dolphins not make the playoffs when they had seven pro-bowlers, six of them on defense?
It doesn't make sense right? That Dolphins team was loaded on defense. As I said, they had six pro-bowlers. I don't know how many teams in history had six pro-bowlers on one side of the ball and didn't make the playoffs. That be a fun assignment for someone, who wasn't me, to find the answer too. Feel free to pass that along if you find it. I have to imagine that there can't be more than two teams with such credentials. Of course, the Dolphins would claim ownership to such am awful achievement. That's very on-brand for them.
Roll Those Beautiful Pro-Bowlers
Lets start with the cream;
Jason Taylor– 13 sacks in 2003 who eventually became a first ballot hall-of-famer.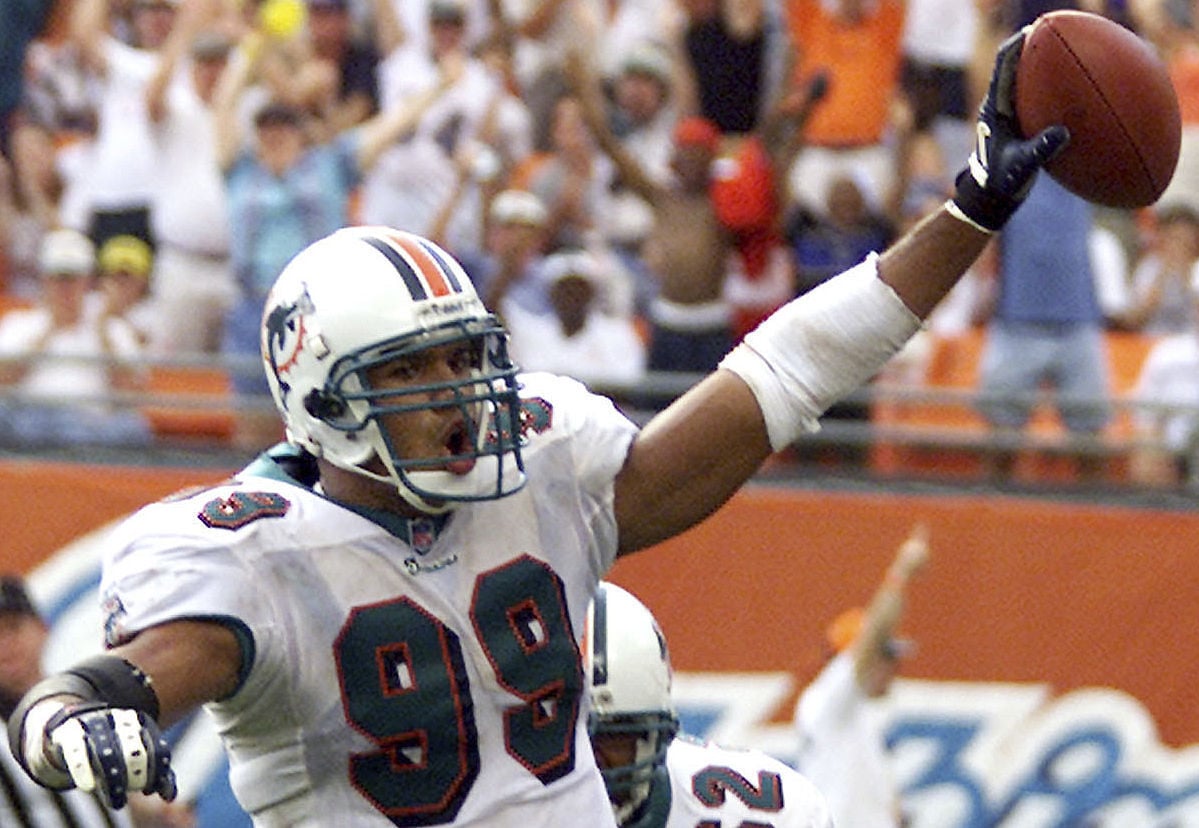 Zach Thomas– 156 combined tackles, three INTs, one forced fumble, four tackle for loss. He should be in the hall-of-fame but the committee is good with Brian Urlacher.
Tim Bowens– 27 combined tackles, two forced fumbles and was a force in the middle. He was the glue guy for the defense. One of the reasons Thomas had a bagillion tackles is because this guy took up two offensive linemen on the regular. Also, Bowens only missed five games from '94-'03. You can always count on Timbo.
Sam Madison– Three INTs, one TD, 10 passes defended, 50 combined tackles. Madison was half of one of the best corner back duos of all time(foreshadowing, but you know it's coming.) By 2003, folks knew not to throw his way. It's why his INT numbers aren't off the charts. His man to man, in your grill style was one the fiercest around and is something you don't see a ton of today. Also, Sam Madison was always a 99 in Madden and was next to impossible to trade for if you had a fantasy team. Madden knew.
Patrick Surtain– Seven INTs, 13 passes defended and 53 combined tackles. Surtain is the other half that tremendous corner back duo. Opposite of Sam Madison, the idea was to throw to whatever side Madison was. But Surtain let it be known he was just as much and in your face player like Madison locking down whoever was on the other side of the ball.
Brock Marion– Three INTs, two forced fumbles and 81 combined tackles. Marion was solid for Miami. I think he got on the pro-bowl roster mostly because of his name. That was something that happened all the time back then. Reputation was huge. I remember Marion getting burned to much for my liking. This was the very back end of his career.
The 7th Pro-Bowler
Oh, and you know who the only offensive pro-bowler was for the Dolphins in '03? Some guy named Ricky Williams. I know that some of y'all have a major problem with Ricky with how he, essentially, quit on the team to go and partake in the devil's lettuce. That's your choice. I wasn't happy when he did it, but I was also 17. Since then, I've learned to forgive, and understand Ricky and others as people. It's why Ricky is my favorite Dolphin's player of all-time. He's got issues like everyone and he figured some things out and made it back to the NFL and still kicked ass. If you can't get behind that, then I don't know what to tell you.
In 2003, Ricky had 1,372 yards, nine TDs along with 50 catches for 351 yards. Those are excellent numbers. The 50 catches were surprising to see. I knew he was underrated pass-catcher but I didn't think he had 50. I should have realized it when I think about Jay Fielder, Brian Griese, and Sage Rosenfels being the signal-callers for that season. Ricky also had 392 carries. If that happened today to one running back the head coach would be exiled to Antarctica for breaking labor laws.
Even More of a Conundrum
When adding Ricky's fantastic numbers to a defense that had studs all over the place, you can't help but get frustrated that that team didn't make the playoffs. You've heard forever and ever, even in today's pas-happy league, that defense and running the ball always travels and wins games. So, why didn't this happen to the 2003 Dolphins?
Well, the Dolphins did finish 10-6 that year. That's a pretty good record. There haven't been many teams that have gone 10-6 and missed the post-season. The Broncos, who were also 10-6, edged out Miami for the final seed in the AFC. They probably had a better winning percentage against the AFC.
But Why Didn't Miami Do Better in 2003?
The ingredients were there for the Dolphins to punish people. It's an easy formula. Get any kind of lead in the second half and put the ball in the freezer with Ricky Williams. Do this with your star-studded defense bullying any offense. Simple right?
But you need to account for the unholy trinity of Fiedler, Griese and Rosenfels throwing 20 INTs. If you look at their defensive numbers, the Dolphins were third in points allowed, third in total points given up. So again, how does that team not win more than 10 games?
Even though Ricky ran all over the place, the Dolphins were 29th in total possession. A lot of that has to do with the Dolphins being 27th in passing. The Dolphins relied so much on Ricky doing everything that in big moments or when Miami were down more than a score late in games. Teams loaded the box and dared Fiedler and the gang to beat them. Guess what? more often than not, they couldn't
Having Dave Wannstedt has the head coach also didn't help. For being a defensive guy from the Cowboy's Super Bowl teams, you'd figure he would have been able to put a stranglehold on teams. That didn't quite happen very much.
The Biggest Reason
The biggest reason that I think the 2003 Miami Dolphins didn't make the playoffs with all those pro-bowlers on defense and a near 1,400-yard rusher is that they simply weren't clutch. There aren't too many stats to show clutchness. But if you check out their Wikipedia page, you can see game by game how the Dolphins gagged it up late in games mostly due to the quarterbacks throwing picks or getting stripped sacked late. Even the defense would falter in big spots. In big-boy games, the defense would come up empty. Wannstedt was an average head coach and that averageness was rarely enough to win high profile, big-time games.
It's a New Day Yes It Is
But that's over with now. It was 17 years ago and although the last 17 years haven't been to amazing, we live in a different time now. We have adults running the franchise, a head coach who, certainly appears, knows what he's doing, and a franchise quarterback that has all the tools and personnel around him to be a great success. They won five games last year and they weren't even trying to win. They found ways to beat two playoff teams last year, late in the year. Perhaps, Flores and the boys are learning how to win. We have to tell ourselves that, so that's what I'm going to do.
Follow me on Twitter @2ndSatSports and check out other NFL articles by the Belly Up team.