//embed.sendtonews.com/player3/embedcode.js?fk=D1en9s7r&cid=10043&offsetx=0&offsety=0&floatwidth=400&floatposition=bottom-right
The collection spear, headed by @A_Phoenix_Born, was designed by a team of experts, including a recipient of W.I.N. (Women in Nike), a program that provides former WNBA players with full-time positions at Nike WHQ.

Tap the link in our bio to learn more about the collection. pic.twitter.com/Q2XaJA67KF

— MADE for the W (@madeforthew_) June 29, 2020
https://platform.twitter.com/widgets.js
The Collection
This collection by Nike is set to be released on July 10th on their website. This is a new deal and collection for Nike. The collection is geared toward women and the basketball community. This is the first collection Nike will be releasing that is geared just for women's basketball. The collection contains shorts, hoodies, tank tops, joggers, and shirts all geared toward a woman's figure rather than a man's. The shorts have a tighter hem and are shorter in length. The hoodies are designed to fit over a bun or ponytail. They also now have a front pocket and a longer back for more coverage. Sue Bird, a guard for the Seattle Storm, states, "The hoodie was easy to put on. For me, it's important to have a hoodie that works with my hair."
Making A Statement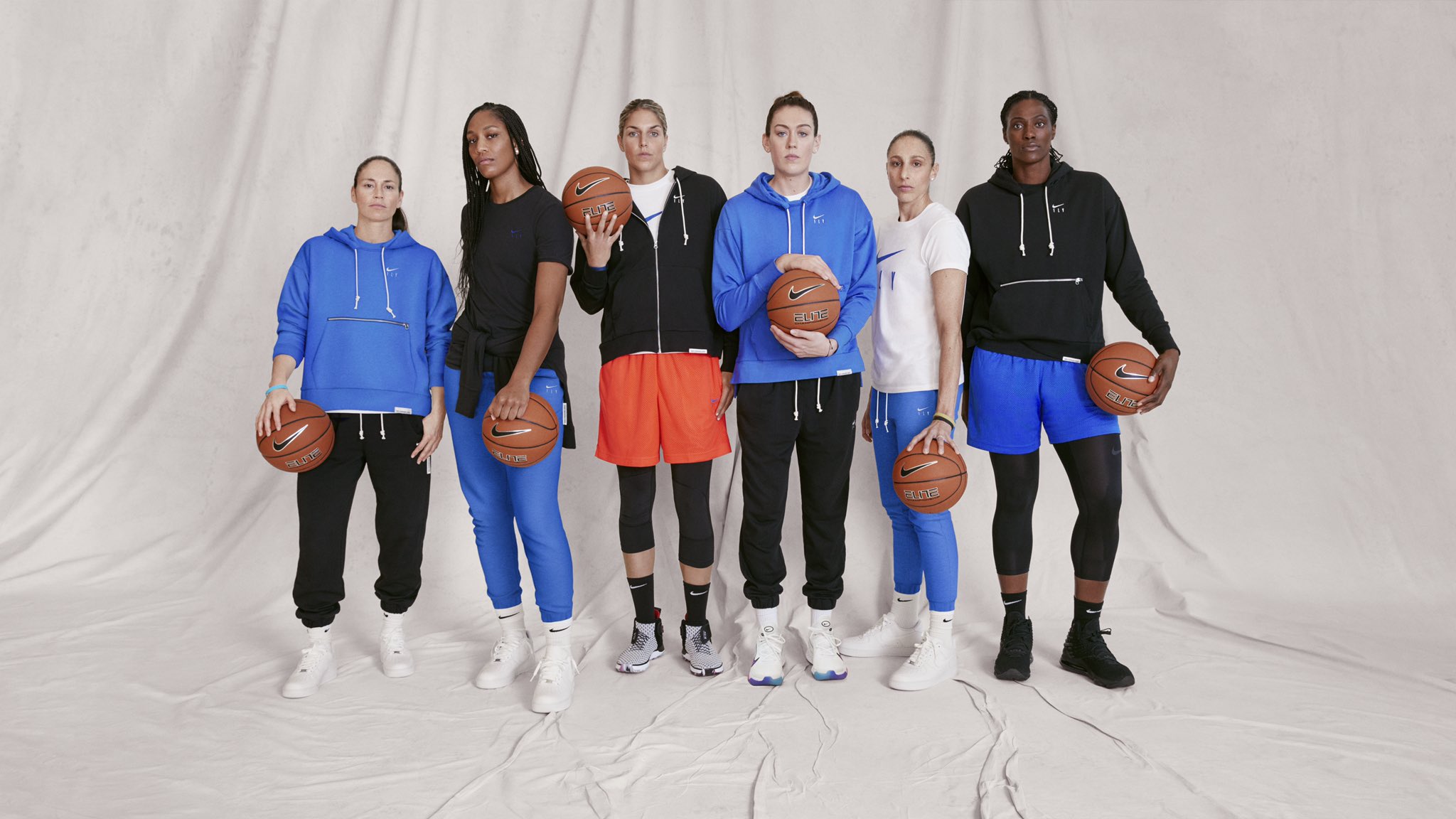 Since the WNBA is the Face of this New Line by Nike, many WNBA players are using their voice to make a statement. Many players such as Elena Delle Donne, Sylvia Fowles, Sue Bird, Diana Taurasi, A'ja Wilson, and Breanna Stewart are promoting this new line. WNBA Players are the face of this new line since players have had to struggle with clothing that is designed for men and their body shapes. This new collection will be game-changing for WNBA players and other women and girls playing basketball across the world.
A'ja Wilson Makes A Statement
The new #swooshfly collection from @nikebasketball is here! Get yours on 7.10 at https://t.co/9Aw7nnHlx0 and via select retailers. pic.twitter.com/uTTMVUZRn3

— A'ja Wilson (@_ajawilson22) June 29, 2020
https://platform.twitter.com/widgets.js
Since the WNBA is the Face of Nike's New Line, many players are speaking out. A'ja Wilson of the Las Vegas Aces is one of the many players who is stepping out and advocating for this new line. She states, "Swoosh Fly is a moment to finally say we have something that's our own. We don't need need to share it with the guys." Players like A'ja are tall but don't fit the size of the guys, so this will allow players like her to feel more comfortable in what they are wearing.
Diana Taurasi Makes A Statement
Diana Taurasi of the Phoenix Mercury is another WNBA player who is speaking out and advocating for this new line. She states, "You need to have that one piece of apparel that fits you just right. Swoosh Fly is that but in an entire collection. And it's so authentic that players like Mistie are helping move this gear forward." Taurasi is right in that this collection will help you have that one piece that fits so well you will want to wear it often. Swoosh Fly will help provide comfort and style for players.
The Future
This collection is a huge step for the future of women's basketball and clothing. WNBA is the face of Nike's New Line and will help promote this clothing line and women's basketball on a global scale. The WNBA and women's basketball has come a long way since women were allowed to play basketball. This new collection will inspire young girls and women to be comfortable as themselves and play the sport they love. I am looking forward to this collection myself as a high school basketball player who struggles with clothing. I will definitely be purchasing this collection and hope that more clothing comes out soon.
Make sure to follow my Twitter @aislynjowers for more of my content and follow @WNBAbellyup for more WNBA content. Check out my previous article Top 10 Highlight Plays of the 2010 WNBA Season and keep a lookout for my next article. Be sure to check out WNBA Belly Up for more articles on the WNBA.