Do you want to make some predictions on the NBA bubble seeding games? Download PropMe from the Google Play Store or Apple App Store and join The Belly Up Sports NBA Bubble Contest. It's free to play, and you can guess how many times will Nikola Jokic's weightloss be mentioned in the Nuggets' August 1st game, and so much more. The winner will receive $50, merch from the Belly Up Store, and be invited to be a guest on the Hardcourt Hunnies podcast!
Want a sleeper team to keep an eye on? Look no further than the Denver Nuggets.
They have a young nucleus (Avg. age of bubble roster is 25.5 years), one of the brightest head coaches, and a hunger to make Denver more than just a football town. This team has the make-up and talent to surprise many people in the NBA's return to play. However, a few questions remain.
Will Nikola Jokic's transformation hurt or help his game?
Can Jamal Murray become a superstar?
How much time will MPJ and Bol Bol get?
Reasons for Nuggets Optimism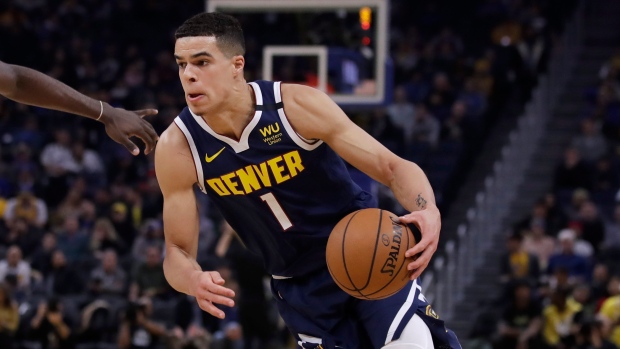 Watching the Nuggets play the other day against the Wizards gave viewers a small sample of what Coach Malone may employ during the seeding games, using size throughout the lineup. However, don't read into it too much. Most of his key guys didn't see the floor. Bol Bol's coming-out party was worthwhile watching, but let's be realistic. Though impressive, it was against Washington's B-Squad. (Might as well be the Washington Generals.)
Far from a veteran team, Denver's success in last year's postseason will pay huge dividends. They are a year older, mature, and more confident. That will hopefully improve their decision making down the stretch in close ball games. Plus, continuity from keeping the team together for a few years will assist in cohesiveness.
Though the Nuggets rely heavily on Nikola Jokic and Jamal Murray, their role players such as Jerami Grant, Gary Harris, and Michael Porter Jr. may loom just as important.
MPJ has been hampered by multiple injuries and defensive lapses throughout his up and down rookie season. But I believe with enough playing time, he can be the missing link going forward. At 6'10 with freakish athletic ability, MPJ can become a matchup nightmare for opposing teams should they focus solely on Jokic.
Reasons to Doubt the Nuggets
While youth is one of Denver's strengths, it's also a weakness. The West's top teams all have rosters full of playoff and championship experience, mainly the L.A teams and Houston. Veteran savvy is still a necessity come playoff time, which the Nuggets can only gain with more appearances.
Added to that, the Nuggets lack what those teams have; consistent outside shooting. If this team wants to reach its full potential, they have to improve on their 15th ranked three-point shooting, good for the middle of the pack. They don't take many (10.9 makes 30.4 attempts per game/25 26th league-wide), but they need to make them count.
It's no secret that Nikola Jokic looks entirely different since the NBA's hiatus took place in March. He seems much leaner, which should help in his conditioning to stay on the floor longer. However, does that, in turn, lessen his effectiveness in the post?
I side with the majority of Nuggets fans believing that Jamal Murray is an All-Star in this league. He was playing at that level after coming back from a severe ankle sprain. What most people are waiting for with him is taking that next step to elite status. Can he contend with the likes of Damian Lillard, Donovan Mitchell, and Luka Doncic? (Potential playoff matchups.) His play this postseason will speak volumes.
Seeding Schedule
Denver will be tested early and often when the seeding games begin.
Miami will play them tough as they still have ground to make up back East. Afterward will bring the Thunder, Spurs, Blazers, Jazz, both L.A teams, and the defending champs from Canada.
Talk about a tall order.
I've noticed this team's willingness to get up for big games while yearning for more respect. One thing's for sure. Respect is earned in this league, not given. The end of this schedule will either prove the Nuggets' gripe or show just how much work they have ahead.
Prediction
Best case: 7-1
Worst case: 2-6
Throughout various times this season, the Nuggets have played down to their level of competition. (Baffling losses to Cleveland twice, and Atlanta at home) They can ill-afford a slow start out the gate. Doing so will hurt their chances of competing for a championship. (Still weird for me to say without mentioning the Broncos)
If Denver wants to prove they are more than just an up and coming team, now is the perfect opportunity with the title field more wide open than in recent memory. They have the pieces, size, and that once in a lifetime generational talent to get it done. Their ceiling could be as high as winning the Finals. On the flip side, an embarrassing first-round exit.
Bottom line, the Denver Nuggets will only go as far as Nikola Jokic and Jamal Murray will carry them.
If you enjoyed this article, check out other NBA articles from Belly Up Sports, and let me know what you think in the comments, or on my Twitter @jmalsimmons