Let's set the stage. It's 2020, mercury is in retrograde, the pandemic is fuming, and the NFL has made it through week 6. Some things haven't changed; Brady is in the MVP discussion, the Jets are still bad, and Carson Wentz is still choking under pressure. Other things have changed significantly: the Patriots and Washington Football Team both only have two wins (2-4 and 2-5). At surface level, these two teams have absolutely nothing in common, besides a shitty record. The Patriots have been a dynasty for two decades, and the WFT has struggled through name changes, a merry-go-round of quarterbacks, and more. But under the surface, Dan Snyder and Bob Kraft are dealing with the SAME issues, except Dan Snyder is a virus and Bob Kraft has a slight stripper problem. Let's take a deeper look.
Defense
If we have learned anything this season, it's that a bad defense can ruin any offense (thank you Dallas). Although the Patriots and WFT are both struggling with their defenses, the issues are slightly different here. The Patriots had one of the best defenses in the league last season. However, many of their stars opted out due to COVID-19. Stephon Gilmore is not playing like the Defensive Player of the Year he was last season, and the McCourty twins can't carry the load with everyone out. The WFT has been unable to build their defense around their developing offense. They have no reliable safeties now that Landon Collins is hurt, and they let their opponents put up too many points.
Patriots Grade: C+
As I said, a lot of the Patriots' defensive issues are no fault of their own. Patrick Chung and Dont'a Hightower are only two of many players that opted out. The Patriots led the league in players opting out, and it's arguably effecting them as much as Brady's departure. I hope that next season the defense will balance out once again, but Stephon Gilmore needs to step up as well. As for this season? The Patriots need more support from their veterans, and that goes for both sides of the ball.
WFT Grade: D+
WFT defensive issues are nothing new. They have struggled through a rebuild for a long time, and only progressed on the offensive side of the ball (besides Chase Young). I know Rome wasn't built in a day and a fully reliable lineup will take time, but the defense is really lacking. Washington has played some winnable games, and lost because opponents put up too many points. Ron Rivera and Dan Snyder need to prioritize a good safety, knowing that they have made great progress on the offensive side of the ball.
Chase Young continues to live up to the hype 🔥 pic.twitter.com/HbGEM1JNpN

— PFF (@PFF) October 27, 2020
Receiving Corps
This is an area in which these teams have more in common. Both lack significant receiving depth. Their offensive lineups are built on young guys who need more development. Julian Edelman has aged like a fine wine in his looks, but he has aged like a gallon of warm milk on the field. I don't know if you've drank sour milk before, but let me tell you it does not make for a good day.
i ain't gay but julian edelman is one of the most attractive men on planet earth

— griffy (@yungterps_) August 1, 2020
Patriots Grade: D
If you're a New England fan, you probably trust Bill and his plans. However, I may be losing faith. The lack of receiver depth is nothing new, and they relied on Brady to throw to less-than-average receivers. Look, I understand when your QB is God-like (Tampa I hate everything about you), you trust his ability to leverage any receiver you give him. But fantasies don't last forever, and the failing receiver corps is glaring now. Tom is gone, and we are working with a young kid who has no experience on the field and a former star coming off of a full-season injury. Belichick is not dumb, and he knew there were gaps at receiver. Why have they not traded for a TE since Gronk retired?
WFT Grade: B-
I hugely respect Ron Rivera, and I trust his process. People are wrong when they say "the process" is with the Sixers, because they failed at a rebuild and I am all in with Washington. They added Terry McLaurin last year, and he has turned out to not only be reliable, but he's enhancing the entire offense. Antonio Gibson is a fantastic pass catching RB as well, showing tremendous progress as a rookie. However, with the exception of their spotty TE Logan Thomas, that is the extent of their depth. They have earned a B- here and not a C because I firmly believe there are moves to round out the offense in the plans. Not something I can confidently say about New England right now.
Quarterbacks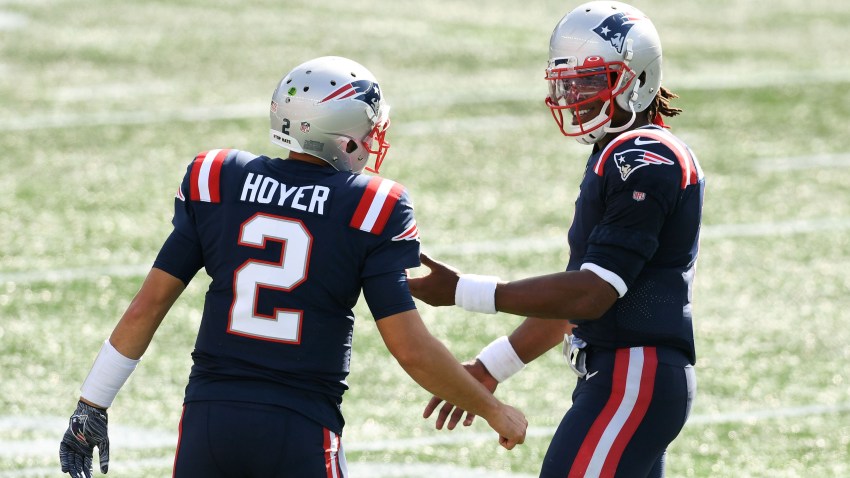 Now here's where it gets good. As a DC resident, I have watched the WFT try to solve this issue for years. Alex Smith, Case Keenum, Dwayne Haskins, Kyle Allen, oh my! Honestly, they go under the radar with their QB handling in comparison to the Dolphins, but Dan Snyder might as well be running both organizations. Snyder forced the WFT to draft Haskins, and that could very well ruin his career now. New England NEVER thought they were going to struggle to name a starting QB, and I have choice words for Tom Brady about that one. Now, they are flailing to figure out, between their three QBs, which is going to save their season.
Patriots Grade: C-
This grade fluctuates a lot depending on how long Belichick and Kraft knew Brady was headed out the door. This situation could have been mitigated if they took initiative earlier in the offseason. Newton signed right before the cancelled pre-season was set to begin, and the Patriots stood by Jarrett Stidham as a starter until then. Newton was available for far longer than he should have been. They get a C- and not lower only because they made the active effort to bring Cam in and save the offense (better late than never). Is it working? Absolutely not, but is it Cam's fault? Did the Patriots give Stidham the chance he deserves? Probably not; but I have a hard time trusting a rookie QB in any scenario. The Patriots gave me a heart attack as Jacoby Brissett made a start in 2016. They solidified their confusion when they started Brian Hoyer over Stidham after Cam got COVID-19 (thanks Roger Goodell for not making a bubble).
WFT Grade: D
I feel like the WFT QB problems are a storied tale, probably what I'll tell my kids for bedtime stories. "Once upon a time, JJ Watt broke Alex Smith's leg and WFT hasn't had a QB since." Talk about a scary story. But seriously, Ron Rivera had a plan when he came in here. He knew that Washington was the laughing stock of the league for offensive success, taking the award from the Browns. He swiftly brought in Kyle Allen (over the available Cam Newton), and now Allen is the starter. Dwayne Haskins Jr. is a wreck, but is it his fault or Washington's? I tend to lean toward him, but it's impossible to judge a young guy that quickly. Alex Smith is BACK from his gruesome injury, and I loved seeing him on the field. I wish he took a few less sacks from their paper thin offensive line, but he and Allen are playing enough to survive, not thrive. Are any of these three actually the long-term option?
Coaching
I think this goes a bit under the radar because both teams are suffering, but these two organizations have absolutely fantastic coaches. The problems in Carolina were not on Rivera, and him falling on that sword was completely unfair. Bill has obviously proven himself through his rings, and I have the most trust in these two coaches than many others in the league.
Patriots Grade: A-
Bill has proven himself to be the best coach in the NFL, but the Patriots are awful at retaining assistants. They're losing their ability to keep their process internal when half the NFL has worked for New England at one point or another. In addition, I don't know that I trust Bill's process as of right now. He always has some sort of plan, but as of week 6, the Patriots had recorded the worst loss at home, the first season they're below .500 since 2001, and the worst record under Belichick. However, Bill is not to blame for having eight players opt out to a global pandemic and losing a generational quarterback. There is some blame for the receiving gaps, but regardless of other opinions (goodbye Skip), he is still the best coach in the NFL.
Without Brady, Belichick is getting exposed. As I always said: Brady deserved 75% of the credit for 9 Super Bowls and 6 rings. Coach Subway deserved 25%.

— Skip Bayless (@RealSkipBayless) October 26, 2020
WFT Grade: A
Ron Rivera was the perfect replacement for Jay Gruden. His first day as coach, he went into the locker room and took all of their gaming consoles out, setting an entirely new tone. He isn't just improving the roster, he is changing the culture. If you have never been to FedEx Field to see a game, it's a dump. But fans are excited to see where this goes, and Ron Rivera DOES have a plan. His plans are actually so organized that he was able to FIGHT AND BEAT CANCER while coaching this season. That deserves an A even if the WFT was without a win.
Overall Report Card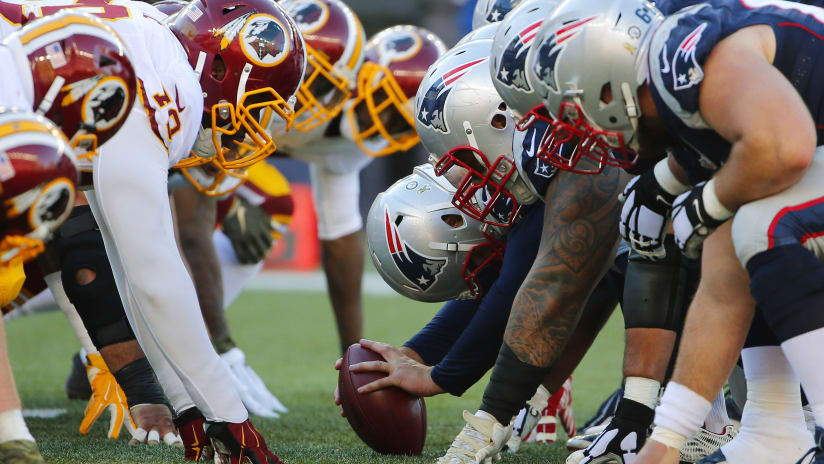 Patriots: D+
I am of the belief that the Patriots do not need to blow up and rebuild, they have enough tools (after COVID-19), to finish grieving Brady and get it together. They are not active enough on the trade market considering their current state, and they were not active in the offseason considering the severity of their offensive changes. Bill Belichick is the best coach in NFL history, and he is still at the helm. As long as the Patriots don't lose him, I have faith that he and Kraft can pull something together. It may not be this season, but New England is a resilient organization. They have an incredibly difficult schedule moving forward, and that is only going to exacerbate their problems. Cam Newton needs to step it up and set a positive tone for the team as well.
Washington Football Team: D+
The WFT has made great steps forward, but their rebuild isn't done. They still have plenty of gaps that need to be addressed, and I can't in confidence sit here and call them a great football team. The true irony is that they have potential to win the NFC East and make the playoffs, even with a 2-5 record. Once the organization is able to comfortable rely on a quarterback, the locker room environment will be in an entirely different place. I am a huge advocate for locker room dynamics and their impact on the field. Although their defensive side of the ball will only be fixed with bolstering, the offense has some potential once their confidence is built up.
Do the Pats and WFT have more in common than we think? Let me know on Twitter @swalshy63 and check out my other great Belly Up Sports content!