Well, we made it through the NBA Draft. It was a night of odd picks, great talents slipping, and oddly few trades. However, NBA draft producers never fail to disappoint on the entertainment component of the draft. We had player features, consistent analysis, strong outfits, and a smoothly run draft for a virtual format. Let's dive into the details of the draft many overlook.
NBA Draft Hats
Draft hats are starting to take the place of jerseys, and it's a player's first welcome to their new home. In that vein, they have to look great. We have had some hit's and misses in the past, but these are fire. I love the simplicity, I love the fabric, it's a fantastic look. It compliments the players' statement draft day suits (which we will discuss later) with their subtlety. They are comparable to the 2018 NFL draft hats, which I was also a huge fan of.
NFL 2018 Draft hats have arrived. Do you like or dislike? #NFLDraft #shoplocal pic.twitter.com/sbYRjglMd5

— THAT PRO LOOK (@ThatProLook) April 19, 2018
Because of the pandemic, the draft was entirely virtual; it is typically held at the Barclays Center in New York City. Normally, the NBA invites all prospects projected to go in the first round to be present, while those in the second round watch from home. Because of COVID-19, both the NFL and NBA held comparable procedures; each shipped streaming equipment and hats for every single team to draftees' households. Once teams make their choices, draftees may choose the appropriate hat from the pile. The process worked incredibly smoothly, and these hats looked great.
NBA Draft Emotional Rollercoasters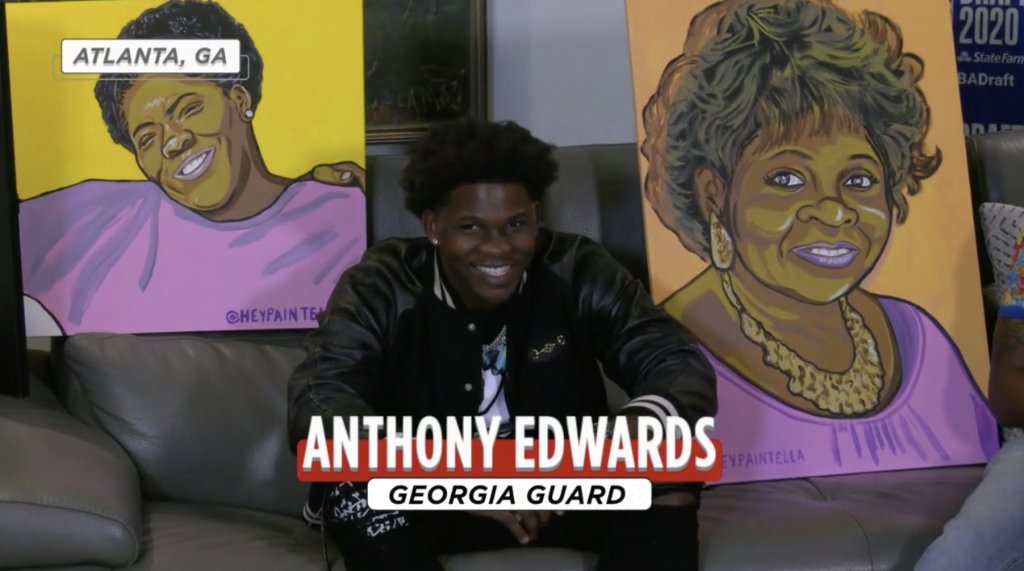 Look, we turn on the draft to see who our favorite teams are going to draft; did I expect to feel the emotions I feel when I'm watching a Grey's Anatomy season finale? Hell no. ESPN is out here pulling out every story from these kids' dark pasts and throwing them at viewers. Anthony Edwards awaiting his draft with portraits of his Mother and Grandmother, both of whom passed away suddenly. Onyeka Okongwu, chosen by the Hawks, lost his basketball standout brother suddenly in high school. Both students at Chino Hills, Nnamdi Okongwu was declared brain dead after a skateboarding accident. The incident was hugely formative for Onyeka, and made for an incredibly emotional moment on draft night.
Onyeka Okongwu teared up after being selected by the Hawks at No. 6 🙏#NBADraft pic.twitter.com/sJDnHQxs1T

— ESPN (@espn) November 19, 2020
Not only did ESPN roll out the sad family stories left and right, these players let out the ALLIGATOR tears in their interviews. I'm a young professional trying to figure out what the hell I'm gonna be when I grow up, and they literally just got it. It was incredibly surreal to see the likes of Obi Toppin, Cole Anthony and Tyrese Maxey breaking down in the arms of their families as their dreams came true.
Obi Toppin fought back tears as he shared his reaction to being picked No. 8 by the Knicks. #NBADraft pic.twitter.com/ud5jR0KDkJ

— ESPN (@espn) November 19, 2020
NBA Draft's Pick-by-Pick Analysis
Every team gets five minutes to make their pick in the first round, and two minutes to make their pick in the second round. This leaves significant downtime in between picks for analysts to fill with content. Woj is notorious for tweeting announcements before they're officially shared through on-screen or written press, making him the news GOAT to the basketball world. During the draft, he tweets each team's "target" as they submit their pick, before it's announced. Some people love this, they don't have to wait for Mr. ghostman Adam Silver to announce; others hate the spoiler.
No one:

Woj & Shams ruining the draft: pic.twitter.com/SW3lmXzkHK

— LakeShowYo (@LakeShowYo) November 19, 2020
Whether you think he looks like a balding turtle or not (he does), Woj is a God. The guy delivers us ACCURATE breaking news faster than the tequila shot hits. The NBA Draft had four on-screen analysts and various supporting cast members throughout. Woj tweeted almost every single pick at least two minutes before the announcement, and these fools dove into each pick pretending like it's their forecast. Like we all have Twitter, you're not fooling me boys. Drafts are much more interesting if analysts genuinely tell me who they think a team should draft, and then tell why the subsequent decision was dumb. Why did Deni Advija fall to the Wizards at 9? Why did Obi Toppin drop to the Knicks? These are all fantastic questions ANALYSTS COULD ANSWER instead of being Woj puppets. It's my job to be a Woj puppet, slaving over his Twitter.
NBA Draftee Suits
The NBA is notorious for intense draft fits, and many guys made this virtual draft no different. LaMelo Ball showed off his custom suit on his Instagram prior to the draft and received mixed reviews; the design on the pennant and suit are of his chest tattoo. He received some heat for this fit, but I respect that he reflected his brother Lonzo's 2018 draft outfit.
.@MELOD1P and @ZO2_ are the first brothers ever to be taken in the top 5 of the #NBADraft pic.twitter.com/SW6i8vKzX1

— ESPN (@espn) November 19, 2020
I am impressed with some of the bold takes. Sacramento got an absolute STEAL with Tyrese Haliburton at 12, the guy shouldn't have slipped past six. At any rate, teams should've known not to disrespect him when they saw these threads. He looks FINE. Honestly he would look fine in anything he put on, but damn applaud these details. The guy is about to see "Sactown's" ugly ass city uniforms and request a trade off the bat.
It's the little things. #details pic.twitter.com/XnAWIVSe1r

— Tyrese Haliburton (@TyHaliburton22) November 18, 2020
Finally, the misses. We have all fallen weakness to the COVID-19 remote world. When is the last time I dressed up for a work meeting? I have absolutely no idea. But this is the goddamn NBA DRAFT BOYS. If you were at Barclays Center, you would be in a custom suit showing off every detail (again, see Melo and Haliburton.) The freaking top two picks in the draft are out here in t-shirts waiting to kick off their careers? Get out you have to own a dress shirt.
My final point. The NBA sent a hat for every team and a rack of Mountain Dew to every player, but couldn't coordinate a photographer? The lack of pictures of these draftees reminds me of your Mom's Facebook page; wholesome, but blurry as hell.