The 2020 NFL Draft may have been the deepest wide receiver draft class we have ever seen. Teams had the ability to take an elite receiver in the first round, or they could hold off and still find top notch talent in the later rounds. Most of these guys walked into opportunities where they could become a star, right in the beginning of their career during their rookie season. Through eight weeks we've seen some of these players over perform, under perform, or perform to the level expected. This top 10 list will take into account two things; current statistical production, as well as natural athletic/receiver talent. Buckle up, this is a doozy.
1. CeeDee Lamb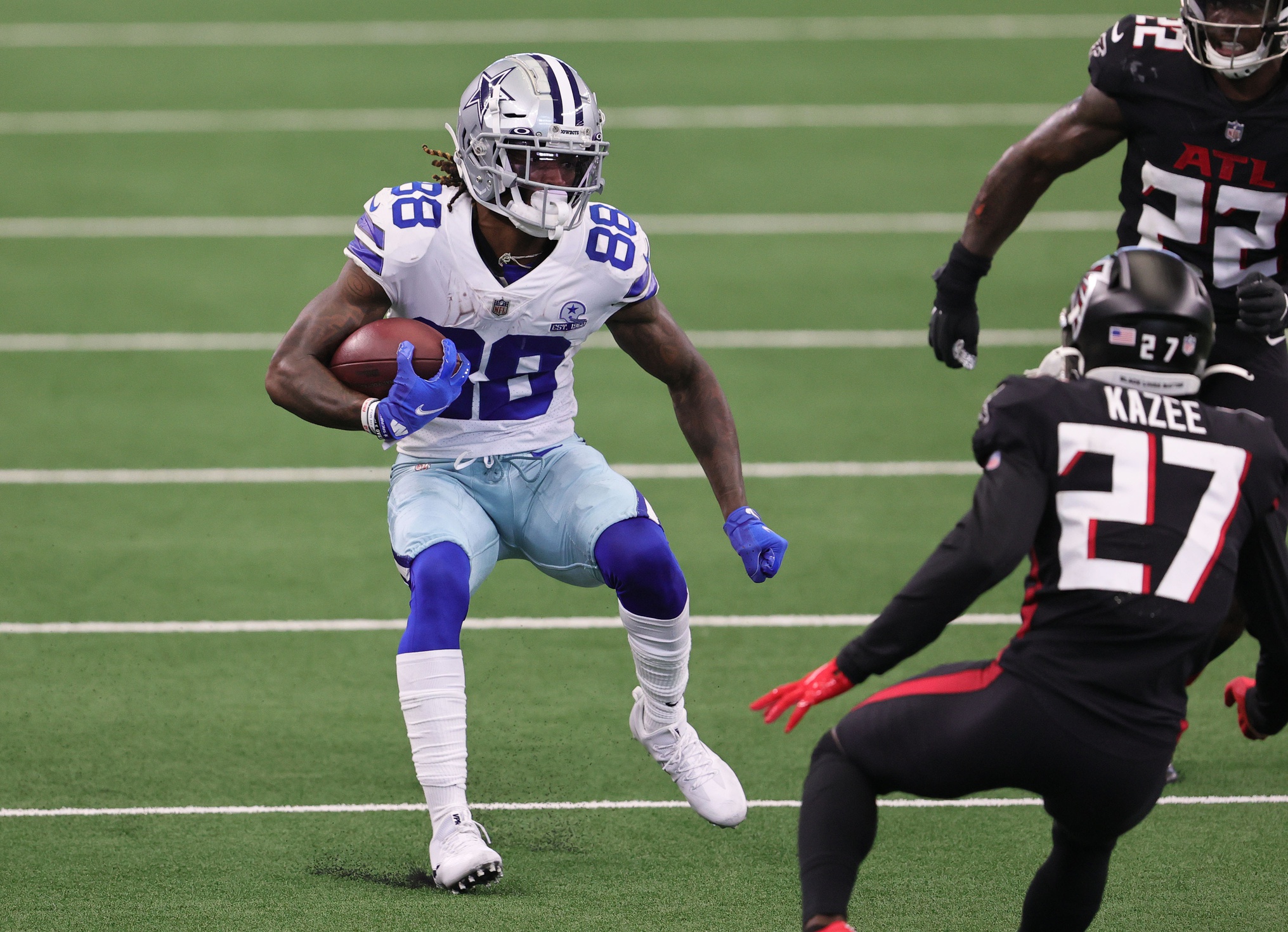 With the seventeenth pick in the 2020 NFL Draft the Dallas Cowboys selected CeeDee Lamb. Believed to be spoiled with offensive riches, selecting Lamb seemed like overkill for the Cowboys. With Michael Gallup emerging as a star, amongst the other offensive weapons, I wasn't all to sure where Lamb was going to fit in. Jerry Jones didn't worry, and saw Lamb as too talented to pass up, and it seems he made the right choice. Lamb is second in receiving yards for rookie receivers with 524 yards. He's also first in receptions for rookie receivers with 40.
With Cooper and Gallup manning the outside, Lamb has been a monster in the slot. He's projected to almost double the current Cowboys rookie receiving record for receptions (46). He could very well be the most talented receiver in the class. Great route runner, athletic, great hands, he really can do it all. I have him and Jeudy 1A and 1B when it comes to overall talent in this class.
2. Justin Jefferson
Justin Jefferson was selected with the twenty second pick in the 2020 Draft. He put up gaudy numbers as the second option for the prolific 2019-2020 LSU offense. Coming out of college, I was skeptical of how he would translate to the NFL, due to the historic system he was coming out of. He tested well, and was a tremendous route runner, but I still had a few guys ahead of him. My initial have been proven to be way off. Jefferson has done everything to blow statistical expectations out of the water, and he's taken the league by storm.
He currently sits fourteenth in the league in total receiving yards, and first among rookies, with 563 yards. From a statistical standpoint, he's been the best among this rookie receiver class. From talent standpoint he's also in the upper echelon, with only Jeudy and Lamb ahead of him. He's a perfect fit on the Vikings, and has filled the target void left by Diggs very well.
3. Jerry Jeudy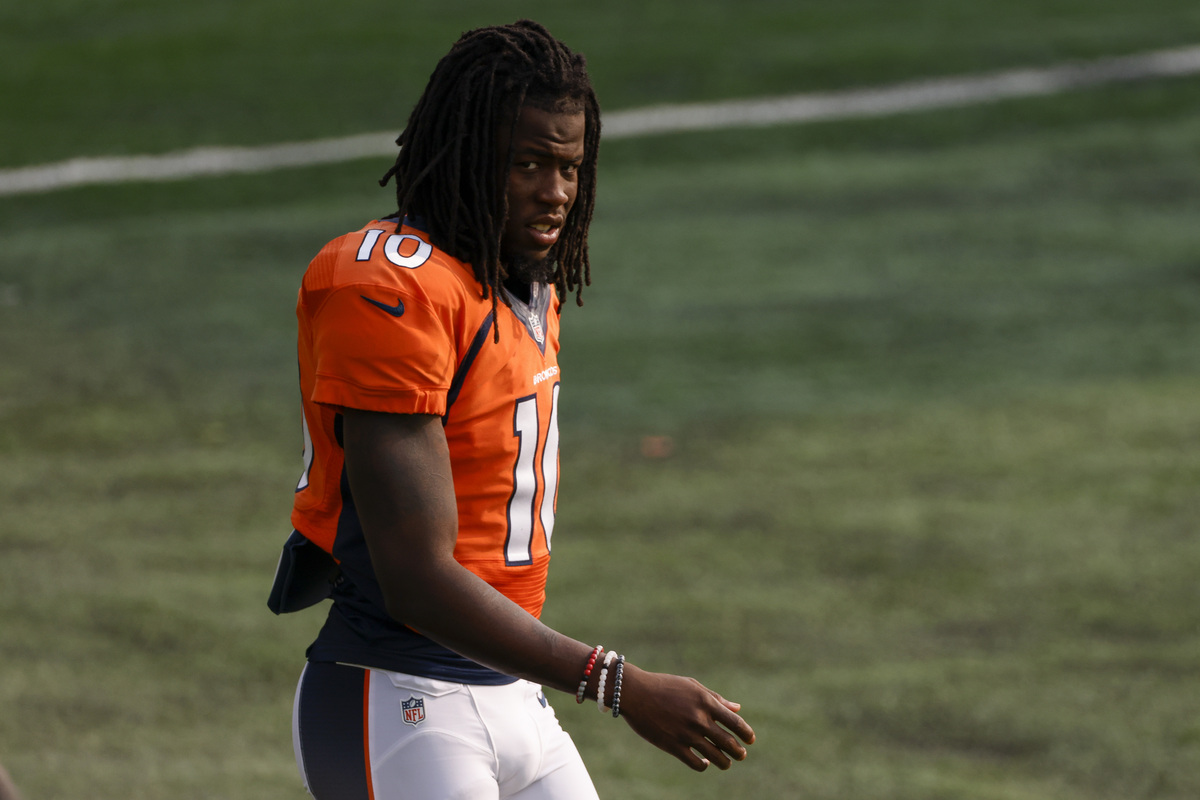 Jerry Jeudy was my favorite receiver in this class prior to the draft, and still my favorite receiver in this class to this point. The Denver Broncos selected Jeudy with the fifteenth pick in the 2020 NFL Draft. Paired with Courtland Sutton, I thought this was a match made in heaven. Jeudy could see the opposing team's second corner on occasion, while using his crisp route running to get open for a young quarterback looking for a safe option. Statistically he hasn't exactly popped as I had thought. He has twenty three receptions for 359 yards, with only one touchdown. The Broncos have the fifth worst passing offense in the league, from a total passing yards standpoint. This is one of the main reasons he hasn't produced as anticipated.
From a talent standpoint, as stated before, the only other receiver that compares to him is CeeDee Lamb. His route running is the smoothest in the class, coming in and out of breaks with ease. Great hands, good size, he's an extremely well rounded receiver. He's arguably the most talented receiver in this class, even if his statistics don't say so yet.
4. Tee Higgins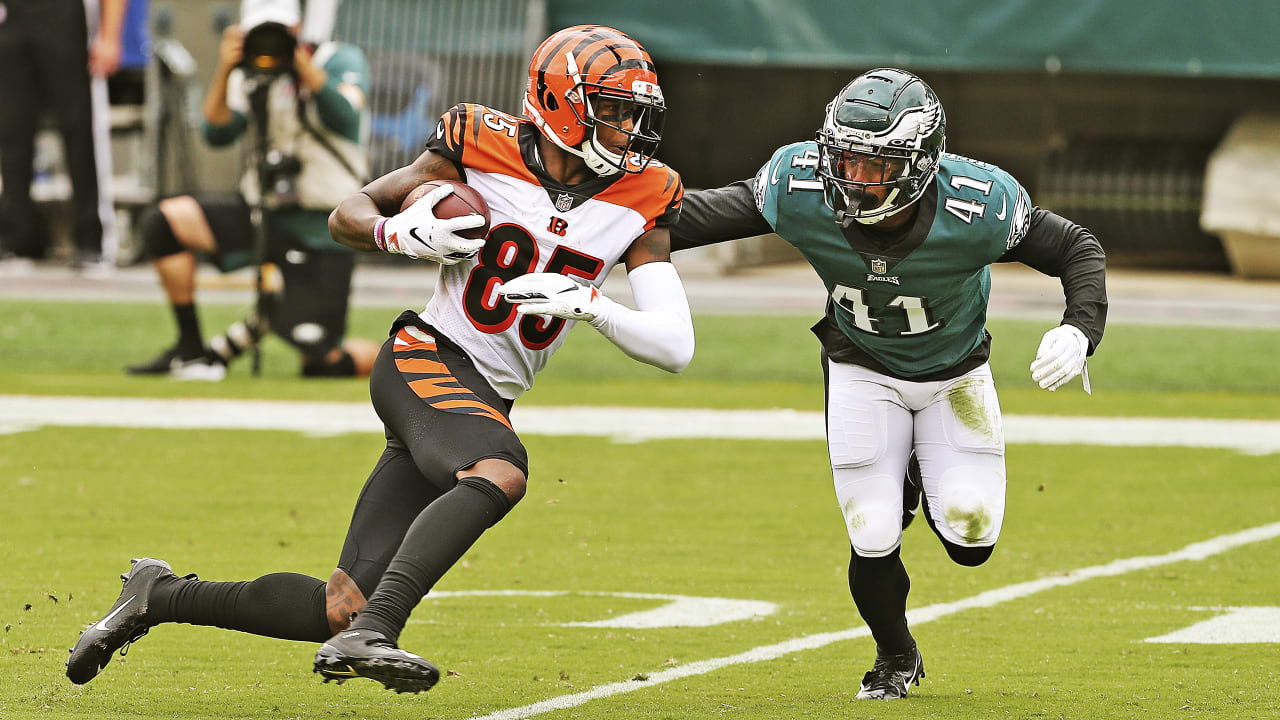 The Cincinnati Bengals selected Tee Higgins with the first pick in the second round, thirty third overall. Combine hailing from wide receiver factory Clemson, with pure size and speed, and you get a steal in the second round. The Bengals profited tremendously off of a wide receiver rich class with this pick. He was another guy I was unsure of, similar to my rational for being skeptical with Justin Jefferson. Just like Jefferson, he has proved me wrong. He has the third most yards among rookies with 488, and second most touchdowns with three. He and Joe Burrow have formed a dynamite connection, and it seems to be have been growing week after week.
Higgins fits the mold of the new school NFL receiver. The rookie is 6′-4″, 216 pounds, and runs a 4.43 forty yard dash. While AJ Green slowly fades out of the picture, I expect Higgins and Tyler Boyd to be a quality duo for years to come. If the Bengals keep investing in protecting Burrow, I see no reason why Higgins couldn't have a great career. Great statistics so far, great talent, and he's paired up with one of the league's best young quarterbacks. Not a bad recipe for success.
5. Brandon Aiyuk
The San Francisco 49ers selected Brandon Aiyuk with the twenty fifth selection in the 2020 NFL Draft. San Fran thought so highly of Aiyuk that they traded the thirty first pick, hundred seventeenth pick, and hundred seventy sixth pick to acquire Aiyuk. He missed the season opener, but since then he's come on really strong, especially of late. He's fourth in yards for rookie receivers with 371, but he does more than just catch passes. With Samuel sidelined for most of this year, Aiyuk stepped into the "do it all" role Deebo had carved out during his rookie season. He showcased his versatility in a Week three loss to the Eagles. He had a beautiful nineteen yard jet sweep for a touchdown, which concluded with a nasty hurdle into the end zone.
In the last two weeks he has fourteen receptions for 206 yards, and one touchdown. While it's not easy to sustain this, it's a clear indicator that he's growing comfortable with his usage in the system. He's a tough runner with the ball in his hands. Essentially he's another Deebo Samuel, and we saw the success he had during the 2019-2020 season. The 49ers system itself is also designed straight from the mind of one of the games brightest offensive play callers, Kyle Shanahan. Shanahan and GM John Lynch didn't trade away significant draft capital to not have Aiyuk be a key contributor in this offense for years to come. I expect great things from the athletic Arizona State alum.
6. Chase Claypool
Chase Claypool was selected by the Pittsburgh Steelers with the forty ninth pick in the 2020 NFL Draft. He's another receiver who fits the mold of the new age NFL receiver; big and fast. He's the same height as Tee Higgins, 6′-4″, but he's about twenty pounds heavier. Nearly 240 pounds, he's basically the size of a tight end. Combine this size with freakish athleticism, and you get statistical eruptions like we saw in the Steelers' Week four victory over the Eagles. He's third in receiving yards for rookie receivers with 375, and first in touchdowns with five. Statistically he has shown the ability to absolutely pop off, and has freakish athletic talent.
Year in and year out the Steelers draft quality receivers outside of the first round. The list goes on and on, with Claypool being the latest edition. I have no real knock on his game, he's a beast. The only reason he isn't higher is due to target share. He's not the only quality receiver in Pittsburgh, currently sitting fourth on the team in targets with thirty. James Washington is right behind him with twenty eight. The guy's above him on this list receive higher volume, and will continue to receive higher volume than Claypool. Either way the guy is a stud, and Pittsburgh has struck wide receiver gold once again.
7. Henry Ruggs III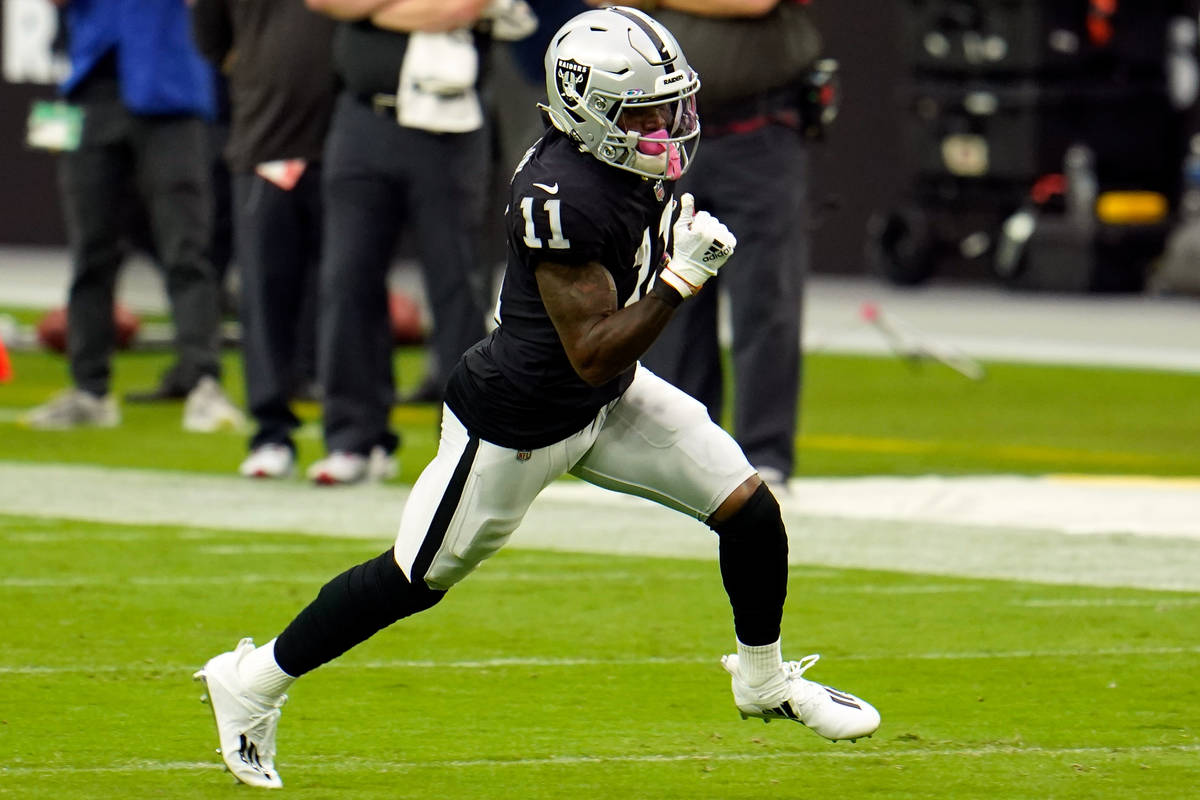 This one was also a little tricky, Henry Ruggs is definitely a tough player to grade so far. Ruggs ran the fastest forty yard dash in the NFL combine with a 4.27. The Oakland Raiders selected him with the twelfth pick, making him the first receiver off the board in the 2020 NFL Draft. The Raiders have selected this kind of player before, selecting Darius Heyward-Bey with the seventh selection in the 2009 draft. This ended up not working out for them, but they've decided to give this mold of player another shot. I don't blame them. Ruggs is obviously extremely fast, athletic, and comes from one of the best schools when it comes to NFL talent.
Statistically the rookie hasn't had the impact the Raiders had hoped for. He only has ten catches for 220 yards on the year. Jon Gruden has cited that Ruggs has had trouble beating one on one coverage, something that is expected from a speedster. Right now he's a speed guy who's speed isn't getting him open. This is a tough one for me because he's really a boom or bust guy. His career is obviously in its infancy, and I believe he will turn out to be a top notch receiver. If he figures it out, he's a top three receiver in this class, if not he's Darius Heyward-Bey.
8. Laviska Shenault Jr
With the forty second pick in the 2020 NFL Draft the Jacksonville Jaguars selected Laviska Shenault. He's another guy who's super versatile, Brandon Aiyuk/Deebo Samuel esc. Physical runner, athletic, and very tough. He currently sits sixth in receiving yards for rookies with 324 yards, and fourth in targets with twenty nine. He has to compete with Keelan Cole and DJ Chark for targets, which has led the Jaguars to using him in the backfield, just as an additional way to get the ball in his hands. He's produced extremely well, and I hope that he becomes even more of a focal point in this offense.
I went back and forth with him and Ruggs, and while they both have high ceilings, Ruggs edges him out with big play possibility. The forty yard dash isn't everything, but with Ruggs running a 4.27 and Shenault running a 4.58, there's a clear speed gap. Obviously game speed is much different than recorded sprints, and Shenault definitely has game speed. As a Jaguar fan I'm super excited about this guys future, and can't wait to watch him produce for years to come.
9. Jalen Reagor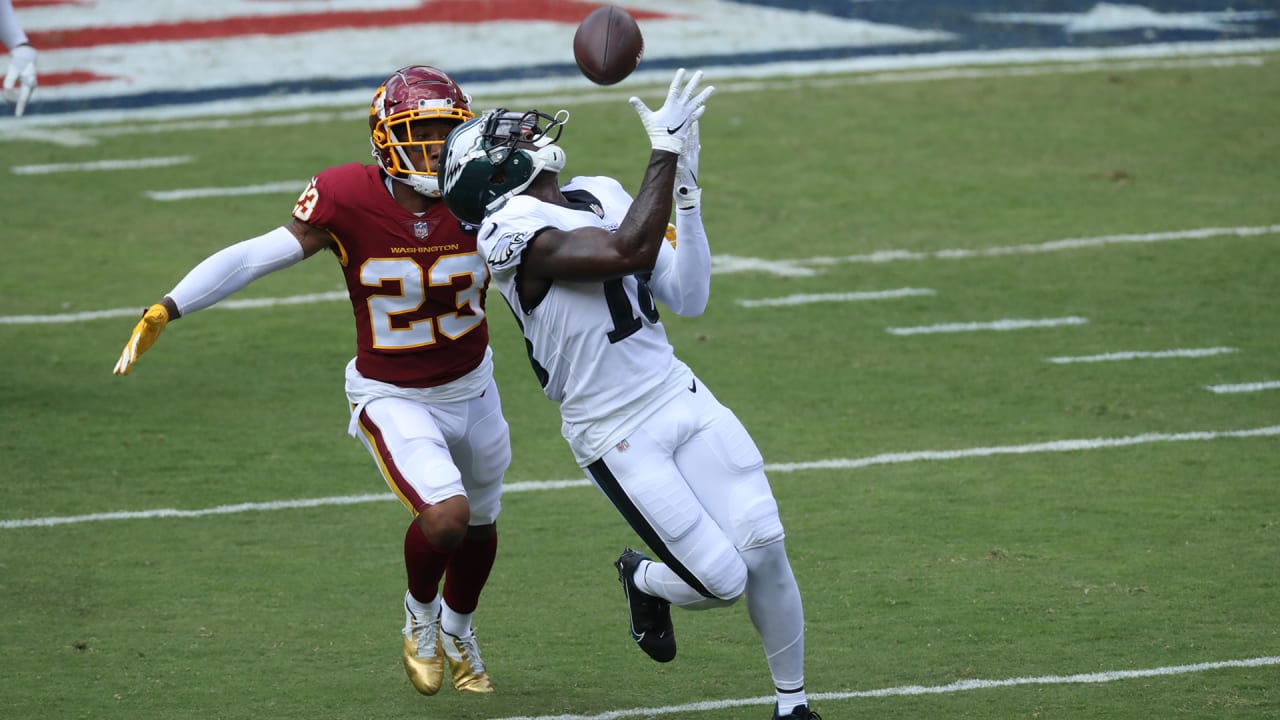 The Philadelphia eagles selected Jalen Reagor out of TCU with the twenty first selectin in the 2020 NFL Draft. I was really high on Reagor coming into the draft, and still am. Injuries have sidelined Reagor for a majority of the season. Giving the nature of this season, and his injury, he hasn't gotten time to form a connection with Wentz. In Reagor's absence Travis Fulgham has emerged as Carson Wentz's favorite target, looking like a budding star, a role that was most likely meant for Reagor. Despite testing poorly at the 2020 NFL Combine, Reagor is a speed demon.
He's at the bottom of the barrel statistically for rookie receivers. If he had play more of this season so far, I'm confident he would be higher. Interestingly enough he and Ruggs, the fastest players in the class, both find themselves statistically struggling when being compared to their peers. Of course being injured has impacted Reagor's statistical product. The talent is there, he was a beast at TCU. Once fully healthy and adjust to the system, his talent will shine and statistical product will follow.
10. Denzel Mims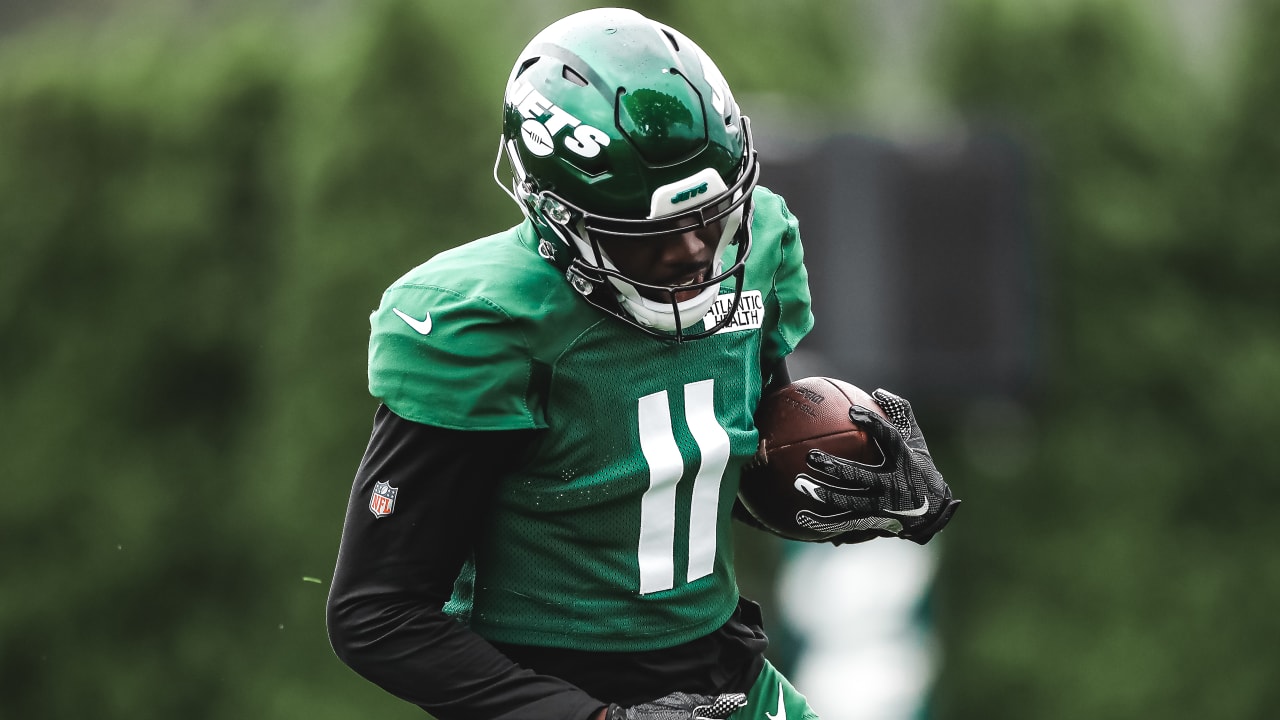 This last one was really tough. This list is the ten best rookie receivers based on natural talent, and statistical production thus far. I thought about putting KJ Hamler or Michael Pittman Jr here, and it could definitely be argued. Hamler has potential for a significant amount of targets for the rest of the year now that he's healthy, and Pittman benefits from playing with a veteran quarterback and a great team. I also considered putting Gabriel Davis here, I'm very high on him and believe he's going to prove to be extremely valuable to the Buffalo Bills offense for years to come. At the end of the day I decided to go with New York Jets receiver Denzel Mims, whom they selected fifty ninth overall in the 2020 NFL Draft.
He's a little less burly than Higgins, Claypool, or Pittman, but he's still a big dude. 6′-3″, roughly 205 pounds, much like these other big guys he's a freak of nature. Mims is a little smaller than these aforementioned receivers, but he's quicker, and faster. His 6.66 second three cone drill ranked third among wide receivers in the draft, and his forty yard dash ranked third as well with a 4.38. He has all the physical tools and talent to succeed, but what separates him from the other rookie receivers I considered here is opportunity. The Jets have a lackluster receiving core to say the least. Now that he's healthy, Mims has the chance to stake his claim as the number one receiver in green and white for the next five to ten years.
Like this article? Don't forget to follow me on Twitter @jthomann16 and check out all of the other great Belly Up Sports content!