With the college bowl week underway and the NFL playoffs rapidly approaching, that means it is that time of the year again. The time of the year where thousands of sports fans everywhere self-diagnose themselves with Post Football Season Depression.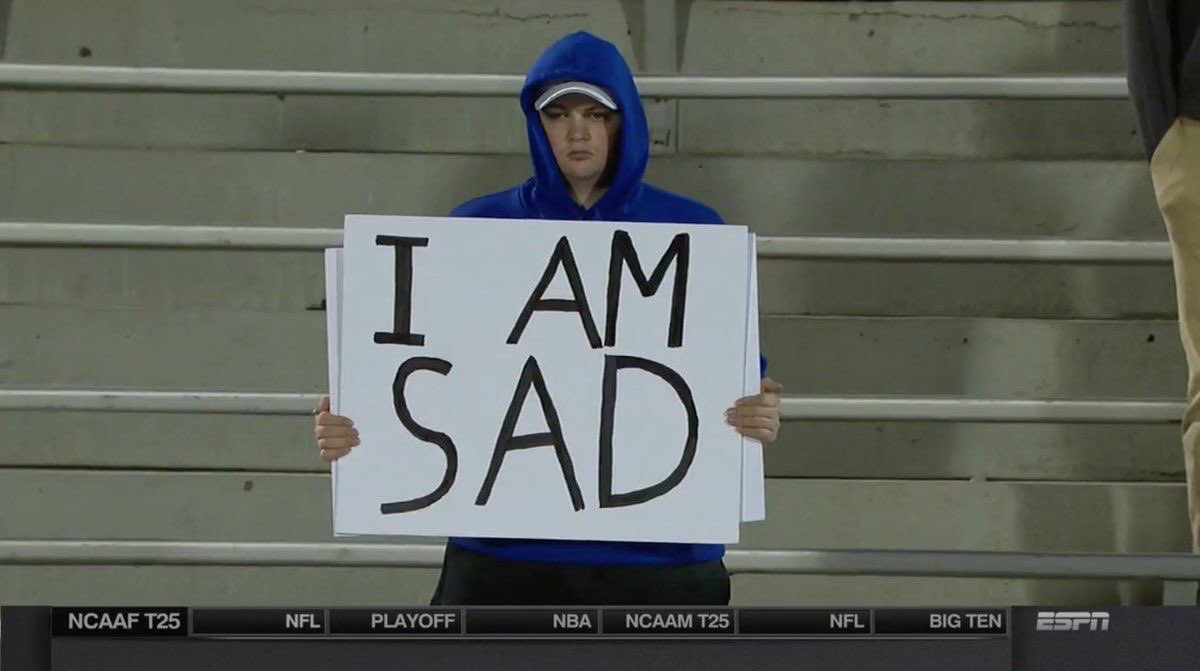 This seasonal sickness is caused by people spending the entire offseason convincing themselves that their team is way better than they actually are or "this is our year, things will be different". We fill ourselves with false hope and dreams of undefeated seasons and Super Bowl runs. We go through the season making up excuses for losing games or spend hours on the NFL playoff machine figuring out how our team will make the playoffs.
As a diehard Texas A&M Aggie and Houston Texans fan, it is safe to say I have lots of experience dealing with heartbreak and sadness. Since I have tons of experience, I'd like to share a few tips and tricks for handling Post Football Season Depression.
Take This Time to Find a New Team
So… your favorite football team just got bounced from the playoffs or blown out in their bowl game. Hell, maybe your team didn't even make the playoffs. That is okay! Take this offseason to look into other football teams that you may be interested in cheering for; a team that actually has a chance of being successful. For example, if your favorite NFL team is the Jacksonville Jaguars, may I suggest the lovely Kansas City Chiefs. The Chiefs have a great young quarterback. You may have heard of him… Patrick Mahomes? That guy is the future face of the NFL!
The NBA Is Back
In addition, If you have a professional sports league sized hole in your heart, may I suggest turning your attention to the National Basketball Association! The NBA's regular season starts back up this week, December 22nd. However, if you don't have a favorite team your cheer for every year, may I suggest the Los Angeles Lakers, the Brooklyn Nets, or the Miami Heat. Those three teams give you the best chance to not have your heartbroken at the end of NBA season. We here at Belly Up Sports provide tons of basketball content, fell free to check it out here!
Watch Something Besides Sports
Personally, watching television shows and movies is the best way to take my mind off my football woes. For those looking for suggestions or just those wondering what my favorite shows are, I'll tell ya! In no particular order, my favorite shows right now are: The Sopranos, Game of Thrones, Stranger Things, and The Queen's Gambit!
Get in the Holiday Spirit
It's Christmas time so you legally aren't allowed to be upset about anything when it's Christmas or any other holiday you celebrate. Throw on an ugly sweater, pour yourself a large glass of eggnog, and start singing Deck the Halls! Go to the mall and talk to Santa Claus. Who can be sad when Santa is in town?
Turn off the Television and Go Outside
Lastly, if all other options fail, maybe it's time for you to resort to ditching the technology and go outside for a while. Instead of yelling at the professional athletes on a screen, go outside and try the play the sport for yourself! Fresh air and sunlight can be a great way to clear your mind of negative thoughts.
I hope these five suggestions help you cope and hold you over till preseason comes around again in August. If not, check out more Belly Up Sports content to keep you busy! You can find me on twitter @Andrew_Winfield