The Los Angeles Clippers have officially waived Center Joakim Noah. The 13-year NBA veteran and longtime Chicago Bull is "likely headed toward retirement" per his agent Bill Duffy.
Clippers are waiving center Joakim Noah — and his agent, Bill Duffy of @BDA_Sports, tells ESPN that Noah is "likely headed toward retirement." One of his era's most ferocious competitors, Noah played 13 seasons, made two All-Star games and was a 3-time All-Defensive team choice.

— Adrian Wojnarowski (@wojespn) December 2, 2020
The inevitable retirement for Joakim Noah comes as bittersweet news to me. As a lifelong fan of the Chicago Bulls it's sad to see the emotional leader of the early-2010's teams hang it up. I'll always believe if he stays in good enough shape he can be an asset to any young team as a backup big man. All you need out of him is ten solid minutes of energy and effort. But on the other hand, it's nice to see him go out seemingly comfortable with his decision. Those knees need a lifetime of rest.
Jo became a fan favorite almost immediately. He personified the identity of the city he played for on and off the court. He could be a bit of a punch line to others around the league outside of Chicago. There were some easy targets, with that extremely long hair of his he would put in the bun. He had a Michael Strahan-like gap in his teeth. And his jumpshot had side-spin on it. Not to mention he was an absolute pest on the floor. He epitomized the "love him if he's on your team, hate him if he's not" guy (Marcus Smart is the current heavyweight champion in that division). Fans of the Chicago Bulls sure as hell loved this dude. And for good reasons. The rest of this article is meant to reminisce on Joakim Noah's greatest hits as a member of the Chicago Bulls in chronological order.
2009 Playoffs – First Round – Game 6 – Third Overtime
The greatest first-round series in NBA playoffs history. The defending champs squared off against the young, up-and-coming Bulls. They burst onto the scene, led by the trio of Ben Gordon, rookie Derrick Rose, and second-year big man Joakim Noah. The Celtics were without Kevin Garnett and it proved to be just enough for the youngsters to hang around and fight (if KG played he and Noah almost surely would have thrown hands). Four of the seven games went to overtime, two of which needed multiple overtime periods. When it looked like things couldn't get any more awesome, the series peaked in Game 6.
Up 3-2 in the series, thanks to a series of clutch buckets from Paul Pierce in Game 5, the Celtics needed to put this one to bed. But they would have to travel to Chicago to do so. The Bulls could have rolled over and been proud of taking two from the champs. But Joakim Noah, just by existing, wouldn't allow that to happen. Jo finished the game with 15 rebounds, six offensive, a steal, and a block.
Entering the third overtime he only had six points. But it's the final three that won us over for good. In a tied game with 41 seconds remaining, Jo jumped a Paul Pierce pass, beat him down the court, and one-hand jammed on his head! TOOT! AND ONE! The United Center fucking erupts, The Truth fouls out, Jo makes the free throw, and it felt like the game was over. Even though many things followed and it definitely wasn't over. Kirk Hinrich missed a wide-open layup. DRose stuffed Rondo on an iso attempt, got fouled, then missed both free throws with 3.2 seconds left. But it felt like the Bulls won on that specific play by Jo. Best birthday ever.
2010 – "You think Cleveland is cool?"
The Cleveland comments. Oh god yes, the Cleveland comments. Following a First Round Game 2 loss to LeBron James and the Cavaliers, Joakim Noah was asked if he regrets his previous comments about the city of Cleveland. Of course he doesn't. Then he proceeded to lay into the city even more. This was the blossoming of a lifelong beef with LeBron, Joakim, and fans of the Bulls. I was all in on this guy and this team. These comments made every matchup with LeBron so much better in the following season, and for years to come.
Heat-ed Exchanges
Following The Decision and the loaded 2010 free agency class, the Bulls struck out on the ultimate prize (probably because of the Cleveland comments) and wound up with Carlos Boozer instead. No matter. Joakim and the Bulls wouldn't back down. They battled the Heat hard in the regular season, winning all three matchups by a total margin of eight points. And while they lost the Eastern Conference Finals 4-1 there was always a belief they had a chance. The main thing, aside from enough talent, to beat a LeBron team is not being afraid of him. Joakim Noah absolutely was not afraid of that dude. And he instilled that confidence in the rest of his team. The Heat were just a better team.
For years Jo was pulling the type of shit shown in the above GIF, clapping in the face of on-court dysfunction. One man fueled an entire city's beef with one guy years after The Decision. And he created a lifelong LeBron hater (me) along the way. I'll always be Team Jo.
2013 Playoffs – First Round – Game 7
The best game Joakim Noah has ever played. Derrick Rose has now missed his second straight full season due to knee injuries. And the only things keeping the Bulls competitive are Joakim Noah and the trade acquisition of DJ Augustin. Jo showed Chicago and Bulls fans alike things we'd never seen out of him. In a first-round series against the Brooklyn Nets, the Bulls used every ounce of fight they had to push the series to seven. Then Jo delivered an all-time performance for himself. 24 points, 14 rebounds (7 offensive), and six blocks. With no light at the end of the tunnel for the Bulls, Jo always fought. That hasn't been seen in Chicago since the day he left. We'll always remember performances like this.
2015 Playoffs – Never Back Down to LeBron
With the series tied 1-1 in the Eastern Conference Semi Finals, LeBron, in his first year back with the Cavs, drove baseline and dunked on Noah. LeBron was T'd up for taunting and Noah, clapping in his face, had this to say.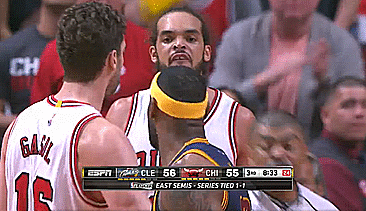 Truer words have never been said. Chicago won this game on the smoothest bank-shot game-winner I've ever seen. The Bulls went up 2-1 in the series and SHOULD HAVE been up 3-1 after Game 4 when David Blatt wasn't issued a technical foul for running to half court and calling a timeout he didn't have. Which led to LeBron's game-winner over Jimmy Butler. I will die on this hill. LeBron and that terrible 2015 Cavaliers team never should have made it to The Finals. Whatever. At least I'll have this GIF for the rest of my life.
Recurring Themes
Finger Guns
I can never get enough of the finger guns. Many a time, when that two-handed, side-spinning push shot, goes in from the midrange, Jo backpedals down the court and lets 'em know what just happened. Bang-Bang Joakim Noah just made a jumpshot on you how does that feel?
Running Point
One of Jo's most impressive skills was always his passing. For years he would get the ball at the free throw line, get the lay of the land, then fire a bounce pass back door for a layup. He was the perfect running mate for any scoring point guard because he would always find them. Plus he's a great screen and roll guy. But the best moments were any time he would grab a defensive rebound and bring the ball up the floor. Any time I would watch games with someone that isn't a Bulls fan they'd immediately go "what the hell is he doing?!" and I would just tell them to relax he does this all the time let the man work!
The Primal Scream
This is the staple for any overly-intense basketball player. But Jo did it all the damn time. Offensive put-backs. Dunks. The usual. But my favorites were when the game was getting tight, tensions were high, and a teammate would make a play on offense. He'd get right in the defender's face and scream at it. It got the team hyped, the crowd hyped, and it got me hyped. Again, the Bulls have not had this type of energy since the day he left.
Enjoy Retirement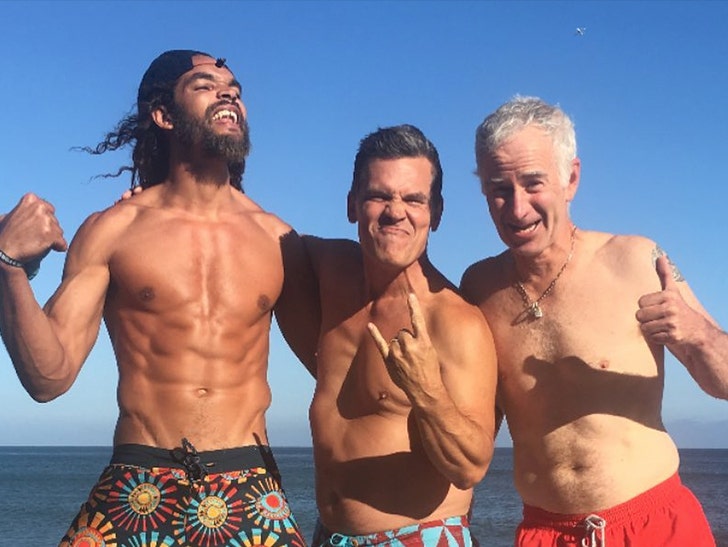 The Chicago Bulls, from 2009-2015, would have never been a thing without Joakim Noah. He evokes so many memories and emotions from an era that, in retrospect, really didn't accomplish much. They won one game in the Conference Finals and made it beyond the first round only two other times. But the best part about being a fan is watching team you thoroughly enjoy. When the hardware doesn't come, and at least you can say you loved watching them play ball. Not everyone gets to win championships. But you can win the hearts of your city and fans. That's exactly what Joakim Noah did.
Connect With Us!
Follow along for more NBA content at Belly Up Sports and myself (@JMacchitelli23) for more Chicago Bulls material throughout the 2020-21 season.