Folks, it's time we apologize to Joe Judge.
On January 8th, when the Giants announced they were hiring Patriots Special Teams Coach Joe Judge to take over as their new Head Coach, the media and fans, including myself, were not happy. This was our fourth Head Coach in five years. After interviewing candidates like Mike McCarthy, a Super Bowl winning coach with Aaron Rodgers, fans did not understand how someone like Judge ended up as their choice. People like Colin Cowherd were especially not fond of the move.
Colin spoke for most of us Giants fans that day. We were confused, angry and, overall, disappointed. Yet now as we head into Week 14, the Giants have won four straight games and find themselves sitting atop the NFC East. And, oh yeah, they just won at Seattle with Colt McCoy at quarterback and completely bullied Russel Wilson for 60 minutes. How did we get here?
Joe Judge Press Conference: Promises Made
It all started back with what I'm now referring to simply as "THE Press Conference." If you are a Giants fan, you remember anxiously waiting to hear what Judge had to say when he addressed the media for the first time. While the expectations were not too high, Judge blew us all away. Talks about toughness, hard work, and a blue collar mentality gave us flashbacks to Bill Parcells and Tom Coughlin. Former players loved what they were hearing. It was certain then that Joe Judge could talk the talk, but the question still remained if he could back it up with results on the football field.
The captivating press conference was not enough to silence critics once training camp got underway. Reports of Judge making star players like Saquon Barkley run laps for little mistakes or taping tennis balls to cornerbacks' hands to prevent them from holding did not sit well with the media. People thought he was too tough on a team for someone who had zero head coaching experience, and if he kept it up he would certainly lose the locker room. Keep in mind these are professional football players who I'd assume are not going to melt when their coaches get a bit tough on them.
"Giants fans, on behalf of everyone intelligent everywhere, I apologize for your 2-14 record this season."@EmmanuelAcho reacts to NYG HC Joe Judge making players & coaches run laps for mistakes pic.twitter.com/h4boIj8XAx

— Speak For Yourself (@SFY) August 18, 2020
Jeez, Emmanuel. 2-14? Had to know that would come back to bite.
All in all, it didn't matter what the media said. It really didn't matter what Joe Judge said. What mattered most was how the players responded.
Joe Judge: Players Coach
It didn't take long for us to realize this narrative that the players would not buy into the Joe Judge way was completely false. I mean not even close to the truth. The Giants players haven't just come to deal with Judge as their Head Coach, they love him.
Joe Judge getting down and dirty in practice! pic.twitter.com/rCKfC7rvGA

— ESNY (@EliteSportsNY) September 1, 2020
Nothing says "lost the locker room" like an entire team chanting the Head Coach's name as he's diving into the mud to practice fumble recovery.
Joe Judge is wearing this outfit because he a lost a rivalry bet to Evan Engram. #Giants pic.twitter.com/Ii4BTmVgMo

— Zack Rosenblatt (@ZackBlatt) December 4, 2020
What about here? Look at Joe Judge laughing with Evan Engram about having to wear his rival school's name all week after losing a friendly bet they made with each other. Honestly, the media could not have been more off about this. The way this team talks about this guy and rallies behind his messages takes me back to guys like Strahan talking about what is was like playing for Tom Coughlin. However, we know preaching strong messages and having good relationships with your players is not the ultimate goal.
On The Field: Promises Kept
What about results? Joe Judge was clear about his goals when he took over the team. This was going to be a season focused on improving week to week, trying to get the best out of their players, and putting a product on the field that fans could be proud of.
The first five weeks were tough. An 0-5 start had Giants fans planning for the worst yet again. Although defeated, most fans could tell you this team seemed different than year's past. Four of the five losses were by 10 or less points. They were competing down to the last few minutes and held their own against some of the league's best competition. Joe Judge never wavered. His players never gave up on the process, and eight weeks later they have a lot to show for it.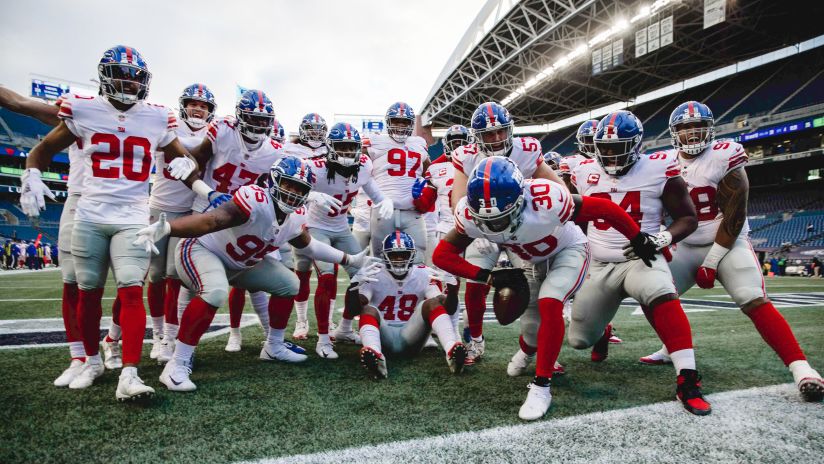 Heading into this past week, the Giants had won three straight. The biggest knock that remained was that all their wins, along with everyone else in the NFC East, had come against teams with losing records. So naturally everyone, including myself, figured this week's game was a throw away with Colt McCoy playing for the injured Danny Dimes.
Man it's never felt so good to be wrong. The Giants went into 8-3 Seattle (5-0 at home) and toyed with their MVP caliber quarterback. 13 hurries, 5 sacks, and an interception. An old school defensive battle ended with Big Blue coming out on top. The craziest part is they are getting contributions from everyone on the team. Seventh round picks Carter Coughlin and Tae Crowder looked like studs. The practice squad hero Niko Lalos, who is apparently best friends with LeBron James, got another turnover. That makes it two for two in games with a turnover for the 23 year old.
The Apology
Needless to say, Joe Judge is keeping his promises. He is getting the most out of these guys. The young players seem to get better every single week. They play fast, tough, and don't back down to anyone. And, oh yeah, they just might host a playoff game. I might not speak for everyone, but I'm proud to be a fan of this Giants team. This doesn't mean everything is perfect and there aren't still a lot of areas we can improve on, however I think it's time something is said. We were all wrong about Joe Judge. All signs point to him being the guy for years to come.
So on behalf of the crazy Giants fans everywhere and the oh-so friendly New York media, we're Sorry Joe. I'll go take a lap.
Follow me on Twitter (@evanalcazar_) to talk anything Giants. To keep up with the latest NFL coverage from Belly Up Sports, be sure to check out their latest articles or follow them on Twitter @BellyUpSports.