After months (well, one month) of tense discussion between the NHL and NHLPA, we are finally on track to start the 2021 NHL season. It will be much different than seasons past for the New Jersey Devils: no jaunts to the West, the South, or the Central. No jaunts to Canada, even. However, hockey fans have looked forward to this day and although there will be only 56 games, we'll take what we can get.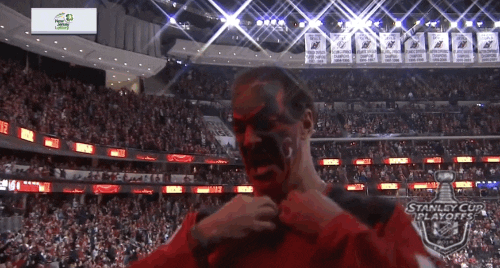 (Puddy's excited – how about you?)
This season, the Devils look to improve after missing the playoffs for the seventh time in eight seasons. Is there hope in the Garden State? There might be starting this season. Let's take a look at what to expect for the New Jersey Devils' during the 2021 NHL season.
New Coach
The first thing to expect from the New Jersey Devils in the 2021 season is a new coach. John Hynes was let go 22 games into the 2019-2020 season and was replaced by Alain Nasreddine. The Devils still went shopping for a new head coach and hired Lindy Ruff. Ruff spent last season as an assistant on New York Rangers' head coach David Quinn's staff. He's had success as head coach, leading the Buffalo Sabres to the Stanley Cup Final in 1999. Ruff is known as a very intense coach, but he's a well-established leader, something that management wanted when they searched for a new head coach. Nasreddine was retained and he'll stay on as an assistant, but the Devils also hired Mark Recchi as another assistant. He's expected to help a power play that finished 21st in the league last season.
New Faces
The second thing to expect with the New Jersey Devils in the 2021 season is some new faces. Like any other offseason, some roster turnover was expected. The biggest name acquisition by the Devils was goaltender Corey Crawford (2 years, $7.8M). The 35-year old was an integral part of the Chicago Blackhawks Stanley Cup runs in 2010 and 2013. Crawford adds some stability between the pipes as the Devils continue to develop Mackenzie Blackwood, who signed a three-year extension this past week. The club added some much-needed scoring depth with the addition of forward Andreas Johnsson. Johnsson was acquired from Toronto on October 10 for former prospect Joey Anderson. The Devils also added a pair of defensemen: Ryan Murray (trade with Columbus) and Dmitry Kulikov (free agent, 1-year, $1.5M).
The Weird Schedule
The third thing to expect for the New Jersey Devils in the 2021 season is the weird schedule. The NHL released the 2021 schedule on Wednesday afternoon, giving hockey fans everywhere an early Christmas present.
116 consecutive days of @NHL hockey begins with a five-game slate on Wednesday, Jan. 13.

Load up on #NHLStats: https://t.co/hkOXa1arei pic.twitter.com/OTLMakakiD

— NHL Public Relations (@PR_NHL) December 23, 2020
What's so weird about the schedule? The first thing is the realigned divisions. The Devils will play most of their Metropolitan Division rivals as well as Boston and Buffalo.
We're ready. 💪 pic.twitter.com/RctaTxaiJL

— New Jersey Devils (@NJDevils) December 23, 2020
The second weird thing is how many times they play certain opponents. For example, the Devils will play a home-and-home against Boston to start the season. They'll face Washington three times in eight days in March. In April, where they'll face the Rangers in four consecutive games with home games sandwiched between two away games.
Bounce Back Seasons
The final thing to expect with the New Jersey Devils is whether or not several players will have a better 2021 season. Jack Hughes, the number one overall pick in 2019, is expected to have a better season than 2019-2020. While Hughes played in 61 games last season, he only scored 21 points.
Defenseman PK Subban is also expected to have a bounce-back season from 2019-2020. Subban was brought in a trade during the 2019 NHL Draft to help the power play, but only scored two PP goals in 68 games. From what his social media accounts indicate, he's been working hard during the off-season. Let's see if that work translates into a better 2021.
The Big Questions
Several big questions surround the New Jersey Devils in the 2021 season, including:
Which Devil will most likely be dealt at the trade deadline? Subban carries a $9M hit on the team's salary cap and forwards Kyle Palmieri and Nikita Gusev (who both have modified trade clauses) are UFA's after this season.
Will Ruff's system translate into more goals? The Devils have a young lineup, including Hughes and Nico Hischier, and Ruff's system relies on speed and puck possession. If he can get the forwards to buy in, goals may be on the increase.
Are we going to see some prospects making the roster? Former general manager Ray Shero and current general manager Tom Fitzgerald added some notable prospects in trades last season. Those players are forwards Nolan Foote, Janne Kuokkannen, and Nick Merkley. The Devils are hopeful that they will each make the jump to the main roster during this season.
Outlook
The New Jersey Devils are aiming to have a better result in the 2021 season. They'll have to do better than the 0-4-2 start that made them play catch-up in 2019-20. With the goaltending and defense acquisitions made in the offseason, the Devils will be better than the 3.25 GA/G in 2019-20. But can they score goals, especially in a tough East Division? That will be the difference between a playoff berth and another postseason on the golf course. The Devils likely won't make the playoffs this season, but they'll at least establish a foundation in seasons to come.
Please be sure to bookmark our hockey page for hockey coverage and follow Belly Up Hockey on Twitter: @BellyUpHockey. Follow me on Twitter for more takes on sports: @WhoIsRyanMcC. I also have a podcast: No Credentials Required (new episodes every Wednesday) and a live stream show, A-Round for the Weekend (most Fridays at 6:30pm).