Raptors Twitter is an amazing place to be. Overall it's wam and supportive a, truly genuine community where when you have something to say, others care. On the basketball side of things they're smart, funny, passionate people who will make your day better by their interactions.
I know that a majority of my readers here at Belly Up Sports are going to live in the US. To you, I say, if you're a true fan of the NBA and you're tired of being misled about the Raptors as a team and their prospects by your narrow-minded national or your underinformed local news sources this is the list of people on Twitter you should follow.
One more thing. I know I'm going to forget to mention some of you. I apologize in advance. There are just so many options and I can make this article only so long.
Raptors Twitter – The Independent Media
Shout out for my use of the term Independent Media goes to:
"The Icon, The Showstoppah, The Main Event, The Entertaining & Sexy, Mr. Reliable, Mr. Believable, and History Maker himself – Peter "HB" Kaye".
Peter Kaye is one of the first accounts I interacted with regularly after starting my Twitter account in May of 2019. A couple of months later I had my first NBA articles published and Peter was one of the people I looked up to as having been there before me. His blog Life in Repeat is the place to go for an always fair and frank discussion of the Toronto Raptors in the moment. He's also the person who gave me my ultimate "I've arrived" moment when he gave me my own hashtag, #jadeknows. I'll never forget this moment. Thank you!
#JadeKnows

also, thank you 🙏

Jade's a must follow as well!

— Life In Repeat (@lifeinrepeat) March 5, 2020
Blake Murphy is something of a legend within the Raptors Twitter community. I feel so lucky to have had the privilege of contributing to Raptors Republic where he has helped me permanently improve my writing in a very short time. Several times when talking to people about that experience the question has been asked with excitement and disbelief, "You know Blake Murphy!?" My reply, "Yeah, he was my editor when I contributed to Raptors Republic, no biggie." (brushes shoulder off).
Okay, to say I know Blake is more than a stretch. But I know of him enough that recommending him and Raptors Republic as must-follow accounts for Raptors fans is an absolute no brainer. While you're at it, make sure you're following my three favourite Raptors Republic contributors, Samson Folk @samfolkk, Louis Zatzman @LouisZatzman, and Joshua Howe @Howevolution
This is my YouTube Channel! I do breakdowns of basketball with a focus on defense. It's heavy on the Raptors, but has other contending teams in the mix too! Check it out to watch teams lock in on D, and maybe learn something too! #WeTheNorthhttps://t.co/JjJ57hLgFK

— TooMuchHoops (Brad) (@Too_Much_Hoops) February 10, 2020
Yes, I know on this Raptors Twitter profile the Brad part is in brackets. However, everytime I see this account my brain reads it as too-much-hoops-Brad so I'm opting to leave the brackets out. On this TL you can get game day polls along with smart analysis and breakdowns of the Raptors play and all of the other Raptors content you could ask for.
Raptors Twitter – Independent Media Honourable Mention
Although South of the 6ix has recently been retired as a podcast, this podcast and the host, Adam Corsair were also influential in my development as a memeber of the NBA media and of my own podcast. His was also the first podcast I was asked to be a guest on. If you're new to Raptors fandom and would like to hear about the journey or are just interested in reliving some of the history, the South of the 6ix Podcast lives on as the episodes are all still available.
A note to Adam personally. I thank you for embracing this Raptors fan turned writer and podcaster. I do not thank you for having me completely choked up during your last episode.
Raptors Twitter – The Not So Independent Media
As a general NBA fans we know when Woj and Shams drop news it can be believed. Within the Raptors Twitter community there are some names who live up to that calling. If I hear a Raptors rumour that's not backed up by one of these people, I'm not willing to believe it. Period. This list includes but is not limited to:
And don't forget to follow the guys who call the action on the court. Colour commentator extraordinaire Matt Devlin @Matt_Devlin; Leo why can't I be in Florida while the Raptors are playing in Tampa Rautins @LeoRautins and undisputed Canadian treasure Jack Armstrong @HelloooJack.
Raptors Twitter – The Podcasts
HCHunnies Presents #NBATwitterfeaturing tweets from @iDude14 , @sponhourm, @mollyhannahm, & @greatdane92 https://t.co/DzSyqJoZiD

— Hardcourt Hunnies Podcast (@HCHunnies) December 18, 2020
You better believe I'm not above a shamelss plug for my own podcast Hardcourt Hunnies. We are a general NBA podcast whose fandoms are firmly rooted in small market teams. Shea Vassar @sheawatchesNBA and Taylor Loeks @TaylorLoeks are OKC and Minnesota fans respectively. The Raptors are a team that we all have in common in terms of top five rooting interests. As a Raptors homer myself, I'm always bringing my comparison of the Raptors organization to the conversation (often to Taylor's exhasperation). Plus we're objectively hilarious. Don't take my word for it. Check us out.
So, listen. I'm going to level with you completely here. I'm coming at this selection with some bias since I am, indeed, a member of the Raptor Queens Podcast. We are the first all-woman podcast covering the Toronto Raptors and the five of us have a few things in common. We're intense fans of the Toronto Raptors. We are all professional women kicking butt and taking names. While we are at different levels of activity on Twitter with our personal accounts, you won't regret following the podcast.
Season 3 baby!!

No better way than to start out this season with a crazy take from @Fadyouwakim. OG top 3?!

What do you guys think?! 🤯

FULL EPISODE:
Apple ▶ https://t.co/qaLET9ICJU
Spotify ▶ https://t.co/a90a9jHTBm
All else ▶ https://t.co/wiQQ1q2noQ pic.twitter.com/ICj6VCdrVa

— The Faedaway Podcast 🏀 (@TheFaedaway) December 22, 2020
One of the newest members of the Belly Up Sports Podcast Network is the Faedaway Podcast. While they cover the entire NBA, they are Raptors fans first. If you're looking for a general perspective on the league through the lense of some Raptors homers, this is a podcast you should be listening to. Plus, they get the big-name interviews on their show including the aforementioned Blake Murphy.
I'd almost include this podcast on my list just for the clever wordsmithing in their name. Kudos. Seriously, though. These are committed Raptors fans who know their stuff!
Raptors Twitter – The Fans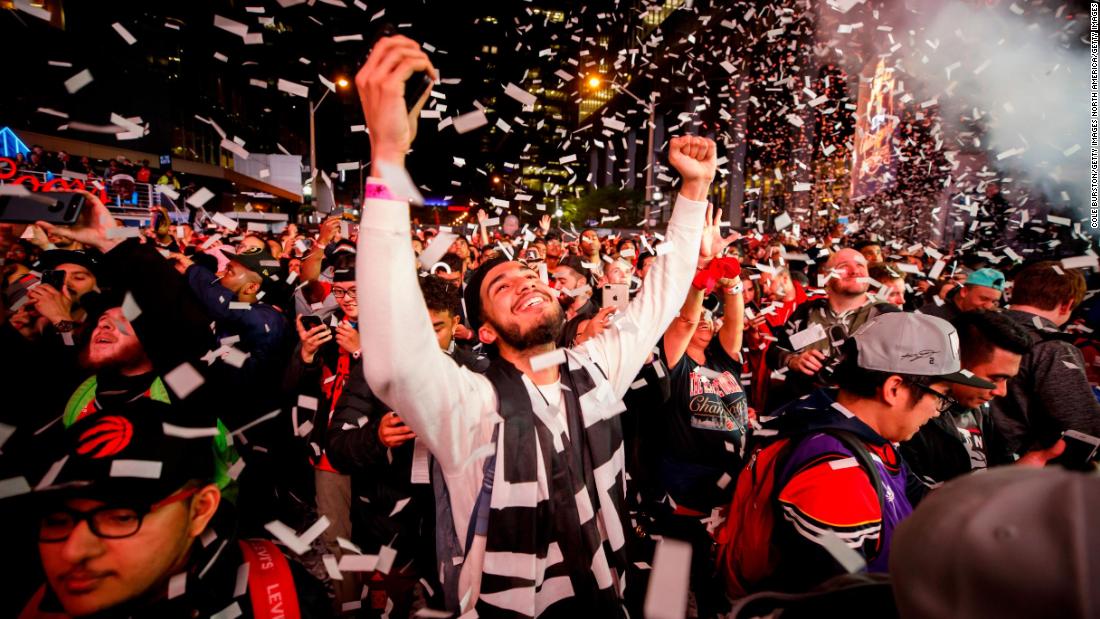 What would any Twitter sports community be without the fans? Some of the people under this heading are in the media as well, but my favourite thing about them is the fact that they're fans and so I see them as fans first. It's meant to be a compliment and I hope it is taken as such.
Originally I had intended to write a line or two about a few standout Raptors fans. When I was going through my Twitter list, though, I discovered that there are so many people who are standouts in terms of interaction with me, suppport of Hardcourt Hunnies, and Raptors knowledge and fandom I couldn't do it for everyone. So instead, I'm going to give a few personal Raptors fan awards followed by a list of honourable mentions in no particular order.
I have to tell you guys a story… a while ago I messaged @auxiliarythings with what I THOUGHT was a free agent scoop. I told my wife that I told her and said "so we gotta listen to the episode of "hard court hunnies" where they may or may not give me props… 1/2

— Chris Lambie (@ChrisLambie905) December 3, 2020
Chris was one of the first people in Raptors twitter that I identified as a fan of my work both writing and on the podcast. His TL is full of randomly interesting stuff and live tweets during Raptors and other NBA games. Definitely one to follow. Thanks, Chris for being someone who motivates me to keep growing in this career.
Peggy takes home the prize for the funniest Raptor fan in this year's list. If you ever need a Raptors take and you wanna laugh, have a scroll through Peggy's TL.
My Raptors Twitter MVP – Juli @julijays
Good morning friends!!! Have a wonderful Wednesday!! Stay safe. Be kind.🤗🤗🤗☕☕☕❤❤❤❄🎄⛄🎅 pic.twitter.com/NfcF5w8hwG

— Juli (@julijays) December 23, 2020
In terms of standout Raptors fans I saved the best for last here. Sure, this kind of thing is subjective. That said, I'm willing to make a sweeping declaration. If you don't think this woman is the MVP of Raptors Twitter it's probably becaue you've never interacted with her.
Don't let the Blue Jays reference in her handle mislead you. Juli is a die hard Raptors fan. She's also an incredibly upbeat and supportive human being who is extremely engaged with the accounts she follows.
Personally, I owe her a debt that I hope to one day find a way payback. If not for her, I never would have met Shea Vassar who is now a close friend and my co-caster on Hardcourt Hunnies. Without Shea, the show would not be what it is. Without Juli, we may never have connected.
Juli, I literlly cannot thank you enough!
So Many Others
Check out my other articles and don't forget to check out my podcast Hardcourt Hunnies. Check out all the NBA news you could possibly want from the Belly Up Sports NBA department. For fantasy and gambling content, Belly Up Fantasy Sports has got you covered.