Basketball fans care about one thing: basketball. We eat, sleep, dream, obsess, worry, and constantly consume all things hoop-related. But, live games aren't the only way to watch a little b-ball on screen. Who doesn't love a classic sports movie? Whether it makes you laugh until your ribs hurt, cry (in a good way), or or feel good childhood nostalgia — we all have that one basketball flick that hits the spot. We asked some of our Basketball Department to write a little something telling us which film they think deserves a spot in the Belly Up Basketball Movies Hall of Fame. So, in no particular order:
Film #1: Semi-Pro
A historically-fictitious look at the 1976 NBA-ABA merger through the eyes of the Flint Tropics' player-owner-coach Jackie Moon (Will Ferrell). The movie highlights the struggles of the ABA and all it takes just to keep the dying league alive. From wrestling live bears at halftime to arena promotions and rewards unable to be paid out. Jackie and the rest of the ABA owners are informed there will be a merger and only four teams will join the NBA. The Tropics are left out because the market is deemed too small, but Jackie argues the four teams with the best records at the end of the season should make the jump to the NBA. The Commissioner (David Koechner) agrees, and the quest for fourth place begins!
The Humor
The best sports movies are those that don't take themselves too seriously. Semi-Pro explores everything surrounding the game of basketball and said "now make it funny". Every owner of a professional sports team has a backstory on how they came about their fortune and decided to purchase a franchise. Jackie Moon made his riches off the hit single "Love Me Sexy" and purchased the Tropics in the hopes of making more money by getting in on the ground floor of an up-and-coming league. By the way, "Love Me Sexy" is easily one of the best movie songs ever created and a top five reason why this is the best basketball movie out there.
The Star-Studded Cast
Other reasons? The cast. The cast is absolutely loaded and all play their respective characters perfectly. Will Ferrell crushes the now-iconic Jackie Moon role. They got the coolest dude in the world, Andre Benjamin aka Andre 3000, to play Clarence Withers aka "Coffee Black", the coolest nickname ever. The hot-dogging, stat-padding, afro-having, high-flying shooting guard and the Tropics' best player. And how 'bout Will Arnett and Andrew Daly playing the dynamic broadcast team of Lou Redwood and Dick Pepperfield (the character names in this movie are on another level).
The Quotability
This movie is an absolute quote machine. The starting lineups scene is full of gold. Everything Dick and Lou say on the broadcast is money. And we were blessed with some beautiful life advice from Jackie Moon. ELE. Everybody Love Everybody. Lastly, and most importantly, we learned it's much worse to call someone a jive turkey than to call them a cock-sucker. You can't just be throwing jive turkey around. It can't get more disrespectful than that.
Film #2: Air Bud
Contributor: Shannon Walsh (@swalshy63)
Alright, folks. Let's face the facts. Air Bud is the BEST basketball movie out there (sorry Coach Carter). The movie was released in 1997, making it quintessential for millennials. However, Buddy is a star in a myriad of sports, and there are countless movies, and therefore sports, following the original. Air Bud is pivotal to our childhood because it fuels the love we all have for both our furry friends, and sports. I don't know about you, but I have maybe three passions in my life: sports, my dog, and beer. If my pup could play HOOPS? Wow. Don't get me wrong, he has tried; although he is DAMN cute in a Paul Pierce jersey, he is no Air Bud.
Everyone has faced internal struggle, conflict, and harsh emotions at some point or another; they find support in their favorite hobbies, friends, and most importantly their pets. Air Bud combines all of these pivotal areas of a person's subconscious; and shows that your own passions are all you need to get through a difficult time. My dog brings a smile to my face every day, and so do sports. This movie reminds me of exactly how both a pet and a basketball can help a kid remember what having fun feels like, even as the world throws us a million different things to be sad about.
Film #3: Space Jam
Weird plot, best movie. Here's the deal: the Venn Diagram of basketball fandoms this movie overlaps is just too great for any other movie to overcome. Let's go down a hitlist types of basketball fans this hits home with:
90's Style and Hip Hop Heads:
Have you seen the soundtrack to this movie? LL Cool J, Method Man, Salt 'N Peppa, Coolio… As problematic as R. Kelly is, this soundtrack sounds like the radio station hoops fans listened to in the 90s. In addition, Baggy pants, sweaters and washed jeans, and tucked in oversized button downs are EVERYWHERE. This movie has all of it… And if Mike's bald head doesn't have enough hair product for you, all of the other players and actors have their hair on point. It's as close to a period piece as there is in the basketball movie genre.
Folklore Fans:
Listen, I'm not saying this is really why Jordan took the time away from basketball… But I am saying he learned a lot about the tendencies of several All NBA players at the pick up games he and his people organized in their state of the art facility on set. Jordan would reportedly work out for hours before shooting the film, and play for hours more after the cameras were put away. Young NBA stars were eager to play with their childhood hero, only to see him using their tendencies against them just a year later. The perfect combination of brilliant, maniacal, and overkill to be Jordan folklore.
Cartoon Connoisseurs:
Could there be a more classic cartoon group than the Looney Toons? Bugs Bunny, Daffy Duck, Taz, Elmer Fudd, Foghorn Leghorn… They even included Granny knitting on the sideline, Porky Pig in a headband, and Tweety trying to hoop. And if you're not a fan of the classics? Introducing Lola Bunny, Mr. Swackhammer, and the Monstars.
Sneakerheads:
Listen- there is no movie sneaker moment like Jordan playing in the Space Jam Jordan XI's. Even in a movie about basketball shoes like Like Mike, the sales of the "Bow Wow Ones" weren't worth noting. The Space Jam XI's sold out despite being Nike's biggest release ever… in their third re-release, twenty years after they first hit the scene. They even released the "Space Jam IX" sneaker, which the Toons steal from Jordan's home for him to practice in, just to keep fans happy.
'Space Jam' hit theaters 24 years ago today. The movie and the sneakers MJ wore in it changed the game forever. [H/T @complex] pic.twitter.com/wSXe2GRQLO

— Complex Sneakers (@ComplexSneakers) November 15, 2020
GOAT Arguers:
If you at all enjoy a good "who is the greatest of all time?" debate, this movie is the literal fuel. In an effort to chase ghosts (yes, he really said that he was chasing ghosts), LeBron James has embarked on Space Jam: A New Legacy. After rumors swirled for years, James' free time in LA has, apparently, been spent on the film set. Everyone knows the sequel will never be as good as the original, whether on the big screen or the hardwood, right?
Film #4: Like Mike
Growing up, this was definitely a movie I watched at least once a week. I must've been 6 or 7 years-old, just binge watching with a bag of Goldfish in-hand. Loving basketball and worshipping Michael Jordan, it makes sense my young self got carried away with Bow Wow's magical shoes. I think I believed the shoes were real; it made my NBA aspirations realistic. Real NBA players appear in the movie, and get balled on by a little kid; including Allen Iverson. Iverson was my favorite player growing up, so seeing him get crossed up and dunked on by someone like me was inspiring.
Film #5: Coach Carter
How could you consider yourself a baller and not have a crazy amount of respect for Coach Ken Carter and his Richmond High School Oilers? Here's a crazy premise for a movie- well, at least to fans of the University of North Carolina and their basketball program. You have a coach who cares so deeply for his players, that he sets a high bar for them both academically and in their personal lives. Then, when the players fall short, he holds them accountable- even though it costs his team a possible undefeated season. Hell, he believes so much in how he runs his program, that he pulls his son out of private school to come play for him (yeah, Coach was desperate for a point guard, but who isn't – am I right, Knicks fans?).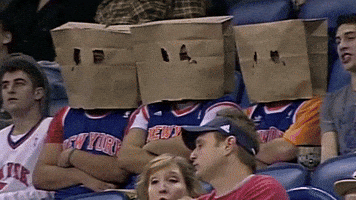 This movie was the best thing MTV did since The Real World (Heather B. season 1 The Real World– not that late 90's garbage)! Samuel L. Jackson stars as the titular coach, getting his players to play tough defense without saying one MF'er. He even pulls a Robin Williams and gets his troubled, drug-dealing off-guard to quote lines from a New York Times bestseller– and Coach Carter doesn't even teach English! And if you don't get emotional when the team pulls together to help Timo Cruz run his laps and do his push ups to get back on the team, then you are the Tin Man (you have no heart- you emotionless bastard)!
So many lessons about ball and life, Coach Carter, based on a true story, is as money as Steph Curry from 30 feet when the defender gets caught with his hands down.
Film #6: Eddie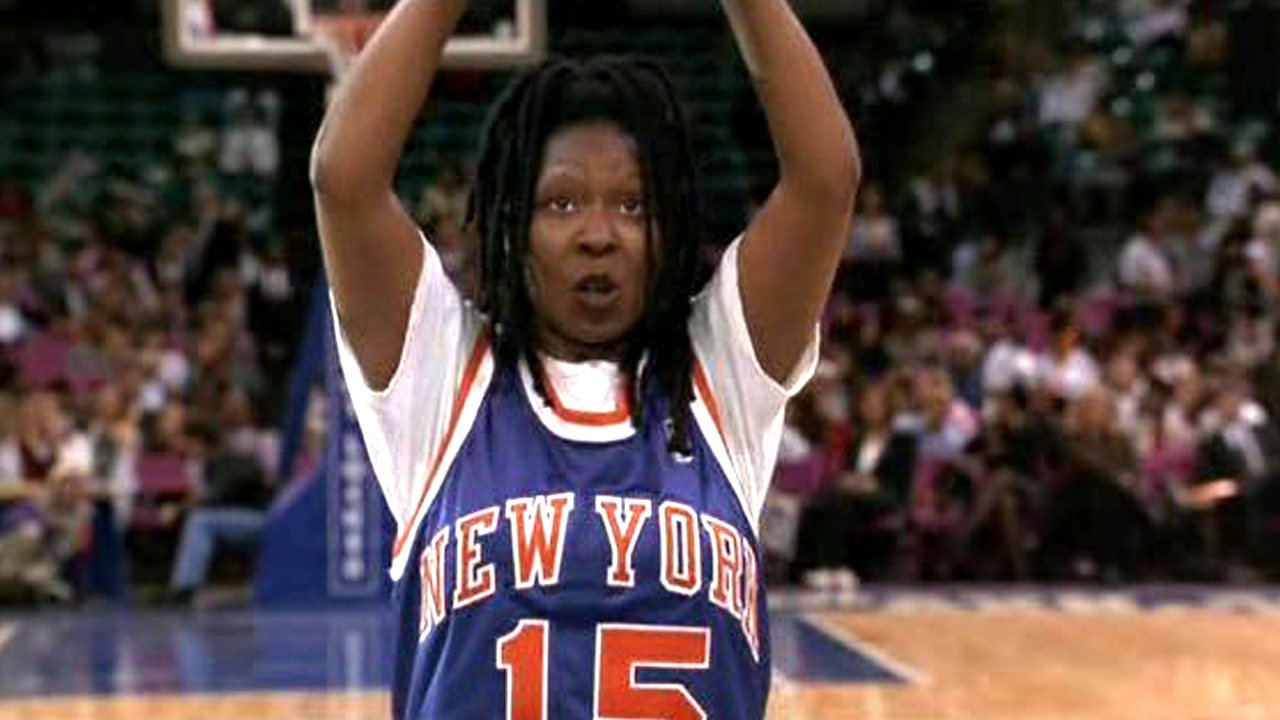 Contributor: Bobby Cordero (@bchord6)
Eddie is the feel-good story of a Knicks super-fan, who new ownership chooses to become head coach of the team. Imagine going to a game, and randomly getting chosen to coach the team. Obviously, this movie would not make any sense in today's league; no owner would ever let a fan coach their team, but it made me believe that it could be real. It made me think I could also strut my fan skills out and coach in the NBA.
The actual basketball segments were also great. The camera angles were top-notch, and you could see real plays develop; like other famous hoops movies, real NBA players were playing the game as it's filmed. But, the main reason why Eddie is one of the best: the NBA cameos. Mark Jackson, Malik Sealy, John Salley, Rick Fox, Gary Payton, and Larry Johnson (just to name a few) all had speaking lines and actually were not terrible. Greg Ostertag even had a small cameo where he accidentally pulled his shorts down while playing – you gotta love it. What if there was a reboot today with RJ Barrett, Obi Toppin, and Mitchell Robinson? Well, maybe pick a different team; but you get my point. Although Eddie's plot does not make sense at certain points, but it's still one of the greatest basketball movies ever.
Film #7: White Men Can't Jump
Contributor: Kyle Edwards (@KyleEdwords)
Two hustlers link up on the blacktop courts of Los Angeles to fleece unsuspecting hoopers. Sidney "Syd" Deane (Wesley Snipes) and Billy Hoyle (Woody Harrelson) have a perfect routine. Deane lures players to a game of two-on-two, after exchanging insults and boasting that he will win regardless of his partner. Hoyle appears out of the blue, pale-skinned and unassuming, subsequently drafted to Snipes' team. Amid taunting, Hoyle and Deane play a backcourt two-man game that would prelude the Golden State "Splash Brothers" two decades later. Their opponents get smoked, and they collect their pay. A friendship develops over the course of the movie.
Why is it the Best?
The two bicker on everything from romance, to Jimi Hendrix, and what it means to be a "Chump." At the forefront of every conversation, and every bucket, is race. Hoyle wants his abilities taken seriously, yet falls victim to limitations when challenged by Deane to dunk. Meanwhile, Deane rules the court with style and charisma, but can't secure a lease to move his family out of their ghetto. The real estate agent is apprehensive of their financial records, but it appears to be a deeper prejudice. The movie is "woke" even 28 years after its release. Social awareness, early 90's style, and braggadociousness are themes which prelude the modern NBA. Today we have statement jerseys, entry tunnel fit pics, and distinct personalities of the league's stars. Let's be honest, looking good while shutting up the competition is as rooted in the game as winning and losing. This film is basketball.
Thunder rookie Darius Bazley pre-game fit 🥴

(🎥 @SuaveFrancisco_) pic.twitter.com/BTL8Tw0LYA

— NBA Central (@TheNBACentral) January 10, 2020
Film #8: Edge of America
Contributor: Shea Vassar (@sheawatchesNBA)
Edge of America looks at a little something known as rez ball. Don't know what that is? It's the fast paced, extremely aggressive type of basketball that is popular in Native communities. This film not only shows how important basketball is, especially for Native youth, but also features Native stars like Wes Studi (Last of the Mohicans) and Irene Bedard (Smoke Signals). On top of that, there's cultural specific jokes about frybread and bingo.
It all starts when a new teacher, Kenny Williams, comes to town. His identity as a Black man is just as new to the Native kids he'll be teaching as their culture is to him. While Kenny never planned on coaching basketball, the lack of unity between the Three Nations High School girls basketball team inspires him to take the leadership position. Yes, this is one of those heartwarming, "based on a true" story movies that pulls at your heartstrings so don't be surprised if a tear or two leaks down your face.
The cinematography is great, the mid-2000s fashion is cringey, and everything in the movie revolves around basketball making it a classic. Plus, it's a good family flick that is appropriate for all ages. Now if only we could get a couple more Native players to join Kyrie Irving in the NBA…
Love the reviews? Check out the rest of our Basketball Department Team on Twitter at @HoopsBellyUp and don't forget to stop by the Belly Up Sports website!