Devonta Smith was named the 2021 Heisman winner this past Tuesday, January 5th. He finished the voting with 1,856 points, beating out Trevor Lawrence, Mac Jones, Kyle Trask, and Najee Harris. An award usually won by quarterbacks and running backs, Smith is the first receiver to take home the Heisman trophy since Desmond Howard did so in 1991. Smith is an incredible receiver, and will be yet another Alabama player to hear his name called early in the NFL Draft. During the 2019-2020 season we were able to see the best receiving core in college football history dominate opponents. DeVonta Smith, Jaylen Waddle, Jerry Jeudy, and Henry Ruggs made up this elite receiving corps. With that, it's definitely worth taking a deeper look at these Alabama receivers. Let's take a look at their past success, as well as project their future success in the NFL.
DeVonta Smith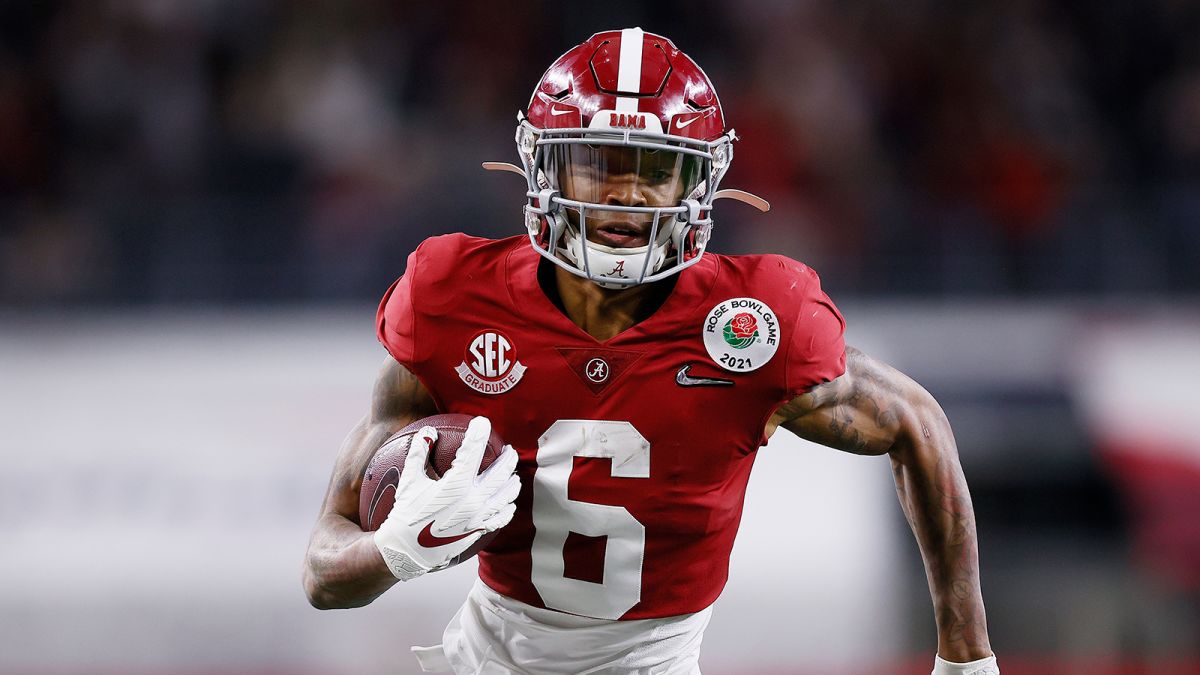 Devonta Smith has had an incredible college career. The 2018 College Football National Championship was the game that made the public aware of Tua Tagovailoa. As a freshman he took over during the championship game, replacing incumbent starter Jalen Hurts. He completed a touchdown pass in overtime to a skinny, gangly, long-armed, sophomore receiver. This receiver was of course, Devonta Smith, and this catch was just the beginning of what would become a legendary college football career.
Alabama, during the 2019-2020 season, had reigning Bilentikoff Award winner Jerry Jeudy returning, as well as speedster Henry Ruggs. Sophomore Jaylen Waddle also returned, who, statistically, was more involved in the offense the year before than Smith. Despite the other receivers taking up targets, Smith would go on to have a fantastic year. He had sixty eight receptions, 1,256 receiving yards, and fourteen touchdowns. There was speculation that Smith would declare for the 2019 draft, and despite an historically deep receiver class, that he would go in the first round. Smith decided to stay, and has been rewarded tenfold for his decision. January 5th he took home the Heisman trophy. This season, so far, he has one hundred five receptions 1,641 receiving yards, and twenty touchdowns. Truly one of the best seasons we have ever seen from a wide receiver in college history, and it isn't over yet.
While Devonta Smith's season isn't over, the 2021 NFL Draft looms in April. I have seen him mocked as early as the third overall pick, being selected by the Miami Dolphins. This could very realistically happen, and there's no way he drops out of the top ten. His route running is NFL level, his hands are exceptional, his speed is blazing, so yes Devonta Smith is elite. The knock on him is his size, he's a skinny guy. I don't see this as an issue. He will put on size and ball out in the NFL. I liken him to a smaller Justin Jefferson.
Jaylen Waddle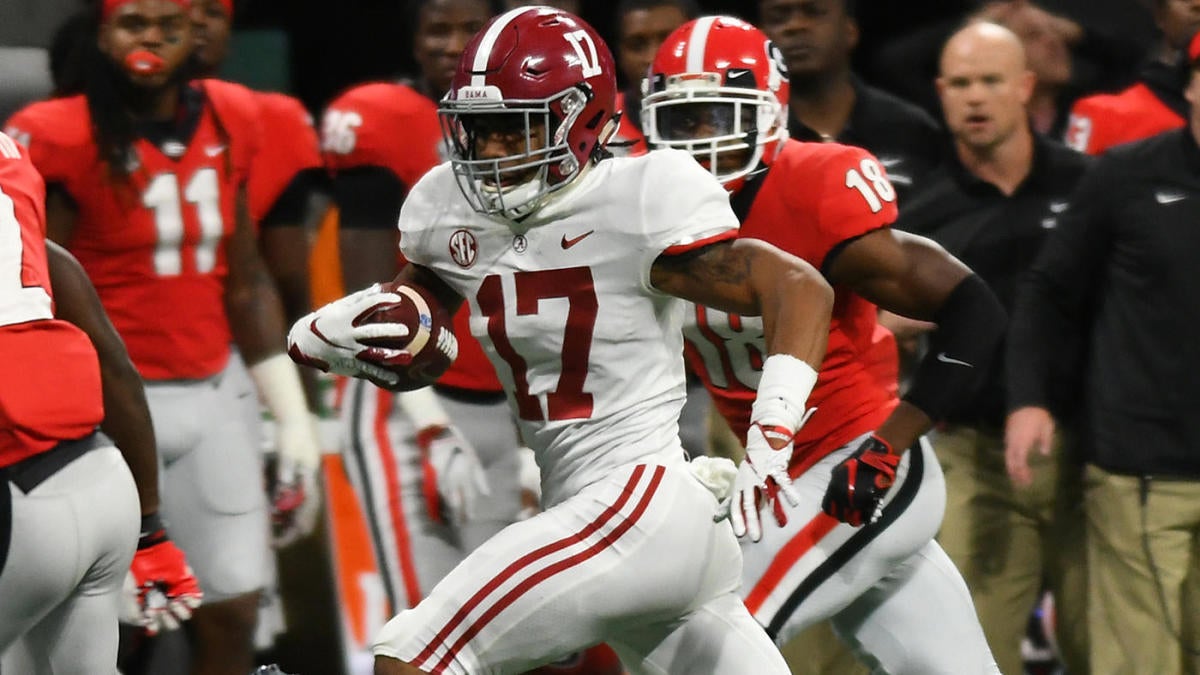 I would say Jaylen Waddle is the least well known out of these 2019 Alabama receivers, but by no means is he any less of a player than the rest. Waddle had a very impressive freshman season, his best season to date thus far. He had forty eight receptions, 848 receiving yards, and seven touchdowns. This year he was posed to have a breakout season. Through only five games he amassed twenty five receptions, 557 yards, and five touchdowns. In his time at Alabama he's been a beast on special teams, while also being a reliable option in the receiving game.
All of these four receivers have the ability to take a slant to the house, Waddle possesses that next level speed. After the catch he can run by guys, make people miss, and change direction on a dime. Watching tape on these guys is very interesting, as they're all similar, but they all have their own unique tendencies. To me, Waddle runs the hardest out of all four, not that he looks for contact, but it seems like he has more power in his steps than the others. Ruggs is the fastest, but Waddle isn't far behind.
Waddle suffered a fractured ankle against Tennessee in Alabama's third game of the season. He has the least amount of tape out there, when being compared to the rest of these Alabama receivers. Regardless, he's going to be selected within the first twenty picks of the draft, as he should be. This is another stacked wide receiver class, even so, I still see him being the second receiver selected. Waddle has that top tier, 4.3 speed. For lake of better phrasing, he's a poor man's Tyreek Hill.
Jerry Jeudy
I slated Jerry Jeudy as the third best rookie receiver in my midseason rookie receiver breakdown. I still stand by this as the regular season has come to an end. Prior to the NFL, Jeudy emerged as a breakout star during his sophomore season. He tallied sixty eight receptions, 1,315 yards, and fourteen touchdowns, claiming the Bilentikoff Trophy as the nation's top receiver. His junior season he increased his receptions by nine, ending the season with seventy seven receptions. Jeudy would hear his name called by the Denver Broncos come the fifteenth selection in the 2020 NFL Draft.
As noted in my previous article, Jeudy hasn't performed well enough to meet expectations. I still think he's an incredible talent. Denver has had more than their fair share of issues on offense, which has partially led to Jeudy's lack of production. He finished this season with fifty two receptions, 867 yards, and three touchdowns. He creates separation with his speed and route running ability, but it just hasn't translated fully yet. I believe with a healthy Courtland Sutton rejoining the offense next year, Jeudy will produce much better numbers than he did this year. Hopefully Drew Lock can also turn a corner and help elevate this offense. He has the ability to dominate like we saw Odell Beckham Jr. do early in his career.
Henry Ruggs III
Again, like Jeudy, I covered Ruggs in my midseason article breaking down the Top 10 NFL Rookie Wide Receivers. Despite weeks since that article, I'm still stuck in the same place when it comes to analyzing Ruggs. While in college, Ruggs had similar production to another receiver on this list, Jaylen Waddle. Both Ruggs and Waddle functioned as counterparts to both Smith and Jeudy. Ruggs' best statistical season came in his sophomore season. He recorded forty six receptions, 741 receiving yards, and eleven touchdowns. His numbers were relatively the same during the 2019-2020 season, with six less receptions, five more yards, and four less touchdowns.
Henry Ruggs produced similarly the second half of this season as he did in the first half. He ended the season with twenty six receptions, 452 yards, and two touchdowns. The role that he was meant to have was taken by Nelson Agholor, leading to Ruggs' disappointment of a year. Darren Waller is the clear top target in the Raiders' passing game, but there are targets to go around. This year Ruggs failed to create separation, causing him to see a low amount of targets. Both Hunter Renfrow and Nelson Agholor received a higher target count than Ruggs. With the speed Ruggs possesses, combined with the smooth route running that's become typical of Alabama receivers, he could still turn out to be a great receiver. Thus far he's a lesser Marquise Brown, but with higher potential upside than Brown himself.
The Legend of The 2019 Alabama Receivers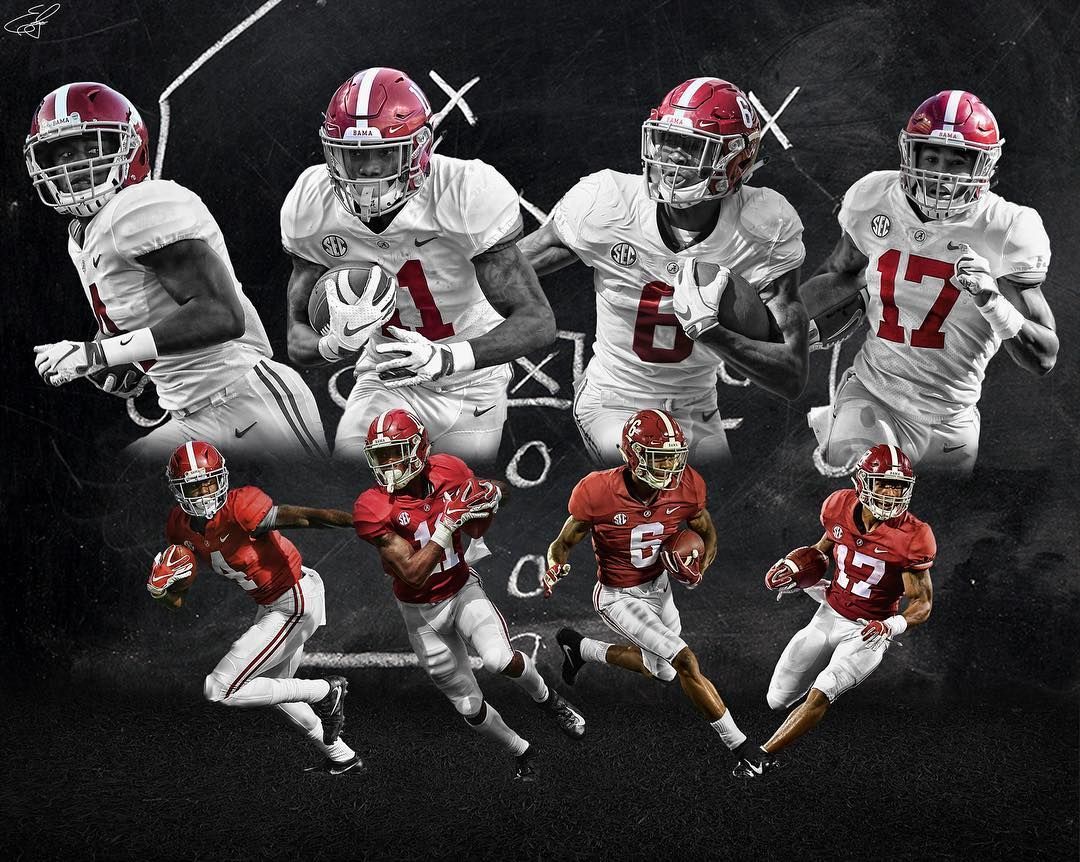 These four were all on the field together once upon a time. We were able to see the best college receiving corps of all time slice and dice opposing defenses for multiple years. Jeudy and Smith claimed all of the accolades during their time at Alabama, while Waddle and Ruggs have the next level speed that's so coveted by NFL teams.
We've seen Jeudy and Ruggs in the NFL, and they've both had their struggles. So far they've both been relatively disappointing, more so Ruggs. Despite this, they have tremendous natural talent, and I expect them both to take a step forward next season. Smith and Waddle will here their names called early on in the 2021 NFL Draft, with the same expectations as their former teammates. They were all amazing to watch in college together, setting records, and wowing fans with their abilities. I expect great things in the NFL from the 2019 Alabama receivers. There's a ton of talented receivers still on Alabama's roster, notably John Metchie III, who will assume the number one receiver role. Expect more of the same in the coming years.
Like this article? Don't forget to follow me on Twitter @jthomann16 and check out all of the other great Belly Up Sports content!