2020 has been possibly the worst year for Boston sports fans since the city first got a team. It was like the city was Liam Neeson's character, Bryan Mills. Of course, the difference comes with the fact that those in charge in Boston lacked that "very particular set of skills". January saw the Patriots get bounced from the playoffs after a lackluster performance against the Tennessee Titans. Then, in early February, Boston had to say goodbye to their best athlete, Mookie Betts. The right fielder was deemed an unnecessary expense during the Red Sox crusade against all things expensive. This facilitated his trade to the Los Angeles Dodgers. The pandemic may have given us a reprieve from watching the terrible 2020 Red Sox, but that didn't stop Tom Brady from saying goodbye after 20 seasons. Sadly, the year didn't end much better than it began. The Red Sox were worse than advertised, and both the Bruins and the Celtics struggled in their bubble restarts.
With that said, sports were played and the top Boston sports athletes of 2020 deserve to be honored.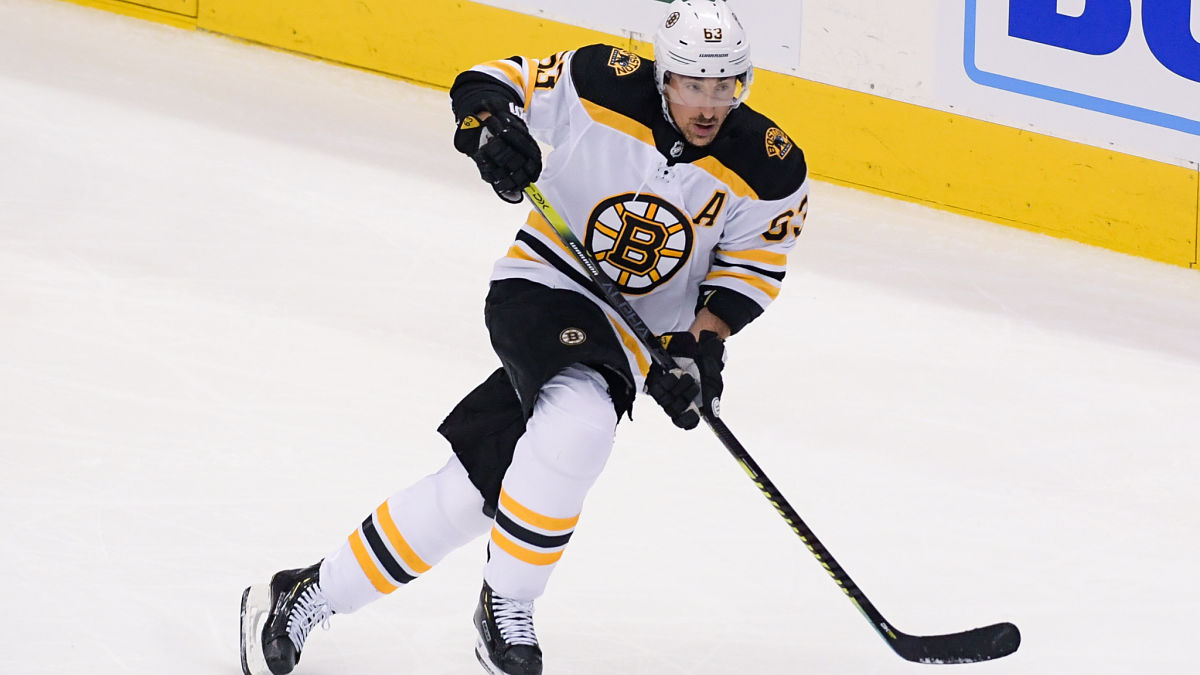 How could I possibly leave out President Barack Obama's "Little Ball of Hate"?
Brad Marchand left an impact all over the ice during the 2019-20 season. His gritty energy and passion for the game helped him be the perfect Robin for the Bruins. Marchand scored 28 goals and had 59 assists with 19:27 average time on ice. Marchand's contribution still defines the Bruins in his age thirty-one season and is a big reason behind the team's 100 points before the pandemic.
The year was 2006. People were rallying behind Daniel Powter on their "Bad Days," That 70's Show aired its last episode, and the Red Sox unveiled Jon Lester. When Boston traded Lester to Oakland in 2014, everyone assumed they'd see an ace come from their farm system soon enough. Until 2020, nothing.
Damn Jackie! I can't develop a starting pitcher!
But we got to see the Red Sox top pitching prospect in September, Tanner Houck. After getting drafted by Boston in 2017, Houck spent the past few years working on the devastating game he showed in 2020. Houck finished with an insane .53 ERA in 17 IP. Houck also led the team with 11.1 SO/9 with his 21 SO. For reference, if Houck had enough innings to qualify, he would have ranked fourth among all pitchers. That's right behind the Cy Young-less Yankee Garrett Cole. Hopefully, he won't always be a runner-up like Cole.
Houck's first season's most remarkable part is his record, 3-0 in 3 IP. That is somehow enough to tie for second on the team and at one point first before Nathan Eovaldi passed him. While I understand it is a shortened season, this is still an inexplicable shortcoming by the rest of the staff. I hope Tanner Houck will be the crown jewel of the Red Sox rotation more than I hope the Transformers franchise will at least end.
Sample size is holding back the reputation of both the Transformers movie franchise and Houck currently.
Yeah. I'm sorry too.
Punter, Jake Bailey is the first and only 2020 Patriot to make this list of the top Boston sports athletes.
Talk about a fall from grace. After having the "pleasure" of watching nearly every game of this team, this team that is two years removed from a Super Bowl. I can honestly say he was the best player and seeing he is the punter, I can say that nothing was redeeming about the 2020 New England Patriots, unlike the Red Sox. I'll cease the Pats slander so we can honor this man.
The Pro-bowler was the only breakout star on the Patriots this season. Bailey increased his average yards per punt by four from his rookie season, making him the league leader. Further, he also ranked second in punts inside the 20 yard-line. With Belichick loving his consistent special teams players, I hope he is a staple of the Patriots for a long time.
Unfortunately, I fear the only Bailey fans were concerned with this year was a bit creamier.
While it is easy to forget, January was still a part of 2020.
Tom Brady, the quarterback, and leader we never appreciated enough, finished his time in New England last January in a loss to the Tennessee Titans. The Brady era ended in the most unceremonious fashion possible with a last-second pick-six.
In March, Brady announced that he would spend the next two years in Tampa Bay with the Buccaneers. Brady and the Bucs had varying levels of success, and Brady managed to throw for 4633 yards and 40 TDs, both top five marks for his career. Not bad for a 43-year-old.
Brady isn't just on this list because he broke more hearts in one year than his supermodel wife, but because to this day, the Boston sports media cannot shut up about him. The slightest mention of him leaving several years ago sent every host on-air into a perpetual tangent that may forever overshadow the current Boston sports events. Come on, guys!
NESN ought to put together a show, House Hunters: Boston Sports. Hosted by Ordway, Merloni, and Fauria. The whole season would be spent bringing athletes that are new to Boston to find their multimillion-dollar dream home. Some of the locations will include Tom Brady's Brookline home, Stephon Gilmore's Foxborough house, and more!
It feels like Jaylen Brown's entire career has been constant questions about where he stands in the NBA. While this lottery picks rookie year was far from ideal, the Celtics organization remained resolute and held out on his athleticism and tremendous potential. The Kyrie Irving era saw improvement but not much. Brown became one of the most efficient players on the team, but he could not get the per game totals to gain a reputation with the minimal touches he was receiving. That's why his 4-year, $115 million contract extension was such a head-scratcher, but in the 2019-20 season, he earned it.
In Brown's age 23 season he managed to increase his per game averages in a number of key categories.
Per Game Table

| Season | Age | G | MP | FG% | eFG% | FT% | TRB | AST | STL | BLK | PTS |
| --- | --- | --- | --- | --- | --- | --- | --- | --- | --- | --- | --- |
| 2016-17 | 20 | 78 | 17.2 | .454 | .508 | .685 | 2.8 | 0.8 | 0.4 | 0.2 | 6.6 |
| 2017-18 | 21 | 70 | 30.7 | .465 | .540 | .644 | 4.9 | 1.6 | 1.0 | 0.4 | 14.5 |
| 2018-19 | 22 | 74 | 25.9 | .465 | .525 | .658 | 4.2 | 1.4 | 0.9 | 0.4 | 13.0 |
| 2019-20 | 23 | 57 | 33.9 | .481 | .554 | .724 | 6.4 | 2.1 | 1.1 | 0.4 | 20.3 |
| 2020-21 | 24 | 9 | 34.2 | .547 | .608 | .730 | 5.4 | 3.3 | 1.7 | 0.8 | 26.2 |
| Career | | 288 | 26.6 | .473 | .539 | .681 | 4.5 | 1.5 | 0.9 | 0.4 | 13.5 |
Not only has Brown improved as an athlete, but as a leader as well. With Brown on the court alongside his all-star counterpart Jayson Tatum, Boston now has a bonafide and proven combo to build a championship team. When Brown and Tatum picked up this leadership role in the summer of 2019, everyone had their doubts. Now we see a very different team and a very different path.
Thankfully this one doesn't involve burning sage.
When a player must replace a generational talent or long-tenured franchise player, they will either rise or crash and burn. Didi Gregorius gloriously replaced Derek Jeter. Cam Newton? Not so much. When Alex Verdugo came to Boston as a part of the trade that sent Mookie Betts to the Los Angeles Dodgers, nobody really cared. After all, if one of the top five players in the world was removed from your team because of money, you would be mad too. Betts wasn't a scrub. This wasn't Mohamed Sanu they were replacing.
Nobody thought that the Red Sox would receive one of the top Boston sports athletes for Betts, but Verdugo did not back down. He took it all in stride.
𝗪𝗢𝗪 𝗪𝗢𝗪 𝗪𝗢𝗪 pic.twitter.com/iXHATYvGql

— Red Sox (@RedSox) August 8, 2020
Then, Verdugo went ahead and set the record straight.
Yeah, he played here, but this is a game. This is a business. He decided to go elsewhere. I'm not replacing him. That's what you guys say. That's what everybody else says. I'm going out there and playing right field, playing my game.

Alex Verdugo on August 8th, 2020 per Mass Live
When Verdugo went on to slash .308 AVG, .367 OBP, and .478 SLG people finally began to believe that this guy was different. His demeanor on the field went above and beyond, becoming something entirely its own. When Boston saw this kid, they immediately drew comparisons to a local hero they sorely miss.
It's just Alex being Alex doesn't sound right though. I'm going to work on that.
I couldn't bring myself to leave a guy who is so important to his team off the list. After transferring out of Notre Dame, quarterback Phil Jurkovec has become a bonafide star at Boston College. During his first season, Jurkovec threw for 2558 yards and 17 touchdowns over 10 games. While the pandemic shortened season did not allow him to fully develop, Jurkovec has become an invaluable part of Boston.
Gone are the days of Matt Ryan and a top 10 Boston College team. Frankly, up until this season, the program was more likely to sniff out Josh Gordon's stash before they received national media attention. Now, Jurkovec is in the future Heisman conversation, and anything is possible. If Jurkovec continues to improve, he can push a lesser roster past the better competition. With Jurkovec, the sky is the limit. He could finally make the Golden Eagles relevant again. His role on that team makes him one of the top Boston sports athletes.
A player who clearly fits the description of the top Boston sports athletes is Jayson Tatum, who has quickly cemented himself as a top 20 player in the league once Kyrie Irving left Boston. In his third season in the league, Tatum averaged 23.4 PTS, 7 REB, 3 AST, and 1.4 STL. Additionally, Tatum increased his effective field goal percentage to nearly where it was his rookie year, 53.8-percent. At the time he achieved this feat, Tatum was also taking eight fewer shots per game.
While lackluster strategic decisions may have cost the Celtics an NBA Finals berth, it should not take away from the big news of their 2019-20 season. They have their guys. With two budding stars in Tatum and Brown on the roster, it is only a matter of time before Boston has another run. If Ainge can compile a well-rounded team, NBA Finals appearances are likely. That's a big if.
Xander Bogaerts, our hopes and dreams lie with you.
Well, that is an overstatement. The Red Sox aren't the 2014 Giants, and Bogaerts isn't Madison Bumgarner or anything. Bogaerts was simply the brightest light in the utterly dark 2020 season. We've all grown comfortable with Bogaerts staffing the shortstop position since 2013, and most of us Red Sox fans definitely want to see him there in the future.
Bogaerts slashed a .300 AVG, .364 OBP, and .502 SLG with 11 HR and 28 RBI's during the pandemic shortened season. He is also signed through 2026, and with it seeming like the Red Sox are on a clear path to relevancy, I think we should be able to see Bogaerts for a long time.
After the season he had, David Pastrnak deserves to be atop any list of the top Boston sports athletes. The Bruins right winger made his impact felt all over the ice, and it gives Boston a legitimate path forward as they begin to see their aging stars such as Marchand and Zdeno Chara regressing. Pastrnak's 2019-20 season has cemented him as the face of the franchise.
As far as individual accolades, Pastrnak has a personal best 95 points on the season with a league-leading 48 goals. His personal performance was good enough to earn him his first All-Star appearance, the Maurice Richard Trophy, and a fourth-place finish for the Hart Memorial Trophy.
2020 was disappointing for everyone in Boston, be it because of Lockdowns or sports bubble disappointments. Yet out of this darkness, we can see a sustainable path to the future. The Celtics and Bruins both confirmed that they had their stars who will keep them competitive into the future. Meanwhile, the Red Sox and BC found young players to help push them back to relevance.
Oh yeah, the Patriots played too!
If you enjoyed this piece, please view some of my other articles and our other baseball content. You can also keep up with my work by following me on Twitter and Tiktok.