It's been a long year (okay, I know it just started, I more meant 2020, but we already had an attempted coup. 2021 has also been long.) COVID has taken a toll on all of us, and at points, we weren't sure we'd make it. Okay, that's a bit dramatic, but I'm a dramatic person. One thing we almost lost this year was college football. While I am not saying all the negatives this horrible disease has brought is outweighed by an Alabama National Championship win, but it's a nice return to normalcy. The people in charge are probably hoping I write a breakdown of this game and talk about key plays. I have one thing to say to them:
If you care enough to read a breakdown, you saw the game or will watch the highlights on Youtube tomorrow. What I will do, however, is talk about what the 2021 National Championship means to Alabama. More importantly, what some key people mean to Alabama.
What this National Championship Means to Nick Saban
Nick Saban on winning this National Championship 😁

"Iwanted to win this for our players" 🐐pic.twitter.com/0KLjmnIlZX

— Alabama Diehards (@AlabamaDieHards) January 12, 2021
Nick Saban is the greatest college football coach ever. Before tonight, the only debate left was between him and Bear Bryant. Bear won six at Alabama in twenty-five years of coaching. Coach Saban has won six in fourteen, along with a seventh eighteen years ago at LSU. By winning his seventh National Championship, Nick Saban is the GOAT of college football. While this is a phenomenal milestone, and I'm sure Coach Saban is proud, he's not done. He loves coaching, he loves being around these players, and by tomorrow morning he'll be gameplanning for the Hurricanes on September fourth.
The Seniors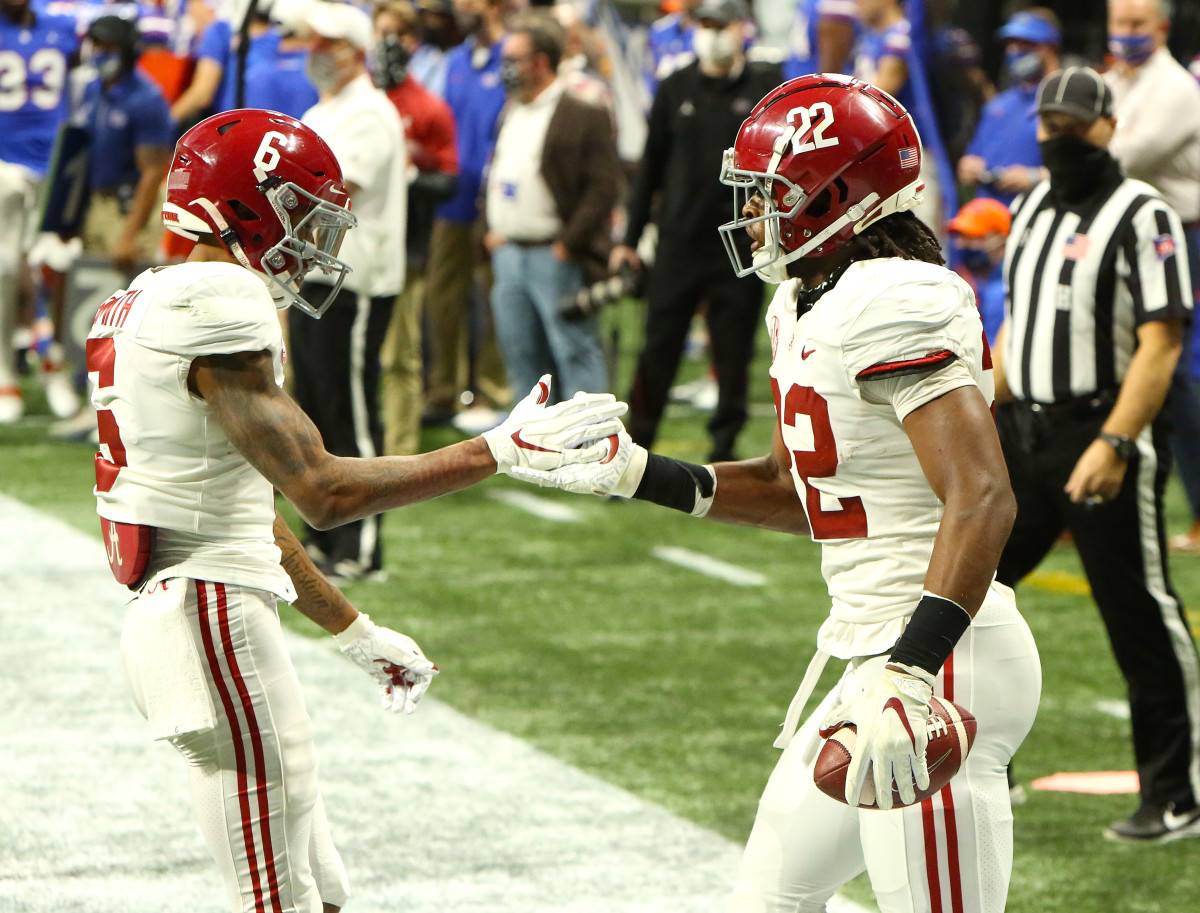 I'm not trying to gloss over guys like Najee Harris, DeVonta Smith, Alex Leatherwood, Mac Jones, and all the returning guys. Ok, Mac's a redshirt junior, but I'm counting him. I'm going to touch on the first three, but know that every one of these guys played a key role in tonight's game.
Alex Leatherwood
I think Alex Leatherwood had the most to lose by returning. Alex already had a National Championship ring, he played all along the offensive line in his freshman to junior seasons, and was named First Team All-SEC and was an All-American. If he goes down, his draft stock takes a hit. However, Alex came back, balled out, and helped keep Mac clean. While Najee, Smitty, and Mac will get most of the attention, don't overlook this man's importance.
Najee Harris and DeVonta Smith
I'm lumping these two together so this doesn't end up being five thousand words. If these two left for the draft, they probably would have been second or third round picks. They gained a lot by coming back, becoming two of the greatest players at their positions in Alabama history. Obviously, Smitty became the first Heisman Winning wide receiver since 1991, and cleaned up the awards. Najee finished fifth in Heisman voting, and won the Doak Walker Award. These guys set the tone for Alabama, becoming leaders both on and off the field, and giving us some amazing highlights along the way.
Mac "The Joker" Jones
PSA pic.twitter.com/6e8LXjMj8K

— Cruz Oxenreider (@TheRealCruzOx) January 12, 2021
Mac Jones didn't have to come back to Alabama. He couldn't declare for the draft, but he could have been a graduate transfer. After waiting his turn behind Jalen Hurts and Tua Tagovailoa, who could blame him after Alabama recruited Bryce Young. However, The Joker wanted to compete. He wanted to win the job, and prove people wrong (and prove Cruz right). Mac endeared himself to Gumps everywhere, became a Super Savage in the process, and will never have to buy a drink in Tuscaloosa ever again.
The Fans
I'm not going to try and list all the Alabama fans I've interacted with on Twitter, I've done that twice and it generally gets me yelled at. This National Championship, however, means the world to these fans. I've seen so many Tweets saying this is their favorite Alabama team. And not just the awards and success, but the kind of guys playing for the team too. It's great to see these guys win, and it's great to see this community celebrate them.
Landon Dickerson
Landon Dickerson will forever be my favorite player to ever suit up in Crimson pic.twitter.com/hxivlAyNBg

— Nick Perkins (@NPerkins96) January 12, 2021
I'm not going to say anything about this, it was just awesome to see. I legitimately almost cried.
What This National Championship Means to Tuscaloosa
Alabama Crimson Tide fans flood the streets of Tuscaloosa after the team secured its 18th national title. pic.twitter.com/k9UCH8BC4m

— James Benedetto (@james_benedetto) January 12, 2021
I called Tuscaloosa home for four years, and they were the best years of my life. Tuscaloosa revolves around college football, and limited fans due to COVID took its toll on the city and the surrounding area. This National Championship winning team will see enrollment increase, and more money will pour into the city. These people make their lives here, and I'm not saying Tuscaloosa needs it more than Columbus, but living there and being an employee of a mom and pop shop next to the stadium, I know this is a much needed boost.
On a similar note, I don't ask for much, or anything, from you guys. I'm certainly not telling you what to do. However, while getting your National Championship gear, before going to Dick's or Nike or Fanatics, check out some of these local stores, such as BamaStuff. I worked there for two years, and you won't find a better group of people to give your money to.
What This Team Means to Me
I don't talk about myself much my blogs. Some people barely stand my takes, I'm not going to get into my personal life. However, this team meant a lot to me personally too. Leaving college is always tough, and sometimes it's hard to adapt. However, knowing I could always put on the TV and see my Alma Mater play helps. In addition to that sentiment, the Gump Twitter community is unmatched. I didn't really get too involved in it until we had Cruz Oxenreider on The Korner Booth. I then wrote the Gump Twitter lists, and got a lot of Alabama mutuals that way. Like I said, I'm not going to list people, that gets me yelled at. However, scroll through my Twitter. You'll see plenty of great people I retweet/like their Tweets, and you should follow them too.
Ok, I'll get out of my feels now.
As much as I want to give a well thought out wrap up, it's 1 AM. However, like I said, go look at my Twitter (@BellyUpKev) and join the Gump Twitter community. You won't regret it.