So, I'm watching football for the first time in my life. Like, really watching. Yes, of course, there's a boy involved. I'm not at all embarrassed by that. There's a good chance he's the boy. My watching football is as much a reflection of that possibility as anything else. I'm not watching it because he's my boyfriend and I gotta give on some things. I'm watching because he's the only person I've ever met who talks about football in a way that makes me interested, intrigued, excited even. I didn't think it was possible before. This is the story of the 2021 NCAA Football Championship1 and how important a part of our early relationship was.
I've never had a girlfriend who liked sports. I mean, really, liked sports. Several of the women I've been involved with have had a passing fancy, but only a, "Yeah, sports are great, my dad likes this team…" kind of interest. Watching sports was a side effect of having a life involving Patrick, not something that was there before. So having a girlfriend to whom sports is not only a passion, but a profession is something I never thought I'd be lucky enough to come across. She's a unicorn. Like Porzingis. But shorter. Other than that same thing essentially.
So this weekend was a big deal for us. My interests are implausibly diverse but sports are my real passion. It's what I'd rather be doing. So being with someone who compliments me like Jade is really convenient for the nuts and bolts of our everyday life. Basketball is her Mecca, her sun, and it's something I've really come to appreciate as a firm staple in my sports diet. Football, though. is the main course. It's the steak and this weekend was my chance to develop her taste for it. I have a great product to sell her, and this weekend, "Super Wildcard Weekend" and the College National Championship game tonight (not to mention the Eagles axing Doug Pederson) has given me plenty of wood to stoke my new girlfriend's mental football fire.
The Night of the 2021 NCAA Football Championship
The idea for the article came as I watched the first quarter of the NCAAF National Championship between Ohio State and Alabama. I'm sitting there squinting at the little stickers all over the helmets of the Ohio State players. I know I'm watching college football so I know there are not stickers of pot leaves all over these kids' helmets. But dammit, they reminded me of pot leaves!
I know what you're thinking. How could she not know that a Buckeye is a tree? Or a nut? Both? The research is inconclusive on that subject. Well, I led by saying I'm new to this. I stand by that. Even so, I'm pretty okay with this hole in my knowledge. Not knowing that, apparently, in Ohio the word Chestnut wasn't fancy enough? I'm a peace with my ignorance here.
This was the second game I had watched the Ohio State team play in as many weeks. Patrick had explained to me the importance of the Ohio State matchup with Clemson. Suddenly I had more context around football than I'd ever had in my life.
Very shortly thereafter, I realized… wait a second. Are you trying to tell me that this school's entire mascot is based on a tree! Really!?
"Alabama is Crimson Tide," Patrick said by way of comparison. "Um, crimson tide is terrifying! It kills everything in its path!" I replied.
(This is 100% a cue for Parker Ainsworth's next edition of Mascott Madness.)
Anyway…
Our Backstory
I've been slowly working her into football. The NFL has been easier, it's the better more polished product. It has the cache of big names like Tom Brady, Patrick Mahomes, and Derek Henry. They're names that have become so embedded in mainstream society that even people who don't consciously follow football have heard them. College football is harder, the players are only there a couple of years and Jade has this issue where she morally hates the concept that college players produce billions of dollars in revenue for schools and the NCAA but see none of it. Crazy right? We'll feed her the Kool-aid terminology of "student-athlete" later though. For now, I had something to build on early in our relationship.
The Game's Backstory
The first round of the College Football playoffs last week gave me a story that I knew could help unlock her desire for pigskin. Clemson coach Dabo Sweeny had literally made it public knowledge that he didn't believe Ohio State deserved to even be in the Sugar Bowl when he ranked them 11th in the final AP Coach's Poll of the year. He said it related to Ohio State's light game schedule due to this year's COVID-related Big Ten schedule, but it was a slap, from a coach who is too smart not to realize it.
Usually, it's not a good idea to give bulletin board material to an opponent, but this year's OSU team didn't need another chip on its shoulder to get revved up. This is a program that still remembers what it was like to be at the top of the mountain going back to their recent 2014 National Championship, but hasn't won the big one or been seen the same way since Ryan Day took over for Urban Meyer in 2019. They had something to prove and punched Clemson in the mouth repeatedly and often. It was a beatdown that I enjoyed watching and helped me convey what football had to offer to Jade. There was a human story that mattered leading us into this week and the game's result had a feeling of karma that brought it all full circle.
Ever a lover of an underdog in any matchup that doesn't involve my team, Ohio State, terrible mascot and all, grabbed my rooting interest for the National Championship game.
The 2021 NCAA Football Championship Game
We all experience sports through our own lenses, be it regional or experience or in some cases inheritance. I inherited being a Toronto Maple Leafs fan from my father, but I chose to be a Big Ten guy by virtue of living next to Michigan. So even though I don't particularly like OSU, being a fan of the conference and competition in general it would have been great to see Ohio State ride their momentum over Clemson to reestablish the conference as a real rival to the perceived dominance of the SEC in college football.
That was not what happened. Alabama absolutely dominated the Buckeyes on offense and stifled their defense enough to make this game a total beatdown. They took them to the woodshed, but how they did it was the most impressive part. I had told Jade that 'Bama had the most talent on the whole of any team in college football but they truly played up to their potential on Monday.
The offensive line was a marvel against a defensive front that while depleted by Covid related absences was highly vaunted coming into the game. Mac Jones had all day in the pocket, Devonta Smith caught everything, and Najee Harris would not be denied the endzone. At the very least the game showcased all the things it needed to in order to move the ball along so to speak in getting Jade into the game. They were polished talented teams that put on a show on offense and the game had relative hope for OSU until the game got too out of hand.
Better Luck Next Time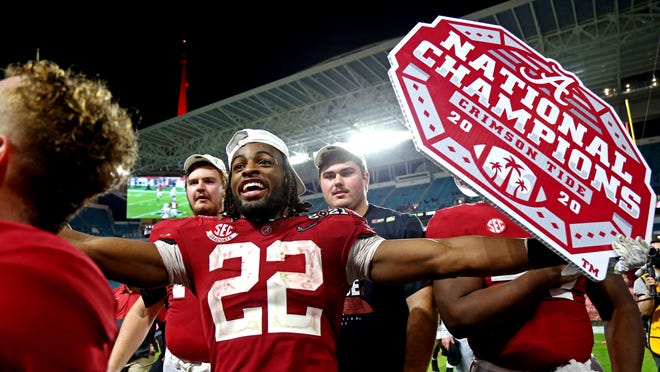 Alas, the first football game where I picked a team to root for ended in disappointment. The Buckeyes just weren't up to the level of the Crimson Tide. Even as a new partakee of football that was clear to me. Over time, I'll get better and more knowledgable about the game. In the meantime, I'll enjoy the ride.
Check out my other articles and don't forget to check out my podcast Hardcourt Hunnies. The Belly Up Hoops department has all the NBA news you could possibly want. For fantasy and gambling content, Belly Up Fantasy Sports has got you covered. And keep an eye out for more and detailed analysis of college and pro football from Patrick Tyler, the newest writer to join the Belly Up Sports team.