Alexis Lafreniere delivered the overtime winning goal last night, giving the Rangers a much needed W. Not only was this Lafreniere's first NHL goal, but it was the biggest goal of the Rangers young season. Coming into the game riding a four-game losing streak, the Rangers were desperate. Although they began the third period with the lead, they again gave it up, and the game went to overtime with a score of 2-2. At the 2:13 mark, Alexis Lafreniere gave the Rangers the 2 points they desperately needed to save their early season.
No. 1️⃣ for No. 1️⃣.

No moment too big for the kid. pic.twitter.com/uwonYZHT4t

— New York Rangers (@NYRangers) January 29, 2021
Colin Blackwell
Not to be overlooked was the great shift and assist by Colin Blackwell to set up the goal. Since entering the lineup Sunday in Pittsburgh, Blackwell has played great. With the game winning assist, he now has a point in all three games he has played; and has played very well in the Rangers own zone. Coach Quinn had a strong quote when asked about giving Blackwell, a career 3rd/4th liner, an important OT shift.
"We get so caught up and in where people are drafted and the hype about people. But I don't give two craps about that right now. We want to win hockey games and he was the best option."

David Quinn talking about playing Colin Blackwell in overtime Thursday night
Alexis Lafreniere
It was a huge moment for the Rangers, but a bigger one for Lafreniere. Alexis had been snake bitten this year and missed a handful of scoring chances in the first six games. This goal takes some pressure off him, and hopefully he can build on this to get some offensive momentum. Here is what he had to say post game while donning the Broadway Hat.
Dressed to IMPRESS for postgame availability.

Hear from the man of the hour post-first NHL goal: pic.twitter.com/022dNjpY9V

— New York Rangers (@NYRangers) January 29, 2021
Game Breakdown
The Rangers played a very solid game Thursday night following a tough road trip. They were able to control play and sustained pressure in the Buffalo zone to keep maintain the score. Linus Ullmark turned away 36 of the 39 shots he faced but the Rangers were able to get that winning goal in OT. The biggest improvement from Tuesday was in the faceoff dot. Buffalo won 70% of the draws Tuesday night, which is crazy to have that large of a percentage. That lead to Buffalo controlling possessions and limiting Rangers chances in offensive zone by winning draws in their own zone. Thursday night, the Rangers evened out the percentage and won 47% of draws. The Rangers have been struggling all season with face-offs and need to figure something out before this costs them more games.
Artemi Panarin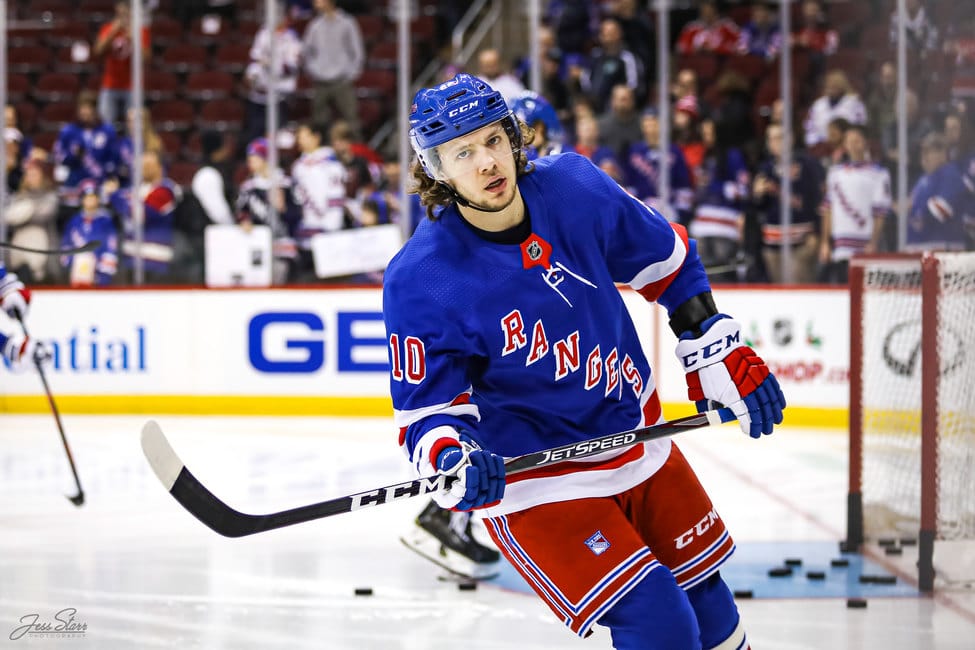 The Breadman delivered again last night. Artemi scored his third goal of the season, topped off with an assist on Ryan Stome's goal. After being shut down Tuesday night, Panarin responded in a big way; his play was creative in the Buffalo zone all night. He put 4 shots on goal in his 21 minutes of ice time. His pass on the Strome goal was a perfect set up to get the Rangers on the board and kickstart the offensive momentum. Panarin now has 3 goals and 5 assists in the first 7 games.
ZING. pic.twitter.com/osbYkjYO8m

— New York Rangers (@NYRangers) January 29, 2021
Ryan Strome
After a slow start to the season, Strome is starting to heat up. He now has goals in two of his last three games, and has played demonstrably well in his own zone. Strome was much better on face-offs last night, winning 54% in the dot and getting the Rangers a better win percentage. With Filip Chytil out for the next month, the Rangers really need Strome to step up and take on a bigger role in solidifying the position.
Bread + Butter, back at it. 🔥 pic.twitter.com/WGcmtUmtwy

— New York Rangers (@NYRangers) January 29, 2021
Looking Ahead – Alexis Lafreniere On Fire
The Rangers now come back to MSG and open a two-game set with the Penguins on Saturday night. Last weekend, the Rangers dropped both games against Pittsburgh; but arguably out-played them both games. The Rangers are still in last place in the division, but just 4 points back of the 4th spot. The Penguins just took a bad loss from the Boston Bruins as well. The Rangers play six of their next seven games at home so they need to take advantage of this home stand to turn their slow start around. In the meantime, Rangers fans can enjoy this picture of their first overall pick.
Please be sure to bookmark our hockey page for hockey coverage and follow Belly Up Hockey on Twitter: @BellyUpHockey. Follow me on Twitter for more takes on the New York Rangers: @KHallNY.