It is any young hockey player's dream. Growing up playing the sport you love, wondering what it would be like playing for the hometown team. Your parents are season ticket holders behind the visitor side bench at Nationwide Arena. Every game you would get to think to yourself, "It would be awesome if I could play here someday." You would be able to wake up and tell yourself every day, "Home sweet home."
Home Sweet Home
While many never get to experience that dream, there is one who will be doing this on Thursday. The 23-year-old Columbus native, Jack Roslovic will be living his dream. He will be in the starting lineup for the Columbus Blue Jackets on Thursday as they host the Florida Panthers. When asked how he felt about joining the Blue Jackets, Roslovic said, "I'm super happy to be here. Obviously I grew up living here, watching the team play, and it's definitely just an extra cherry on top." (@JacketsInsider)
Jack Roslovic on coming back to Columbus to join the #CBJ: "I'm super happy to be here. Obviously I grew up living here, watching the team play and its definitely just an extra cherry on top."

— Jeff Svoboda (@JacketsInsider) January 23, 2021
Roslovic was acquired in the January 23rd blockbuster trade sending Pierre Luc-Dubois and a 2022 3rd round pick to the Winnipeg Jets in return for Patrik Laine and Jack Roslovic. The versatile forward had been utilized as a winger primarily in Winnipeg. He was getting third and fourth line minutes due to the high volume of forwards on the Winnipeg roster. Roslovic has been wanting to contribute up the middle, but that just never seemed to be in the cards while on the Winnipeg roster.
Well, Columbus has been struggling to find other centers for years, and sending Dubois away seemed to open that door. With Dubois gone, it seems that Max Domi would be your number one center, with Alexandre Texier and Mikko Koivu being the others. Riley Nash, Boone Jenner, and Kevin Stenlund can fill that hole if needed. Though, Tortorella is going to give the hometown kid a shot up the middle on his opening night; queue another childhood dream come true.
Keep an eye on this kid. He hasn't stopped smiling since the trade, and it seems that he is ready to go.
Check out Jack Roslovic's first press conference with the Columbus Blue Jackets:
You think @JRoslovic96 is happy to be home? ☺️ pic.twitter.com/AsMR8Ormz3

— Columbus Blue Jackets (@BlueJacketsNHL) January 27, 2021
Where Will Goals Come From?
After the Columbus Blue Jackets season was ended in the second round against Boston in 2018-19, it seemed all but doomed for the fans. Losing Sergei Bobrovsky and Matt Duchene hurt; but nothing was as bad as losing Artemi Panarin, all to free agency. Granted, the Blue Jackets gained Gus Nyquist during free agency, but they still struggled severely in scoring in the 2019-20 campaign. The Blue Jackets finished the season in 28th in goals-for per game (2.57). The also were in 27th in power-play percentage (16.4%), and 28th in total goals for (180).
The offseason moves were less than noteworthy. The biggest move of all was a trade that sent power forward Josh Anderson to the Montreal Canadiens in return for the 25-year-old center, Max Domi. In addition to Domi, new signings were also Mikhail Grigorenko, Michael Del Zotto, and former Minnesota captain, Mikko Koivu. Koivu, who made his Blue Jackets debut on Tuesday's 4-3 shootout loss to Florida, brings the veteran presence that is needed up the middle. Grigorenko, on the other hand, is a bit of a wild card as he has spent the last three seasons with CSKA Moskva in the KHL. During those 147 games, he posted 46 goals and 116 points. Prior to that, Grigorenko was a first-round draft in Buffalo where he spent three seasons, then two more in Colorado until the end of the 2016-17 campaign.
Power Play by the Numbers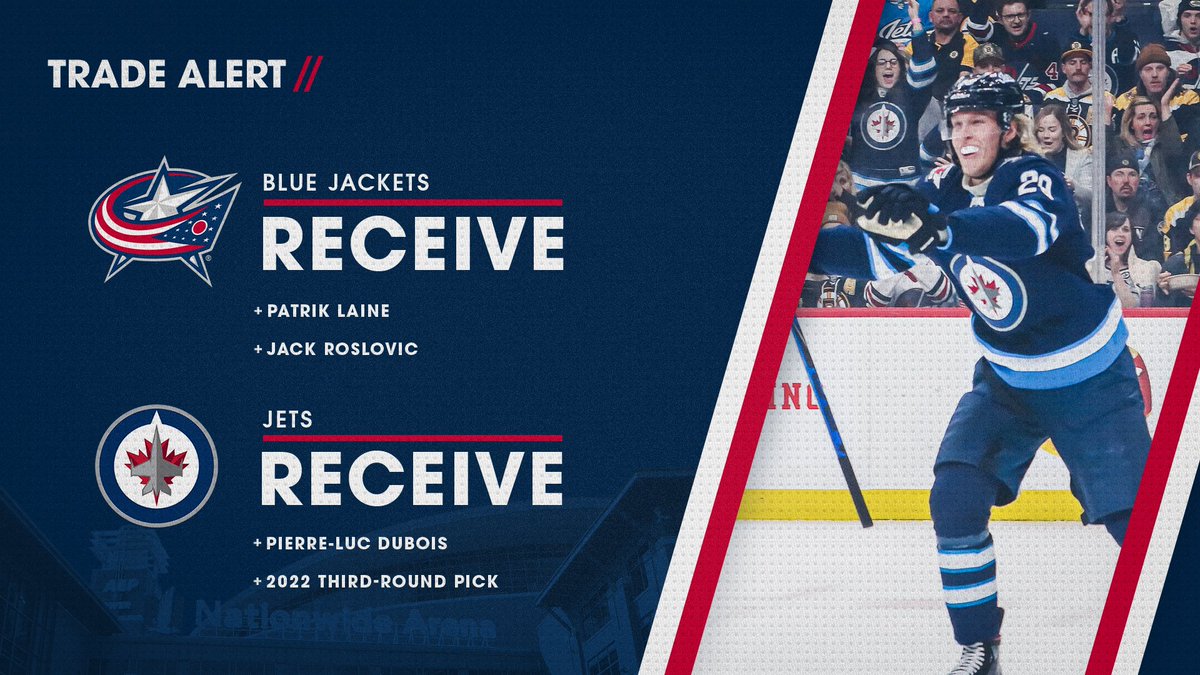 Those who live under a rock and haven't seen the recent trade between the Blue Jackets and the Winnipeg Jets would have missed the acquisition of all-star winger, Patrik Laine. Laine, 23, hasn't even put on a Columbus sweater yet and is arguably already the most prolific scorer in the franchise's 20-year history. In his 306 career games played Laine has posted 140 goals and 110 assists for 250 points. Of those 140 goals, 52 have been on the power play, while in the same time frame (since 2016-17) the Blue Jackets have posted a total of 147 power-play goals. Imagine having one player posting 52, while the most Columbus has is Cam Atkinson with 24. When asked what Laine can bring to the power play in Columbus, Jack Roslovic chucked a bit and said, "Goals. Lots and lots of em." (@Aportzline)
Asked what Patrik Laine could add to the Blue Jackets' power play, #CBJ Jack Roslovic smiles and responds:

"Goals. Lots and lots of 'em."

— Aaron Portzline (@Aportzline) January 27, 2021
Many fans are optimistic with the recent activity, and are hoping for some changes to the Blue Jackets power play, which is 1-for-19 thus far, and was 0-for-6 against the Panthers in Tuesday's bout, while having a double minor, and overtime power play. Will the new guys in the locker room help out with the power play and the overall scoring slump that seems to be a normal occurrence in Columbus? All I can say is that there are many people who are optimistic about it. Only one way to find out.
My name is Alex Nuttle and I am the Columbus Blue Jackets contributor for Belly Up Sports and Belly Up Hockey. Follow me on Twitter for the most up to date Blue Jackets content and news (@anuttle_cbj). I also have a podcast, Cannons & Tomahawks, that talks about all things NHL. Also giving extra content on the Blue Jackets and Blackhawks. Give us a follow and subscribe to our YouTube!