The New Orleans Saints find themselves in an ideal situation for a number two seed during a year in which they are not rewarded with a bye through the NFC Wild Card Round. Instead, they find themselves hosting the Chicago Bears. An inconsistent team that backed into the playoffs after a Week 17 loss to the rival Packers and a Cardinals defeat at the hands of the LA Rams.
It's Like a Rematch, Except Not Really
The NFC Wild Card round will feature a game between the New Orleans Saints and the Chicago Bears. These two organizations squared off (literally) against each other in Week 8 of the regular season. So technically this game is a rematch, but is it really?
Offensively
There is much to suggest Sunday's game will play out differently than the one on November 1st, as both teams have evolved drastically. For starters (literally!), Mitchell Trubisky, a true wild card in his own right, will be running the show this time around as opposed to Nick Foles. Since the switch, Chicago's offense has drastically improved. They've gone from 28th in total offensive in Weeks 1-9, to 15th in Weeks 10-17, per Football Outsiders. Being ranked 15th still isn't good. It's just.. competent.
The Saints don't have a new starter. Drew Brees just didn't have eleven fractured ribs two months ago. He still looks like Drew Brees at times, but that injury is definitely a factor. Luckily he will have his favorite target back. Michael Thomas, the Slant God, has been recalled to the active roster. This creates a safety net for Drew Brees' noodle arm, and a nightmare for the Bears' sorry secondary (and the defense as a whole of late).
They're back… both of 'em.@A_kamara6 and @Cantguardmike have been activated to the #Saints active roster 📑 #ForNOLA pic.twitter.com/SYW1qsxw4J

— New Orleans Saints (@Saints) January 9, 2021
New Orleans already has a functional offense, and their first and second most powerful weapons are active for Sunday afternoon. Chicago, since the previous matchup, seems to have finally pieced together a working offensive line. A line that was an absolute disaster in Week 8, but had one bright spot; second-year center Sam Mustipher, who got his first career start in that game against the Saints. His leadership and stability has opened up the run-game for David Montgomery. Helping him turn his abysmal sophomore season into a 1,000-yard campaign.
While the Bears' improvements on offense can inspire some hope, I'm not sure it's enough to offset the evolutions of both teams on the other side of the ball.
Defensively
In their first matchup both defenses were top in total defense; Chicago fourth, New Orleans seventh. It was quite literally the only reason anyone gave the Bears a shot to win. They were an elite defensive unit being completely sunk by inept offense. A tale as old as time. They could hypothetically slow down the Thomas-less Saints receiving core, key in on Kamara, and let the pass rush get to Brees.
In the weeks since, they have dropped from fourth overall in total to 21st. How? Missing tackles. Dropping interceptions. Not getting home with the pass-rush and few key injuries. Standout rookie cornerback Jaylon Johnson has missed three games due to a shoulder injury and is officially questionable for Sunday. Akiem Hicks did not play in the first Packers game (his absence was apparent). Roquan Smith has officially been ruled out with an elbow injury he suffered in Week 17 against the Packers.
Darnell Mooney and Roquan Smith are officially OUT for tomorrow's game. #Bears

— Adam Hoge (@AdamHoge) January 9, 2021
What of the Saints, you ask? Oh they've only gone from a really good defensive team to an elite defensive team; climbing up to second best since the Week 8 matchup. In Weeks 1-9 New Orleans turned the ball over nine times. Since then they have amassed 17 turnovers, with multiple takeaways in four of the seven games.
Cameron Jordan doubled his sack total (2.5 weeks 1-8, 5 weeks 9-17), Marshon Lattimore and the rest of the secondary have returned to "no fly zone" status, and Trey Hendrickson has absolutely exploded onto the scene. Unfortunately for him, he has been ruled out as well for Wild Card Sunday with an apparent neck injury.
The identity changes to both defensive units is easily the biggest factor in the game. So what will it take for each team to escape the Wild Card round with a victory?
As a Bears Fan
Chicago absolutely has to be productive on the ground. It's old-school football but that's all they're good for, really. Get David Montgomery rolling and protect Mitchell from making mistakes against a ball-hawking defense.
OR… get crazy and let Mitchell work! The kid wants to get after it. Get the ball to Allen Robinson and Anthony Miller more than five yards downfield and live with the results.
"We definitely need to open it up a little bit," Trubisky said. "As far as staying aggressive, I like going for it on fourth down. I think that's just a mindset but I think more importantly we gotta score touchdowns in the red zone. So, once we get those, whether you're converting on third down or fourth down, it's important to stay on the field, but after we saw from last game it's even more important to finish with touchdowns than field goals."

Kevin Fishbain of The Athletic
It's the Wild Card round, crazy things can happen! Mitchell Trubisky wouldn't be the first subpar quarterback to knock the Saints out of the playoffs. Here's a list of quarterbacks that have eliminated New Orleans from the playoffs since Sean Payton and Drew Brees arrived in 2006:
Rex Grossman (2006)
Matt Hasselbeck – beast quake game (2010)
Russell Wilson – 9/18 103 yards 0 TD (2013)
Case Keenum (2017)
Jared Goff (2018)
Kirk Cousins (2019)
Lastly, can the Bears' super expensive pass-rush please just get home like, twice? That's all I ask. Please just make your presence known, Khalil and Robert Quinn. It's the playoffs and anything can happen. That's all I have to rely on. I am loudly on the record to my friends' eardrums that the Saints are begging to be knocked out in the first round, after a Week 3 loss to the Packers.
I'm just lucky enough they play my favorite team in the Wild Card game to hopefully see that (bad) take through and really own it, win or lose.
As a Saints Fan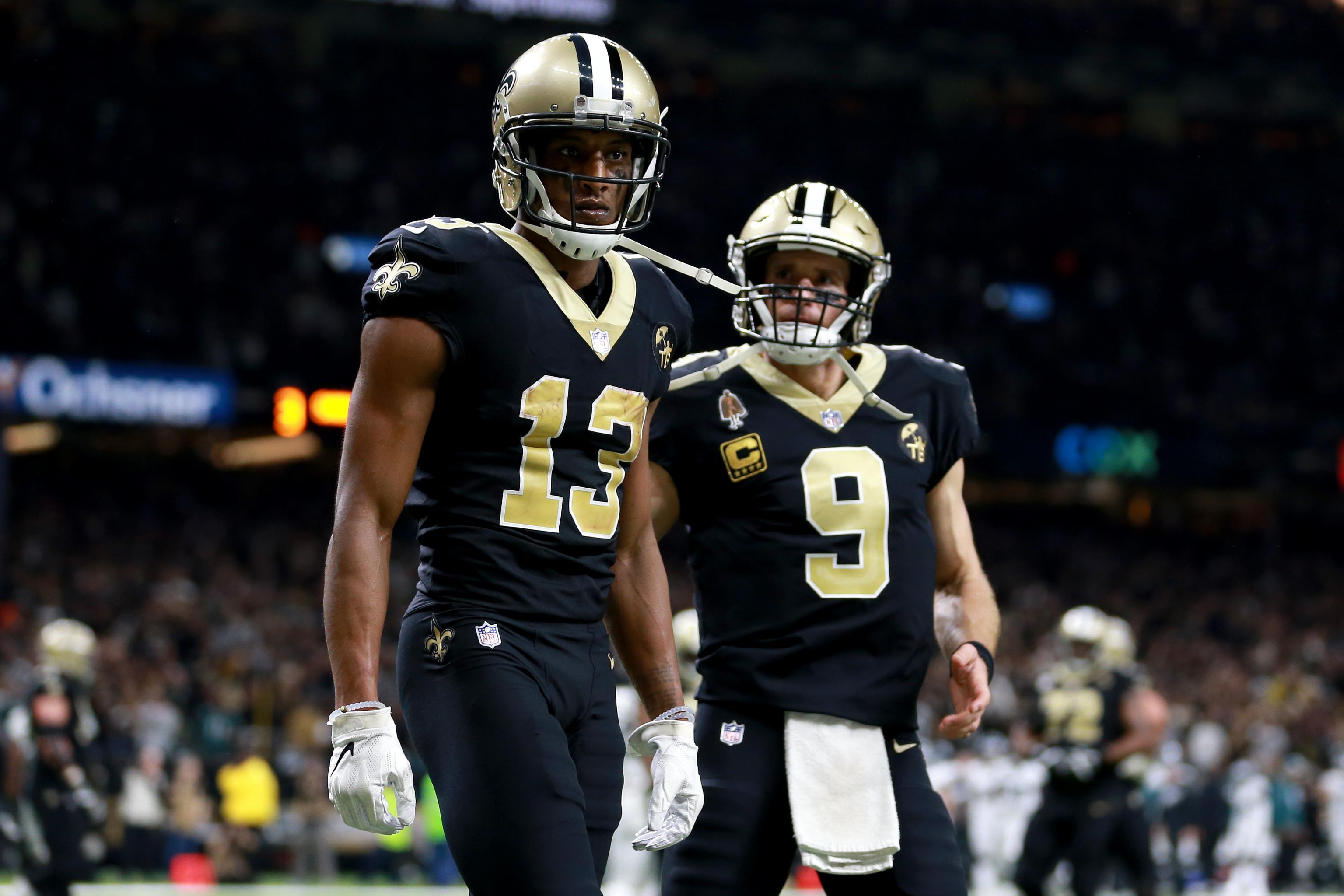 Feed Michael Thomas all day long. Chicago doesn't let their corners travel and it could be very easy to scheme Thomas open for easy completions against those that are not Kyle Fuller, who has struggled in his own right the back half of the season.
The same goes for Alvin Kamara. With Roquan Smith inactive, it shouldn't be difficult to attack the middle of the field against backup Josh Woods. Even against a supposedly good defense at the time of the first matchup, Kamara was able to do some damage.
Defensively, New Orleans should be aggressive. Hunt for turnovers. It's the easiest way to handicap a lackluster offense like Chicago's. Playing with a lead is a recipe for success against the Bears; most teams, really.
The Saints need to attack all game and not leave anything up to one-game samples. This is a more-than-winnable game, as evidenced by the 10-point spread in favor of New Orleans. Isolate the pass-rush with quick throws, and keep Chicago out of rhythm offensively with sound, aggressive defense.
Also, maybe have Chauncey Gardner-Johnson goad Javon Wims into another open-hand helmet punch. Did I almost forget to mention there was a fist-fight in their first matchup? Oops… Well, it happened and it was funny.
When Javon Wims sees this… https://t.co/QidUGxlPc5 pic.twitter.com/F584NptzI0

— Bleacher Nation Bears (@BN_Bears) January 8, 2021
Wild Card Prediction
23-16 Bears! Slugfest! Bring on the Pack!
Connect with Us!
Check out Belly Up NFL for previews of all Wild Card previews and recaps. And follow me on Twitter as I painfully stress-tweet through the game.