Well, we made it through the season, somehow. As some teams play for the Lombardi and others sit at home wondering what they can do to improve, the rumor mill is churning. Deshaun Watson is currently embroiled in these rumors, with the Dolphins as a potential suitor. Well, according to Chris Mortensen.
Sources say Watson could play hardball with Texans about a trade. His new $156 million contract includes a no-trade clause but informed speculation from a source is that he would consider the @MiamiDolphins in which Tua Tagovailoa and additional compensation goes to Houston.

— Chris Mortensen (@mortreport) January 10, 2021
The Dolphins are idiots if they trade for Deshaun Watson.
From the Houston Point of View
This season was a disaster for the Houston Texans. After coming back against the Bills in the Wild Card round last year before getting run off the field by the Chiefs, Houston had hope. They had an All-Pro Receiver in DeAndre Hopkins, and an All-Pro tackle in Laremy Tunsil. In addition to this, they had a phenomenal young QB. Then Bill O'Brien compared DeAndre to Aaron Hernandez, before trading him to Arizona for a second and an aging, injury prone running back in David Johnson. What does this have to do with Deshaun Watson to the Dolphins?
A lot has changed in Houston since that trade. Bill O'Brien is gone, they don't have a coach, and Nick Caserio is now their GM. With this trade still fresh in the minds of Texans fans, Caserio is between a rock and a hard place. Do you trade your franchise quarterback and risk backlash, or hold onto a disgruntled player? Caserio isn't an idiot. He came up in the Patriots system on the personnel side (with a little coaching mixed in), and was part of six Super Bowl winning teams. If he trades Watson, he's going to ask for a hefty compensation package. According to Mort, Tua Tagovailoa is the starting point. However, what would this additional compensation be? It would be a lot.
What Would it Take?
I am comfortable in saying a trade like this hasn't really been pulled off in recent memory. A star quarterback entering his prime, coming off his best statistical season, being traded. Most other stories like this involve the quarterback having injury problems, or off the field issues. Watson doesn't have that. I wanted to look at compensation packages for quarterback prospects. In 2016, the Rams gave the Titans two firsts, two seconds, and two thirds for the number one pick. In the same draft, the Eagles gave the Browns two firsts, a second, a third, and a fourth for the number two pick. (Both also had fourth rounders sent to the Rams and Eagles.)
Even though this trade would involve Tua, it would also take draft picks. I would assume the Texans would want their first round pick back (third overall). In addition to this, a third this year and a second next year would be the starting point. If this is "all" it took to get Watson in a Dolphins uniform, should they do it?
Hell No
Miami should not entertain this idea, regardless of how much of an upgrade they think Watson is. Yes, Watson might have gotten you to the playoffs this year. But the Dolphins season is done, they need to look to the future. With Watson, the Dolphins will be better than they would be with Tua for the next two years. I am not saying Tua will necessarily have a meteoric rise and match Deshaun, but the opportunity cost of trading for Watson hurts the team long term.
The Draft Capital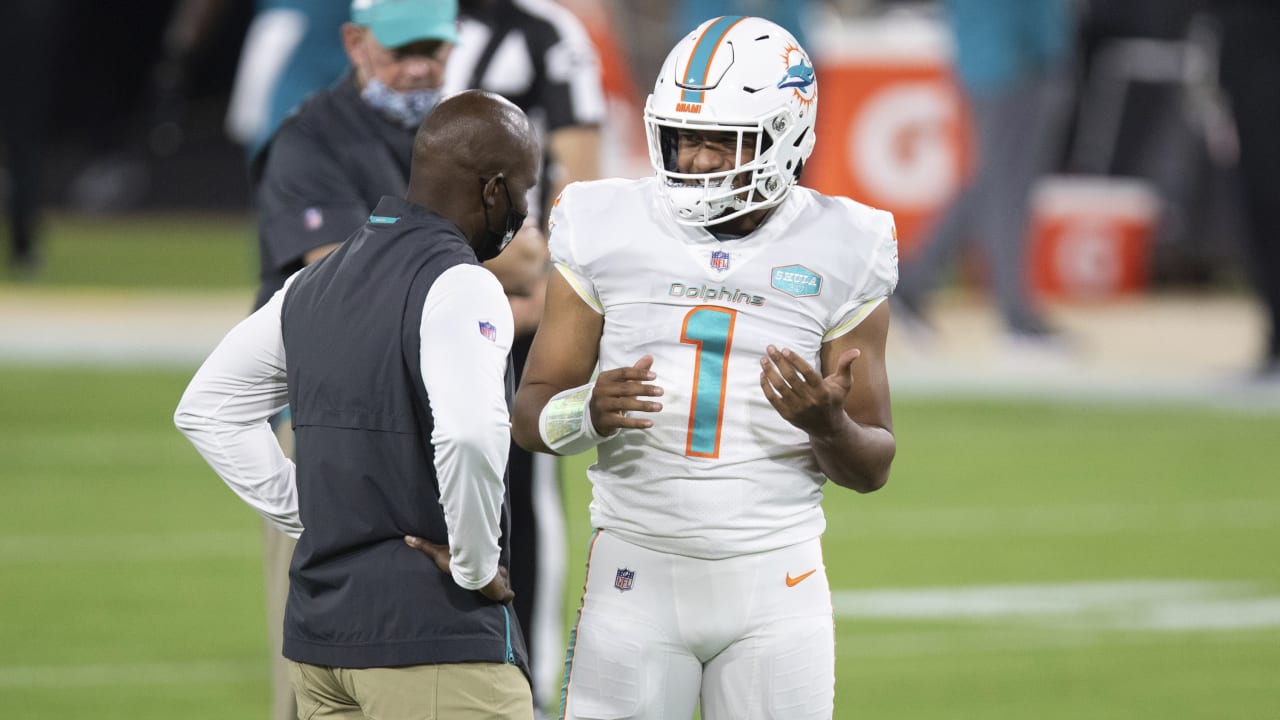 The Dolphins have two first round picks this season, number three and number eighteen. By giving up three, the Dolphins are passing on the top three receivers in the draft (Smith, Chase, and Waddle.) Weapons on the outside are a position of need for Miami, and trading for Watson would plague him with similar issues that Tua faced (surprisingly, the Texans had better weapons than the Dolphins, but that's not saying much). While Rasho Bateman and Justyn Ross would be available later, the previous three are game breakers you can't pass on.
The Cap Situation
Yes, the Dolphins cap situation is pretty good. Next year, they have a projected $25 million in cap room, while Watson has a hit of $15,940,000. In 2022, the Dolphins cap room is projected to be $91 million, with Watson's cap hit ballooning to $40 million. As you can see, they can clearly afford it. However, that's assuming they don't re-sign anyone, including Mike Gesicki, who would demand a big contract on the open market.
In addition to your own guys, some big names will be free agents the next two years, particularly at wide receiver: AJ Green, T.Y. Hilton, Corey Davis, and Will Fuller this year, then Davante Adams, Tyler Lockett, and Courtland Sutton potentially next year. With Watson's contract, the Dolphins could be handcuffing themselves and lose out on top free agents.
Going forward, we don't know the cap situation. How long will it take to rebound from COVID? With that big question, it doesn't make sense to commit to Deshaun's cap hit going forward.
Don't Speed Through a Rebuild
As much as rebuilds suck, it makes sense to do them the right way. The Dolphins have their coach, a potential great quarterback, and cap room to spare. By drafting smart and selective free agent signings, the Dolphins have started to build something in South Beach. They shouldn't get antsy and try to skip the last bit just because they missed the playoffs after going 10-6.
Am I wrong? Is Watson a generational talent the Dolphins can't pass up? Let me know on Twitter (@BellyUpKev) and be sure to follow @BellyUpFootball on twitter to stay up to date on what's going on.