The Super Bowl is next week, and every team besides the Buccaneers and the Chiefs are preparing for next season. One big question mark for more teams than usual comes at the quarterback position in 2021. While some teams knew they needed a new quarterback sooner rather than later, others pissed off their starter enough to be forced into this situation. Let's look at the quarterbacks in this graphic and figure out where I think they should play next season.
There are roughly 10 QBs locked into starting jobs for Opening Day of the 2021 NFL season. This is expected to be an unprecedented offseason of QB movement.

My Over/Under of teams changing QBs this off-season is 18. I'll go with the over. pic.twitter.com/hOKVRaE3Pj

— Adam Schefter (@AdamSchefter) January 25, 2021
Deshaun Watson
The most interesting QB on this list. He is a young, promising player who seemed like the franchise guy in Houston. Then, Bill O'Brien compared DeAndre Hopkins to Aaron Hernandez, traded him to Arizona for pennies on the dollar, and left Deshaun alone. After passing on Eric Bieniemy for David Culley, Watson's position has not changed. He wants out, and formally requested a trade (a few weeks ago, but it's just being reported now.) His preferred destination was reportedly the Jets, but that has been debunked. While his no trade clause makes this important, if it's a destination he'd be okay with, I think it'd be a great pairing.
The Jets will give Deshaun Watson what he wants: control. Miami is in the midst of their rebuild and have their culture in place with Flores. The Jets are just starting their rebuild in the Post-Gase era, and Deshaun can put his fingerprints all over this team. New York is also the perfect place for Deshaun to do his humanitarian work on the biggest stage. The Jets also have a sneaky good receiving corps. Jamison Crowder, Breshad Perriman, and Denzel Mims have the potential to be a phenomenal group, and Chris Herndon could be a solid B/B+ tight end. With Watson, look for the Jets to have a Dolphins-esque turnaround.
Aaron Rodgers
Aaron Rodgers will be the Packers starting quarterback in 2021. Monetarily, it doesn't make sense to start the Jordan Love era this soon. Rodgers's dead cap hit in 2021 is $31 million, but drops to $17 million in 2022. I'm not going to argue that at that point Rodgers will love Green Bay again and he will never go, but 2021 isn't that year.
Also, I hate Cowherd, but he raises some good points here.
Matthew Stafford
Matthew Stafford is an interesting player. He has been regarded as one of the better quarterbacks throughout his career, but he plays for Detroit so he hasn't won anything. Rather than run another player out of the league (Barry Sanders, Megatron), Detroit and Matt Stafford have agreed to part ways, with Detroit looking for a trade. But where should he go?
The DMV Team with No Name of course! They have a phenomenal ground game, a decent receiving corps led by Scary Terry, and a Riverboat Ron defense. In a weak NFC East, Stafford can help the team repeat as division winners, and help lead them to a deep playoff run.
Dak Prescott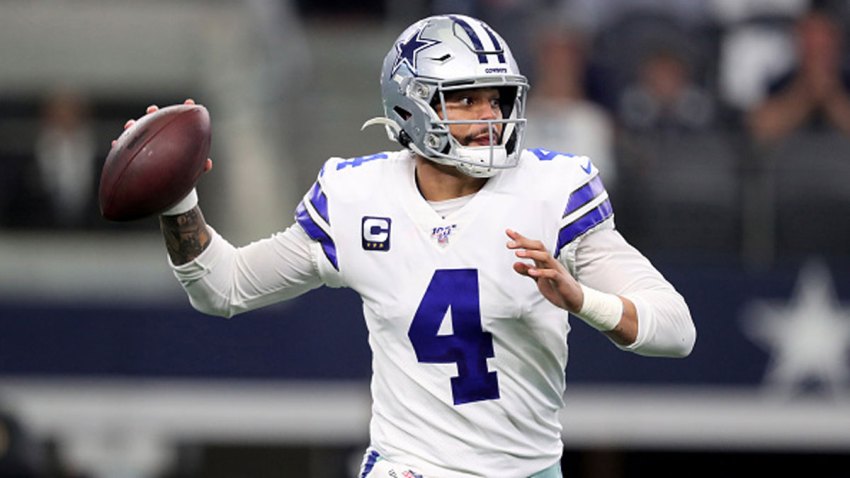 (I'm going to speed ball some of these last few) Dak is going to be the weirdest quarterback in 2021. He will need to sign a short term deal after that gruesome injury, and it'll be tough to find a better receiving corps in such a bad division. Even with little to no defense, a bad line, and a micromanaging owner/GM, Dak should just stay put in Dallas on a short term, big money deal.
Sam Darnold
Look for Sammy D to be included in a package for Deshaun Watson.
Carson Wentz
Carson has, surprisingly, had an even more tumultuous relationship with his front office/coaching staff than Deshaun Watson. Like Aaron Rodgers, however, his dead cap hit is massive. Actually, it's almost double, sitting at almost $60 million in 2021. It drops to $24 million in 2022, but we're talking about next year. Carson will be in kelly green as the Eagles' starter for (at least) 2021.
Jared Goff
"Huge contract, massive dead cap hit, subpar play" sums up Goff's career lately. LA is stuck with him.
Jimmy Garoppolo
San Francisco seems to be regretting giving Jimmy G such a big contract. In his three full seasons with the 49ers, Garoppolo tore his ACL, made a Super Bowl, and missed ten games with a high ankle sprain. That lone full season did end with a Super Bowl appearance, but that was not because of Garoppolo. He played okay, but not great, and San Fran is sick of paying him.
I hate saying this, I really really really do, but look for a New England reunion. Bill Belichick loved him, and wanted to trade Brady to start Garoppolo. If San Francisco will sell Garoppolo on the cheap, this would allow New England to look elsewhere (i.e. wide receiver) in the draft.
Teddy Bridgewater
Bridgewater was okay at best in 2020 for Carolina. With so many question marks outside of CMC, it makes sense for the Panthers to avoid adding another one and retain Bridgewater in 2021.
Mitchell Trubisky
Mitchell has more NVPs than Drew Brees, Tom Brady, Aaron Rodgers, Patrick Mahomes, Joe Montana, Roger Staubach, Terry Bradshaw, and Brett Favre combined! He will be a hot commodity on the open market.
I'm kidding, Mitch is a backup at best. Look for a team with an aging starter in place (Tampa Bay) or looking for a placeholder quarterback in 2021 (Detroit). Or look for Matt Nagy and Ryan Pace to resign him anyway, because that sounds like something they'd do.
Jameis Winston
I expect Jameis to sign another one year deal in New Orleans and battle it out with Taysom Hill for the starting job.
The "Hang 'Em Up" Club
Alex Smith, Ryan Fitzpatrick, and Big Ben should hang 'em up this offseason. Alex Smith is lucky he can walk, Big Ben showed his age down the stretch, and Ryan Fitzpatrick is nothing more than an aging journeyman at this point.
Cam Newton
You may have noticed I omitted Cam Newton. I was conflicted on him. He's an aging, mobile quarterback who didn't look good in 2020. But was that because of the weapons in New England? I don't think he should hang 'em up yet, but I expect this offseason to be similar to last for Cam: sign a low money, last second deal with a team. Maybe Pittsburgh if Haskins doesn't impress and Big Ben does retire.
Agree with my assessments of where your favorite quarterback will be in 2021? Let me know on Twitter (@BellyUpKev) and be sure to follow @BellyUpFootball on twitter to stay up to date on these offseason moves.