We all remember our first breakup. No, I don't mean your middle school girlfriend who had cooties; I mean that real, PAINFUL heartbreak. That's how Boston sports fans are feeling going into this weekend. Zdeno Chara is making his return to Boston (well, on our televisions); and not in the coveted black and gold. Chara will be playing the Boston Bruins Saturday, wearing a big W on his chest as a member of the Washington Capitals. It sounds wrong, it feels wrong, and oh boy is it going to look wrong. How did we get here?
The Love Story
Big Zee was like your grandfather at family holidays – always there, reliable, not really a worry. He played with the Bruins for 14 years, the longest serving Captain in the NHL for multiple seasons. Leading the team to three Stanley Cup finals, including a win in 2011, the Bruins have been consistently dominant during his tenure. Chara is known for his leadership; he had and continues to have a huge impact on the Bruins young core, and the young core of the entire NHL. His slapshot was feared throughout the league; the big man just looks – right – in black and gold.
The Break Up
We discussed this countless times. We knew his contract was up, and everyone just assumed he would either re-sign or hang up his skates. It was naïve. Boston players APPARENTLY love to play into their elder years (yes, I am looking at you Tom Brady), and the B's were not willing to offer peak playing time. Although nothing was public during the initial split, Chara has since admitted he was not satisfied with the minutes he was offered from the Bruins. He didn't want to take a step back on the ice, and it's respectable to see him forward his career with another club (I guess) rather than being a healthy scratch for the team he captain's.
"I really enjoy that type of role where I can really help out younger kids."

Zdeno Chara spoke about taking on a leadership role with the Capitals and getting to work with up-and-coming players in the organization like Martin Fehervary: pic.twitter.com/r0ZYstwmNE

— Sportsnet (@Sportsnet) January 6, 2021
Chara was a leader both in the locker room and in the community; he thrives working with young players. Ironic that the Capitals are the oldest team in the league, but he will continue to act as a leader there in some fashion, even without a C on his sweater. Something interesting to note: his family remained in Boston to avoid significant lifestyle changes; and he hasn't seen them since the start of the season due to COVID-19. That is a huge component of this "breakup" to consider' particularly as we look at all of the heat Tuukka Rask receives for his family issues during the playoffs.
The Return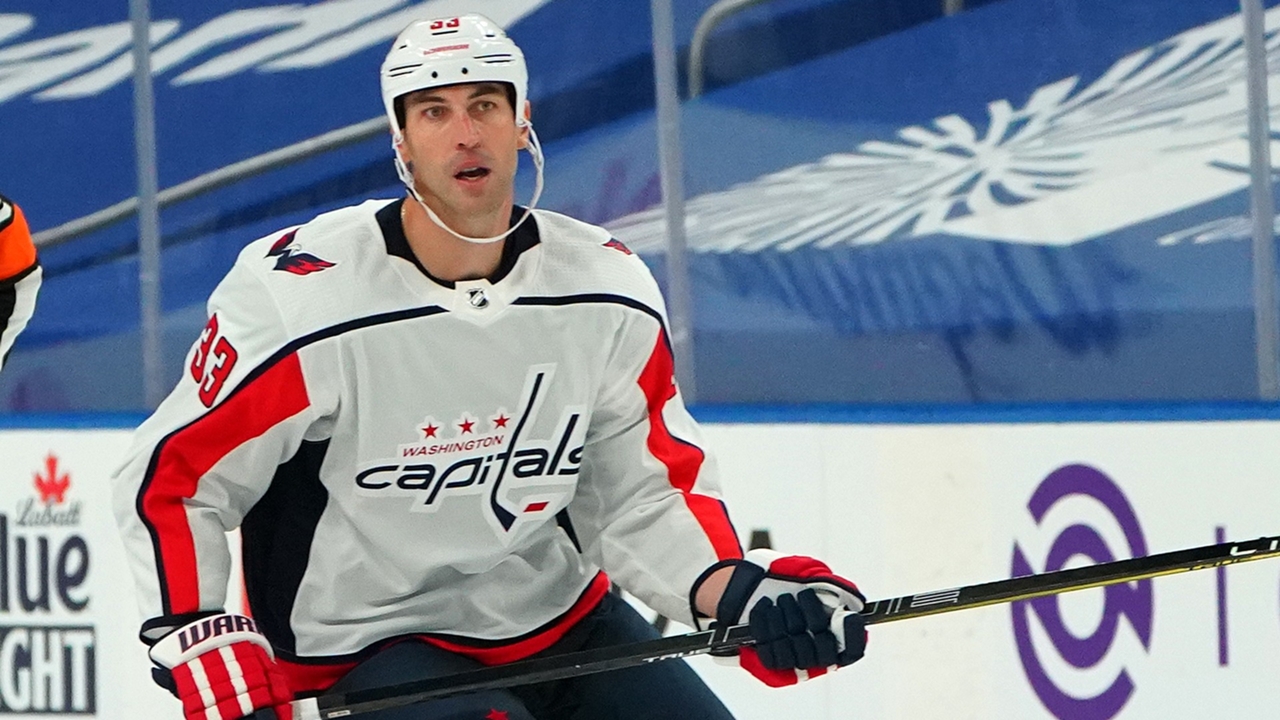 I am a huge advocate for looking at team chemistry when analyzing if a group of guys is going to work well together. The Bruins have fine chemistry right now, it's nothing to write home about. I am hopeful that Pastrnak's return will ignite a fire a little bit for the young guys on offense, but it's clear that without Krug, Pastrnak, and Chara on the ice; the personality of the B's is lacking. On the contrary, LOOK at how well Chara is fitting in with his new team.
ARE YOU NOT ENTERTAINED??? pic.twitter.com/LJrwGxcTw8

— Washington Capitals (@Capitals) January 29, 2021
I am literally gutted watching this celebration. Those deep slapshots, I miss them so much. Gone are the days when the Bruins could score a 5-on-5, unassisted clean shots; now it's messy chip-ins only. This team has welcomed Chara with open arms and he is THRIVING. I can't say that I am excited to see the Boston young core face their former mentor as an opponent; an opponent that's red hot off this kind of locker room dynamic.
"Those relationships you have, regardless of what jersey you have on, they last a lifetime"

Charlie McAvoy recaps the Bruins 4-1 win and speaks highly of facing Zdeno Chara Saturday night in Washington…@CMcAvoy44 | @sjurksztowicz | #NHLBruins pic.twitter.com/Ia2Kv2tu2y

— NESN (@NESN) January 29, 2021
Queue my heartbreak part 2. The look on Charlie McAvoy's face when he hears that big Zee scored a goal is absolutely priceless, and I am HURTING. I can't wait to see these guys reunite for the sake of my emotions, but worried for the game. The Bruins look alright; it looks like they have finally got some momentum going on the offensive side, and the young defensive core hasn't let too much go thus far. The Capitals roster is depleted by COVID-19 restrictions (they had a hotel room party), so that helps out as well. It will be awesome if Chara is able to see his wife and kids in this return as well, but the games are in Washington so it's doubtful.
Better Off In Boston?
I have heard a lot of arguments that the Bruins are better off without Zdeno Chara. This might be right, I'm not discounting the option. However, I am not yet convinced. I just don't trust Kevan Miller and a young Charlie McAvoy LEADING the blue line. It has been fine so far, but I think it's too early for me to tell. It's also possible that I won't be convinced, and it will just be a constant anxiety throughout the season. It's very difficult to go from a Torey Krug and Zdeno Chara blue line to the pseudo-Providence Bruins.
Integrity. Humility. Resiliency.

The Boston Bruins are proud to announce Patrice Bergeron as the 20th captain in team history.

📰: https://t.co/TQWwJcjarq pic.twitter.com/LizE6RClfD

— Boston Bruins (@NHLBruins) January 7, 2021
Chara obviously played a huge leadership role on the team, and this team is YOUNG now. Patrice Bergeron is a good Captain and a good leader. He was naturally next in line for the position. But, he was already serving as a leader; his role hasn't necessarily changed, beyond becoming more imperative. Chara's loss is significant, and heightens the importance of guys like Brad Marchand, Charlie McAvoy, and David Krejci to carry the load. I think his loss gives an opportunity to McAvoy to step up, but I am not willing to say they are better off until I see the young core make an impact.
This is not yet a Cup team, and they should be afraid to poke the bear in Washington.
Think the B's are better off without Chara? Let me know on Twitter @swalshy63 and check out the rest of our content at the Belly Up Sports website!