The 2021 NBA All-Star Starters were announced last night during Inside the NBA. LeBron James (LAL) and Kevin Durant(BKN) lead the West and east in votes. Both have been named Captains. 2021 NBA All-Star Starters will take the big stage on Sunday, March 7 pm at State Farm Arena in Atlanta.
The remaining players in the starting line up are Golden State Warriors' Stephen Curry (guard), the Dallas Mavericks' Luka Dončić (guard), the Denver Nuggets' Nikola Jokić (frontcourt) and the LA Clippers' Kawhi Leonard (frontcourt).
Rounding out the east lineup is Giannis Antetokounmpo (MIL, frontcourt), the Bradley Beal (WSH, guard), Joel Embiid ( PHI, frontcourt), and the Nets' Kyrie Irving (BKN, guard).
a record 5 international players have breached the starting line-ups per NBA.com. These are Antetokounmpo, Greece, Dončić, Slovenia, Embiid, Cameroon, Irving, Australia, and Jokić, Serbia. The NBA All-Star Game will be a 1-day event, to mitigate the potential spread and threat of COVID-19. Also, the day will incorporate a skills challenge and a three-point contest prior to the event. A dunk contest will commence at half-time.
The East Starters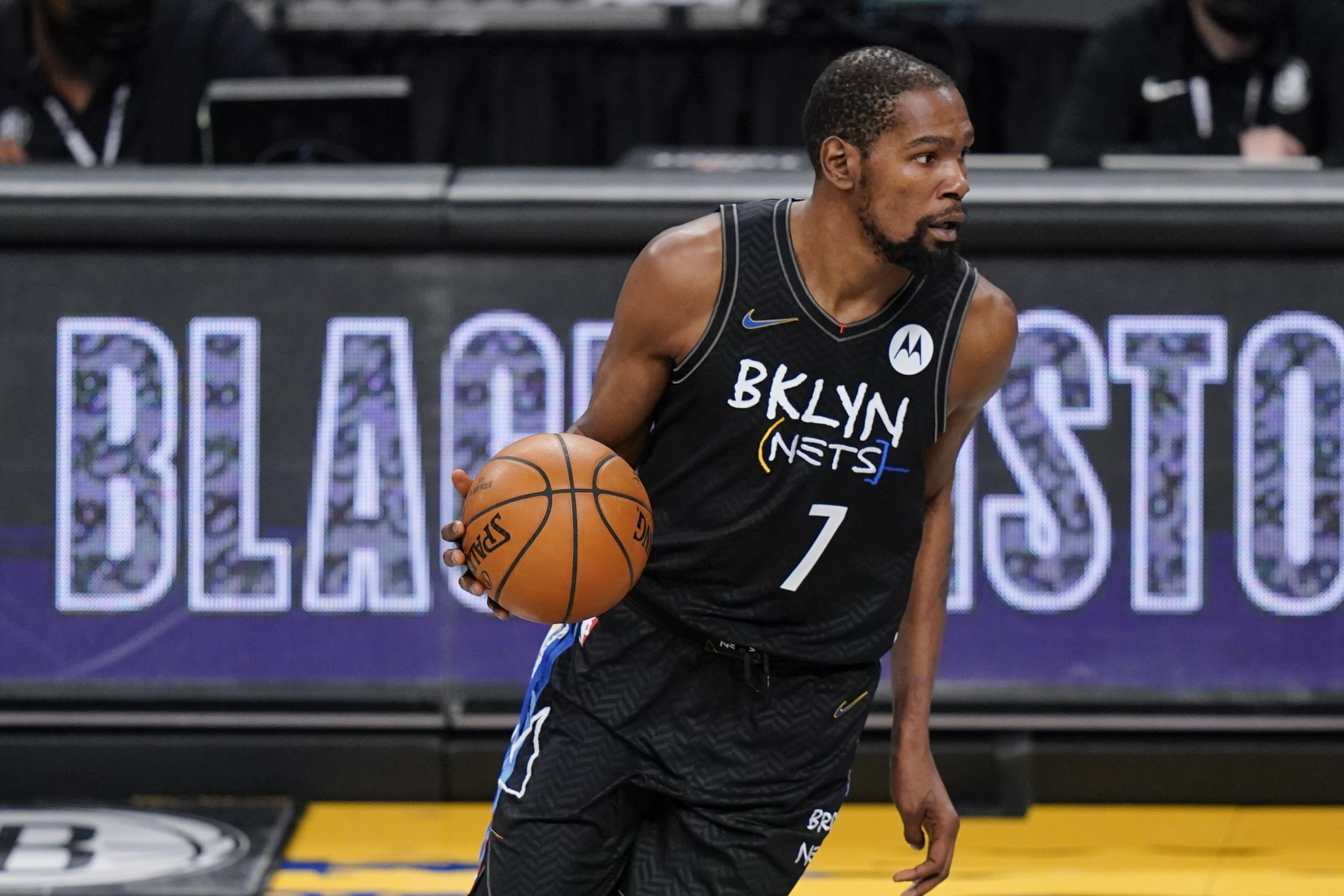 The East starter accolades are as follows. The Greek Freak is entering his 5th straight NBA All-Star game, Giannis is averaging the highest points per game average in All-Star history at 27.3.  Voted in with his first start, the three-time All-Star Bradley Beal currently leads the league in scoring. The leading vote-getter in the east, Kevin Durant holds the number two spot for scoring at 25 points per game. Joel Embiid, The MVP candidate now holds 4 consecutive starts in the All-Star game. This is the first since Allen Iverson had 7 consecutive in the 2000s. Kyrie Irving, the 2014 NBA All-star game MVP now has an All-Star appearance for three different teams. ( Cavaliers, Celtics, Nets).
The West Starters
The west Starter accolades are as follows. In his 7th all-star selection, Stephen Curry has Started in each All-Star game he's attended. Luka Doncic Becomes the ninth player to ever be in the All-Star game at 20 or below. He is a starter in both of his all-star appearances. With 17 consecutive All-Star Starts, LeBron James comes in with the most points in the All-Star game all-time at 385. Jokic, representing the Mile High City for the third consecutive time, is the first All-Star since Carmelo Anthony from the Denver Nuggets. Kawhi Leonard, the reigning all-star game MVP, gets his 5th All-star start.
On Tuesday, February 23rd, the All-Star game reserves will be announced on NBA Tip off at TNT. Durant and James will draft their starters and reserves om Thursday, March 3rd, on TNT during Inside The NBA.