The Atlanta Braves have been outstanding the past few years, but it always seems to be the Los Angeles Dodgers who come through and ruin all the fun. If you watched the NLCS last year you know the series between the Braves and the Dodgers was way better than the World Series. Unfortunately for the Braves, reigning Cy Young Award winner Trevor Bauer decided to join Walker Buehler and Clayton Kershaw in Los Angeles. The Braves will have their work cut out for them this year as just the NL east alone will be a battle. Whoever ends up coming out of the east will most likely have to face the reigning World Series Champs in the NLCS.
Expectations
The Mets have been good, but they just got better with the acquisition of Francisco Lindor. The Mets are going to give the Braves a run for their money in the east, but I think the Braves are a better team on paper. If the Braves can pitch well this season, I don't see many teams stopping them on their way to the NLCS. The NLCS this year will be great as always, but this time look to see a bigger and better Dodgers team coming out of the west. The Braves will make a deep playoff run this year, and it's never too early to count them out of the World Series race.
PECOTA predicted the Braves will finish 4th in the division behind the Mets, Nationals, and Phillies. I think this is a terrible take as the Braves have only gotten better this offseason. With prospects developing and getting more experience, its hard to say the Braves got worse. Only time will tell, but Atlanta is coming for it all this year.
Braves Off-Season Moves
The Braves love doing this weird thing where they bring in former stars who are past their prime and try to rejuvenate their careers. This year they brought in 37-year-old Charlie Morton, 34-year-old Jason Kipnis, and 31-year-old Jake Lamb. All are former All-Star players, but what can they bring to the Braves this season remains to be answered.
The Braves have had struggles with their starting pitching the past few years. Ian Anderson exploded onto the scene last season, which gives the Braves a scary young 3-headed dragon made up of Mike Soroka, Max Fried, and Ian Anderson. Outside of these guys, the Braves have struggled to find a solid 4 and 5 guy in their rotation. Mike Foltynewicz looked like a solid option, that is, until he didn't. Sean Newkcomb went from almost no hitting the Dodgers in 2018 to struggling to find a fit in the Braves bullpen. Touki Toussaint and Kyle Wright have showed promise, but they are just not consistent.
The Braves needed to go out and get another proven guy to add to the back half of the rotation. The Braves brought in 37-year-old Charlie Morton who was an All-Star in 2018 and 2019, but I think his age is starting to take a toll. Morton only played 9 games last season where he went 2-2 with a 4.74 ERA. Morton is a risk, and I would have much rather went after a Corey Kluber or Taijuan Walker earlier in free agency.
I praise Alex Anthopoulos for getting his young stars inked long term and not breaking the bank. The Braves had money to get a solid starter to add to the rotation. I don't see giving Charlie Morton a 1-year $15m contract or Drew Smyly a 1-year $11m contract as a wise use of money. Morton is on the decline and is starting to show his age, and Smyly is inconsistent. You never know what yo are getting from him. Could be an 8.42 ERA season like he had in Texas in 2019, or a 3.42 like he had in 2020.
The Braves Bench
This theme of signing old players isn't new by any means. The past few years, the Braves have signed Pablo Sandoval, Felix Hernandez, Cole Hamels, Dallas Keuchel, and a several others. Another one of these signings was Adam Duvall. When I first saw the Duvall signing, I thought it was a great pick up. I was so glad to see him get back to playing at a high level. On the other hand, when the Braves signed Pablo Sandoval I laughed.
Don't get me wrong, I think taking players like Kipnis and Lamb for cheap is a great idea. You get them for cheap and they can play a major role down the stretch if the get back on track. Duvall was a prime example of getting a former All-Star for cheap and turning him into a great role player. The only thing I have a problem with is signing players that we know don't have it anymore. There is a big difference between getting a player who has had a few down years and a player that just doesn't have it.
I'd love to see what happened with Duvall happen with new signees Jake Lamb and Jason Kipnis. I think it was smart to let Duvall walk after the removal of the universal DH. Duvall was going to want more money and wouldn't be playing near as much. The Sandoval signing doesn't make sense to me, and I would much rather have kept Charlie Culberson and bring up players like Drew Waters and William Contreras for depth and bats on the bench. Let's hope Lamb and Kipnis can contribute off the bench and as pinch hitters as Duvall did last year.
Ideal Opening Day Lineup
With the removal of the universal DH this season, the lineup will look a little different this season. I think all of the positions have a solid starter for opening day, but here is what I predict the opening day lineup will look like:
1. RF Ronald Acuna Jr
The Braves love Acuna Jr hitting leadoff not only because of his speed, but because of his ability to start the game off with a bang. With Christian Pache finding his home in center field late last season, Acuna Jr will most likely start in right field this year.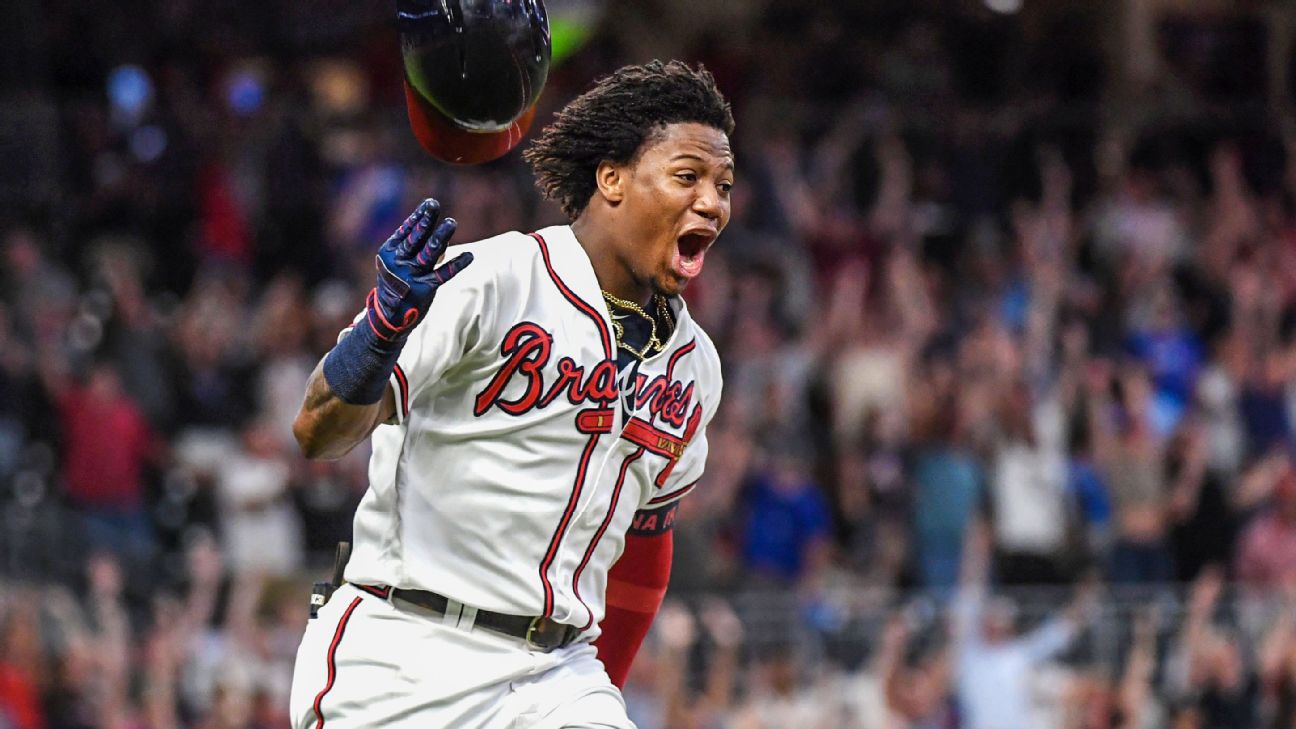 2. 1B Freddie Freeman
We have seen a trend of big hitters moving from the 3-4 spots to the 1-2 spots all across the league. Players like Mike Trout, Fernando Tatis, and Juan Soto have been seen hitting earlier in the lineup as of recent. The Braves tried Freddie Freeman in the 2 hole last year and he had an MVP year. Why change it?
3. LF Marcell Ozuna
The Braves brought back their slugger and there is no better spot for him to be hitting in the lineup than right here in the 3 hole.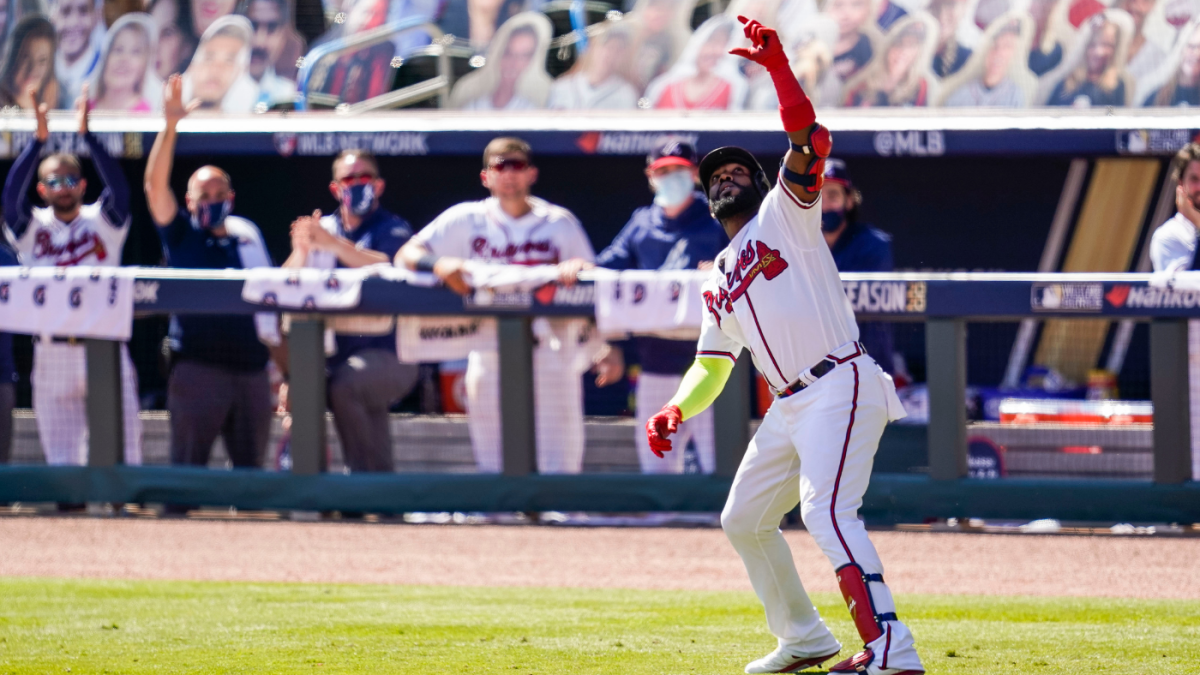 4. C Travis d'Arnaud
Travis d'Arnaud played great last year and won a silver slugger hitting at this spot in the line up. Unless something happens at camp, I see d'Arnaud starting at catcher and hitting early in the lineup.
5. 3B Austin Riley
Austin Riley is slowly finding his groove as a major leaguer. Riley is one of the Braves better power hitters and would be a good fit here at the 5 spot.
6. SS Dansby Swanson
Dansby Swanson has really matured as a hitter and last year broke out as one of the Braves better hitters. I'd love to see Swanson in the 2 spot, but based off last season, Freeman will most likely stay there.
7. 2B Ozzie Albies
Ozzie Albies has shown what he can do as a hitter, but I think he needs a little more work hitting from the left side of the plate if he wants to continue to play at an All-Star level.
8. CF Christian Pache
Pache got the call up last season in game 1 of the NLCS and performed well. When talking about Pache, Braves coach Brian Snitker said, "Even now, he looks like a completely different guy coming to camp; he should be more confident in what he's doing". I think this playoff experience will be valuable to Pache as he looks to take over the role of starting center fielder for the Braves in 2021.
9. P Mike Soroka/Max Fried
Mike Soroka is coming back from an Achilles injury, and is on track to be back by opening day. If he is not ready, Max Fried will start. Braves coach Brian Snitker has never been a fan of batting the pitcher 8th as former coach Freddy Gonzalez used to do, so I think we will see the pitcher back in the 9 hole this year.
Thank you so much for the view! I'm so excited for baseball season and to see what the Braves can do this season! Check out my Mock Draft, and follow me on Twitter and Instagram @noah2rich