Well, that seven wins in eight games was a really fun stretch. Since, the Houston Rockets went on a seven-game losing streak in large part due to a continued fluctuation of the roster. On February 4th Houston started Eric Gordon, Jae'Sean Tate, PJ Tucker, John Wall, and Christian Wood. Since then, each of those Rockets has missed at least one start. The most notable absence has been Wood. Wood re-injured his ankle against Memphis and has been out of the lineup ever since. 
That's not to say Houston hasn't been in these games. They played the Miami Heat close in the final minutes, the Spurs the same. Even in large stretches of the blowout losses, Houston kept the games close before they went on runs where they ran out of gas to end the half. 
The Issue with Wood's Injury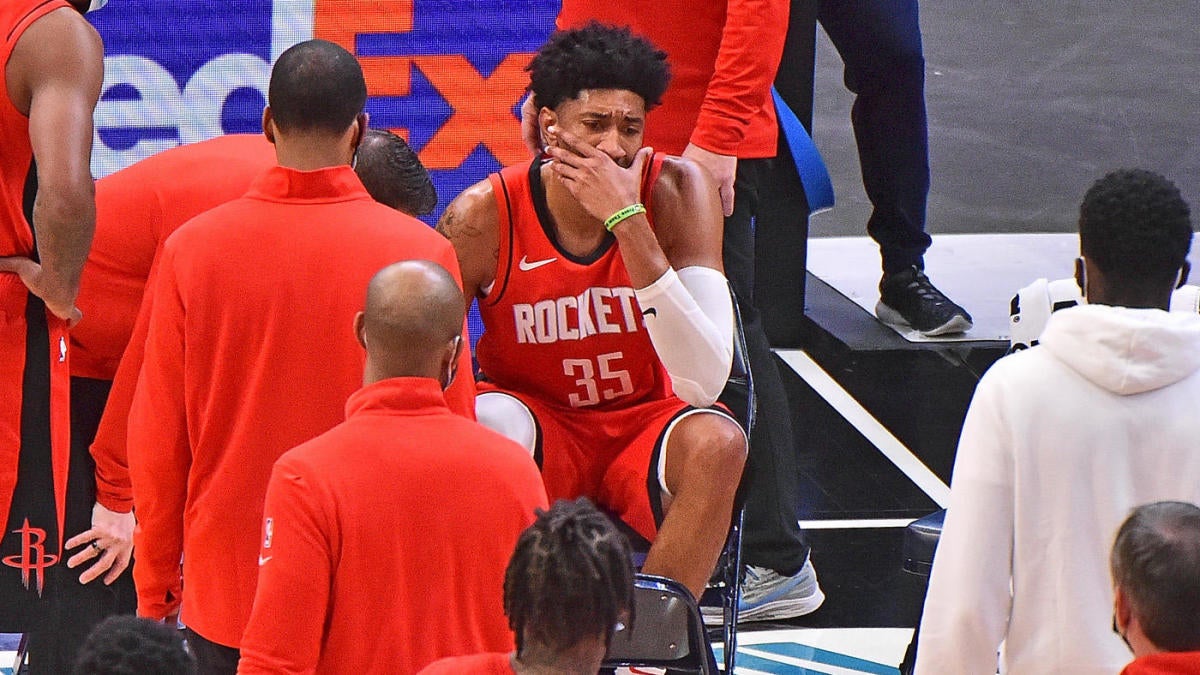 The biggest visual element missing with Wood out has been the lack of a serious roll threat on dragging and slipping of screens above the free-throw line extended. When Wood was available, he was versatile enough to create issues as a scorer and playmaker on the roll. He could pull the defense with him on the pop and could punish a dropping big if he and the guard attacked in a two on one scenario. Now, Houston either has an undersized big rolling to the rim or an aging, soon to be traded, DeMarcus Cousins. When Cousins is playing well he can hit the pop three and make plays from the nail. When he's not, he's unable to play above the rim on the attack and seems to always fade to get a pop three. 
Essentially, the Houston Rockets can't consistently punish either drop or swap coverages on the pick and roll, and thus they're having trouble creating an offense that isn't isolation. Wall, Victor Oladipo, and Gordon are capable… but they haven't been consistently available either. It doesn't help that spot-up shooters like PJ Tucker, Danuel House, and Ben McLemore are each shooting roughly five percentage points below their career averages from three-point land. 
Where Do We Go From Here?
While this is normally a time to go through and break down the week game by game, that feels like Groundhog Day for these Rockets. Each game, Houston presented a fairly similar few issues from lack of depth with injuries and rest days. Further, while the effort was high in the near comeback against Philadelphia, or the first half of the Wizards game, it's hard to really take a lot of "positives" out of the last week of Houston Rockets' basketball. And now that the next two games have been postponed due to the snow-induced disaster across Texas, finding positives in a losing streak seems pedantic. 
The Houston Rockets-Dallas Mavericks game on Friday has been postponed due to government shutdown because of severe weather conditions in Houston, sources tell @TheAthletic @Stadium.

— Shams Charania (@ShamsCharania) February 18, 2021
Following discussions with Houston Mayor Sylvester Turner and the NBA, the Rockets game scheduled @ToyotaCenter vs. Indiana on Saturday, Feb. 20 has been postponed.

Info: https://t.co/UgaN7AKLFr pic.twitter.com/kE7R73Dicm

— Houston Rockets (@HoustonRockets) February 19, 2021
First Issue: Where'd the Defense Go?
Over the course of the earlier winning streak, the calling card of these Houston Rockets was their defensive prowess. In each of those wins, they held the opponent to 108 or less. One impressive night they kept the Wizards to 25 fewer points than their nightly average. 
Over that winning streak the Houston Rockets were able to maintain that three of their starters were the top six guys in the rotation at all times, and in all but one of the wins had Christian Wood at the five. In the seven straight losses since? No Wood, and the starting lineup looks less and less like that of the streak.
But the issue isn't that Houston is starting bad defenders. Nwaba and House, for example, were integral parts of the winning streak when they came off of the bench. The issue has been that when guys from the bench have elevated roles, the guys that get their old role off of the bench are not really your typical NBA rotation. The replacements' replacements, which Silas has tried to stagger as best he can, can't keep up. It's how Houston can beat Washington 107 – 88 one week, and lose to them 131 – 119 ten days later. 
Rotationally, there are two schools of thought. What Houston's doing in most of the games: change up rotations to not have entire bench units in at once. Houston's done this in an effort to keep an entire group of "third-string" guys from having to be on the floor at once. The drawback? There are some third-stringers on the floor at any given moment. An All-Star like Bradley Beal, Joel Embiid, or Jimmy Butler can find the mismatch at any point in the game. 
The other option? You play several of that "third-string" all at once, in the times you'd normally play your full second squad. The issue here, that Houston has tried to avoid, is this group will likely bleed points and have trouble scoring. If you go into a game with this rotation strategy, you would have to be confident you can afford to lose ground over those stretches. The Houston Rockets haven't shown that confidence, per the rotational choice Silas is making. But without insight into daily practice runs, it's hard to know what the difference would be.
These Guys Look Gassed
With Wood out, Tucker out, Oladipo in and out of the lineup, Wall in and out of the lineup, and Gordon in and out of the lineup… the minutes are adding up for the rest of the guys. Especially when taking into account that the NBA schedule this season is expedited, the rest of the Houston Rockets look exhausted. Since the Wood injury, Houston has played seven games in 13 days, five of which were on the road. That's a tough stretch on the body for anyone, but for the short-handed 'kets? That's hitting hard. 
In the most recent game against Philadelphia, eight players logged over 20 minutes, four of whom were over 30. That's not necessarily too much, until you factor that Houston only suited up nine players (Tucker, Oladipo, and Kurucs were suited up but listed as doubtful). 
This isn't making excuses. In the COVID season, with constant last minute roster adjustments, other teams are running into similar issues. But Houston is running into them while also starting second teamers. 
For instance, in the seven games since Wood was hurt, DeMarcus Cousins has logged almost 160 minutes. That's a lot of game minutes for a guy who's had ACL and Achilles injuries in the last 18 months… but he's Houston's only healthy traditional Center. 
New Faces Will be Welcomed
Houston needs to continue to find new blood. PJ Tucker, Eric Gordon, or Victor Oladipo could all be moved before the trade deadline. ESPN just reported Tucker could be headed to LA or Miami in the very near future… kind of like we predicted here. Tucker and Gordon are the last holdovers from a bygone era of Rockets basketball. Both carry trade value separately and together. For a team trying to win right now, both guys offer three-point shooting and switchable defense. 
As for Oladipo?If Houston thinks he's gone this summer, he may be their best tradeable player. He's younger than both, and an offensive creator for any team that wants to get pushed over the top in the second half of the season or thinks they can resign him in the summer. 
Is the Answer Already in the Organization?
Houston also will, likely, be calling up their young G-League talent in the coming weeks if not days. Houston just called up Ray Spalding before losing him to an Achilles injury in his first two games. While that is awful luck and timing, Houston was playing him double-digit minutes before the injury. The Houston Rockets also added Justin Patton, a fourth-year six-foot-eleven big man, on a two-way deal on Friday. With game postponements over the weekend, it's unclear how much time he will spend with Houston versus Rio Grande Valley. But, he didn't get on a plane to go to the G League bubble in Florida. 
Houston should be looking to do the same with Kenyon Martin Jr. and Kevin Porter Jr. The Rio Grande Valley Vipers are just 2-3 in the G League bubble, but individually KMJr. and KPJr. both look like they're playing at a different speed than the rest of the team. Porter Jr., specifically, looks better than Danuel House Jr. did when he was called up just over 24-months ago. In key stretches, Porter has taken over games with step-back threes, back cuts for lobs, and breaking down defenses in isolations for consistent scoring.
At that point in his career, House was called up and became an immediate starter at the swing forward. Porter could have a similar impact as a scorer. Porter is averaging over 22 points, nearly five rebounds, and over six assists per game in Orlando. Even more encouraging? His numbers have risen exponentially as he's been in the bubble. 
Both Martin Jr. and Porter Jr. can show up and help offensively, and Porter's perimeter defense looks as good as it could reasonably look in the G League bubble. Porter is younger than many young stars in the current NBA, Martin is even younger. But neither Martin Jr. nor Porter JR. will add the one thing Houston needs: a defensive big.
No More Boogie? 
The Houston Rockets guaranteed DeMarcus "Boogie" Cousins' contract on Friday, then announced they were going to release him Saturday. After all that went down in November between the Rockets and their stars, the good will is undoubtedly intentional. What will be interesting is what comes next. 
After several major injuries in his lower body, Cousins' biggest impact for the remainder of his career will likely be in the locker room. Boogie is a sharp basketball player who understands how to play the game. Not long ago Cousins was one of the league's most elite big men. With how much slower he plays, he is a trailing three-point shooting threat that has to play drop coverage on pick and rolls. The lateral quickness that made Boogie such a versatile defender once upon a time is gone. 
Boogie has, by all accounts, had a positive impact on the youth in the locker room in Houston. But parting ways appears to mean that the Houston Rockets will be focusing on helping the youth on the floor, not off of it. Cousins was an emergency starter and it appears that emergency is over, even if its been replaced by a new one. 
Does Houston find a way to move the aforementioned role players in a package for a big? Do the Rockets think they can just alternate between Wood, when healthy, and playing small? Thus far, defending the rim has been an issue. Boogie was struggling to do more than drop on pick and rolls, and Wood faces steep learning curves when he is available. But what options Houston has, besides that or a guy who's six-foot-six, remains uncertain.  
A Note on Postponements
With second-half schedules being released to teams soon, the Houston Rockets had two games postponed over the weekend. NBA basketball is an indoor sport, but natural disasters in Texas postponed games in all three markets. It's unclear if the Toyota Center was significantly damaged, but even if it was perfectly fine using the resources available to run a basketball game would be insensitive to the state of Texas. As was demonstrated very publicly, Houston, Dallas, and San Antonio could have taken their games elsewhere… but that evidently doesn't bode very well for optics. Someone tried that. The facts are that the gas lines across the state froze, and using all the power it would take to have a basketball game isn't worth it. Other states are on other, federal grids. Those states got to play NBA basketball this weekend. 
And, without diving too deep into the political landscape: if that bothers you, vote in 2022 and 2024. And so on after that). 
John Wall
In support of @JohnWall's generosity over the last two days to serve nearly 700 meals to Houstonians in need, the Rockets dropped off some goodies at today's water distribution at Gallery Furniture. #RocketsGiveBack pic.twitter.com/KspVTEI2vA

— Houston Rockets (@HoustonRockets) February 19, 2021
Huge shout out to John Wall for his efforts off the floor over the weekend. Wall, who just moved to Houston in December, reached out and got 700 meals donated to the folks at Mattress Mack's store. Mack, a legend in the city for his efforts in hurricane relief before, housed people in his mattress stores to stay warm. He doesn't have the string of warm storefronts to offer, Wall did offer warm meals to those in need across the city. Power-move from the newest face of the franchise. 
Retire 13
James Harden's Thirteen restaurant will be giving away 3000 meals from 3-6 PM.

People can also text (346)-857-9617 to have the food delivered. pic.twitter.com/Me7Pbv35hw

— Alykhan Bijani (@Rockets_Insider) February 20, 2021
Yes, James Harden awkwardly forced his way out of Houston in January. After being given the keys to the car in Houston for eight-seasons many folks were hurting and want to scorn him. While that was never this writer's mindset, there were plenty of people that wanted to be angry with Harden. After the weekend, it's hard to reasonably be mad with the guy. 
Harden's latest venture, a restaurant called Thirteen at the edge of midtown and just off of the 45 freeway, handed out 3,000 meals in a three-hour window on Saturday. Along with the meals, Harden and his restaurant pledged to help deliver food, water, and supplies across the city. Houston's limited crowd will welcome James Harden loudly, here's to hoping they remember the good ol' days and what he gave to the city more than his trip out.