2020 was a punch in the gut full of reality for fans of the New England Patriots. The collapse into mediocrity began far before the season even began. Starting when their quarterback of 20 years Tom Brady decided that he had enough of coach Bill Belichick's ruthless demeanor. Brady signed a two-year, $50 million dollar contract with the Tampa Bay Buccaneers. The Patriots, who finished 7-9, for the first time in 12 years got to watch the playoffs from home, and get an early start on their off-season planner. Brady and fellow Patriot legend Rob Gronkowski (whom the Buccaneers acquired for a fifth-round selection) went to the playoffs, winning three straight-road playoff games. Going on to play at home for the Super Bowl and defeating the Kansas City Chiefs 31-9. Crushing KC's dreams of being the first team since Brady and Belichick did it in the 2003-04 and 2004-05 seasons.
For Patriots fans, it was bittersweet watching Tom Brady go on to win his seventh Super Bowl championship. Hell, it was almost routine for New Englanders across the area to chant "BRADY! BRADY! BRADY!" in front of their TVs almost every Super Bowl Sunday. Though it wasn't the same when it was Bucs owner Bryan Glazer and coach Bruce Arians up there with TB12. To state the obvious, the days of Brady-Belichick are over. But Brady proved that one can win without the other.
The question is what does Bill Belichick need to do to right this ship? I'm going to lay out some of the decisions that the New England Patriots' are going to have to face. As well as some options they could take into consideration. This off-season will sure be turbulent, but with a rebuild, it's never easy.
Stage One: Expiring Contracts and Cuts
The Pats have one of the highest cap spaces in the entire NFL with roughly $68 million to work with. Though this doesn't come without its consequences. How do the Patriots have the ability to be big spenders? Well, it's because a whole lot of their top earners are no longer under contract. Here are some of the big names that could be headed out of Gillette Stadium come the new league year:
Running Backs James White and Rex Burkhead
Wide Receiver Damiere Byrd
Offensive Linemen Joe Thuney (played under the franchise tag in 2020), and David Andrews
Quarterback Cam Newton
Defensive Linemen Lawrence Guy, Adam Butler, Deatrich Wise, and John Simon
Defensive Backs J.C. Jackson (restricted free agent), Jason McCourty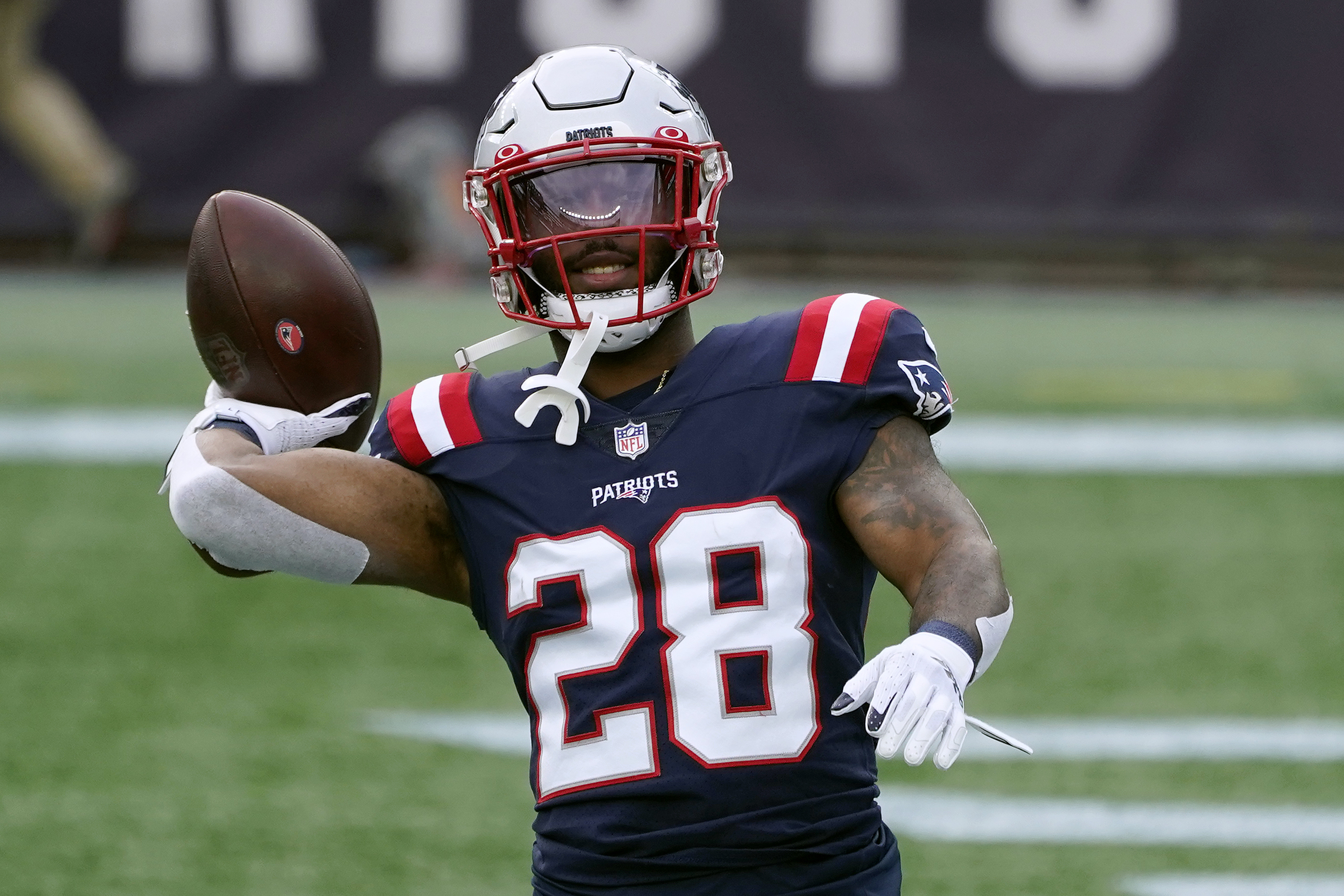 Who gets re-signed?
As you can see, there are a lot of impact players that should be priorities. Although the play of guys like offensive guard Michael Onwenu, running backs Damien Harris and J.J. Taylor (though in spurts), and edge rushers Josh Uche and Chase Winovich make the veterans expendable. So the only players that I think get re-upped by the Pats are Damiere Byrd, David Andrews, Lawrence Guy. As well as J.C. Jackson, who will likely get a brand new extension after an eight interception year.
I know, seeing James White go might shock some Patriots fans. Being one of the heroes in the 28-3 comeback in a Super Bowl LI victory over the Falcons grants it. But White is going to command a market in free agency, one that the Patriots shouldn't compete in. It's one of those "just rip the band-aid off" types of situations. The Patriots need to be injected with fresh blood offensively. James White is going to want to get paid and win while doing it.
As for Thuney, the play of Onwenu makes him expendable. Thuney's not a bad player by any means, but the Patriots could probably do some shifting across the offensive line and free up almost $15 million by not bringing the all-pro offensive guard back on a major deal.
Who Gets Cut?
This won't be popular, but there are two names of players who should also be shown the door this off-season just because of the circumstances surrounding them. Linebacker Dont'a Hightower and Safety Patrick Chung are both players that are approaching their mid-thirties and are making way too much money for their, to be blunt, underwhelming production. The respect you gain from big plays made in previous years only grants so far of a leash. These two moves could free up about $10 million on the cap.
I'm sure other small moves will be made to free up a little more. But ultimately these two are both suffering from regression and younger talent usurping their roles on the defense (Josh Uche, Ja'Whaun Bentley, Kyle Dugger, Adrian Phillips). If Hightower and Chung are open to taking a pay cut I wouldn't be shocked to see them back in a Patriots uniform next season one bit, but it's hard to imagine.
Stage Three: The Quarterback Situation
The Patriots enter their second straight free agency without a solidified starter at the quarterback position. There's potential in this free agency class, and even some trade targets they could pursue ahead of the draft. I would imagine that Belichick and company will be more proactive in their hunt for the immediate fill of the hole that Brady left the Pats in just a year ago. Getting a solid signal-caller for this off-season should be priority number one for the team, and I have my preference on who they should target.
Jimmy Garoppolo
San Francisco 49ers quarterback Jimmy Garoppolo would be the perfect guy to bring back to New England for next season. He was supposed to be the heir apparent to Brady when he was drafted in the second round in 2014. Unfortunately for his Patriots future, Tom Brady was still playing at an MVP level. Subsequently, Garoppolo was traded to the 49ers for a second-round selection in 2017.
Garoppolo's career hasn't panned out exactly how anybody had hoped, tearing his ACL in 2018 and only playing six games in 2020 dealing with two separate sprained ankles. Though in 2019 when he played a full season, Garoppolo was a franchise quarterback. Tossing the football for 3,978 yards and 27 touchdowns. All the while posting a nice 69.1 completion percentage, ranking fourth in the league. The 49ers made the Super Bowl that year and if it wasn't for a Shanahan choke job and one missed deep pass in the fourth quarter, we might be having a different discussion about Jimmy G.
The rumor mill about the relationship between Garoppolo and the 49ers has been very inconsistent and turbulent all season really. One day the 49ers are debating on releasing the 29-year-old quarterback, the next the reports are that they will only part ways if they can get disgruntled Houston Texan Deshaun Watson. Bill Belichick should at least give the 49ers a call on Garoppolo and make an offer. The worst thing they can say is no.
Jimmy G is my favorite of the potential replacements. Although as stopgap options, here is a list of free agents that should be considered. So long as a quarterback is taken early on in the draft:
Andy Dalton (Dallas Cowboys)
Ryan Fitzpatrick (Miami Dolphins)
Jacoby Brissett (Indianapolis Colts)
A.J. McCarron (Houston Texans)
Stage Four: Free Agency
Free agency is going to be a major part of this Patriots rebuild. With a top five status in available cap room, the Pats have some big time splash ability. It would be uncharacteristic of Bill Belichick to be aggressive and sign big name weapons, but the Patriots are in uncharacteristic waters.
Wide Receivers
There is also a major need at the wide receiver position with Jakobi Meyers being the lead receiver at this point. Julian Edelman will be turning 35 in May, Damiere Byrd (although I expect him to get a new contract) is a solid number two option but not much more, and former first-round selection N'Keal Harry has proven to be a bust so far. I fully expect that the Patriots' off-season will be heavily centered around the offense. Along With some lowkey moves defensively to replenish depth or low-risk but high reward players. So here are the top free-agent receivers that I think will hit the market, and the Patriots should pursue in March;
Allen Robinson (Chicago Bears)
Dede Westbrook (Jacksonville Jaguars)
Corey Davis (Tennesee Titans)
Marvin Jones (Detroit Lions)
Tight Ends
The tight end position could also be addressed this off-season in New England. Though the upside that Devin Asiasi and Dalton Keene could have is intriguing, the Patriots aren't in the position to wait to see if talent develops offensively. With Belichick getting closer to the end, the Patriots want to make the most of what they have with the time they have left with Belichick. If there's an immediate upgrade to be had at the tight end position while Asiasi and Keene learn in year two, they should take it. Here are the names to be considered if they choose to address the position:
Hunter Henry (Los Angeles Chargers)
Jared Cook (New Orleans Saints)
Trey Burton (Indianapolis Colts)
Jonnu Smith (Tennessee Titans)
Stage Four: The NFL Draft
The Patriots sit at the top half of the draft order for the first time since 2000 when they had the 16th pick, which was traded to the New York Jets for Bill Belichick (probably would've been more advantageous for New York to take pick #199, just saying). Obviously who they pick at 15 relies on how the first three stages of this offseason go. So instead of giving you a traditional mock draft, where I give you one player they should take, I'll give you a couple of players with some background.
Kyle Pitts
Tight-end Kyle Pitts from Florida is my favorite option for the Pats in the first round. Pitts is everything you want in a lethal offensive weapon. He caught 43 balls for 770 yards and 12 touchdowns. He was one of Kyle Trask's most dynamic weapons last season and provides the upside and explosiveness needed at the NFL level from a tight end. Pro-comparisons range from Darren Waller to George Kittle, which is exactly what this offense has been lacking since the retirement and departure of Rob Gronkowski. This doesn't solve all of the Patriots' issues offensively. Though with Pitts' abilities both as a receiver and as a blocker, it sure does begin to heal the wounds this offense suffered from last season.
Devonta Smith and Jaylen Waddle
Alabama wide receivers Devonta Smith and Jaylen Waddle are also interesting options should they fall to 15. The Patriots haven't had a wide receiver taken in the first two rounds work out for them since Deion Branch in 2003, Waddle or Smith could fix that instantly.
Smith, the 2020 Heisman winner, provides the elite outside ability you expect out of the NFL's best. Comparisons to Hall of Famers Marvin Harrison and Jerry Rice have been drawn by analysts and that should perk any fan's ear if their team has a need at wide receiver.
As for Waddle, there is an injury issue, he sat out most of last season with a broken ankle. But when he played he showed the same dynamic ability that Henry Ruggs had for Alabama before being drafted last season to the Raiders. The Patriots could use that downfield threat on this roster, the team hasn't had anything like it since Brandin Cooks in 2017. Patriots fans should be extremely pleased if either of these two falls to them.
Mac Jones
Speaking of Alabama, quarterback Mac Jones is an interesting prospect that should be garnering higher praise than he's currently getting in the draft analysis. Jones is certainly not the dynamic game-changer that Clemson's Trevor Lawrence, Ohio State's Justin Fields, or BYU's Zach Wilson are. But he is a competent quarterback. Last season Jones passed for 4,500 yards and 41 touchdowns, throwing just five interceptions. Jones throws the ball with great anticipation and accuracy as well as proving to be a capable downfield passer. Given, he was working with two first-round wide receivers and a potential first-round running back in Najee Harris on his offense as they went on to win the National Championship. Though I do see a future for him in the NFL if he doesn't have to start right away, taking a year to learn under one of the stopgap options provided above.
The Saban-Belichick relationship could prove to be beneficial when looking for the next franchise quarterback for the New England Patriots. The pro-comparisons for Mac Jones aren't to Hall of Famers or the NFL's best as they were for Pitts, Smith, and Waddle. But I'm sure fans wouldn't mind having a Phillip Rivers or prime Andy Dalton level talent in comparison to what they had last season in the quarterback room of Newton, Stidham, and Hoyer.
Micah Parsons
Although I'm not huge on focusing on defense this off-season, Penn State linebacker Micah Parsons is an interesting prospect. In a core of unproven players and Hightower returning from taking the year off due to COVID-19, a first-round talent could be what the Patriots defense needs. A true "do-it-all" player, Parsons is efficient as both a pass rusher and an inside linebacker. He recorded 109 tackles (18 tackles for loss) and 6 sacks for Penn State in two seasons. Parsons could prove to be everything that Hightower and Jamie Collins used to be for the Patriots. Stopping the run has been an issue for the Patriots in the last couple of years. Parsons plugging up the middle with Bentley and Anfernee Jennings could boost this linebacker core that has been the weakest part of this patriots defense for years.
Concluding Thoughts
If there's one thing we all can agree on, it's that Bill Belichick doesn't enjoy losing. He has spent the last two decades becoming one of the all-time winningest coaches in NFL history, winning as many Super Bowls as the Pittsburgh Steelers in their entire history in just 20 seasons. With the newfound freedom to build the team his way, and not one superstar quarterback, Bill Belichick can finally showcase what he's got in his bag of tricks. Patriots fans should give the team a mulligan for their first below .500 season since 2000. It's difficult to transition from having the greatest quarterback in NFL history to all of a sudden not having a successor in place.
With a full off-season, money to work with, and a pick in the top half of the NFL Draft? It's hard to imagine the New England Patriots won't be back in the mix next season. Don't count out the evil empire yet, because they could very well strike back.
If you enjoyed this content, or hate it and want to argue with me, follow me on Twitter @KalebEmcee! Feel free to check out the work I do on Foxboro Beat! Also, read up on the rest of the NFL content Belly Up Sports has to offer here!